Bed & Bike in the Rockies
Book your bed, book your bike and save!
The Canadian Rockies may be one of the best road trip destinations in the world, but once you get there, there's no better way to experience the grandeur and wonder of this amazing place than by bike. And you don't need to be a seasoned pro to do it! HI hostels in the Rockies have partnered with local bike shops to get you easily and affordably set up with a bed and a bike to complete your trip. Take advantage of special HI discounts at each shop and don't forget to chat with our friendly hostel and bike shop staff to find out the best routes for all levels of riders. We love this place and want you to see the best of it.
Banff
The roadways in Banff National Park are world-class rides. The busiest town in the Rockies can feel anything but when you hop on two wheels and set out to explore the many routes and paths around town and beyond. Keep the car parked and head out by bike to explore Vermilion Lakes or Lake Minnewanka. Cycle down to Canmore on the new Legacy Trail. Or take advantage of the closed southern portion of the Bow Valley Parkway, an easy, smooth ride with plenty of wildlife viewing opportunities along the way.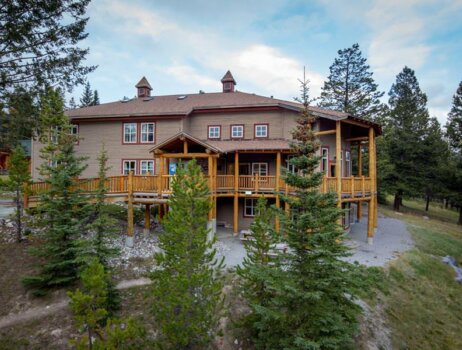 Get a taste of lodge life with all the amenities, and keep your eyes peeled for the wildlife that regularly wanders through the hostel's property atop Tunnel Mountain (where you'll find bike trails right out the door). Choose from shared or private rooms or even your own cabin! Start your day with free pancakes at the hostel's Cougar Pete's restaurant and relax in one of the comfy fireplace lounges at the end of your day.
Use promo code BIKE10 to save 10% on your stay.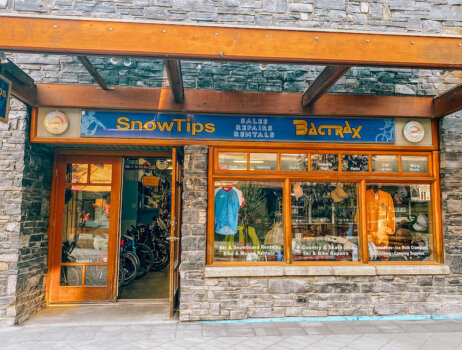 Snowtips Bactrax's town bikes are the perfect fit for a cruise around Banff. These bikes are lightweight and a low-impact ride for the paved trails that Banff has to offer. Snowtips Bactrax also rents full suspension, road, tandem, touring, kids and BMX bikes.
Use promo code HI10 to save 10% on bike rentals (excluding e-bikes).
Lake Louise
Not into getting up at 4 a.m. to find a parking space at Lake Louise or Moraine Lake? Don't want to cram into a bus either? Cycling is a fantastic way to get around the Lake Louise area. Rent an e-bike for the 11 km bike to Moraine Lake or the 5 km ride to Lake Louise and the uphill pedals will drop away. For those looking for some off-trail adventure, Highline and Ross Lake Trails offer some excellent mountain biking opportunities and if you're really feeling ambitious, cycle the Icefields Parkway to Jasper—a world-class ride with unmatched views.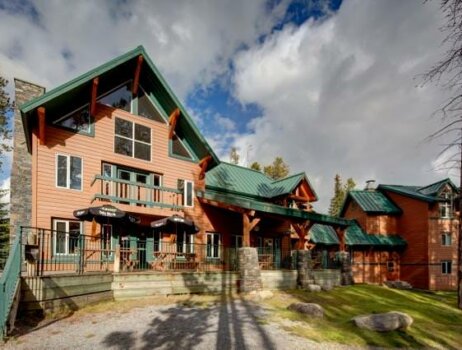 HI Lake Louise is just down the road from the iconic lake in a post and beam chalet with a variety of room options and its own licensed restaurant, where you can grab breakfast, lunch and dinner. Hit the bike trails right from the hostel. You can even cycle down to Lake Louise or Moraine Lake and beat the traffic and avoid parking headaches. Free outdoor covered bike storage is available.
Use promo code BIKE10 to save 10% on your stay.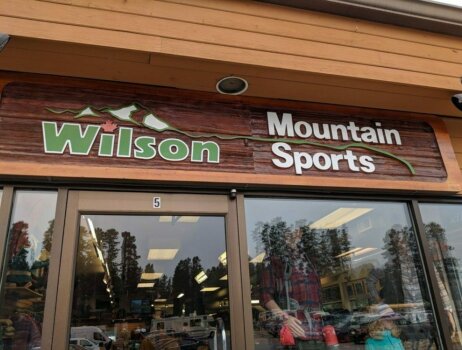 Wilsons is your connection in Lake Louise for biking. We rent, sell and service bikes, while providing all the accessories you need seven days a week. We even have a fresh, filtered and free water station for you 24 hours a day with a compressor hose for your tires.
Use promo code HI10 to save 10% on bike rentals.
Jasper
With wide open valleys and lots of sunshine, Jasper is a cyclist's paradise. Pyramid Bench offers an endless variety of trails for all levels and e-bikes are welcome on many of them. Ganges, Magic Ridge and Cottonwood Slough are only a few of the highlights. If you want a more mellow day on the valley bottom, Lac Beauvert Loop, Old Fort Point Road and Wapiti Loop are all great. Of course for road riders, there are three roads into jasper and three roads out. All have fantastic scenery and are beautiful rides.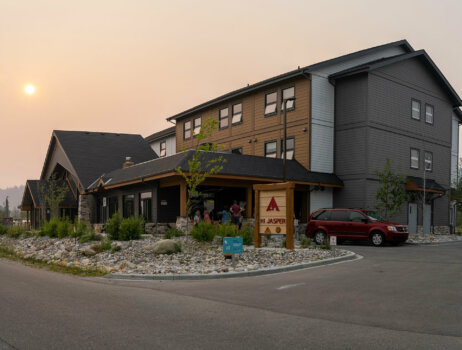 Our newest hostel is a short walk from downtown Jasper and designed for today's backpacker, with shared rooms for four, private dorms, private ensuite rooms and family rooms. Grab a quick breakfast from Sleepy Hollow Café in the lobby and then explore the many routes around Jasper. The hostel offers free indoor bike storage and a large modern kitchen to refuel at the end of your day.
Use promo code BIKE10 to save 10% on your stay.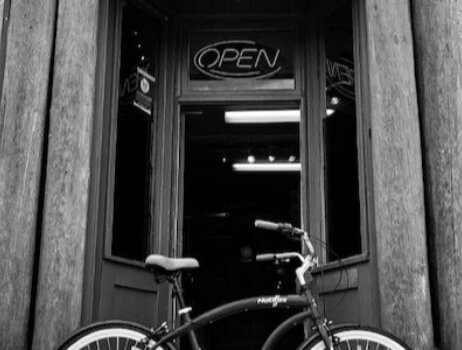 Vicious Cycle seamlessly combines the boutique atmosphere with the sporting world and offers many different bikes for rent! Grab a road bike, standard hardtail or even a full suspension! Early booking is highly recommended.
Mention 'Bed & Bike' to save 10% on bike rentals via phone, e-mail or in-store.
Canmore
For road cyclists or mountain bikers, Canmore has it all. Find a great variety of trails for all levels at the Canmore Nordic Centre. The newly constructed High Rockies Trail stretches from Goat Creek parking lot all the way to Kananaskis Lakes. Some parts are hard, other parts are not, but its all flowy and tons of fun so find your favourite section. Looking to challenge your technical chops? The Riders of Rohan awaits. If your tires are skinny, the Legacy Trail will take you all the way to Banff and back or just cruise the back paths of Canmore along the Bow River and through the woods, for a completely relaxing day. It doesn't stop in winter, when you'll find endless options for your fat tire bike.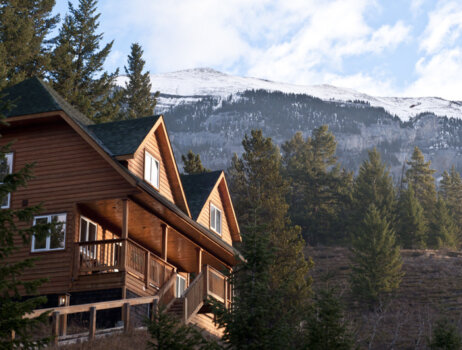 Take in all the glory of the Three Sisters from HI Canmore's clubhouse decks or settle into the cozy fireplace lounge stocked with games, books and comfy couches. From there, you've got your pick of activities in town, in Banff National Park and nearby Kananaskis Country. Choose from private dorms, private rooms or an entire private cabin.
GearUp Sports is the premier rental shop in the Canadian Rockies, close to some great cycling trails including the Legacy Trail and Canmore Nordic Centre. GearUp offers a full fleet of rental bikes that are routinely maintained. All bike rentals include helmet, lock and a repair kit.
Use promo code HI10 to save 10% on bike rentals.
Kananaskis
Kananaskis offers miles and miles of paved and gravel riding path riding and it's a great way to access the south end of the High Rockies Trail. From HI Kananaskis Wilderness Hostel, head straight out onto Ribbon Creek Trail, an easy route that winds it's way gently up the creek, crossing several bridges. If you're in the area before mid-June, Highway 40 is closed south of the Kananaskis Lakes turnoff for car-free riding up and over Highwood Pass.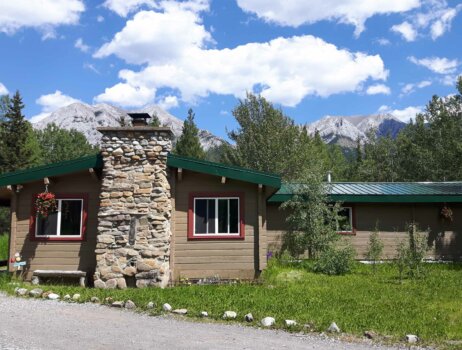 HI Kananaskis is one of Alberta's nine wilderness hostels, but it has indoor plumbing, hot showers and electricity so it's a great way to ease yourself into an off-the-grid experience surrounded by nature and adventure, including a ton of cycling routes right out the door. Bunk up in a shared dorm or try one of the hostel's three-person private rooms.
Use promo code BnBIKE to save 10% on your stay.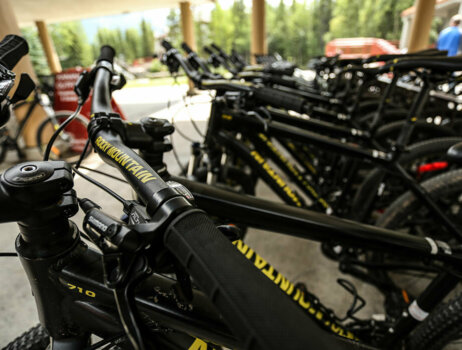 Kananaskis Outfitters is your guide to adventure through equipment rentals, know-how and the skills to provide experiences for you and your family. Our rental fleet includes new Rocky Mountain full suspension and hardtail bikes.
Use promo code HI15 to save 15% on bike rentals (excluding e-bikes).
Touring the Rockies by Bike
The roadways in Banff National Park are world destination rides. The Icefields Parkway from Banff to Jasper should be on every cyclist's bucket list. The Bow Valley Parkway between Lake Louise and Banff is a mix of history, scenery and cycling bliss. Recently the Legacy Trail has been built between Banff and Canmore where, on a Saturday afternoon, you'll find all types of people on every manner of conveyance. The best ways to see the pathways, backways and even main streets of these mountain towns is of course on a bike. If you'd rather not go alone, a guided bike tour is the way to go.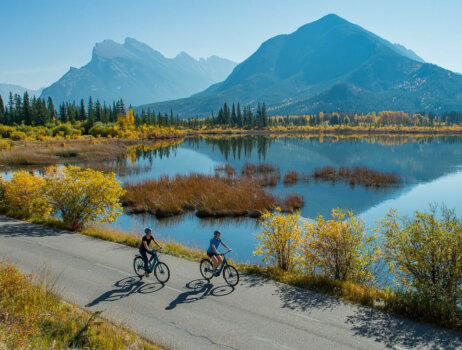 Banff Cycle is a locally-owned and family-operated business whose mission is to help you have the very best cycling experience in Banff and the Bow Valley. They offer guided tours around Banff National Park and custom tours beyond.
Use promo code HI10 to save 10% on tours and rentals.