Our favourite bike routes in Kananaskis Country 
Kananaskis country is home to just 221 permanent residents—but don't let the small population fool you. This corner of Alberta's Rockies is absolutely packed with things to do and see—especially if you enjoy exploring outdoor spaces on the back of a mountain bike. Whether you enjoy a leisurely ride between provincial parks or you're keen to hop on an intense climbing trail and cruise down a flowy descent at top speed, Kananaskis' outdoor spaces were made for all types of cycling experiences. We spoke to local experts to get their insights on the top bike routes in Kananaskis—and let's just say these Rocky Mountain trails do not disappoint.
1. High Rockies Trail
The High Rockies Trail was made for nature aficionados hoping to see as much of the Canadian Rockies as they can; the sprawling trail weaves uninterrupted through a total of three different provincial park—Bow Valley Wildland, Spray Valley and Peter Lougheed—and finishes right at the Alberta/British Columbia border. The diverse landscape shows off all the best nature that the Rockies have to offer: wildflowers, moose sightings and a total of 120 different species of birds. Although the trail is admittedly very long, there are plenty of entrances and exits throughout that can make the trip as long or as short as you'd like.
Difficulty: Medium
Distance: 80 km one way
2. Highway 40
Highway 40 is conveniently closed to car traffic until about mid June each year—which can be a great option for cyclists who prefer exploring on paved roads but who don't exactly want to stick to the shoulder or worry about passing vehicles. Feel free to hop on this bike-friendly route anywhere from Peter Lougheed Provincial Park to Highwood House Junction to take advantage of the wide passageways and comfortably maintained roads.
Difficulty: Easy
Distance: 67 km one way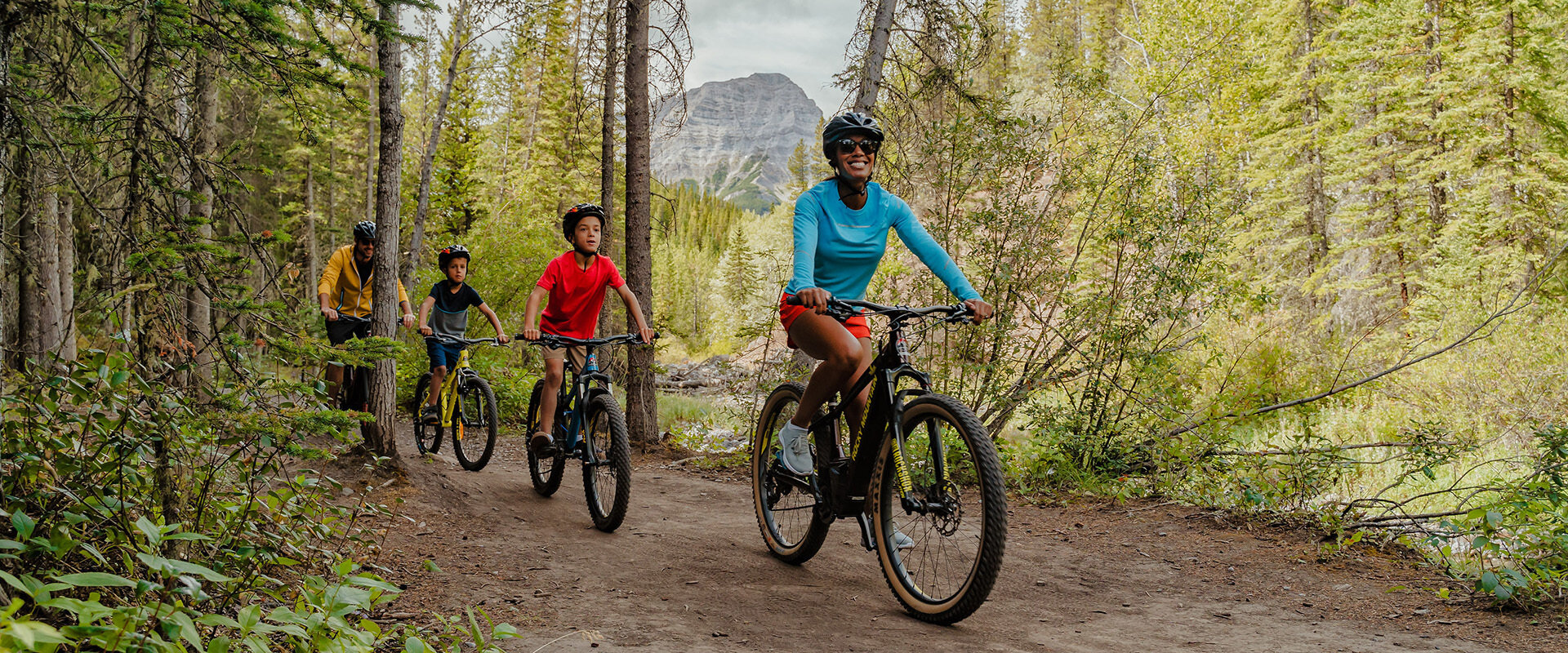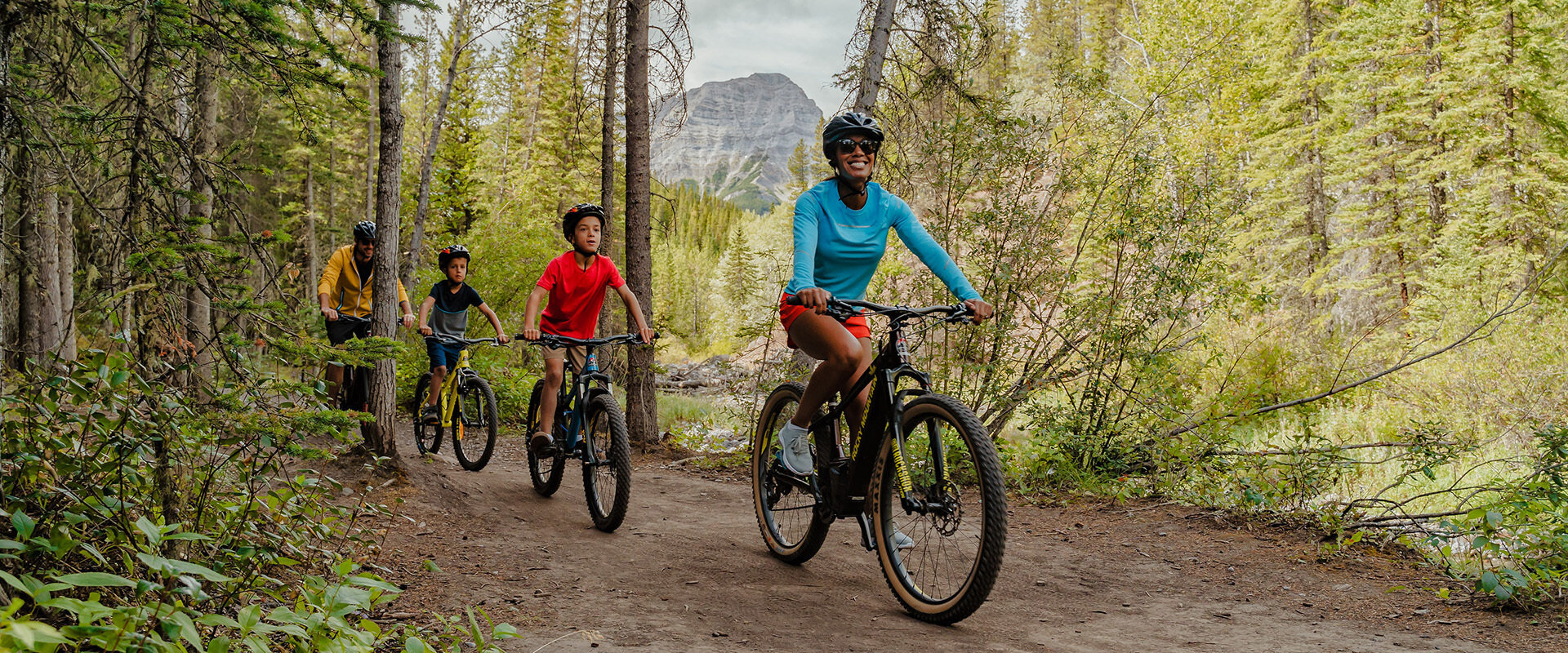 © Travel Alberta - Karl Lee
3. Bill Milne Trail
"Bill Milne is an 11-kilometre paved bike path that is beautiful and perfect for all skill levels," says Michelle at Kananaskis Outfitters. The relatively easy bike route will take you through Kananaskis Village along Ribbon Creek while passing by the Kananaskis Country Golf Course and Wedge Pond.
Difficulty: Easy
Distance/Time: 11 km one way.
4. Ribbon Creek Trail
"Out the door of the HI Kananaskis Wilderness Hostel is the Ribbon Creek Trail which winds its way gently up the creek crossing several bridges," explains Michelle. "This easy mountain bike trail is fun for all." Expect spectacular views of the peaks and valleys throughout Kananaskis, including Mt. Kidd and Mt. Bogart. Also note that the trail shifts to climbing only after four kilometres and bikes are not permitted.
Difficulty: Easy
Distance: 4 km one way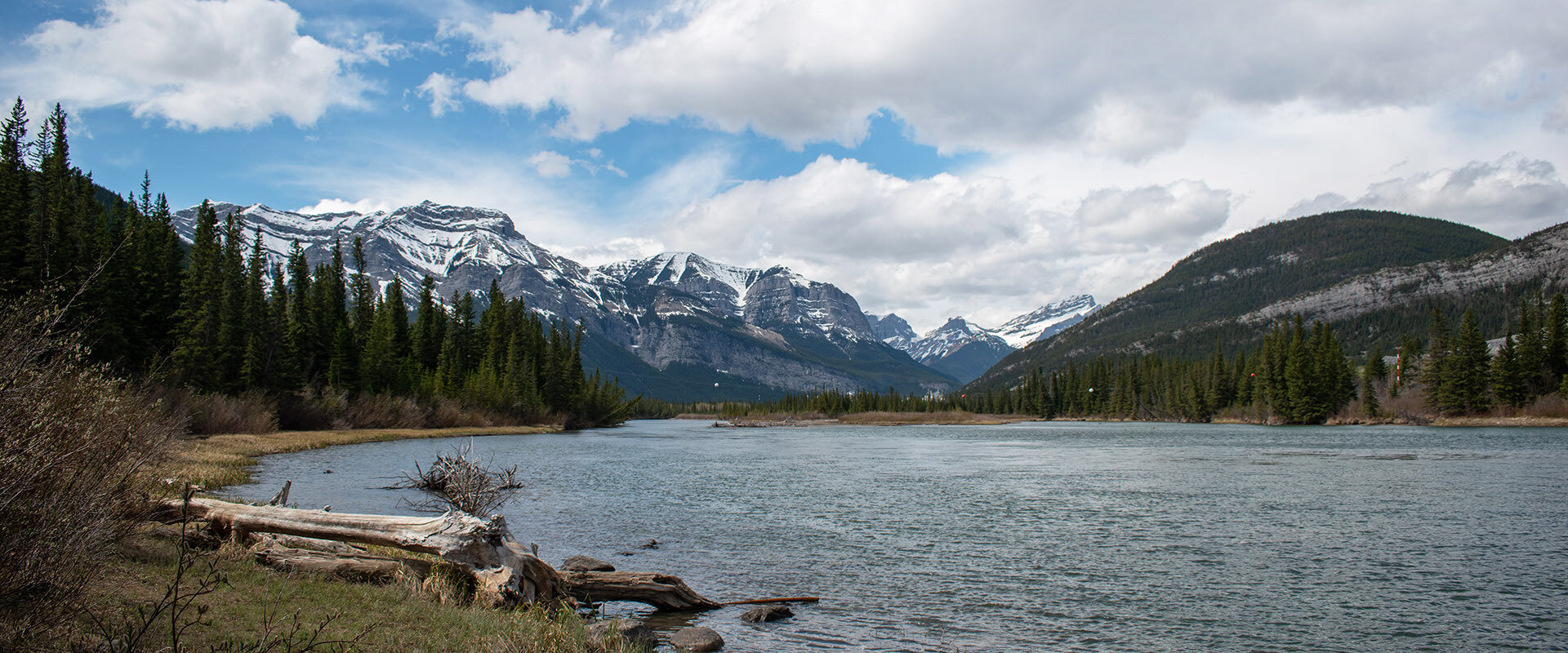 5. Terrace South Trail
"Those looking for more adrenaline should hop on the Terrace South Trail," says Michelle. The nine-kilometre (one way) intermediate single-track trail connects Ribbon Creek to Kananaskis Village and involves a rather challenging climb and steep descent that was made for adrenaline junkies. Note that many cyclists have come across bears and other wildlife throughout the Terrace South Trail but sightings have become much less frequent as the trail increases in foot traffic.
Difficulty: Difficult
Distance: 9.5 km one way
Save with Bed & Bike
We want to make it cheap for you to explore the Rockies by bike! HI Canada has teamed up with local bike shops to offer discounts on rentals and cycle tours. Check out our Bed & Bike project to find all our discount partners, an interactive map of bike routes, and more!
This article is part of the
Bed & Bike
Canada by Bike
You may also like to read