Get to Know BC's Hidden Mountain Bike Meccas
When mountain bikers from around the world think "British Columbia road trip," three places immediately come to mind: Vancouver, Squamish and Whistler. How could you not? These places often top the lists of the best mountain biking destinations, and for good reason. But what if you are looking for something different—maybe somewhere with smaller crowds, a little further down the road from the big cities—places where you can blend in with the local riders on the trails (if you see any, that is)?
Penticton, Nelson and Fernie. They're basically all connected by Highway 3, the Crowsnest Highway, and they each have a very rich history in mountain biking, and they're all so different from one another that you'll wonder how you haven't actually left the province.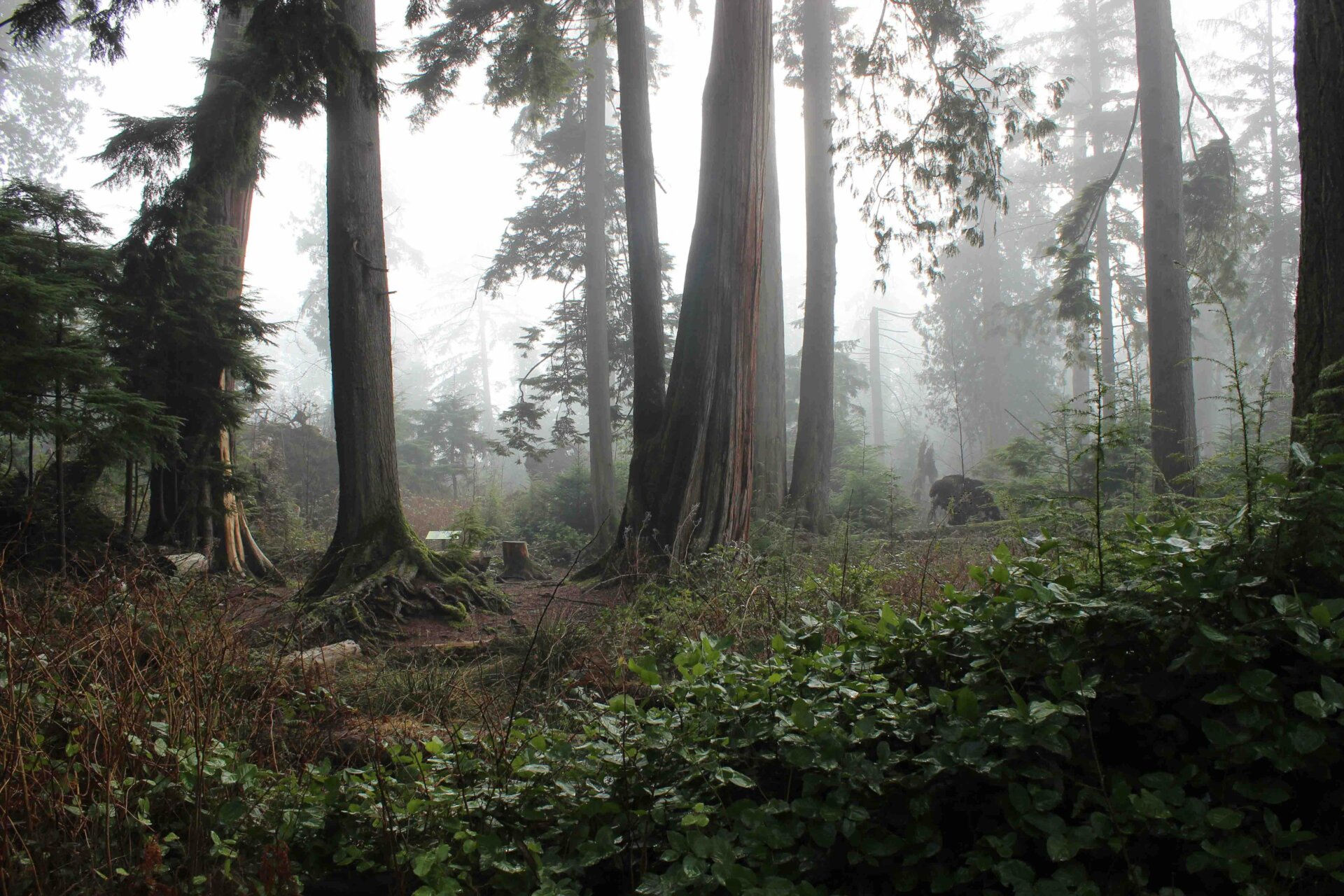 Let's start with the westernmost city of Penticton, in the very arid Okanagan Valley, where grape growing, winemaking and fruit orchards rival those of Napa Valley, California (seriously). So be sure to check out one of the locally owned and operated wineries, a local craft brewery in town or one of the new cideries that are popping up all over!
Penticton has four main riding areas within pedalling distance or a short drive from downtown. Three Blind Mice, Skaha Bluff, Carmi and Wiltse bolster around 155 trails of varying ability levels—from the Kettle Valley Rail trail (a reused rail grade trail that you can ride on a cross bike) to full-on, double-black-diamond downhill tracks and everything else in between.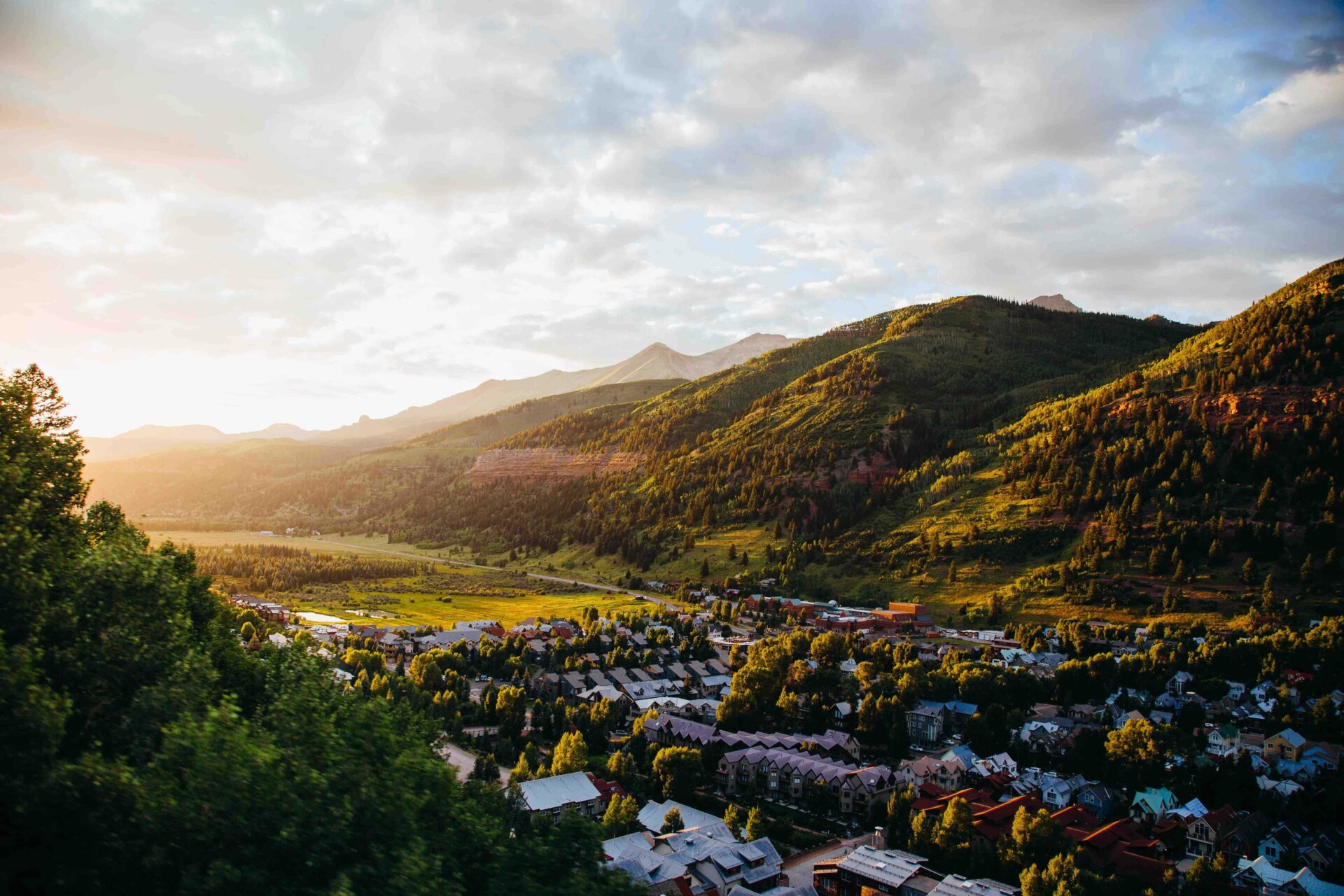 If technical rock riding with steep slabs and janky moves is your thing, check out Bronco in the Three Blind Mice network, where you could spend hours linking the seemingly endless and interesting rocky singletrack without riding the same trail twice. Looking for a great blue "all-mountain" type trail? Start out with Rusty Muffler. It's a classic Penticton trail in the Mice network, and at the new parking area there's a great map of the trails to point you in the right direction. That is, if you haven't already found a friendly local to show you around.

If technical rock riding with steep slabs and janky moves is your thing...
If technical riding with epic lake and vineyard vistas is what you came to BC for, then you have to ride Rock Oven over in the Skaha Bluffs trail network, where views of Skaha and Okanagan Lake border either side of downtown Penticton with wineries and orchards as the backdrop. The vast trail network around Penticton will have you wanting to check out more, if your legs aren't already screaming at you to stop.
Before you get started, stop in at Freedom Bike Shop (where HI members get $5 off bike rentals) or the Bike Barn to get the scoop on the trails in the area from the locals who ride and to see what trails best suit your ability before crushing a day of sweet sweet riding in the South Okanagan.
Next on our list, about a four-hour drive east of Penticton on Highway 3, is Nelson on the west arm of Kootenay Lake. Nelson is a legendary place for mountain biking—just throw on any New World Disorder movie and watch as Robbie Bourdon or Mike Kinrade ride sky-high skinnies through Nelson's old-growth forests and rip down massive rock slabs before sending huge hand-built dirt jumps. Nelson is raw. There is more than a handful of other local riders that have made names for themselves in the mountain bike world (Sorge, Buehler, Volokhov, etc.) because the trails here truly will make you a better rider and might even scare you a bit, but that's what mountain biking is about, isn't it?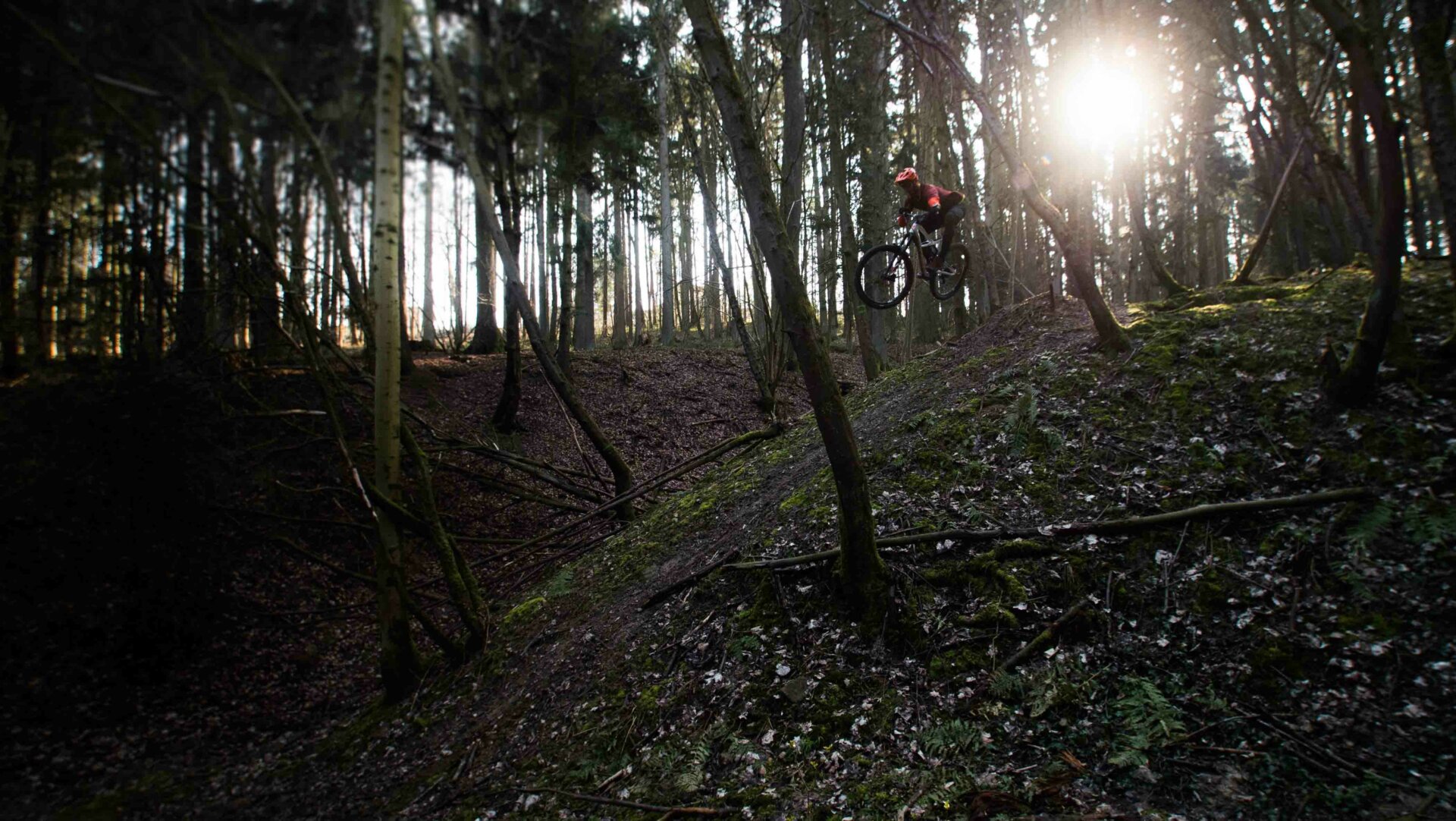 Nelson was ahead of its time: Most of the trails are accessed by old mining roads, which were actually the first "trails" in town, so it's a pedal or push to almost all of the good riding. Local riders were doing this with 50-pound DH bikes before this whole Enduro phenomena came about, but now you can access some of the best trails in the area by a beautifully manicured machine-built climbing trail, which also doubles as a greenish-blue downhill trail, called Bottoms Up and Upper Bottoms. According to Trailforks.com, there are eight riding areas and 175 trails to check out, but the Nelson Cycling Club's trail book lists even more. Stop in at The Sacred Ride or Gerick Cycle and Ski and buy a copy of the trail book to get the full list and colourful maps of the area before you head out!
Looking to maximize your riding while in Nelson? Hit up one of the local shuttles on Wednesday or Thursday night from Eco Footstep Adventures and try your hand at a legendary lap of Powerslave to Mister Slave and the new flowy trails Turnstyles and Lefty. You'll discover everything you ever wanted on this 1,000-metre descent from off-camber roots and surfy lines down old mine tailing piles, to old-growth forest loam and jump lines void of braking bumps and tourists. Nelson has an incredible network of trails for all types of riding, most of which you need to work a bit to get to. But don't worry, some trails even end at the beach, and Kootenay Lake is one of the best places for a post-ride summer swim!
The last stop on our three-city southern interior BC bike trip is Fernie, another mining-town-turned-outdoor-adventure Mecca, but don't tell the miners that. Fernie has a rich mountain bike history with movie segments and races including the Fernie Gravel Grind and TransRockies Race Series (Singletrack 6 and Gravel Royale), along with the Canada Cup & BC Cup Downhill races as part of the Dunbar Summer Series.
While Nelson sits in a narrower valley, Fernie is surrounded by epic Rocky Mountains in every direction in the Elk Valley. Some might call it a pedaler's paradise but others will tell you the lift-accessed park riding at Fernie Alpine Resort is not to be missed for its 36 biking trails.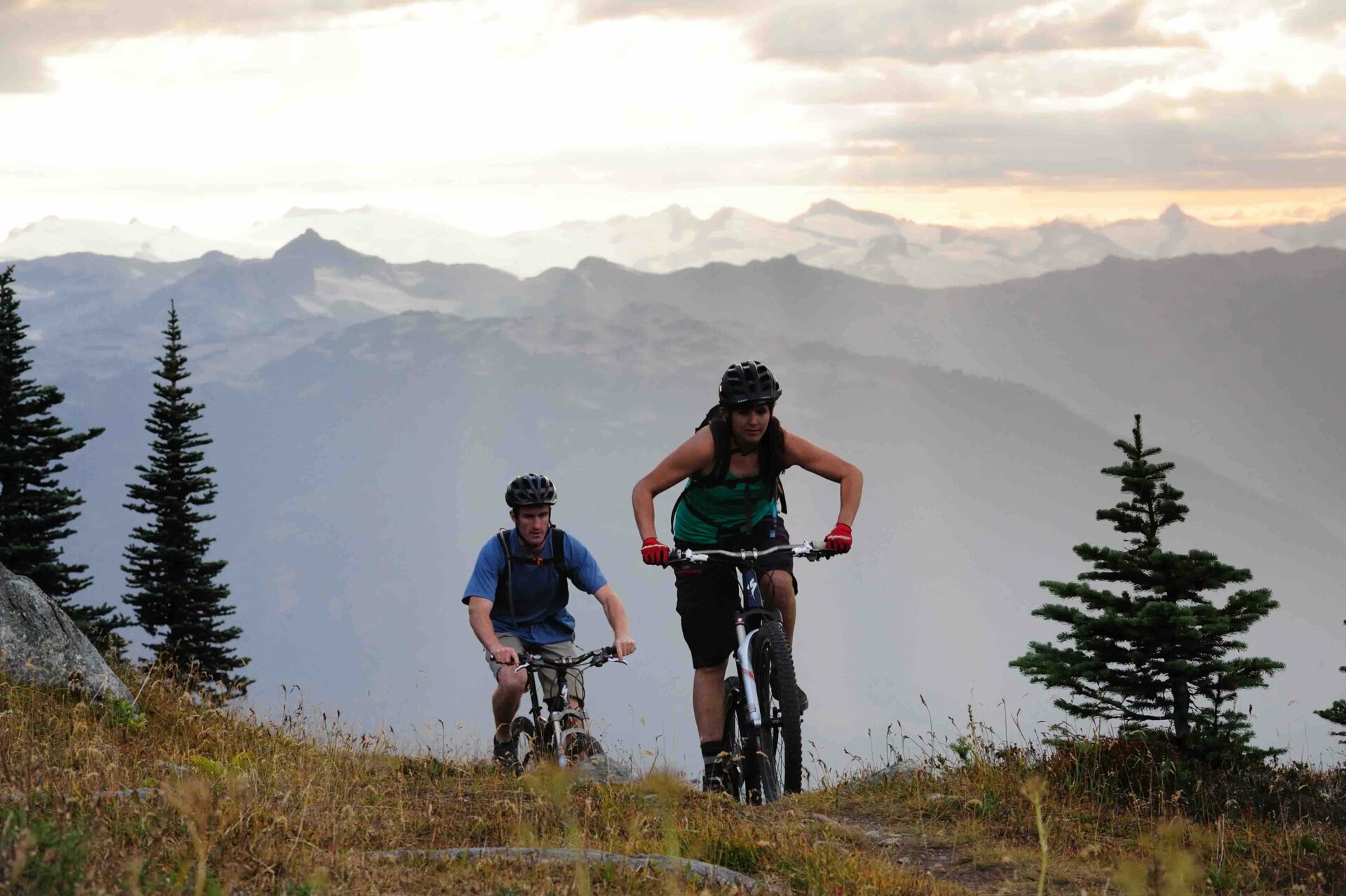 What better way to challenge yourself to new trails than by rewarding yourself with free beer?
There are four riding areas in Fernie outside of the resort that are home to over 200 trails: Mount Fernie Provincial Park, Morrissey Ridge, Castle Mountain and Ridgemont or Fernie Ridge. Right from town you can ride perfectly maintained, lush singletrack and climb your way up trails like Hyper Ventilation to get the blood flowing, and then descend for what feels like hours on Hyper Extension before finishing up with a little more singletrack all the way back to downtown. If that weren't enough, you can take the Fernie Brewing Co.'s Trails To Ales Challenge and tack on some more kms and a lot more climbing by riding Project 9 and Swine Flu in 24 hours to receive a free beer and a medal, but don't forget to document your ride with time-stamped photos. What better way to challenge yourself to new trails than by rewarding yourself with free beer?

Fernie is full of great trails for all abilities, whether you are an XC superfreak, prefer to only downhill shred or you're just getting out on the trails for the first time. Make sure you stop in to see the guys at the Gear Hub and Straight Line Bikes and Skis to get the low-down on what trails to ride for your ability and to grab any gear you may need for your rides.
So now you have three places and a few hundred trails to check out on your next bike adventure, so surely you won't be disappointed that you decided to stray away from the beaten path and ride something different. But before you hit the road and start making all of your friends standing in line at Whistler Bike Park jealous with your riding photos, book your stay at the three cozy HI hostels along the route at HI Penticton, HI Nelson, Dancing Bear Inn and HI Fernie, Raging Elk Hostel. Oh yeah, and there are HI hostels in Vancouver, Whistler and Squamish, too, if you have to go find your friends.
This article is part of the
Bed & Bike
Canada by Bike
You may also like to read