Why April is the best time to ski in the Canadian Rockies
Most places, outside of the tropics, have four seasons. The Canadian Rockies, though, have winter and a bit of summer. Winter is subdivided into the beginning, which is cold, the middle, which is colder, and spring, which is really just warm winter. Spring to most people means tulips, cherry blossoms and shaking off that winter coat. Spring in the Rockies means the skiing and riding season is really hitting its stride: the snow is deep, the sun is warm, the party is outside.
So when exactly is that? For most people, the telltale signs of spring are when you can walk outside in a t-shirt and the air is fragrant, birds are chirping, the grass looks needy and your buddies are talking golf. You feel compelled to rake the grass, enjoy the sounds and smells and definitely go golfing.
In the mountains, we're not thinking about any of those things. This is the part of the season we've been waiting for. The snow from November is still there. The snow from December is still there. January and February? Still there. March has arrived and the accompanying sun and snow cruise on in until the middle of May. Did I mention winter was long?
Every skier and boarder knows that spring is it. The sun softens the snow, and there's lots of it. You can crash through mogul fields without rearranging your internal organs, and those very steep lines are finally ready to be tackled. Decks and patios are full of warm-weather revellers, stripped down to their base layers. Gone are the goggles, it's time for dark tans and sunglasses.
In spring, it's not just après, it's all day. Weekends bring in bands playing at the base of the hills. Events and competitions are a fixture. Good beer and good food are plentiful. All the ski hills—Nakiska, Fernie, Lake Louise, Sunshine, Norquay, Marmot, RED Mountain and Whistler—put their list of events, specials, concerts and parties up on their websites. Due to Covid, the lists are a little short at this point, but are optimistically growing.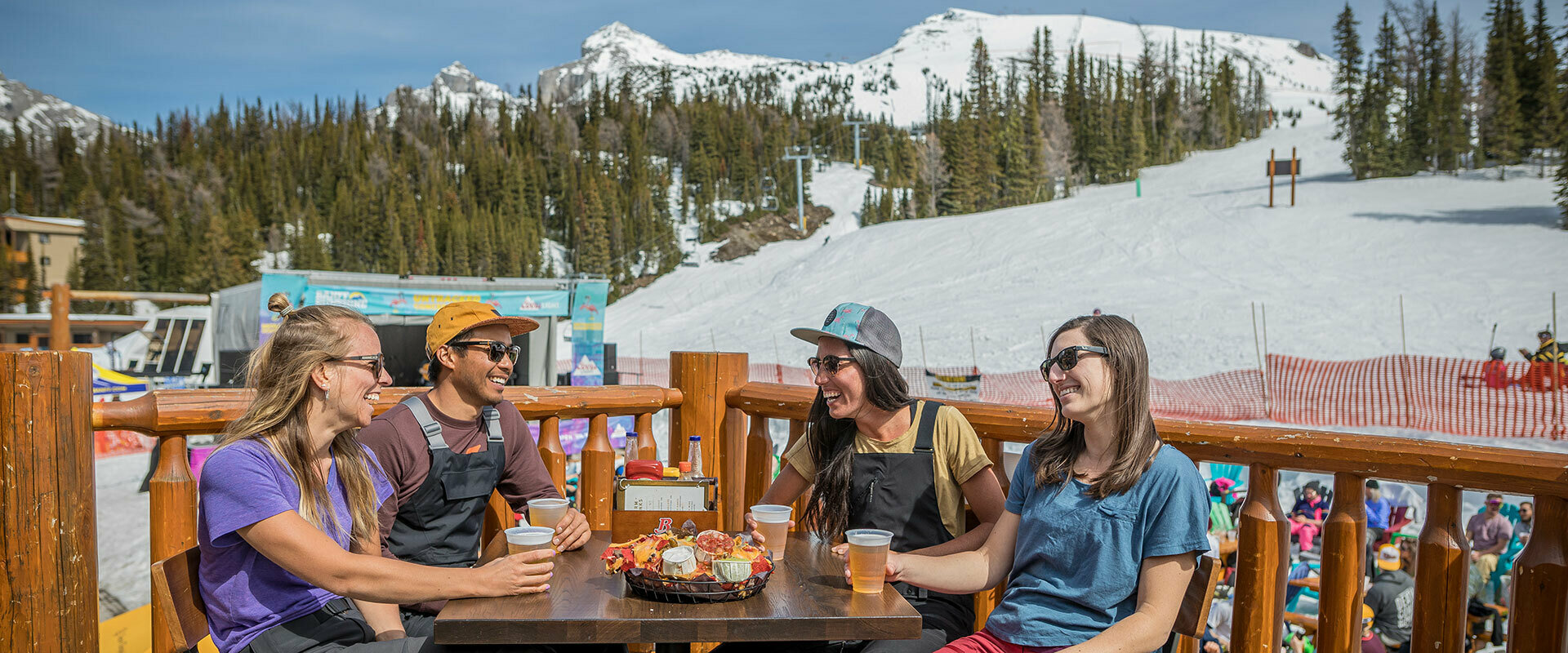 While you're touring around the mountains, if you're stealthy and venture off-piste, you may stumble across some local inhabitants, enjoying their sun pits. Sun pits or snow pits, depending on the weather, are living room furniture sculpted out of hardened snow. Hidden discreetly in the trees, and always with spectacular views, sun pits are where those in the know gather for lunch or a late-day beverage, far from the maddening crowd.
While there is a great deal of entertainment and snow sliding adventures to be pursued on the resort runs, many people prefer the solitude and independence of the backcountry. The Canadian Rockies have incredible terrain, but quite a tricky snowpack, due to a cold and dry climate. This is a problem; patience and caution are required if you don't want to end up on the receiving end of an avalanche.
As March and April arrive, the days see more warmth and melting snow percolates through the snowpack. At night, cold temperatures freeze things back up. These melt-freeze cycles create very stable conditions first thing in the morning. The more ambitious slopes you have been contemplating through the winter are now attainable. As long as you have an early start and complete your mission before things warm up too much as the sun climbs in the sky, you should be good to go. Remember, avalanche safety training and rescue gear are essential if you're planning these backcountry adventures.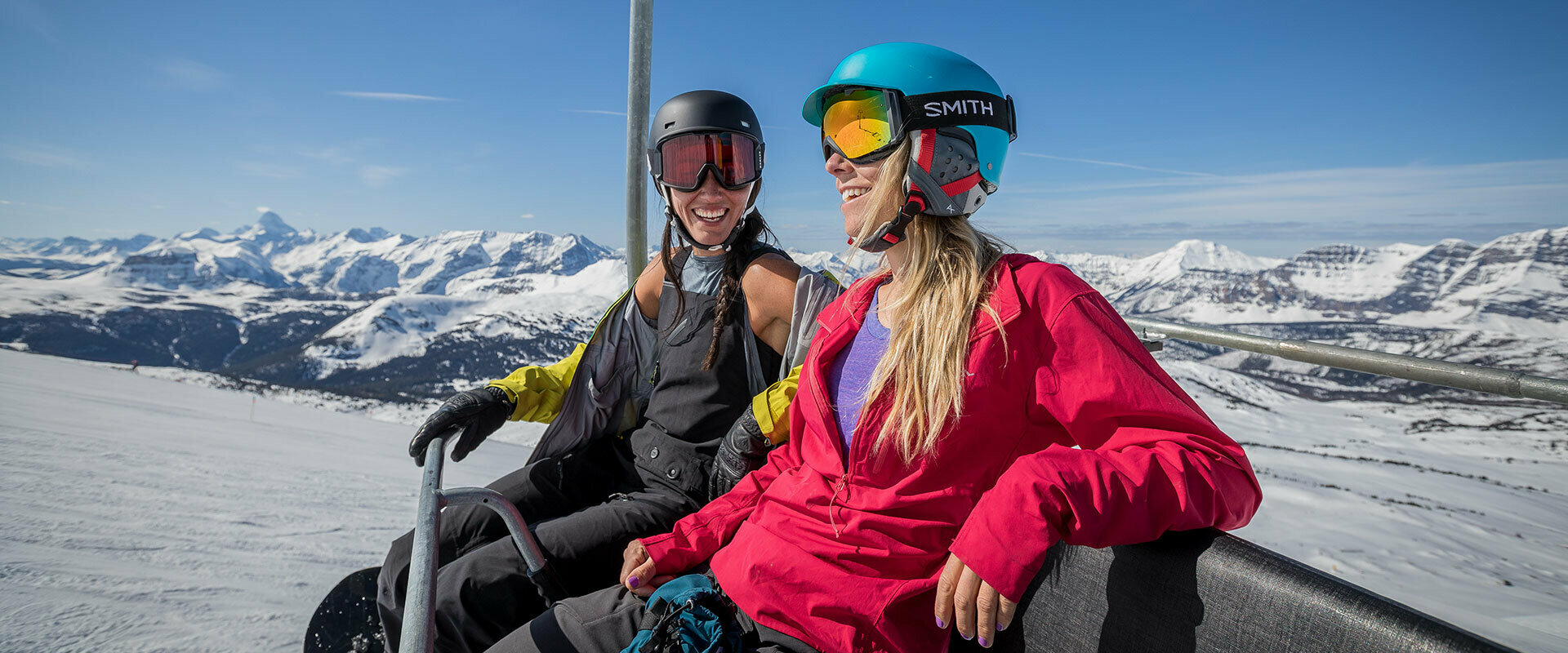 Very early alpine starts can end up being late-at-nights if you're leaving from the city. Fortunately, a good night's sleep and an early morning are not mutually exclusive. While you can day trip to Banff National Park's ski resorts from Calgary or to Whistler from Vancouver, why start your day so early when you can bunk up minutes from the hill?
There are even plenty of HI hostels to stay at near backcountry trailheads between Kananaskis and Jasper. The jewel in the crown is HI Hilda Creek Wilderness Hostel, close to the Columbia Icefields. You can ski out the back door, do big lines and ride right back onto the hostel's deck for lunch. It's the original ski-in/ski-out resort.
So, with all these great skiing, boarding, springing, sunshining, celebrating, life-embracing opportunities, what happened to the golfers and gardeners? It's not their fault. They're just not paying attention. Wherever they are, scattered across the flatlands, they're suffering from a sort of geographical/climactic dissonance. It's warm where they are, spring has arrived, birds are chirping, lawns need raking, golf courses need golfing. Skiing is over.
Don't tell them it's not. (See you there.)
You may also like to read