6 Vancouver parks for outdoor summer chilling
Vancouver is one of the most gorgeous, green and grand cities in beautiful British Columbia. While it might be difficult to navigate through rush-hour traffic or get away with a low monthly cost of living, there's one calming, affordable, and reliable way to enjoy the city: relaxing in parks.
Nearly 300 parks, beaches and gardens make up 11% of Vancouver's land mass. Even when you're in the downtown core, you only need to walk a few blocks to spot the glimmering ocean, snow-dusted mountains or towering palm trees. It's a wonderful place to visit—especially if you love nature and the outdoors.
You don't have to rock climb in Squamish, hike on the North Shore or cycle the seawall to enjoy Vancouver's abundance of nature. Grab a blanket, a book and a backpack, and settle down on a wide expanse of greenery when the weather is nice. For hostel groups and solo travellers in Vancouver, park lounging is a great way to make the most of this amazing city.
Keep reading to learn about the art of relaxing in parks in Vancouver.


What to bring
When relaxing in parks in Vancouver, wear walking shoes or cushioned sandals and comfortable clothing. Bring a sweater or cover-up—with its proximity to the Pacific, Vancouver can get chilly, especially in the evenings. There's no need to dress up unless you're planning on dining out, snapping selfies for Instagram or strolling through downtown afterwards.
Device-free time is extremely important (especially when travelling or taking time away from home to recharge!), and the art of relaxing in parks in Vancouver includes unplugging from your electronics. If you prefer to listen to tunes while you relax, bring your headphones. Don't be that person blasting music over speakers in a park.
Besides your vital items—phone, keys, wallet—you'll want to pack:
Sunscreen, sunglasses and a hat

Blanket or towel

Book or notebook and pen

Snacks and drinks

Water bottle

Hand sanitizer
You can also bring a deck of cards, bocce, frisbee or Spikeball to pass the time. Volleyball courts don't need to be booked in advance—play areas are first come, first serve.

While open fires are banned in many parks, charcoal BBQs and propane fire pits are sometimes allowed. Why not roast marshmallows or sausages for a picnic? If you don't have access to a BBQ, you can still bring a basket full of food like in-season fruit, cheese, deli meat and crackers. You can purchase everything at nearby grocery stores or markets.

When to go
April through October is the best time to relax in parks in Vancouver. Avoid stifling hot summer days or rainy weeks. Parking can be difficult, as many people want to enjoy the beautiful, natural areas outside the city. If you're flexible, go on a weekday morning or afternoon to avoid the crowds.
Where to go
With so many green spaces, it's difficult to narrow it down to a few favourites. My partner, friends and I love planning picnics throughout the spring, summer and fall at various parks, from White Pine Beach in Belcarra Regional Park to Lighthouse Park in West Vancouver.
Here are six amazing spots to practice the art of relaxing in parks in Vancouver:

Stanley Park
Kicking off the list has to be Vancouver's largest urban park. Encompassing two lakes, 10 historical statues and athletic fields ranging from tennis, to rugby and bowling greens, to baseball diamonds, Stanley Park has a lot going on. It's also bordered by sandy beaches and rolling ocean waves so the scenery is stunning. The 405-hectare park can take months to explore. Spend an afternoon walking through the rose garden admiring colourful flower beds, visiting the landmark 700-year-old Hollow Tree and capping it off with ice cream at Prospect Point.
Queen Elizabeth Park
Queen Elizabeth Park is one of the most beautiful spots in the city. Start in the fragrant rose garden, trace the path to the lookout points, and pop into the Bloedel Conservatory to see and hear tropical birds nesting and roaming through balmy flora. As the highest hill in the city, it's a fantastic spot to watch the sunset. If you have time, sip a drink on the patio of Seasons in the Park—a restaurant with one of the best views of Vancouver.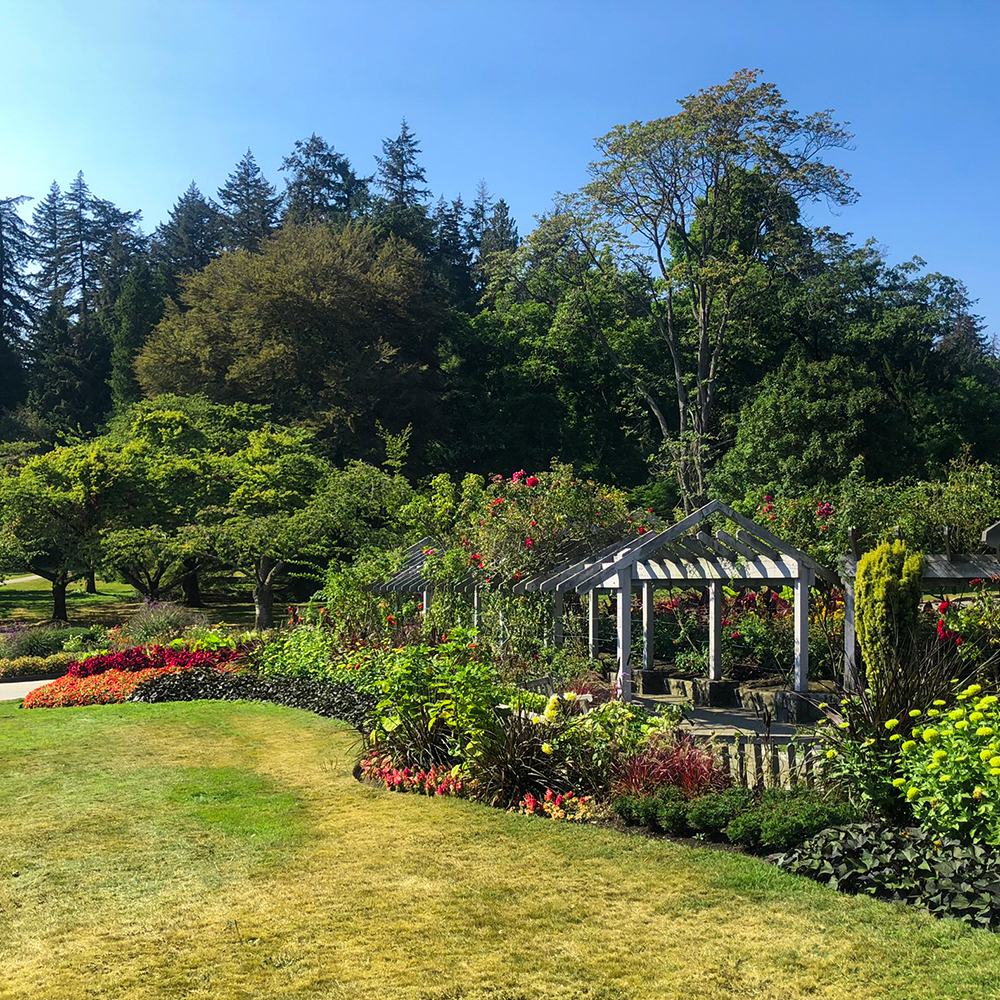 Stanley Park Rose Garden
David Lam Park
This spacious grassy area in Yaletown is surrounded by playgrounds, basketball and tennis courts, and the scenic seawall. You'll find a sculpture made of columns that invites walkers to jump from stone to stone. It was created in 1996 by Don Vaughan. Across a concrete ring at the top, an inscription reads, "The moon circles the Earth and the ocean responds with the rhythm of the tides." With plenty of benches to sit and rest, this is a great spot for contemplation and people-watching. Visit in April to see pretty pink cherry blossom flowers blooming throughout the park.
Sunset Beach Park
Just 600 metres from HI Vancouver Downtown, Sunset Beach is the ultimate place to chill. With a laid-back, retro vibe, you're likely to spot roller-skaters, street hockey players, dog walkers and even dance workout classes. It's an open, welcoming space to relax on the sand, nap on the grass or wade into the sparkling ocean. In the summer, the concession offers refreshments like kombucha, popsicles and burgers. You can use the adjoining washrooms to get changed into your bathing suit or swim trunks.
English Bay Beach
Securing a spot at one of the logs here can be hectic on the weekend, surmounted only by the lineup at the Rain or Shine ice cream truck. Both are worth the wait. (Try the London Fog or Honey Lavender ice cream—thank me later). With views stretching out into the Pacific, this park is popular with runners, swimmers and sunbathers who soak in the beauty of this area near lively Davie Street. Don't miss one of the coolest sculptures in Vancouver, A-maze-ing Laughter by Yue Minjun. Take a photograph posing in front of the bronze characters and you're sure to end up giggling, too.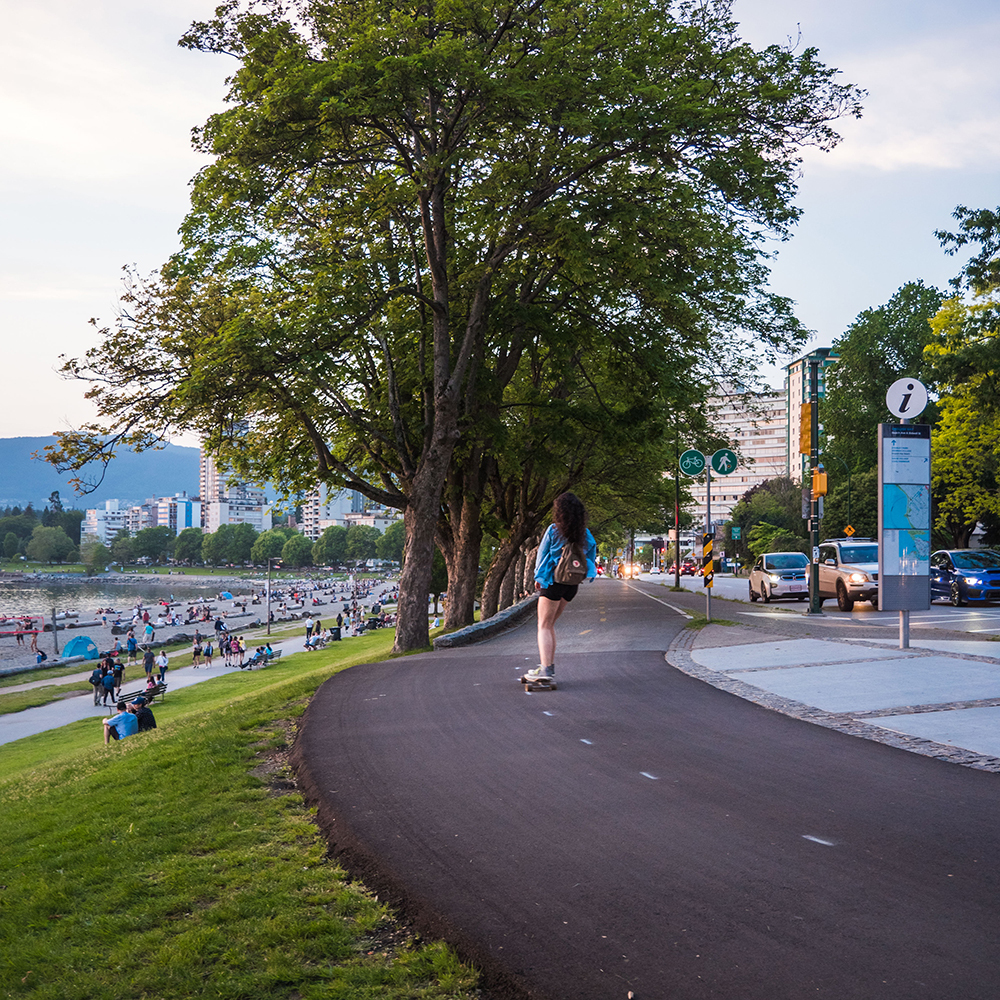 English Bay
Spanish Banks Beach
Steps from HI Vancouver Jericho Beach, you'll find the perfect place for kitesurfing, beach bumming and picnic grazing. Spanish Banks is a personal favourite for its free parking coupled with sweeping views of the mountains and skyline of Vancouver beyond beige sand. Stop at Lorcarno Beach Café for a chicken burger, fish and chips or scoop of ice cream. You could walk, paddle or cycle along this stunning coastline for hours, but we won't blame you if you decide to sit back, relax and enjoy the panoramic views.
Congratulations—you've officially learned the art of relaxing in parks in Vancouver! Now get outside and chill.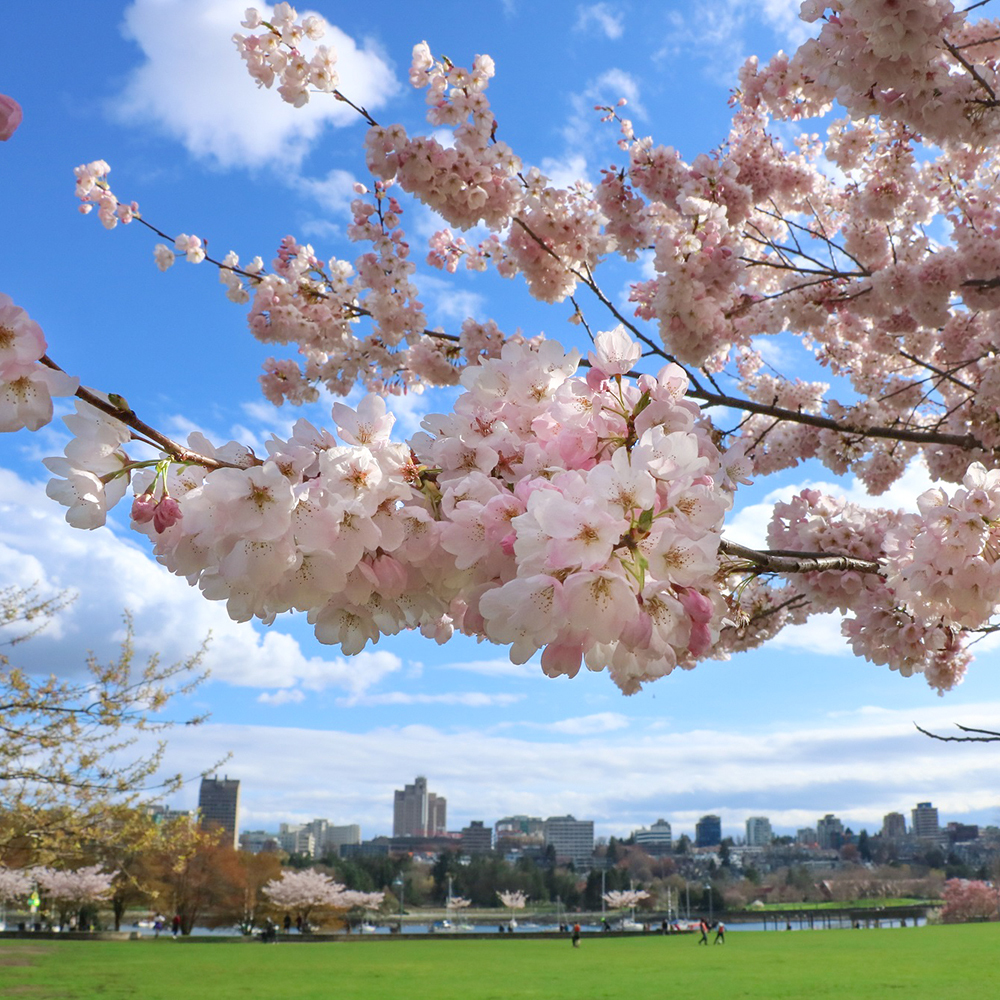 David Lam Park
You may also like to read