13 free or cheap things to do in Vancouver
"Cheap in Vancouver" may feel like an oxymoron, but this coastal city has a surprising number of cheap and free activities to enjoy. From nature and culture, to great cuisine, the city of Vancouver has something for everyone and every budget. So yes, for backpackers looking for a great Canadian adventure, this British Columbian city is totally an option. Here's our guide on how to have the best Van City experience… without going broke.
Outdoor Activities:
1. Spend a day at Stanley Park
Stanley Park is the perfect representation of all that Vancouver has to offer. With stunning views of the ocean, mountains, and the city, this 1000+ acre forested park is free to access to enjoy the beaches, trails, and gardens. If you have room in your budget, consider renting bikes to circle the perimeter of Stanley Park on the seawall. It's the best way to cover a lot of ground and get the full experience. (Cost: bike rentals start at $8 per hour, discounted for half days)
2. Relax on the beach
There are not many cities where you can take in views of snow-capped mountains while sitting on the beach in the blazing sun… but in Vancouver, you can do exactly that. Visit Kitsilano, English Bay, Spanish Banks, Jericho, or a Stanley Park beach to lounge on the shoreline with breathtaking views. But don't fret if lounging is not your thing, Vancouver beaches are always full of people playing volleyball and other games to keep you entertained. (Cost: free)


© Tourism Vancouver / Hubert Kang

3. Learn about lifecycle of salmon

Salmon are an integral part of British Columbia's economy, history, and Indigenous culture. (And abroad, Canadian salmon is a pretty big deal!) Capilano Salmon Hatchery offers a self-guided tour and the chance to see fish develop from eggs to juveniles, giving you a better understanding of the importance of this fish to B.C. and its people. Check the hatchery's website for hours and species throughout the year. (Cost: free)

4. Wander the UBC Botanical Gardens
If you're a lover of plants, the UBC Botanical Gardens are a great place to escape the city and enjoy a walk through nature. The garden includes over 8,000 plant species from around the world—many of which are rare or endangered. The gardens are arranged in many collections, including the Alpine Garden, Asian Garden, Food Garden and more, making it an educational experience as well. (Cost: by donation)
5. Hike the Lynn Canyon Suspension Bridge
This 40m long suspension bridge is a great free alternative to the Capilano Suspension Bridge. The two-kilometre loop hike is fairly easy for all ability levels and offers beautiful views of the Lynn Canyon and surrounding temperate rainforest and waterfalls. If you visit in the summer, be sure to pack a swimsuit to cool off in one of the large natural swimming holes. (Cost: free, parking $3/hour)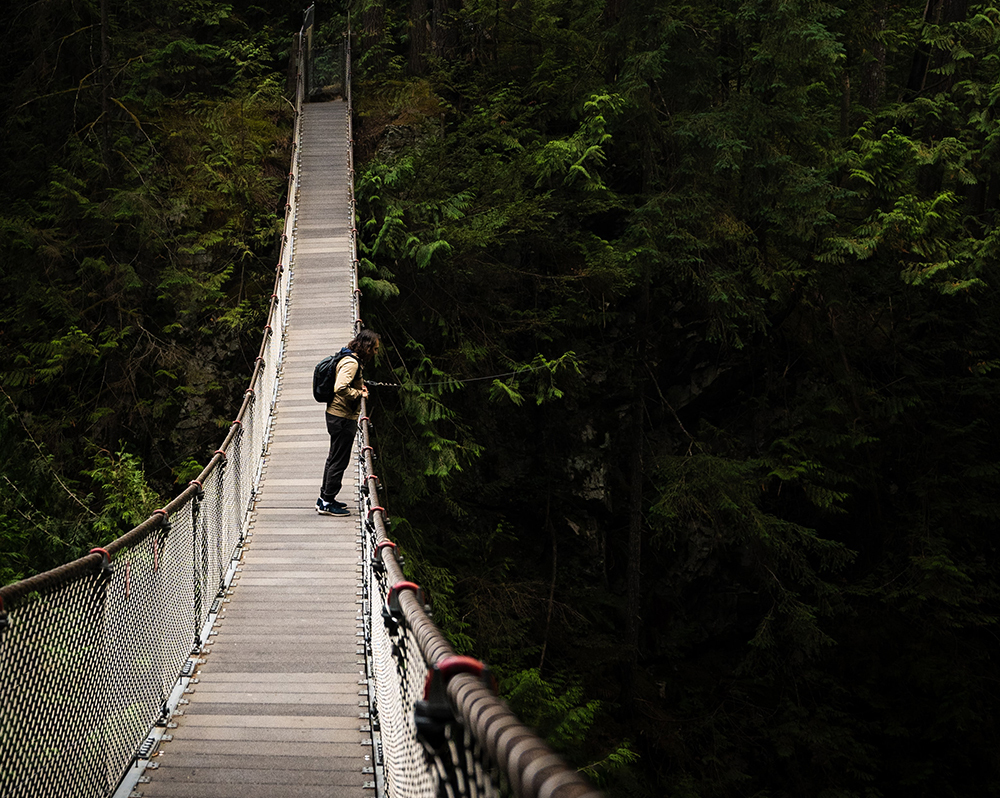 Indoor Activities:
6. Appreciate art at the Vancouver Art Gallery
Located in the heart of downtown Vancouver, the Vancouver Art Gallery is the largest art museum in Western Canada. The gallery features a collection of over 12,000 pieces created by renowned Canadian and international artists. The permanent and rotating exhibits are a great way to engage with art created in many historical and cultural contexts. (Cost: by donation on Tuesdays from 5-8 p.m.)
7. Shop at the Vancouver Flea Market
If you're looking for a unique and eclectic shopping experience, the flea market offers a wide variety of vintage and secondhand items at affordable prices. Even if you don't have space to purchase anything, this is a very authentic and entertaining stop for any traveller as there's live music, food stalls and unique collectibles to admire. The Flea Market is open 9-5 p.m. on Saturday and Sundays. (Cost: free)

Getting Around:
8. Ride the Skytrain
The TransLink SkyTrain is a fun and practical way to see the city from above. Purchasing the Compass Card DayPass provides unlimited transit on all SkyTrain lines, buses, SeaBuses and HandyDART throughout the day, making it the perfect way to move around the city. (Cost: $11)
9. Take the SeaBus to Lonsdale Quay
This 15-minute passenger ferry offers beautiful views as it crosses the Burrard Inlet from downtown Vancouver to the North Shore. The Lonsdale Quay on the other side is a vibrant public market with many vendors selling fresh produce, seafood, and artisanal products. While you're there, check out the large food court which is a great place to grab lunch or dinner. (Cost: included in Compass Card DayPass)
10. Tour False Creek by Aquabus
The Vancouver Aquabus is a colourful little passenger ferry that travels between eight different spots on False Creek. It's a fun way to see the marina and Vancouver skyline from the water while stopping at popular sites like Granville Island and Yaletown. (Cost: $2-8 per trip depending on route or $17 for day pass)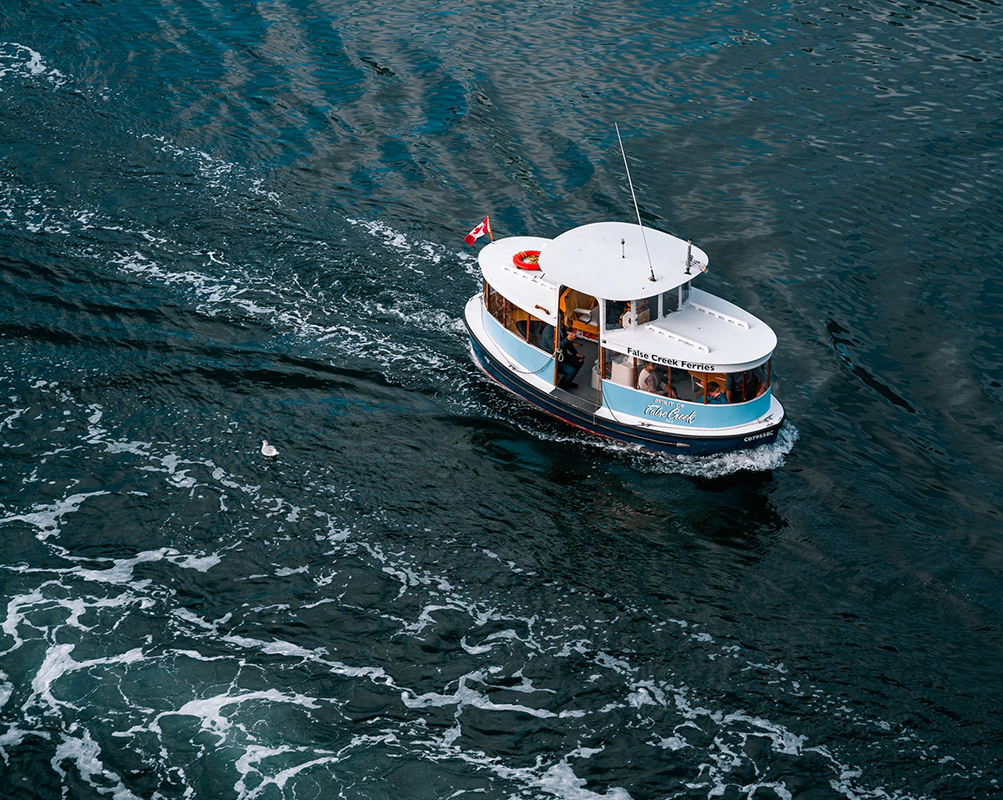 Cheap(er) Eats:
11. La Belle Patate
If Canada is known for one dish, it is POUTINE. So if you've never tried poutine before (or already know you love it), La Belle Patate is the perfect spot to indulge because their menu consists of 36 different poutine options!

12. Moose's Down Under Bar and Grill

One of the draws to Vancouver is the variety of international food available. This Australian bar and grill is a great example with menu items like their meat pies, chicken parmies, and Australian beers to give you a true taste of Australian grub. With "Appy Hour" every night between 4-7 p.m., this is a great place to stop for some 30% off appies.
13. La Tortilleria
Another international option in Vancouver is La Tortilleria in the Granville Island Public Market. This one serves up awesome Mexican food with cheap burritos, quesadillas, and other Mexican classics. This is a great spot to enjoy some cheap eats. As backpackers know, cheap food pairs well with growling stomachs after a day of working up an appetite!

This article is part of the
Issue 1
Canada on a budget
You may also like to read