11 weird winter activities you should think about trying this year
Canadian winters are long and cold... and did we mention long? It's tempting to stay cozied up at home, watching the good ol' hockey game, or extreme skaters hurtle themselves downhill on the ice (yeah, ever heard of Ice Cross?), and wonder what life might have been like had you pursued a career in competitive winter sports.

But, hey... there's still time try out your own less-competitive skills with these weird winter sports. No matter where you find yourself in Canada this winter, there's always something fun, or at least different, to do outside.
Ice canoe
Combine Canada's favourite boat with Canada's "favourite" season and you've got yourself a new favourite hobby. Ice canoeing is exactly what it sounds like it is. Most years, you can watch the sport in action during Quebec City's annual Carnival, as competitive ice canoers race across the Saint Lawrence, and you can also give it a go yourself under the guidance of a pro. Ice canoeing is a team sport and it involves two kinds of actions—"trotting" the canoe as a group over the thick icey patches, usually close to the riverbanks, and paddling the canoe through the frigid, berg-ridden waters to the other side.
Where to stay: HI Quebec City
Skijoring
This weird sport is kind of like winter water skiing on land, but in this version the skier is pulled by a horse, or sled dogs or even a motorcycle or skidoo. The Canadian take on it tends to favour horses as the power source. The horse has a rider who steers it, and the attached skier navigates a series of jumps and obstacles along the course. Multiple teams race at a time and the first one through the course wins. This isn't a sport you can really pick up on your own, but if you're interested in giving it a go, you should reach out to an official organization like Skijor Canada. To watch it in action, check out the Skijor competition at SnowDays in Banff in January.
Where to stay: HI Banff Alpine Centre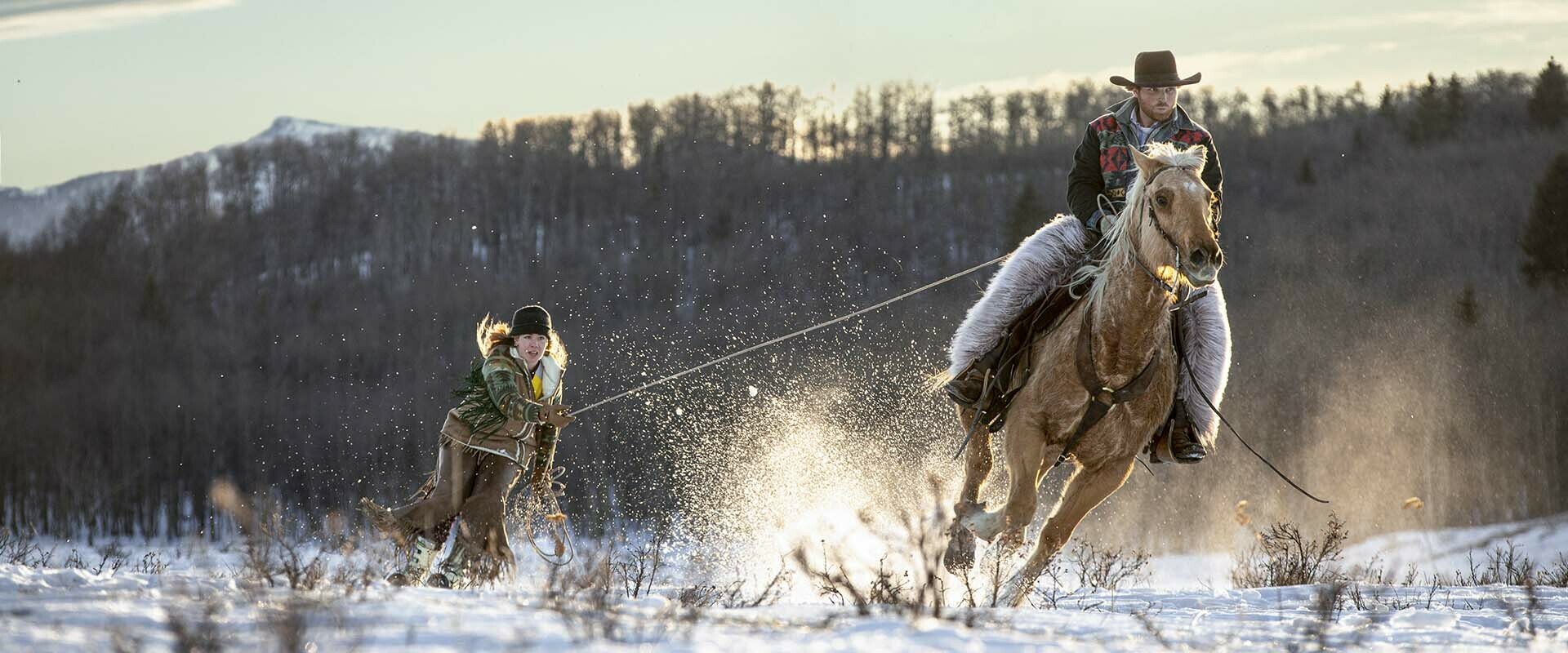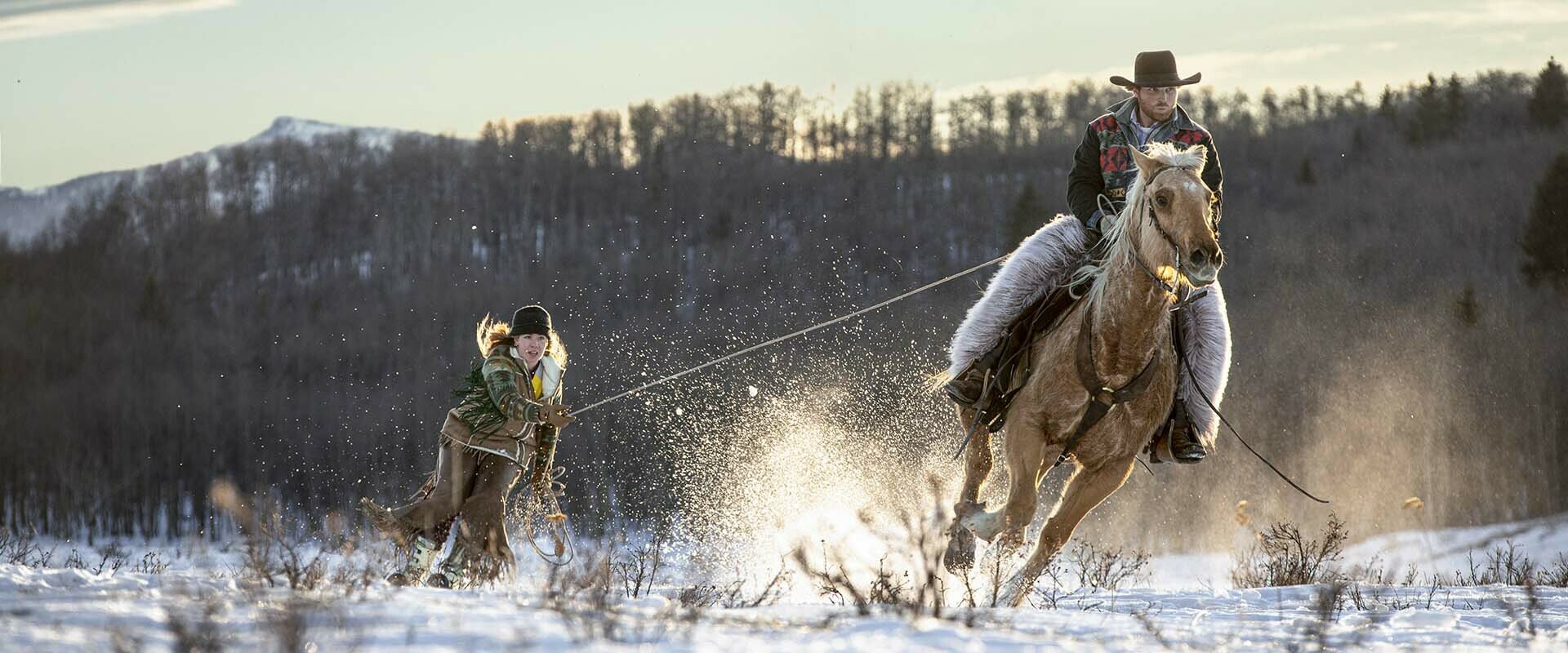 © Travel Alberta Noël Hendrickson
Winter via ferrata
Italian for "iron road", via ferratas are a popular adventure activity in the summer months and you can find them all over the country. These climbing routes come with permanent steel fixtures to aid in your journey – ladders, steps, steel cables, bolted footholds and handholds and more so you can secure your own harness as you go. The Via Ferrata La Charlevoix in La Malbaie, Quebec, is the only one in the country that runs year-round, offering up a unique winter spin on this exciting activity as you climb along cliffs overlooking the Saint Lawrence River.
Where to stay: HI La Malbaie
Winter zipline
Whipping through treetops, suspended from a steel cable high above rivers and creeks below is an incredible experience in summer. But how about in winter? You'll want to bundle up, but with the proper protection, a winter zipline run offers up a totally different experience, zooming among snowy trees, high above a winter wonderland. Many zipline operators shut down in the winter, but in four-season destinations like Whistler, you can do it year-round.
Where to stay: HI Whistler
Quebec city slide
Tobogganing is an ageless winter activity (if you can muster the kind of eight-year-old's energy required to walk back up to the top of the hill). The slides at Dufferin Terrace in Quebec City (aka Les Glissades de la Terrasse) are a picturesque take on this winter classic. Grab a toboggan and head to the top of the 70-metre slides. Zip down the 110-foot-high wooden toboggan run at 70 km/hr with views of the Chateau Frontenac and St Lawrence River ahead of you. It's open from mid-December to mid-March.
Where to stay: HI Quebec City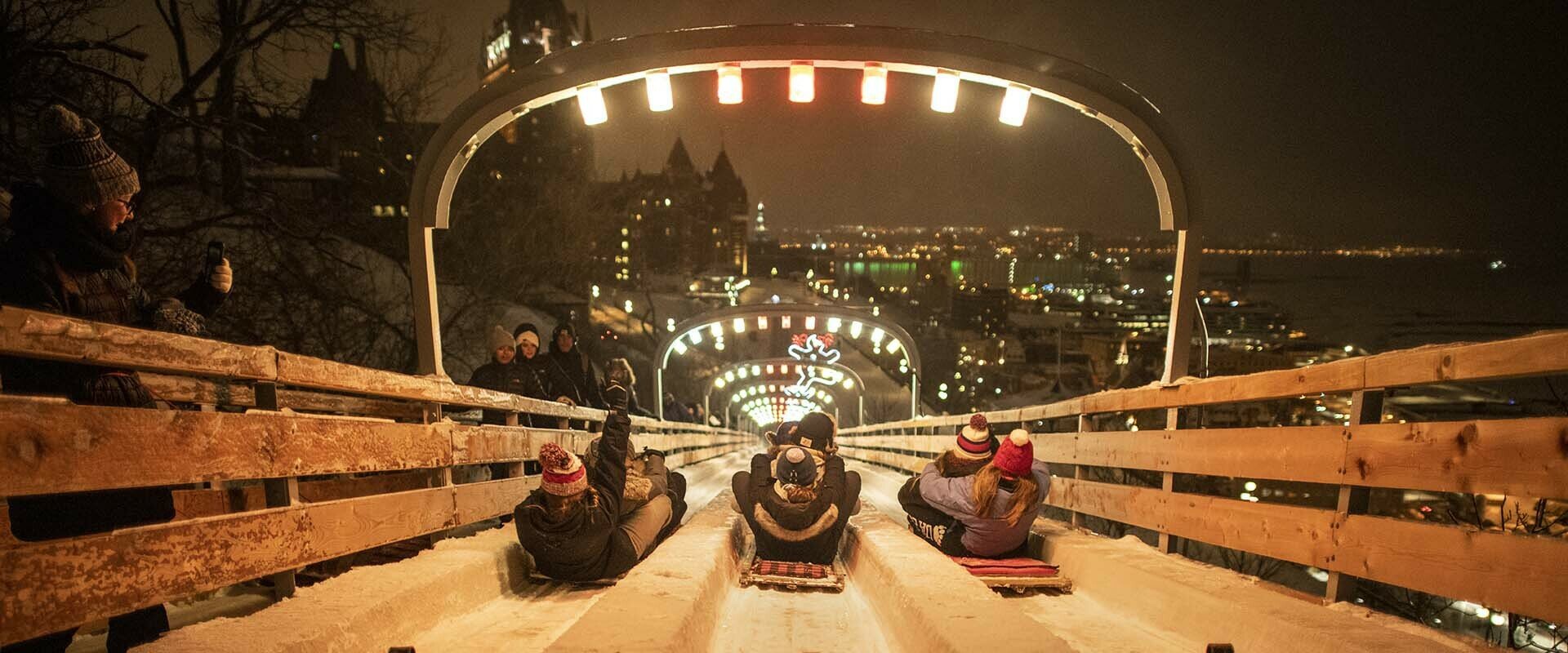 Ice climbing/canyoning
Where there's water, there's ice come winter. The Rockies are teeming with towering waterfalls that freeze over come winter, and there are a lot of ways to enjoy these spectacular formations, whether you want to climb them or just admire them from below. Maligne Canyon in Jasper National Park rushes with water in the warmer months, but in winter you can take a guided walk along the canyon floor and admiring the frozen waterfalls. Johnston Canyon in Banff National Park also offers a relatively easy hike among frozen-over rock walls. A little farther north, HI Rampart Creek Wilderness Hostel serves as an ice climber's base camp with over 150 climbing routes within a 30-minute drive.
Where to stay: HI Maligne Canyon, HI Rampart Creek, HI Castle Mountain
Lake skating
While most skating in Canada takes place on manmade rinks, nothing will ever replicate the feeling of skating on a frozen lake, especially a mountain lake surrounded by snowy peaks, though Ontario's million lakes offer a little something for everyone, too. Bundle up and pack a thermos of cocoa, and maybe BYO shovel to clear off a bit of snow for some twirls. Don your plaid and your toque and a bring a couple hockey sticks to create your own Heritage Minute. Seasoned lake skaters know the magic of an early-season deep-freeze. When the lake water freezes before the snow falls, you're more likely to find crystal clear flat ice, no Zamboni needed.
Where to stay: HI Lake Louise Alpine Centre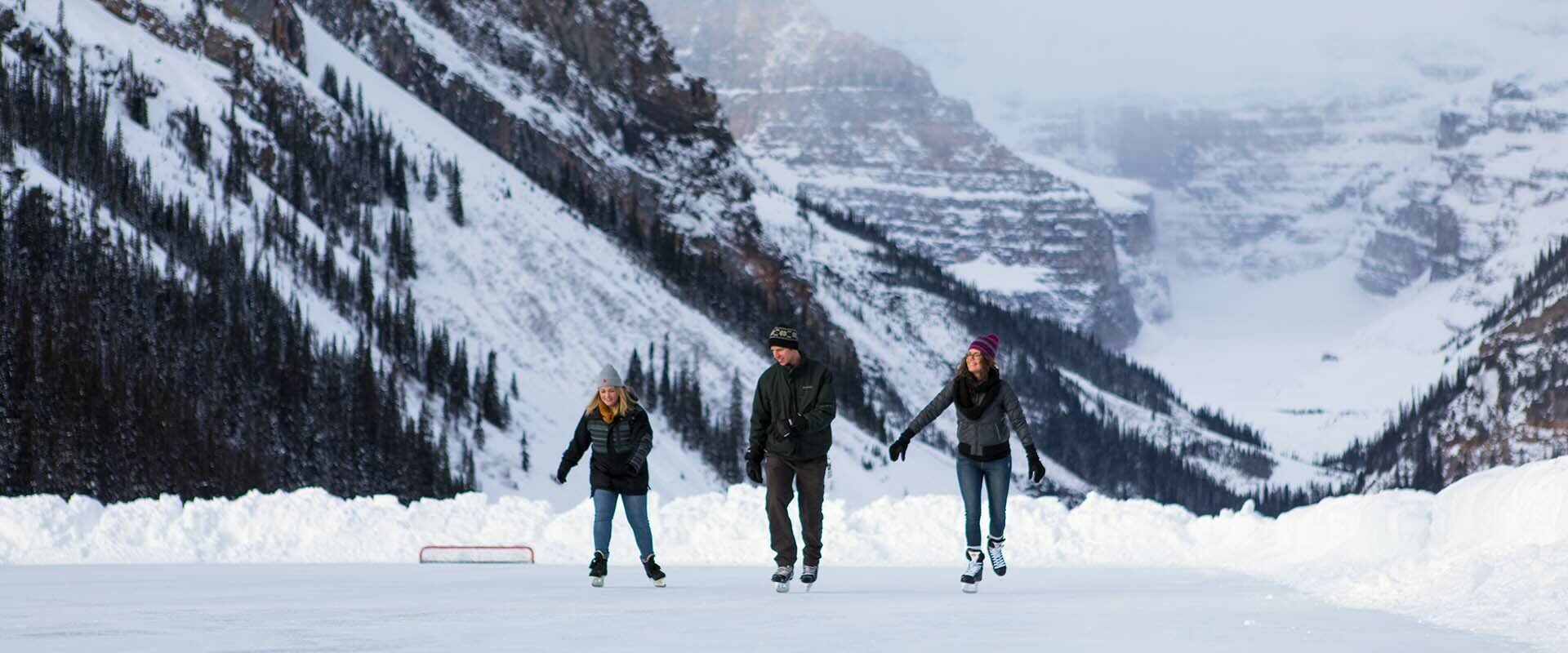 Storm watching
You don't need snow to have a good time in winter in Canada. On the West Coast, Tofino sits on the edge of a temperate rainforest, facing the wide-open Pacific. In the winter, this is a brewing pot for wild storms, big waves, strong winds and Mother Nature at her roaring finest. Storm watching is a sport in itself, whether you want to enjoy it from a seaside window or head out in your waterproofs and brave a stroll on the beach. The show is always impressive.
Where to stay: HI Tofino
Fat biking
Those of us who prefer life on two wheels don't need to sit idle in winter when snow covers the best bike routes. Fat bikes with their extra-large tires make snow-cycling easy, and plenty of bike shops in Canada rent them out in the winter months, so you can add a bike ride to your winter adventure. We've partnered with a few sporting shops to save you on your bike rentals in winter or summer in Jasper, Banff, Lake Louise, Kananaskis and Canmore.
Where to stay: HI Jasper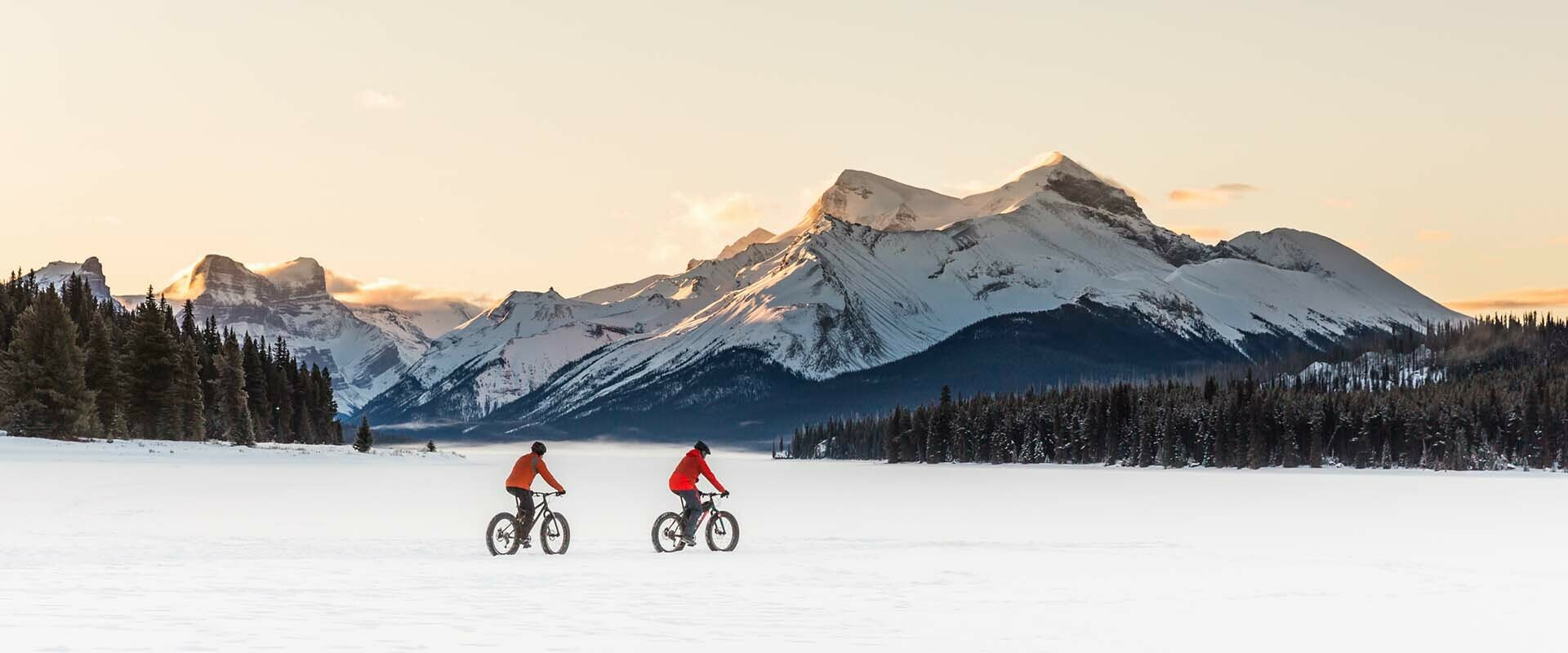 Bobsleigh
There are some Olympic sports that you can be pretty confident you'll never get to try, but bobsledding doesn't have to be one of them. While picking up the bobsled as a personal hobby is probably out of the realm of possibility, you can still try your hand at it. In Whistler, home of the 2010 Winter Olympics, you can ride in a bobsleigh with a trained pilot on the actual Olympic bobsled track at the Whistler Sliding Centre. You'll hit speeds of up to (or over) 125 km/hr.
Where to stay: HI Whistler (originally built as part of the Olympics' athlete's village)
Ski ballet
This one doesn't require any special equipment, other than a passion for the 80s and perhaps a vintage one-piece ski suit, if you really want to nail it. Ski ballet was an actual, officially recognized sport, and debut in 1988 as a demonstration sport at the Calgary Winter Olympics, which is convenient because it is both very Calgary and very 1988. Ski ballerinas perform dance-like aerial maneuvers on a slight slope, using their skis and poles as extensions of their creative spirit. While the sport has since been nixed from the officially recognized list (in favour of more modern freestyle skiing categories like aerials and moguls), there's no reason you can't bring it back.
Where to stay: HI Kananaskis, not far from the Olympics alpine skiing venue at Nakiska Ski Area
You may also like to read