The importance of female travel friends
Somewhere off the coast of Cartagena, Colombia is a cluster of islands called the Rosario Islands. A visit here is bliss. The beaches are irresistable white, sandy strips. The temperatures are blazing hot—the kind of sizzling heat that my Canadian soul craves. The water is clear, salty, and home to colourful fishing boats that lazily bob up and down with the tide. I'm here in 2018 as I tour this part of Colombia's coast. I'm kayaking through the tangled mangroves on the kind of day that evaporates sweat as soon as it leaves my pores. I'm with my impromptu travel buddy Audree: a woman from Luxembourg who I met earlier in my travels at a hostel outside of Santa Marta.
We paddle outside of the gnarled mangroves and reach the open sea. Audree tells me tonight's plan: we're going to procure some beers and maybe a cocktail. She wants to see if the green-eyed Colombian man who works at the hostel next to ours wants to hang out with us. Then, we'll wander into town to see if we can find a party. That sounds like fun and I agree. Though, we've been in this sleepy island town for a couple of days and I already know our chances of finding a party are slim to none.

My original intention for this trip along Colombia's Caribbean coastline involved lots of alone time to read, study Spanish, run along the beach and finish up some work. You know, solo travel stuff. I showed up with a small group of friends from Medellin (where I'd been living at the time) to spend time in Santa Marta and Tayrona National Park. When they left, I spent an entire 20 minutes alone before a woman from Spain (whose name escapes me now) wandered in my direction, introduced herself, and pulled a beach chair up beside me.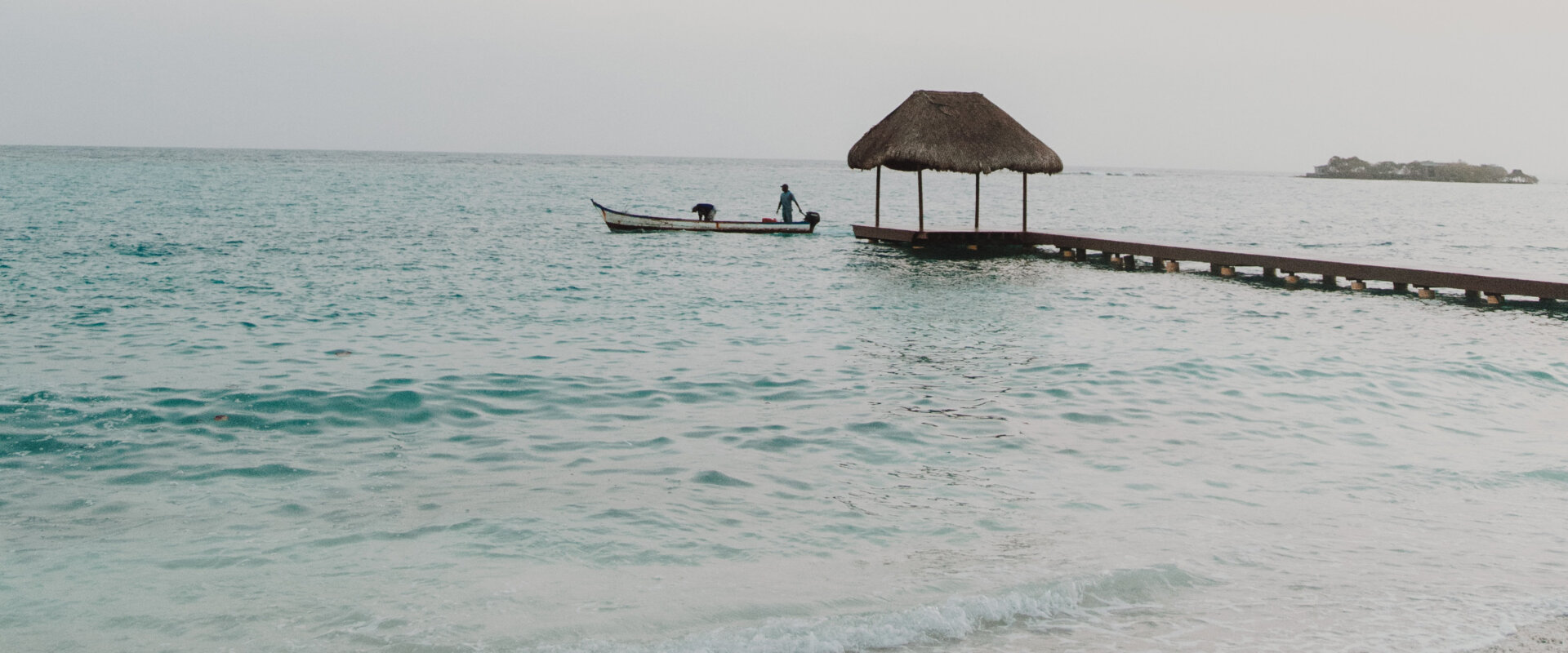 We wandered up the beach and met Audree. She'd been travelling for months through South America already and collected tattoos as souvenirs. If memory serves me correctly, there was a flamingo, a mountain, a palm tree, and a lady in a full skirt all inked into her skin. She'd been through Chile, Peru, Bolivia, and was now in Colombia before heading to Panama. She spoke German, English, French, Luxembourgish and Spanish. I was immediately amazed—albeit a bit intimidated—by her language skills, independence, and travel experience.
We plopped down on the sand all together to watch the sunset. As the sun sunk below the horizon, these two women told me all about Europe. I heard about what it was like to ski in the Alps and when I imagined Spain, I could almost taste the paella. I told them about nights eating popcorn in Medellin's town squares. Already, this was beating a solo evening of reading whatever book I brought along.
As it goes with many backpacker adventures, our itineraries somewhat lined up. Audree and I were going to a small town called Taganga before heading to Cartagena and then the Rosario Islands. Travelling together was a no-brainer: we'd have each other's company, neither of us would have to ride the night bus alone, Audree had a good handle on the language and logistics of backpacking in South America, and I had researched Cartagena and the best breezy island hostels. Our new Spanish friend would meet us there.
And that's the thing about the female travel friends who you meet along the way: there's a sense of sisterhood that we share without question.
In the week that followed, we became great travel companions. We lounged on a sun-scorched beach while Audree told me about her plans to open a restaurant in Austria. I told her I was writing a travel story about Medellin and told her about freelancing and what inspired me to spend time in South America.

She watched my pale skin for sunburns and checked in when my stomach had a bad reaction to some seafood. I heard about her last breakup. I watched her bags while she got a tattoo of whichever symbol would represent her travels in Colombia. When I accidentally slipped Canadian French into my Spanish orders at restaurants, she chuckled. (Damn Europeans and their seamless language capabilities.) I kept a straight face as she told a good looking Dutch man that she was a wine connoisseur and got conned into dropping way too much cash on a bottle of red.

Together, we sat on a hostel patio swatting mosquitoes away from each other as she told me about the time when she won over the hottest guy despite having cut all of her hair off. "It doesn't matter how pretty you are. It definitely doesn't matter whether or not you even have hair!" she said. "I think I just heard some music coming from town! Let's go find the party!" (It wasn't music, it was the horn from the boat. Despite her best intentions, we never did find a party on the Rosario islands.)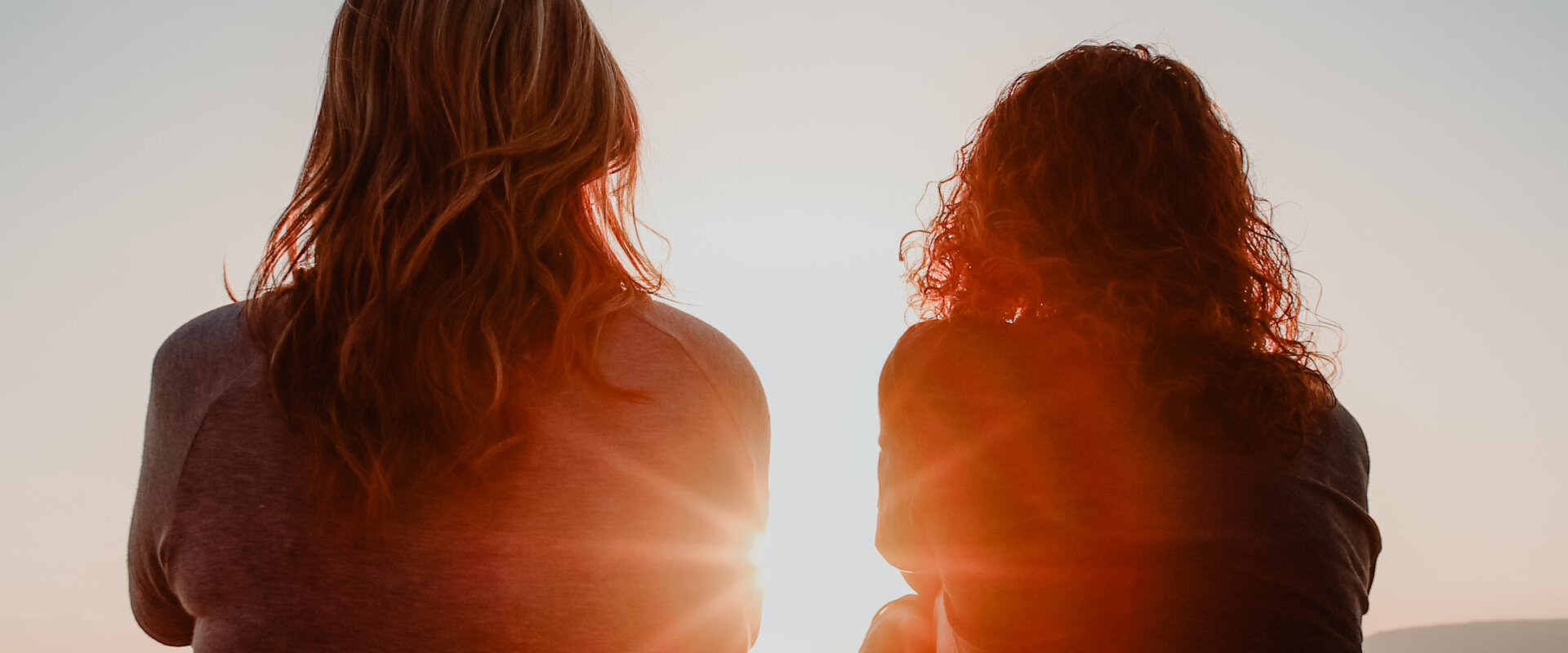 Off the coast of Cartagena, we made a rookie mistake and neglected to bring a sufficient amount of cash to the islands. (Always, always travel to remote places with cash to spare!) No matter, we figured. We were in this together and we'd pool our coins and figure it out together. And we did by sharing what we bought, ordering the cheapest items from the menu, and finding the deals at the local fruit stall. It was a team effort.

This camaraderie was shared by our Spanish friend and an American woman who also joined our temporary tribe. And that's the thing about the female travel friends who you meet along the way: there's a sense of sisterhood that we share without question. There's a tendency amongst us to look out for one another. We know what it's like to feel ready for adventure but still a little unsure and a little nervous. We plan our travels looking forward to the fun of beach-side hostels, parties, changes in scenery, and a taste of cultures that are not our own.
In the absence of family and friends, we have an unwritten rule to be there for each other. When you travel—especially if you do so alone—you're automatically part of the sisterhood.
But still, we will always encounter the unexpected. Between those highlight reel moments, there will always be the lost wallets, the navigation errors, the creepy man in the bar, the language confusion or the upset stomach.

That's where you come to rely on the other solo female travellers in your hostel or wherever else you happen to be. We have an unspoken pact amongst each other to look out for one another. In the absence of family and friends, we have an unwritten rule to be there for each other. When you travel—especially if you do so alone—you're automatically part of the sisterhood. It's not that you can't get this unwavering support from male travellers, couples or families—I have, on many occasions, made strong bonds with the guys or couples I met on my journeys. It's just that women share similar worries, vulnerabilities, and past experiences. We also often want the same types of adventures. Sure, you could cozy up with a book if that's your thing. But you could also wingwoman each other on a night out on the town! That's how I see it anyway.
Audree and I returned to the mainland of Cartagena dripping wet because the ferry—barely larger than a fishing boat—zipped through choppy waters in record pace, drenching all passengers on board. (When in Colombia.) We sat damply in a restaurant eating wraps and planning our separate departures: she to Panama and me back to Medellin. We said our goodbyes on a cobblestone street in front of Cartagena's flower-covered homes painted vibrant hues of pink, yellow and blue.

"Well, have nice life!" she said before turning and heading the opposite way.
I stood there for a moment almost shocked by the permanence of this goodbye. It's a strange feeling to be alone in a part of the world except for one person whose path temporarily crosses yours. I shared all these wonderful Colombian experiences with nobody but her and now she was about to be gone. That's the thing about travel friends. You show up 100% for each other during that fraction of time where your journeys align and then you continue on your own way. That support we offer each other and the way we enrich each other's experiences in such a temporary situation is perhaps what makes female travel companions so special. I've seen and experienced it many times since.
You may also like to read