The best of Whistler ski culture captured in 6 striking images
When Guy Fattal spends a day shooting in Whistler, the images he produces are striking. Skiers launch themselves off of high ledges soaring through dramatic mountain landscapes. Plumes of fresh powdery snow are captured so wonderfully, it looks like you could reach out and sift the individual snowflakes through your fingers. Jagged peaks stand tall dwarfing the back-country explorers who venture to their summits. Looking at his work, one really gets the sense of why the Canadian mountains and ski culture are so alluring. There's the ruggedness, the untouched beauty, and endless opportunity for adventure in this frozen paradise.
It's no wonder Fattal's work has received high accolades. His images have graced the covers of ski magazines, he has worked with reputable outdoor brands, and his work has won prizes like the King of Dolomites photo contest, Deep Winter, and has had his work selected for Red Bull's Illume limited photo book.
A handful of years ago though, all of this success would have been surprising to Fattal who came to Canada from Israel after falling in love with Canadian ski culture. His photography was really just a way to tap into a budding interest while exploring Whistler and the surrounding area.
"I just made the decision to combine my two biggest passions at the time which were skiing and photography," says Fattal. "I thought, 'How can I live a full life doing the thing that I love?' I wasn't quite thinking it was going to turn into a career. I just really wanted to connect to my passion and spend more time doing the thing I love."
He has been capturing the wild beauty of this iconic Canadian destination since 2016. As he says, every day is completely different depending on what the outdoor elements decide. We sat down with him and chatted about six of his photos to learn their back stories.

. . .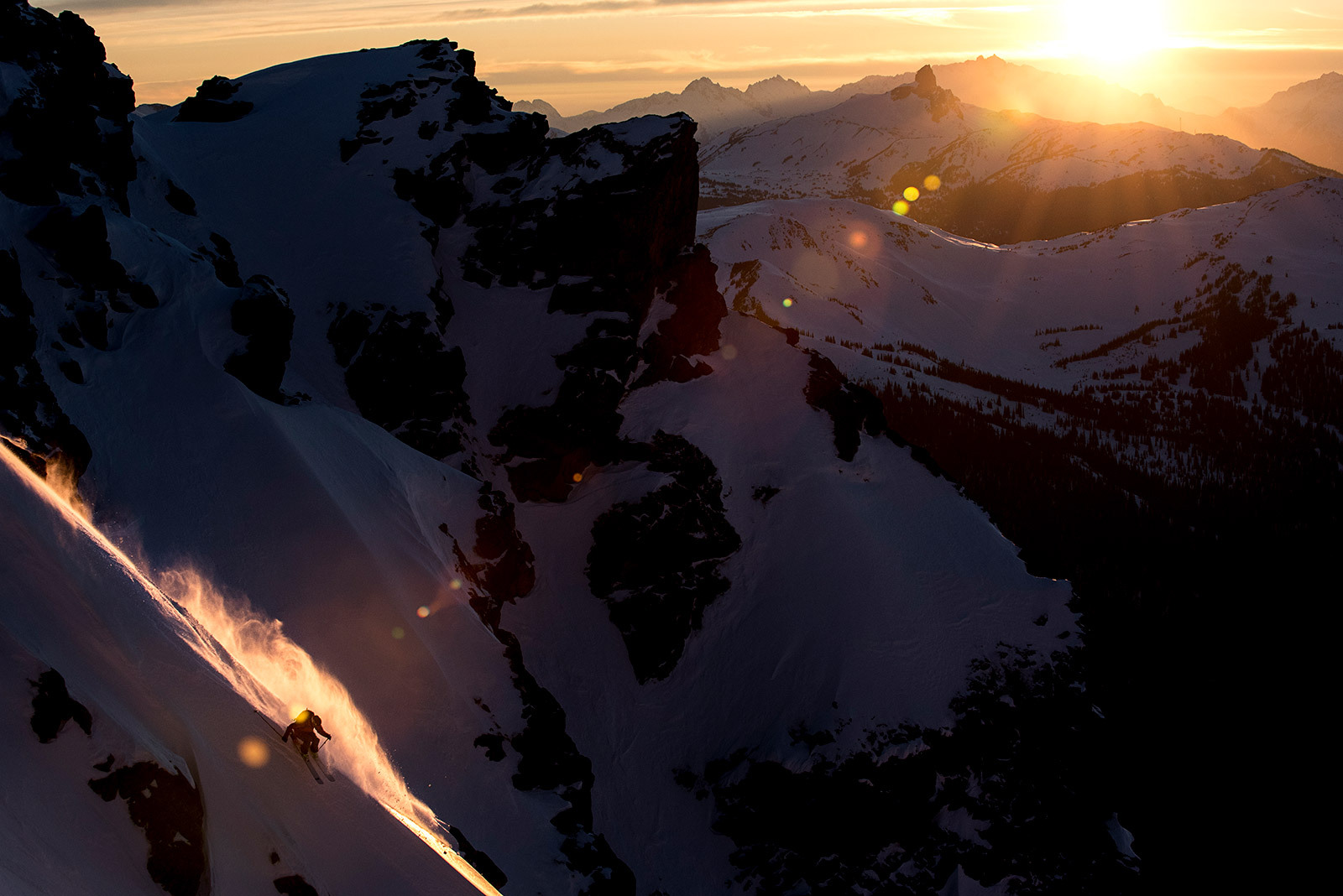 This is one of Fattal's earlier photos and one that still stands out to the photographer. Taken not long after arriving in Whistler, this shot combines so many iconic elements of the area: the energy of skiing at sunset, the Black Tusk, the classic scene of the surrounding mountains, and the powder snow. When shooting something like a sunset, time is of the essence…especially when your subject is positioned on a daunting ledge. "My heart was pounding pretty heavily with the drama of the light moving really quickly and my friend being in this sketchy spot and me standing in an unsecure location just to get in the right position to capture this image," says Fattal.
This was during a time when he was still discovering what he wanted to capture, why and what Whistler meant to him. "It was a moment captured in time for me which I believe is still one of my iconic images that is dear to me."

. . .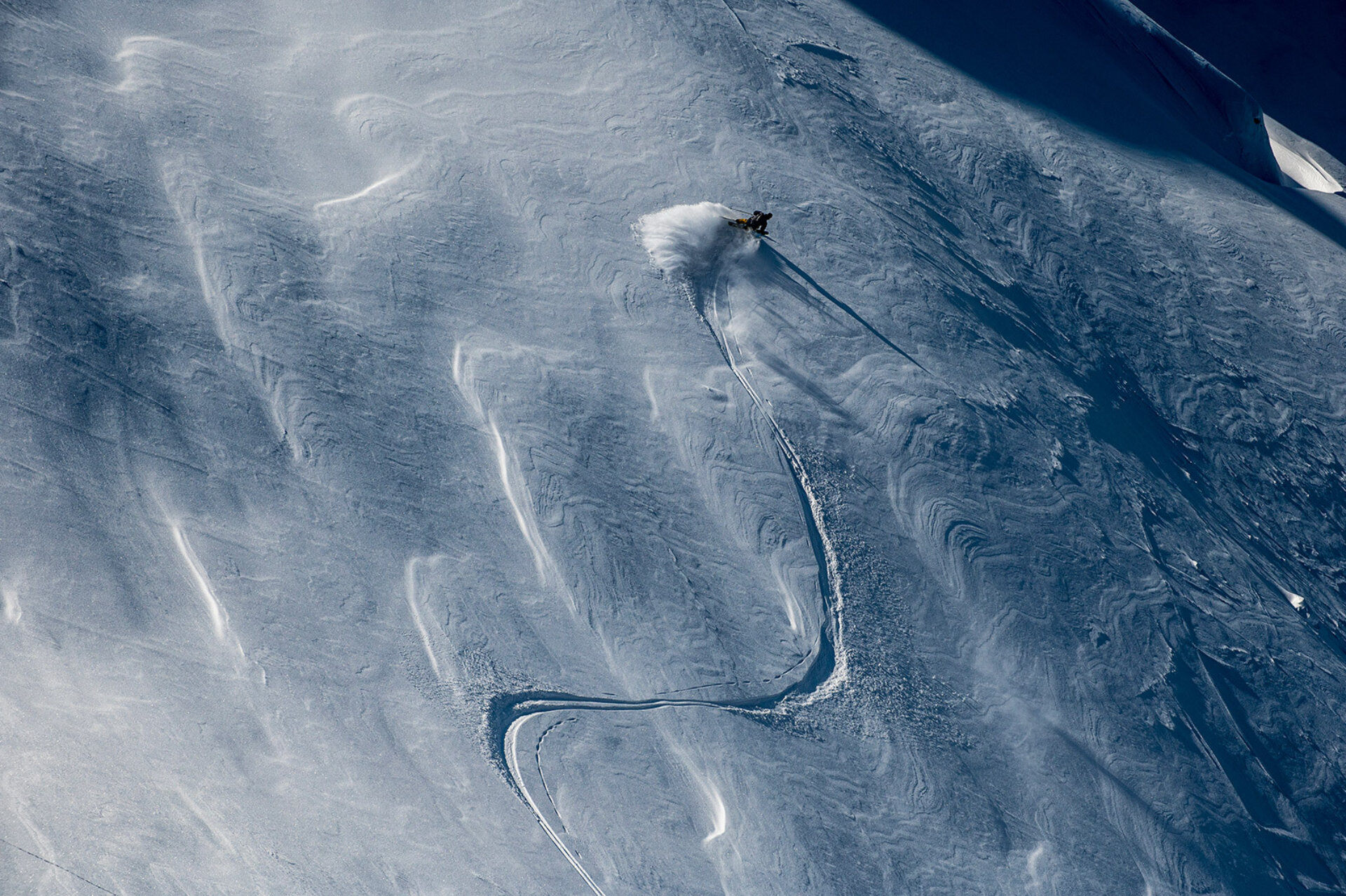 The funny thing about this shot: it wasn't the one Fattal was hoping to get. It was an afterthought. This bird's eye view of a skier carving beautiful S-shapes into snow that is textured with snow drifts was taken from Fattal's place on a ridge. What he was actually focused on shooting was a scene directly in front of him. But as the skier continued down the mountain, Fattal just kept going. The result was this photo which actually ended up on the cover of a magazine.
"None of this was actually planned," says Fattal. "I just didn't stop shooting. When I saw it later, I was like wow it really worked out so beautifully with the texture of the wind drifts and the way he cut an S-curve in between them."

. . .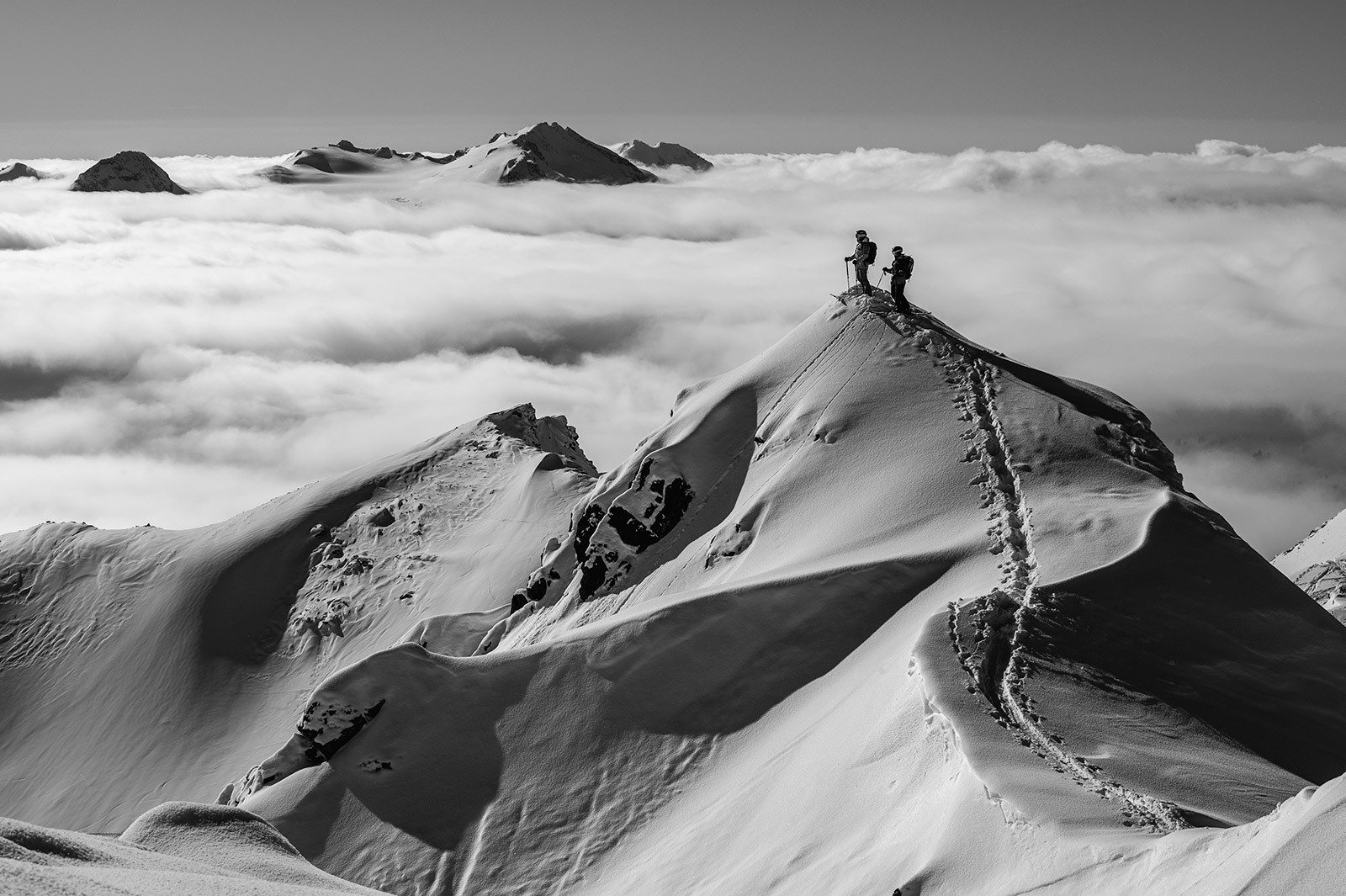 There's a real sense of ruggedness and adventure here as two back-country skiers trek to the top of a peak and get ready to tear down the side of the mountain. This is life literally above the clouds. But the thing with exploring mountains in a place like Whistler is that each day brings something different. "It's always beautiful when we're up there but on this specific day with the clouds, and the peaks in the distance it just gives you that sense of wilderness and magnitude," says Fattal. "It's never the same each day you're out there." This shot begs for the viewer to pause as much as the photographer did and appreciate the scene for what it presented in that exact moment.
. . .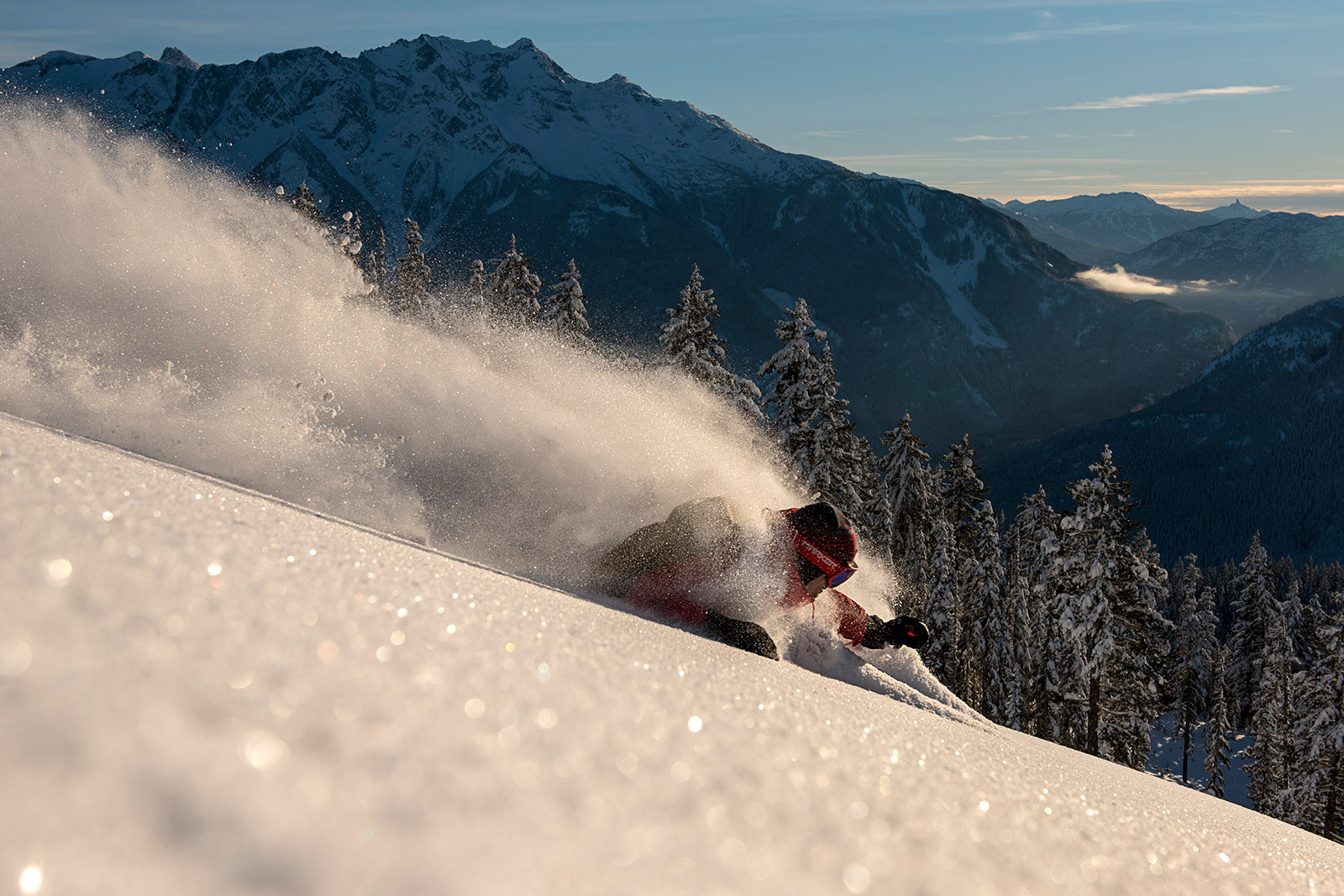 There's so much that goes on behind the scenes on a day shooting in the mountains. Here, the day had hit a bit of a lull as the sun hid behind the clouds. Fattal had a feeling there would still be an excellent sunset and got in place to wait for the magic to happen. As a photographer, you've got to be prepared in those moments because once the sun sets, there's no do overs.
"You can be waiting and waiting and waiting and then suddenly you've got this huge rush of, 'Let's go!' This hustle. Because the sun is only popping for five minutes. It's about being able to capture one or two photos in that span and hopefully it's something special."

. . .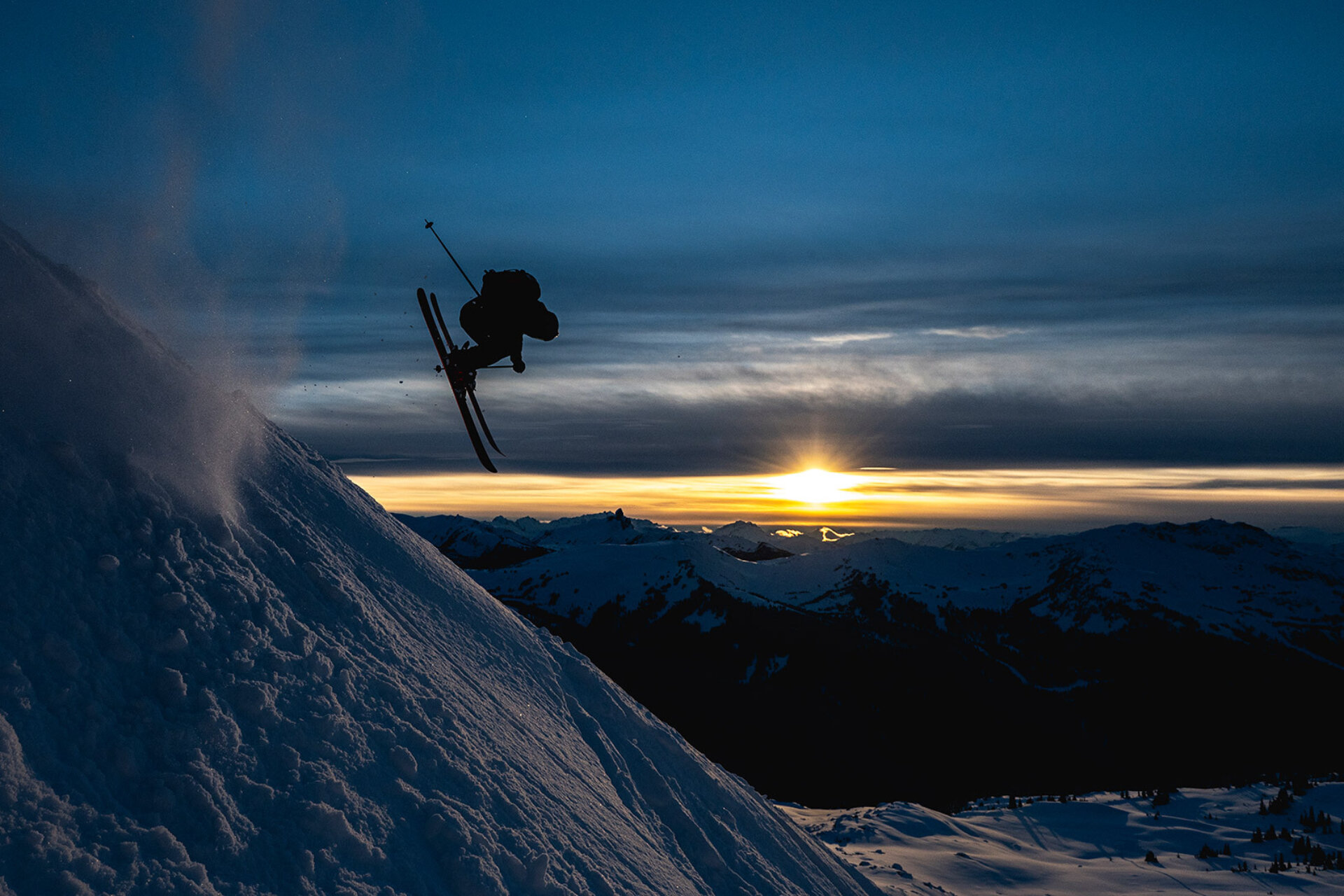 This was shot early in the ski season when unique conditions presented themselves. Just a short drive away from Whistler is the town of Pemberton. During these days, there was a lot of fresh, powdery snow lower down in the valley. Since it's rare for the snow to be that great that low down, Fattal and a friend set out to head out to see what they could shoot. The result is the rare and perfect combination of perfect dry powder, beautiful lighting, the iconic Mount Currie in the background, Whistler Blackcomb, and the Black Tusk. "I'm not familiar with a photo, let alone a ski photo, with good snow and with this mountain in the backdrop. This was our whole goal." says Fattal.
Wins like this don't come around without patience and plenty of trial-and-error though. "We get to talk about these photos that are a success where the stars did align but for any one of these, there's probably like 1,000 photos where something didn't work out," he says.

. . .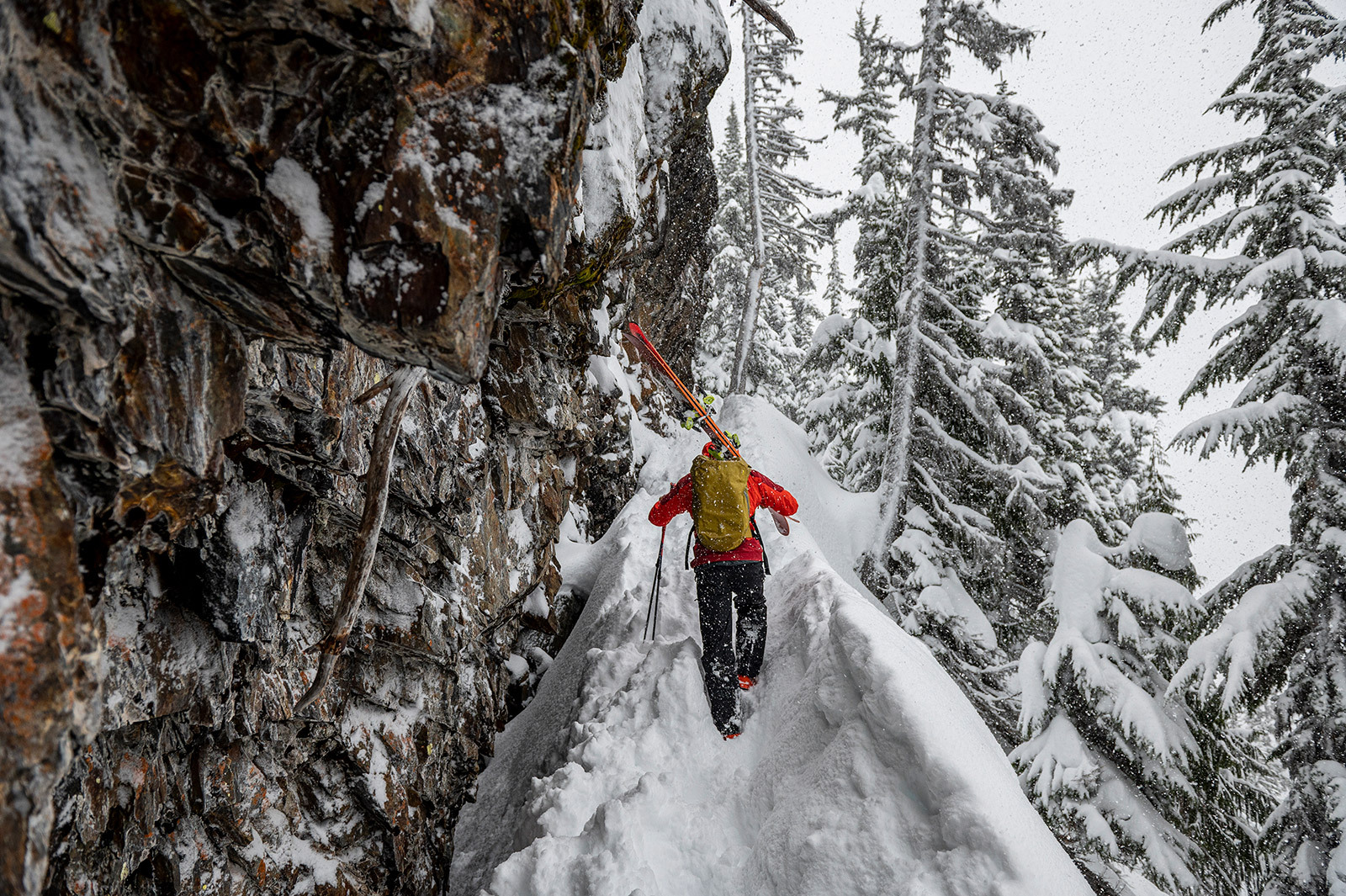 Those who view this photo are likely to love it for its winter-wonderland vibe. This was shot on the resort on a day where skiers are rushing to be the first to get the good snow as it's freshling falling. This is a spot that Fattal and his friends often hike past as they make their way to one of their favourite spots. Fattal says he's always admired the rock on the left with its colours and textures. This particular day begged for a pause. "I had the camera and hand and told him to keep walking as I shot a photo of him hiking," he says. "I captured this with the contrast between the rock and the trees and this lone skier hiking in the center of it all into the eye of the storm."
You may also like to read