The best hostels for working remote in Canada
If there's positive to come from the past year and a bit, it might just be the fact that so many more of us have wised up to the feasibility of remote work. If you're like me, you know it's not only possible, but it's actually pretty awesome. Some employers have gone so far as to switch to a permanently remote workforce, while others are much more amenable to a hybrid model that makes remote work a lot easier for a lot more people. If you're lucky enough to find yourself with that kind of flexibility, congrats, you're a digital nomad now! Now that life is opening up a little more, you might be starting to think about how to work remote from places that aren't at home. Hostels really are a great home base for those looking to combine work and travel. Here are our favourite places to work remote from in Canada.
Keep the Quebec workation going with a visit to HI Quebec in the heart of Old Quebec. This large hostel not only allows for some pretty awesome midday lunch breaks, just a short walk from the main drag in Old Quebec where you'll find all kinds of cute cafés and bistros for a bite, it's also got some excellent spots to plug in and hammer out some emails and Slack a few gifs. If you go for a more casual style to your work, grab a comfy chair in the lounge. Or head to the dining area downstairs which is quieter during the day when all the travelers are out exploring. Or pull up a chair on the balcony or outdoor terrace. As always, the wifi is free for guests.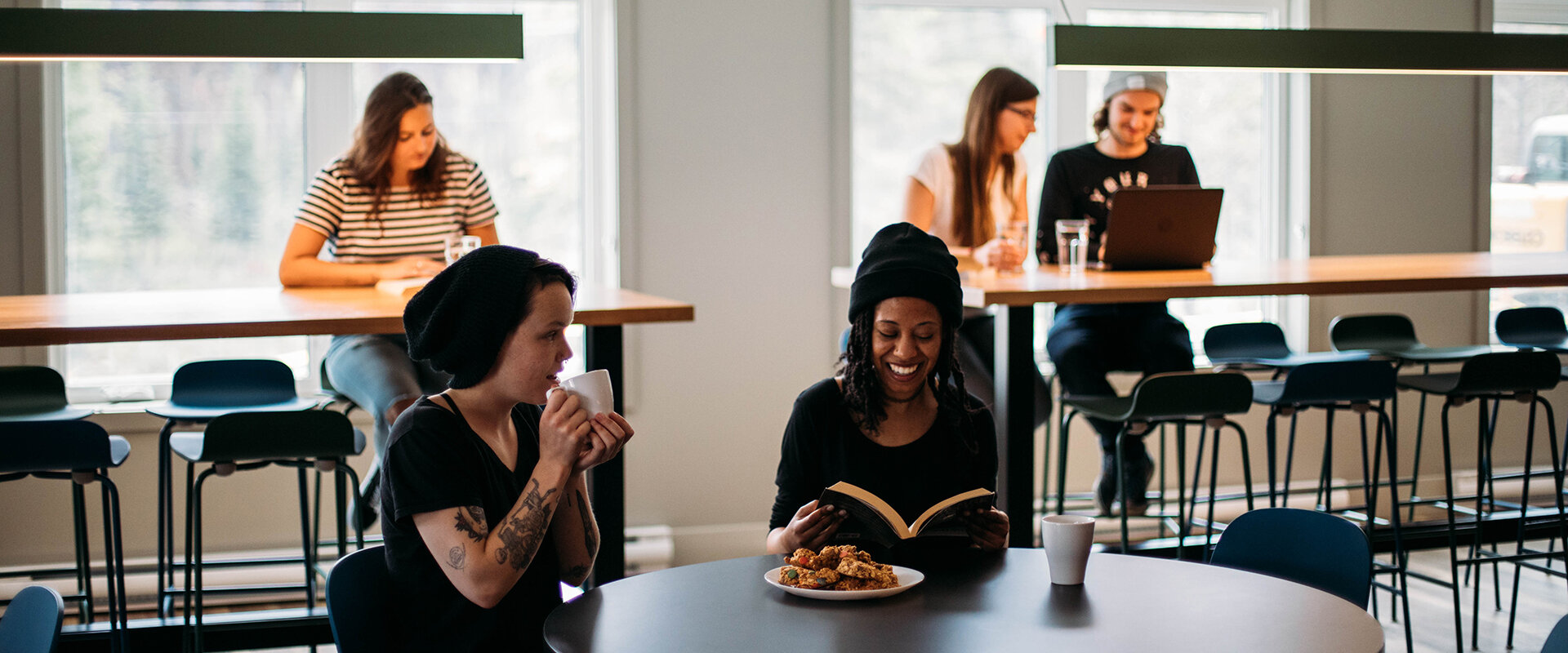 Common areas at HI Jasper
This spot is brand new—it opened in 2019—and just a short walk from downtown Jasper. There are a few comfy spots to set up your on-the-go workstation while taking advantage of the hostel's free wifi. Settle onto one of the modular sofas, grab a stool at the laptop bar (byo laptop) or snag one of the booths in the dining area. You can coffee up at Sleepy Hollow Café in the lobby or grab your own snacks from the shared kitchen. There are plenty of premium private rooms to stay in, or grab a private or shared dorm room for no more than four people. When you're not working, Jasper National Park is just out the door.
Working feels a whole lot nicer when you do it under a cathedral ceiling in a mountain lodge. HI Lake Louise Alpine Centre has a few great spaces to work (and free wifi… notice a theme here?). You can grab a spot in the fireplace lounge in the main building, or head to one of the quieter lounge spaces in the second building. You can keep yourself well fed at Bill Peyto's Café, open for breakfast, lunch and dinner daily next to the main entrance, and rest up in your choice of private or shared rooms before starting your day off right catching a sunrise at Moraine Lake down the road.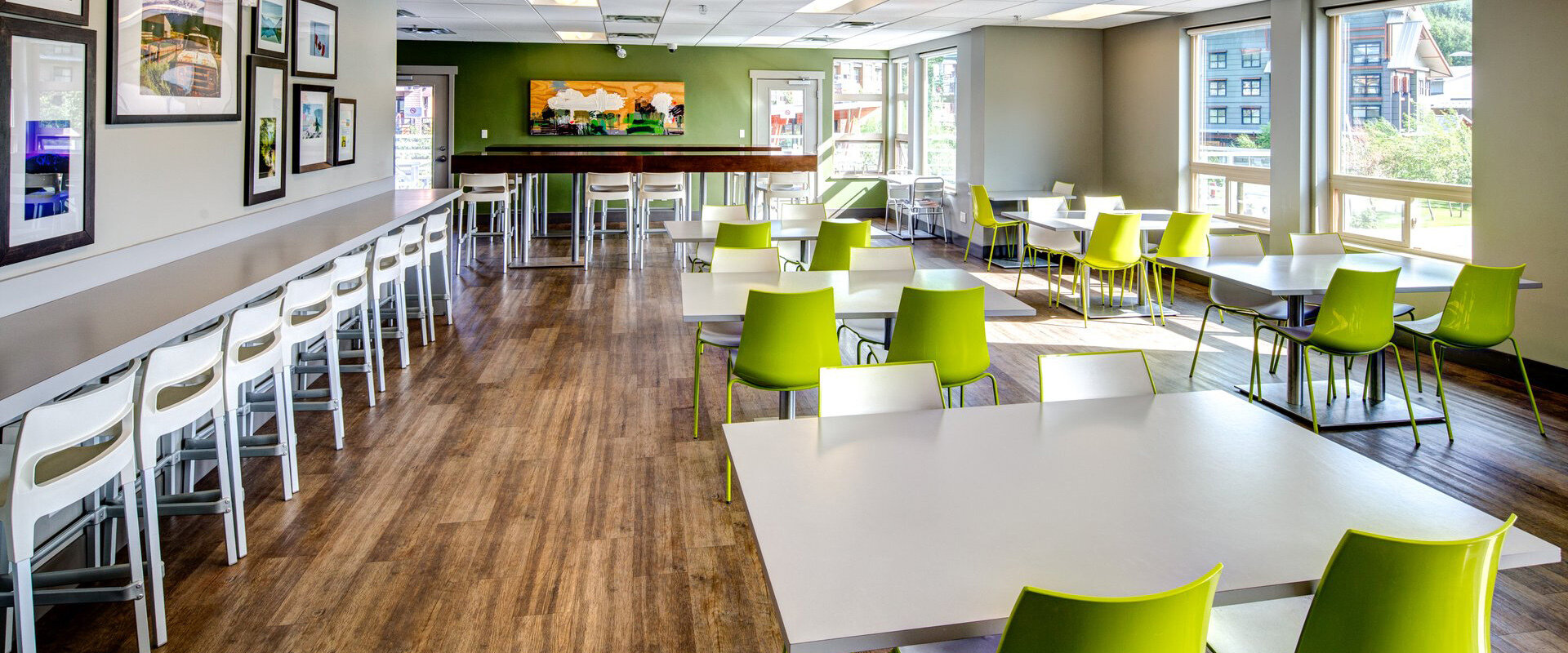 HI Banff Alpine Centre makes a great homebase in the Rockies if you're looking to put down some temporary roots and bring your job with you. Set among trees atop Tunnel Mountain, the hostel consists of two buildings. Over in the Mary Bell Barclay Building, there's a huge fireplace lounge decked out with chairs and couches where you can set yourself up for the day and work. Or head to the couches in the lobby in the main building or the loft above it, or to a chair or a picnic table outside or on the hostel deck. Guests also get a free transit pass to get downtown or explore some nearby attractions. This summer there's a free pancake breakfast served daily, starting your day off with just the right amount of maple-infused energy.
Not much beats nailing the work-play combo in a place like Whistler and you don't have to man a ski lift to do it. If you've got the luxury of setting your own hours, you can rise with the sun to head to the mountain for some skiing or mountain biking or discover all the amazing stuff to do outside of the village, and then head back to HI Whistler to crank out a few hours of work later in the afternoon. Set yourself up in the lounge, the dining room, on the deck, in the lobby or on the patio of Cheaky's Café. At the café you can fuel up with some coffee and breakfast and lunch items. The hostel is working on a new coworking space for the fall so it's ready for skiers and snowboarders hoping to live that Whistler life (while making money) this winter.
This article is part of the
Issue 4
Work It
You may also like to read