Shimokitazawa (or hipster) Tokyo
Away from the urban frenzy, the neon lights and large chains of Shibuya (Japan's Times Square), the small Shimokitazawa district is characterized by its bohemian feel. Here are some discoveries made during a day of wandering the winding streets of this trendy and charming 'hood in the heart Tokyo.
Shimokitazawa is to Tokyo what Williamsburg is to New York. In this area you'll find an abundance of bars and restaurants, and small shops run by local designers alongside vintage stores. Judging from the selection of chunky woollen sweaters with indescribable patterns, faded high-waist jeans and buttons, sold in the Chicago and Flamingo shops, it's like you're back in in 1992. Remember the dream of the nineties that was both praised and ridiculed by the show Portlandia? Well, it's also very much alive in Shimokitazawa. These shops are at 5-32-5 and 2-25-12 Kitazawa Daizawa respectively.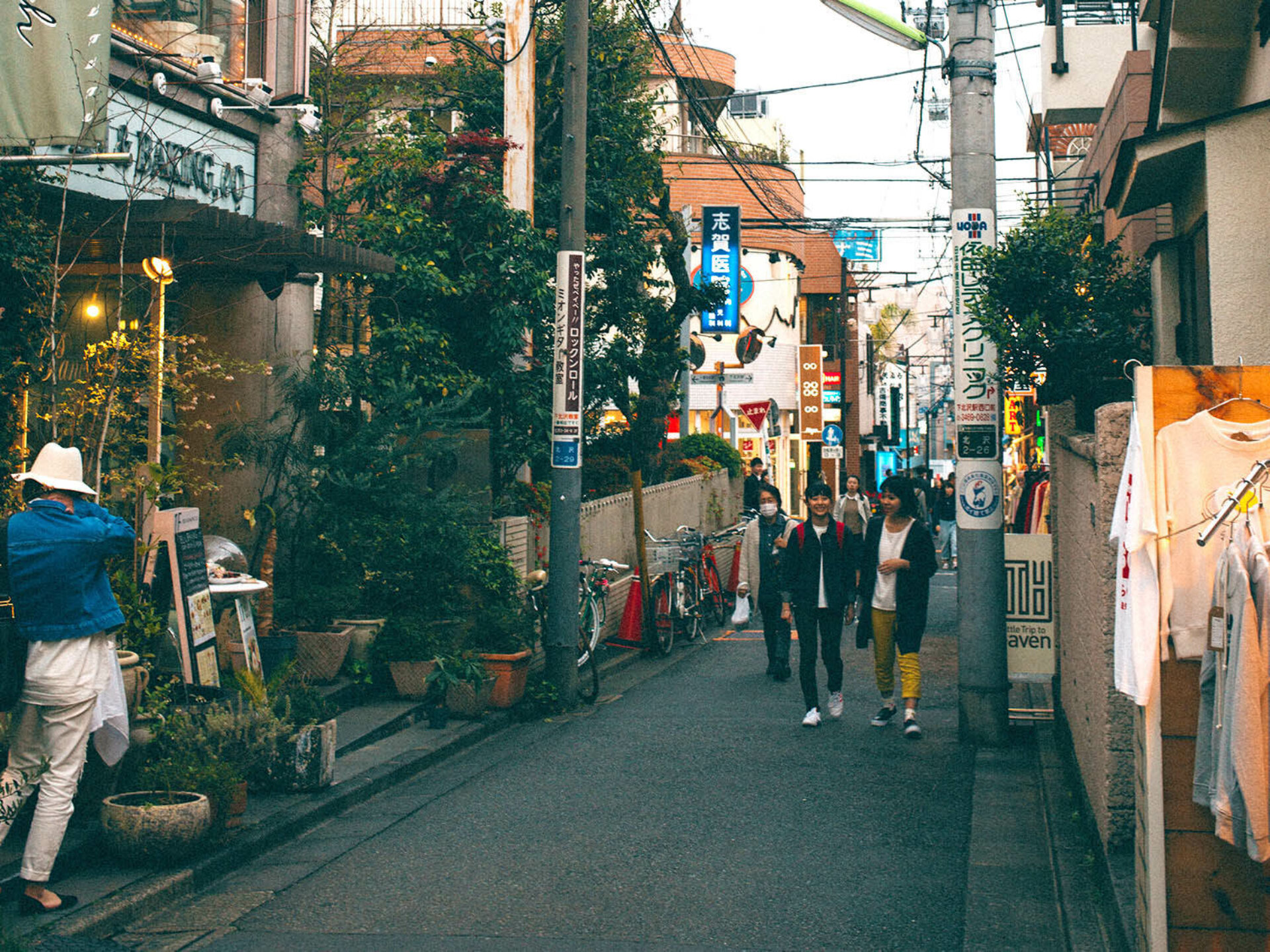 Shimokitazawa is to Tokyo what Williamsburg is to New York
To get to Shimokitazawa, just take the subway and get out at the station of the same name. Passing under a large arch, you'll enter a labyrinth of small streets where the pedestrian appears to be king. In the evening, people are everywhere, and it feels like an endless block party!
A few metres north of the station, at 2-26-21 Kitazawa, Waffle Cafe Orange serves light and fluffy waffles. Its small, inviting terrace and delicious dishes make it the place to go for brunch. We ate a waffle with cream cheese and blueberry coulis and a waffle topped with an egg, bacon and avocado, topped with a pesto sauce. Double yum!
Although the coffee market is currently experiencing a boom in Japan, it's not as easy as you might think to find good espresso in Tokyo. Head to Bear Pond Espresso located at 2-36-12 Kitazawa. This no-frills place has almost no furniture, but it serves up probably the best espresso of your life. However, you must arrive before 2 p.m. After that, the owner closes shop because he believes that in the afternoon the place is too crowded for him to give his espressos his full attention. If you fancy a treat, head across across the street; NY Cupcakes offers exquisite and beautiful cakes.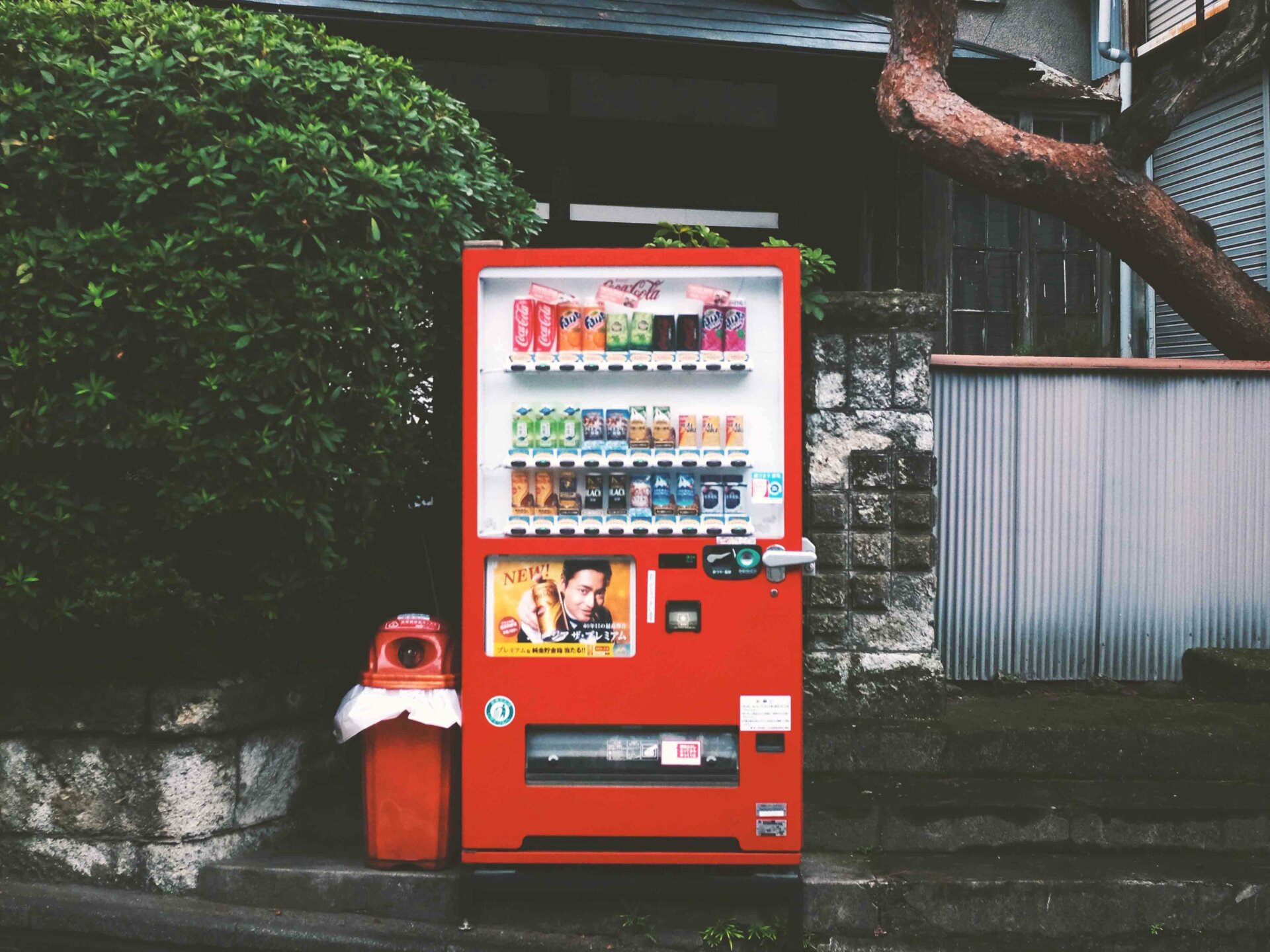 As for lunch, dinner or a drink, you have a ton of options: ramen, pizza, yakitori, oden (Japanese kind of stew), curry and more. We opted for a wine bar, which turned out to be a shrimp bar. We ordered blindly off a fully Japanese menu and were so pleased to recognize everything on our plates! To accompany it all, there's nothing better than a glass of tempranillo for 600 yen, or about $7. Lots of people think it's expensive to travel to Japan. Think again!
Lots of people think it's expensive to travel to Japan. Think again!
For a typical dinner, a yakitori-ya (a pub serving tapas, mainly grilled meat skewers) is an excellent choice. They're everywhere, and if we can't recommend a specific address, it is because everything is written in Japanese, including the name of the restaurant. If you do not want to get out of your comfort zone, the Don Pizza located at 2-24-9 Kitazawa serves 8″ firecooked pizzas for 500 yen (about $6). I ate a ham and egg pizza and a margarita pizza – simply de-li-cious. The place also offers beers and shooters for 500 yen. You'll leave smiling and with a very full belly!
After a few drinks, we headed to Game LasVegas to experience the Japanese photo booth, the purikura. Have you ever wondered what you would look like if you were half human, half manga character? That's what you'll discover in just minutes! We inserted coins into the machine and quickly selected the number of shots, the number of people and backgrounds. Then after the pictures were taken, we could write and draw on photos using pens. It was a bit unclear what happened after that (because everything on the screen was in Japanese) but we were left with printed photos, unable to contain our laughter at the sight of our faces with 400% bigger eyes.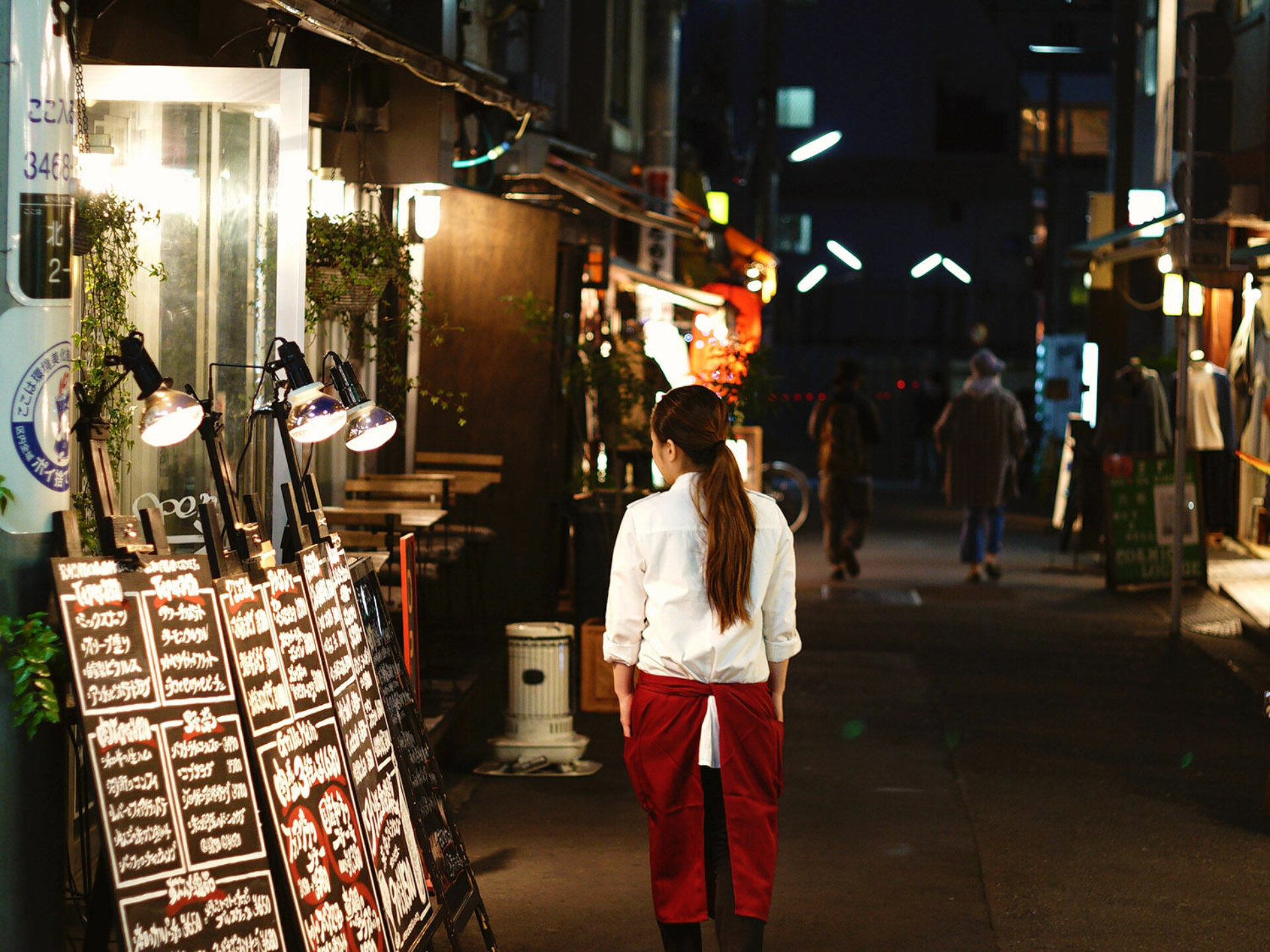 Whatever happens in Shimokitazawa, all the streets seem to lead to the best places.
If Japan is synonymous with efficiency and innovation, its city planning hasn't quite caught up. Instead of giving each street a name, they opted for a patchwork system. So a single journey from point A to point B becomes a treasure hunt … almost. The principle is simple at first: a set of buildings gets a name and each building gets a number. This sort of explains why all our addresses seem to be on the same street… Sometimes, we could find what we were looking for, but most often we had to backtrack, get turned around and ended up changing plans. Luckily whatever happens in Shimokitazawa, all the streets seem to lead to the best places.
If you are looking for a place to stay to explore the area and other Tokyo neighbourhoods, take a look at these two HI hostels: Central Tokyo and Sumidagawa.
Photo credits: Alva Pratt, Charles Deluvio and Oskar Krawczyk
You may also like to read