A road trip to Quebec was just the cultural getaway I needed this year
It's been almost a year since my partner and I went on a trip together. With spring plans to Europe postponed by Covid-19, we were in the mood for something old-world. Six months of lockdown in Toronto left us yearning for historic buildings, cobble-stoned streets and verdant public squares. We wanted to feel lost in another language. We needed a different perspective on life. With international restrictions in place, we were left with no other option but to travel within our national borders. It turned out road-tripping to Quebec would check all those boxes. It ended up being one of our favourite trips together, and we didn't even need to exchange currencies or bring our passports.
We're lucky: living in Toronto and owning a car means we have relatively quick access to Quebec, Canada's French-speaking province. It's the closest place we can visit that makes us feel like we're not in Canada—the language, culture, food and landscapes are so distinct. Just like visiting any other country, we practiced our French and brushed up on our history before we left.
Within six hours, we arrived in Montreal, quickly noting the difference between Toronto's workaholic mode and Montreal's laissez-faire attitude. Montreal has a reputation for its patio life, and during Covid it was no exception. Beautiful wooden patios had been built outside some of our favourite restaurants and cafés. Avenue du Mont-Royal Est and Boulevard Saint-Laurent flourished as pedestrian-only zones. Outdoor seating, picnic tables and takeout options were plentiful, and when we were lucky, we dined to the sound of live music nearby.
While Quebec currently has higher numbers of Covid-19 compared to the rest of Canada, we always felt safe on our trip—masks and hand sanitization were required indoors everywhere we went, including hostels. Restaurants across the province followed safety protocols; indoors, large Plexiglas shields divided tables, and dining sections were blocked off to control the number of people sitting inside.
We'd been to Montreal countless times before, so we wanted to explore the province beyond its largest metropolis. Leaving for Quebec City, we were warned that the rest of the province just wouldn't be bilingual outside of Montreal. Having spent weeks on Duolingo to prepare, my French was shaky at best, but I missed that feeling of challenging myself in new territory, and I was okay with practicing my language skills on the fly.
Arriving at HI Québec City, where we booked a private room in the middle of the old town, was exactly what we needed to get comfortable. Masks were mandatory in the common areas, and the kitchen and bar were closed, but we had more than enough food and drink options available within walking distance. We took a bilingual, distanced walking tour organized by the hostel, which gave us the opportunity to meet new people while exploring the ornate Catholic churches by the river, and learning about the battle between the English and the French at the Plains of Abraham.
Venturing off alone, we gawked at gorgeous stone buildings punctuated with colourful window frames and hanging flowers. I felt like I was in Montmartre in Paris, except people did actually speak English here, with a surprising ease. We came away with a better understanding of Quebec's strong culture and its right to preserve it.
Pro tip: Take the Chemin du Roy (King's Road) which runs through part of Highway 138 between Montreal and Quebec City. Established in the 1600s, it's the oldest road in the province, taking road-trippers through some of the most picturesque towns on the St. Lawrence River. Think mansions, flower fields, wooden cabins—and don't forget to stop and grab a poutine at the casse croutes, the mom-and-pop-owned snack shops that dot the country roads of Quebec.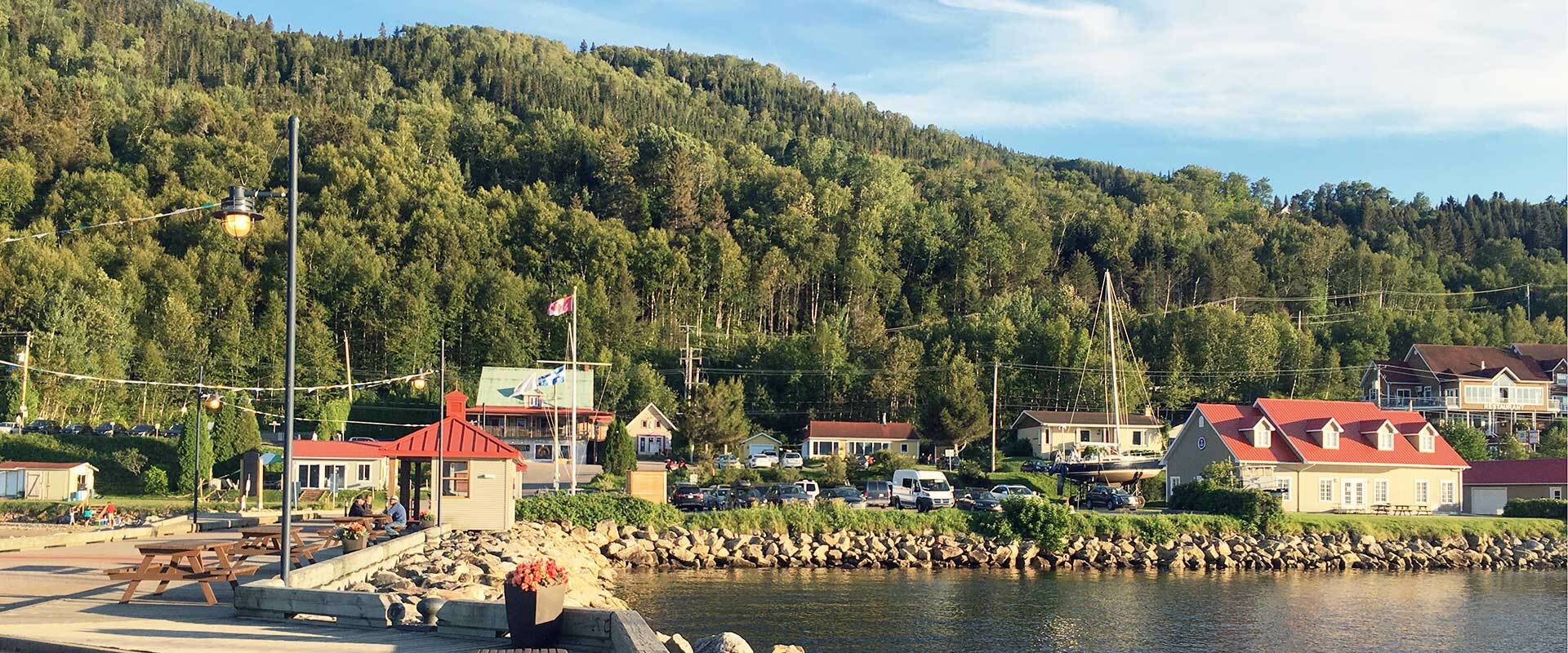 We didn't only come to Quebec for the culture and food; we came for the dramatic landscapes. Just under an hour north of Quebec City is Jacques-Cartier National Park, where you can find hiking trails and rental kayaks amidst alpine lakes and pine-clad mountains. Coming from Ontario and its general flatness, I was worried my fitness wasn't up to par with the province's many inclining trails. Fortunately, we met park rangers at the Sépaq national parks visitor centres, who informed us in fluent English of the most appropriate hikes in the area.
Pro tip: Always buy your national park day passes online through Sépaq before arriving. Due to Covid, many visitor centres aren't selling day passes in person, and you'll need to show your proof of purchase on your phone to enter the park.
Next stop: Charlevoix, where HI La Malbaie is located. Not quite two hours north of Quebec City, this region is rich in agrotourism—think local fromageries, honeybee farms and family-owned butchers—boasting scenic farmland and stunning landscapes. A day trip to Baie Saint-Paul, population 8,000, is absolutely necessary. A quaint town with a European ambiance, it's perfect for aimless strolling and stopping at some of the best restaurants in Quebec, many of which integrate the region's award-winning products into their menus.
We could stay in Charlevoix forever, but our grand tour of Quebec wasn't finished—we had to keep venturing north. La Malbaie is a great jumping off point to explore the rest of the province, either for day trips or multi-day expeditions, so we made our way to Saguenay Fjord National Park. To get there, we first detoured through the scenic Route des Montagnes to soak in the rugged, rocky trails and fresh air of Grands-Jardins National Park.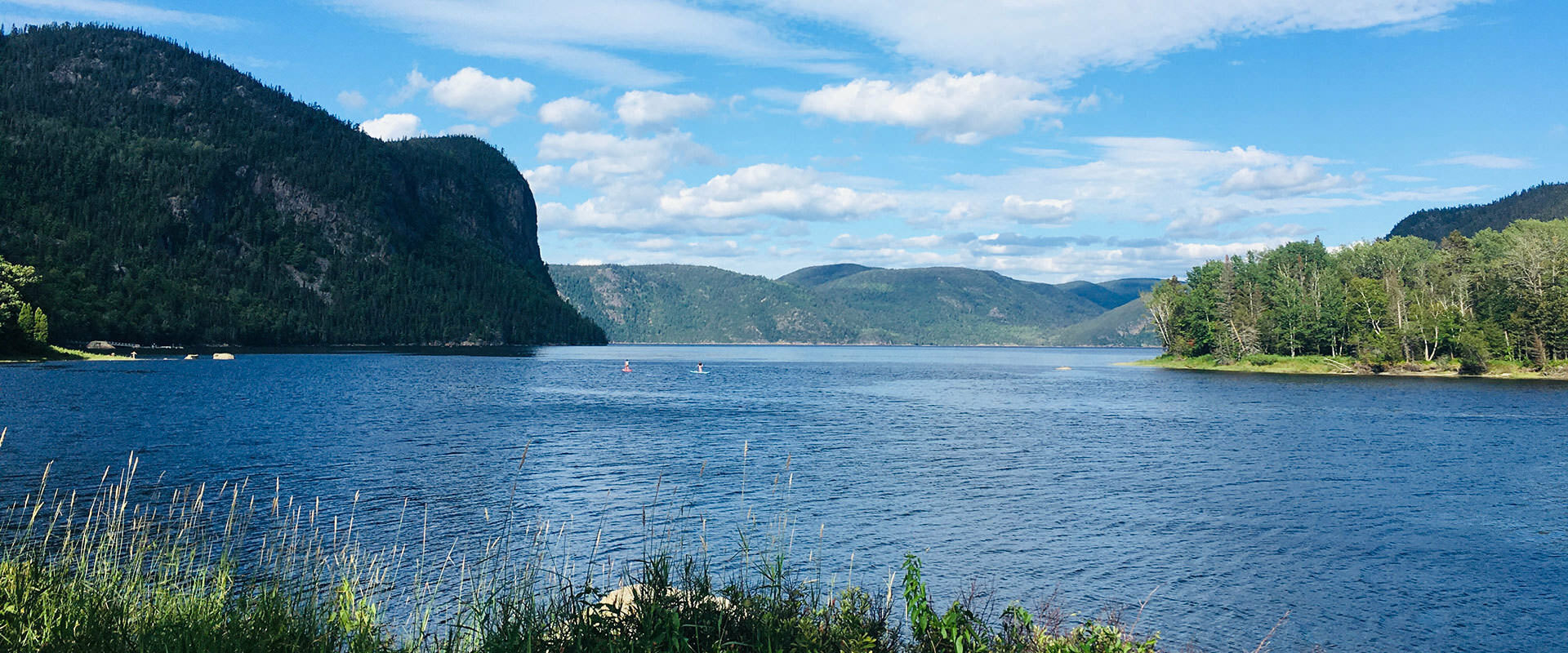 Arriving at Saguenay Fjord National Park, we spent days hiking around the south shore of the fjord, one of the longest in the world, where you can go whale watching, rent a kayak and hike to a famous statue of the Virgin Mary. The St. Lawrence River brings in water from the Atlantic Ocean, so you can get a whiff of ocean air and witness the tide moving in and out without having to take the long trip to either of Canada's coasts. In Petit-Saguenay, you can hike right next to the fjord or walk right onto the beach. It's a sensory experience with aromas of saltwater, pines, cedars and moss-covered rocks.
Pro tip: Visit the village of L'Anse Saint Jean, which deserves a national award for its charm. The houses are impeccably well kept and full of French-Canadian character with simple gardens and fire pits. Spend an evening watching the sunset on the docks while eating chocolate-dipped ice cream cones or buckwheat crêpes.
With no worries about catching a flight home, we extended our stay by two extra days. Whereas most Ontarians take a weekend trip to Montreal, we spent two whole weeks in la belle province. That time spent away left an impression on me—I always believe a good trip changes you, and having returned home from Quebec, I find myself intent on hiking more often in my own backyard, even though it's much flatter. And I'm still practicing my French every day.
As fall approaches, my partner and I are eager to return to Quebec for the autumn foliage. Travelling to Quebec this time around, I've not only widened my world perspective, but I'm thinking about Canada in a new light, as a place filled with possibility and many different ways of life. Our trip showed us we could safely benefit from that sought-after optimistic feeling travel gives us, even if we can't leave the country just yet.
This article is part of the
Issue 2
Roadtrippin'
You may also like to read