Raising adventurous kids through wilderness hostelling
We just spent a weekend at the HI Mosquito Creek Wilderness Hostel on the Icefields Parkway near Lake Louise in Banff National Park. It wasn't our first time there. In fact, we've been there many times over the past ten years, and since my son was a preschooler (he's now 12), we've been making this kind of winter wilderness hostel escape a near-annual family trip. On this particular visit with my husband and son, the memories started flooding through my mind and into my heart as soon as we pulled up and began loading our cooler of food and our backpacks onto sleds for the short walk down to our cabin. I was reminded that the snow along the sides of the pathway used to be higher than my son's head when he was younger. Now he's able to help pull a heavy sled loaded down with gear!
We have come to think of these wilderness trips as "cabin camping" adventures ever since my son was a preschooler when we used to head out from our home in Calgary for a stay at HI Kananaskis Wilderness Hostel every December with friends before Christmas. We'd book all of the hostel's private rooms and spend the weekend playing in the snow, cross-country skiing on trails outside the door, teaching the kids to skate on the pond up at the nearby village, decorating gingerbread houses and having campfires outside in the snow.
Over the years, the kids grow but the adventures never end. So far, our son and his friends still seem to enjoy these family getaways but we cherish each one, knowing that a day is coming (hopefully not too soon) when we won't be "cool enough" for the kids to hang out with anymore. Honestly though, we think we're pretty awesome and fun parents!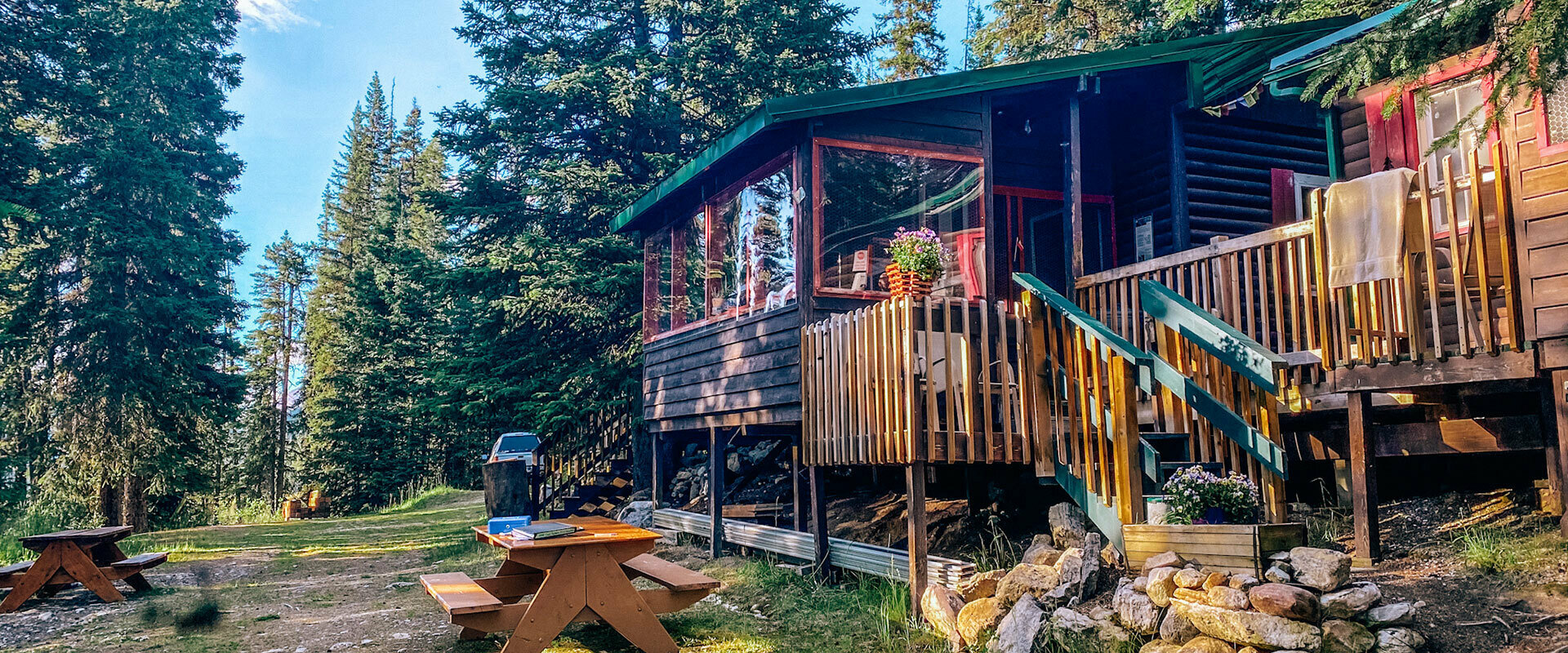 About wilderness hostels
If you're not familiar with wilderness hostels, this is a great time to get to know them. There are ten wilderness hostels in the HI Canada network, most of them within Banff and Jasper National Parks, but one in Kananaskis Country and one in Yoho National Park. These are simple hostels in wilderness locations. Many of them don't have running water, electricity or indoor toilets, but solar power is starting to make its way to some of them and the outhouses are top notch. HI Kananaskis and HI Castle Mountain Wilderness Hostel come fully loaded with electricity, indoor plumbing and showers. Each of them is in a unique pocket of Rockies wilderness with a ton of outdoor adventures at the doorstep, and they each offer simple but comfortable sleeping options and fully equipped kitchens. A couple of them even have wood-burning saunas. They're normally open for individual visits or available to be booked out for exclusive use, but right now, due to the pandemic, many of them are available for rent-a-hostel only, while others are closed until summer.
Wilderness hostelling in the early days
Though I've stayed at all ten wilderness hostels, one of our favourites to stay as a family has always been HI Mosquito Creek, where we book the family cabin and unleash the kids to play outside in ginormous piles of snow for hours. The small cabin, next door to the main building, has always been the perfect size for a couple of families, complete with two bedrooms and a common living space in the centre (with a small kitchen, a little table and a sofa). It's nothing fancy, but it gives us a basecamp so we can explore the area with the kids (saving up to four hours of driving for a day trip from Calgary).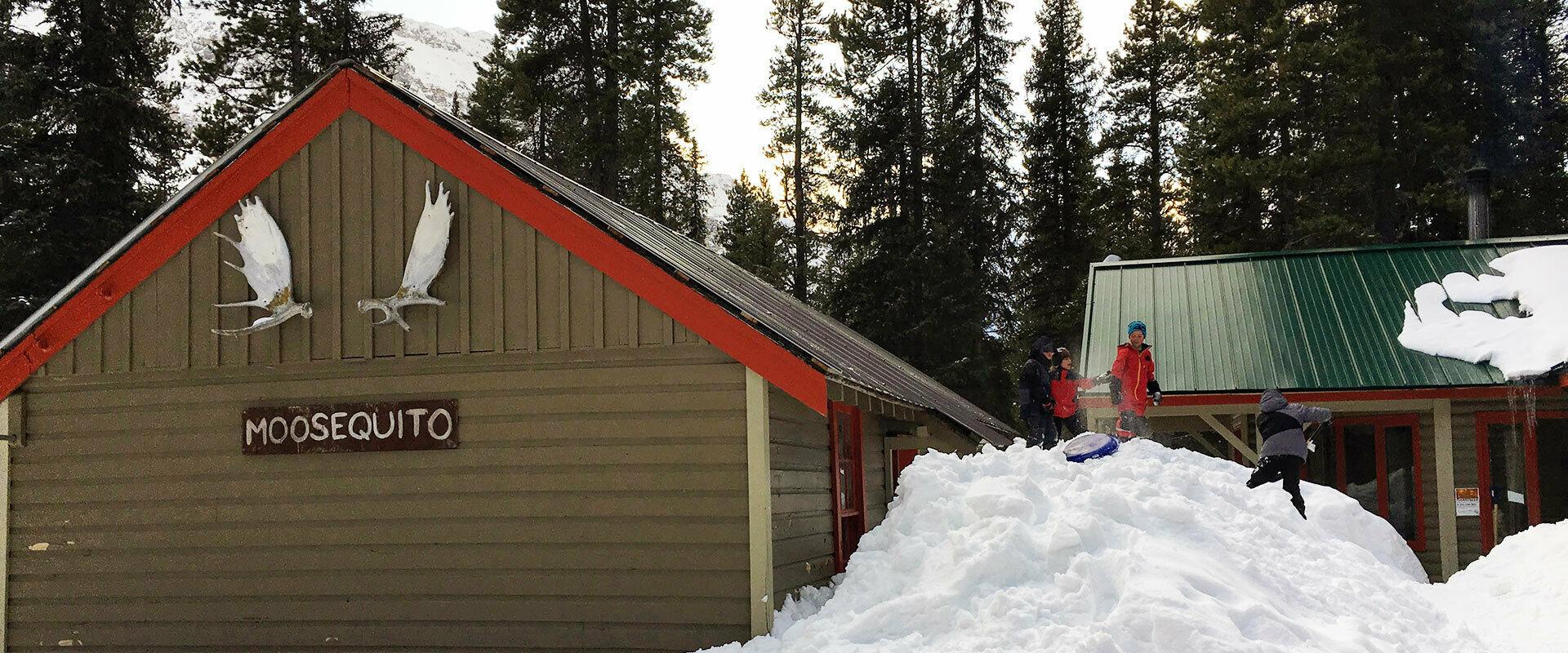 From HI Mosquito Creek we used to pull the kids in sleds around Mosquito Creek Campground next door; we'd explore the frozen waterfalls in the creek across the highway on snowshoes, or we'd take day trips to nearby Lake Louise to go skiing and skating. And imagine the year we found a dozen snow quinzees in the campground beside the hostel! The kids played in those small snow shelters for hours, climbing each one as if it were a mountain.
We've also loved taking day trips to both Bow Lake and Bow Summit from HI Mosquito Creek where we used to pull the kids across the frozen lake or up to the Peyto Lake Lookout in sleds. Over the years, the kids have graduated to skiing across the lake on their own and we still have fun hiking or skiing up to the lookout over Peyto Lake.
Backcountry adventures with frontcountry access
We've spent several amazing weekends at HI Hilda Creek Wilderness Hostel on the Icefields Parkway, which offers the true backcountry experience! This is where you'll need snowshoes just to reach your cabin in winter, where you'll have to melt snow or haul buckets of water from the creek for cooking and drinking and where you'll have to be fully self sufficient without a manager on site for assistance.
We love HI Hilda Creek and it's been our favourite hostel for spring adventures when we desperately still want to find snow for sledding and skiing. (Yeah, we're those weird ones not ready to switch to spring in April.)
From HI Hilda Creek we've gone snowshoeing to the glacier moraines above the cabin for some epic backcountry sledding, we've hiked to the toe of the Athabasca Glacier down the road at the Columbia Icefields Centre, the kids running up and down over every moraine as fast as their snowshoes could move. We've hiked under frozen waterfalls, and we've spent hours building snow forts in front of the cabin. We even spent Easter at HI Hilda Creek one year and hid the kids' candy around the yard inside large plastic eggs.
Thanks to the wilderness hostels spread across Banff and Jasper National Parks, my family has been able to head out year-round to experience backcountry adventures with a front country approach. And this mom hasn't had to camp in a tent on snow once yet!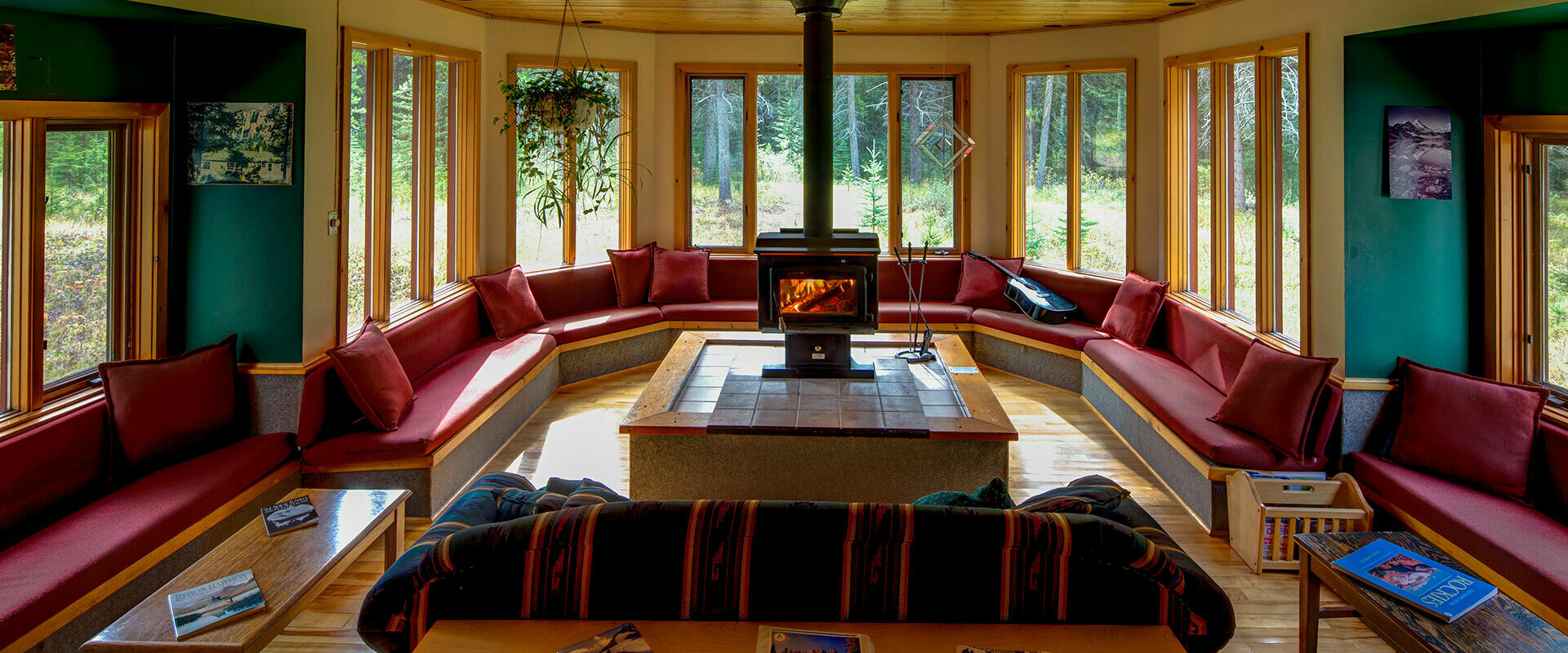 Raising adventurous kids through hostelling
This winter's adventures included over 300 km of cross-country skiing, our first attempt at ice climbing as a family, amazing canyon hikes and a lot of resort skiing! But our adventures have evolved over the years. Our winter hostelling trips started with short snowshoe hikes in meadows we'd find near our hostels, sledding off mounds of snow outside each hostel, or cross-country skiing while we'd pull the kids in sleds.
The adventures get bigger each year, but at the heart of it, the kids can still spend hours sledding outside the door on the smallest snow pile. We thrive on our annual wilderness getaways where we get to unplug without cell coverage or wifi for a weekend, and we love connecting with other families away from the bustle of the city. Our best friendships have all been formed on these trips and we've taught the kids that there is adventure waiting around every corner, whether it's a frozen waterfall, a snow quinzee built by a previous family or even a hidden swing hanging from a tree behind the hostel (if you know it, you know it).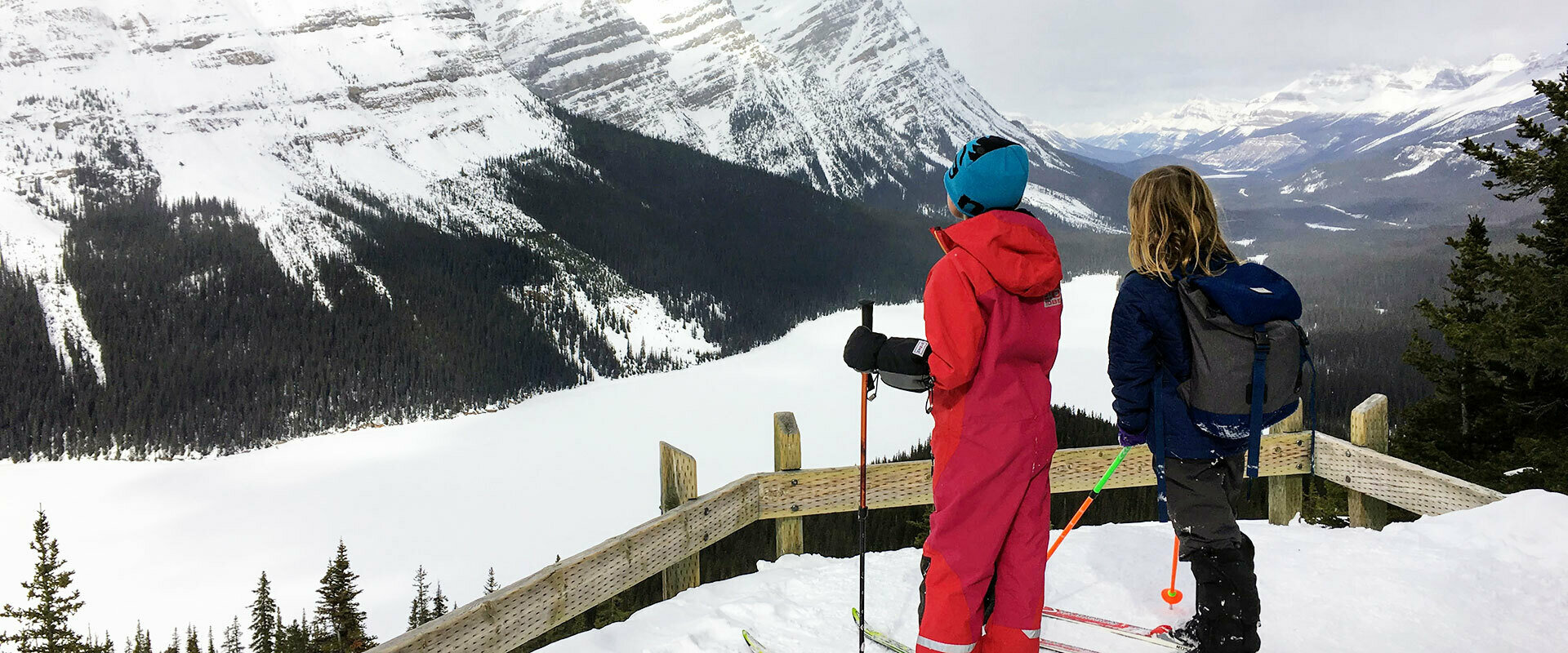 Looking back at photos from the past ten years I can see how far my son has come, how adventurous he's grown to be, and I know that our years exploring the wilderness hostels throughout the Canadian Rockies have contributed greatly to that.

Find out more about HI Canada's wilderness hostels and rent-a-hostel options.
You may also like to read