Hoi An, tailor-made paradise
The first thing I learned when going into a custom tailor shop in Vietnam was that I'd have to give up modesty. It wasn't just that a private dressing room was unheard of, but the woman making my clothes didn't hesitate to poke and prod me so she could get my exact measurements. Eventually, I had my entire Pinterest fashion wishlist made at a price tag even travellers on a budget would gawk at. Here's what the whole experience was like.
Hoi An is the place to go in Vietnam—no, wait—in all of Southeast Asia, to get the outfit of your dreams made to measure. Every tailor wants to compete for the dollars and đồngs of tourists—ushering wide-eyed travellers into their stores, many of whom are about to have their first custom tailor experience, a luxury that may be unaffordable back home.
It didn't take much searching to stumble upon a tailor shop in Hoi An. There are literally hundreds clustered in this small pedestrian-friendly city, ranging from cluttered mom-and-pop businesses with a single tailor, to brightly-lit modern operations boasting mannequins and fancy displays. One tailor shop I popped into actually had a large framed photo of Harrison Ford hung on their wall. I couldn't tell if he was a customer or just there for inspiration.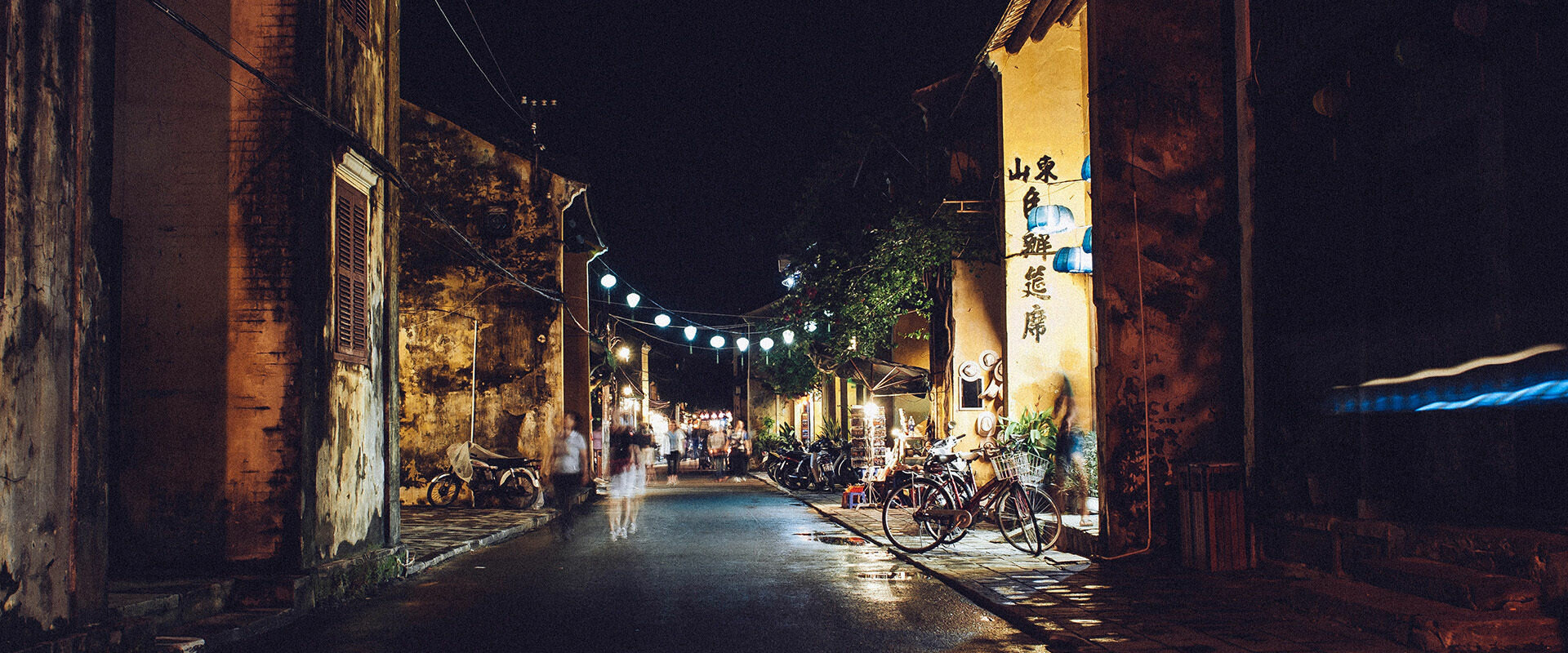 After a strong cup of Vietnamese coffee, I spent the entire morning wandering tailor shops, speaking to storekeepers while comparing styles, prices, fabrics and materials. Taking the advice I received from other travellers who had gone through this experience, I was armed with photos saved from Pinterest on my iPhone.
Bespoke—a fancy term for made-to-order clothes—seemed to be the advertising buzzword here in Hoi An, with stores, flyers and websites all using it to describe the experience, tailoring and suits on offer. Others advertised "couture clothing" and "superior quality."
Shop visits always began the same way: wandering around the store browsing through rolls of textiles stacked from floor to ceiling and looking for eye-catching patterns. Really, the possibilities were endless!
I showed the salespeople photos of a jumpsuit from Club Monaco, a structured off-the-shoulder dress from Ted Baker and a prom-style party dress with interesting straps. Waving my iPhone at them while letting them browse through my collection of photos, I asked, "Can you make this outfit? How much will this cost?"
"Can you make this outfit? How much will this cost?"
Sometimes, I browsed through a binder of laminated photos of fashion icons and celebrities to get an idea of trending styles. I was shown photos of jumpsuits, formalwear, A-line skirts, off-the-shoulder tops, shirts with ruffles, dresses with lace and full-length gowns. The laminated pages were stuffed within a binder as thick as a textbook. For men, there were colour-printed photos of Ryan Gosling, David Beckham and Harry Styles, looking suave as ever in their well-fitted suits.  

From chatting with salespeople, I learned that jumpsuits were the hot item asked for by tourists, and that the grade of cotton would affect the price. The prom-style dress I wanted to make was made of "chiffon" and it would need a silk lining, which cost more. I learned that stiff textiles would mimic the structured and luxurious look of the Ted Baker dress.
After an entire morning wandering the streets of Hoi An, I ended up at the tailor shop recommended by the guesthouse I was staying at.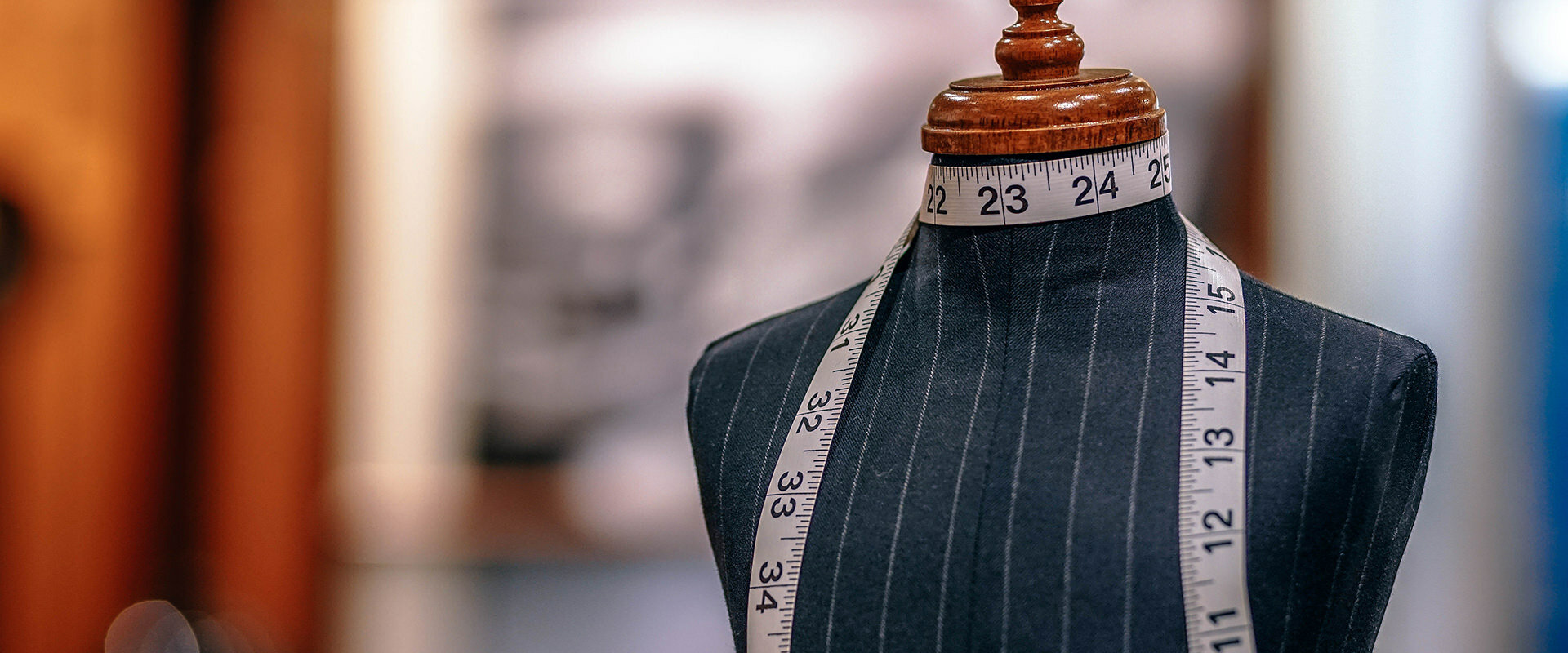 By this time, I knew exactly what I wanted, and had an idea of the price. Peace Tailor was a mid-range tailor shop, and the saleslady seemed professional and experienced. Besides, my guesthouse host recommended this place because it was a shop owned by his sister. I proceeded to pick fabrics, patterns and colours from a book of samples, and emailed them my Pinterest photos using the free wifi at the shop.
After signing the credit card receipt, which turned out to be $250 for three outfits, the woman began taking measurements right in the middle of the store. Other tourists browsing the shop sneaked glances at me—too polite to stare but too curious not to look. The saleslady worked quickly and efficiently, poking, prodding and measuring over 20 areas of my body—the width of my shoulders, my bust, my arm length, my hips—motions she had repeated a thousand times on customers before me. This was not the time to suck in your belly, unless you wanted to be trapped and constrained in your custom tailored outfits. She wrote the measurements by hand in a notebook and instructed me to return the next day.
Less than 24 hours later, I was back at the tailor shop for the first fitting. For a style-centic business operation, the fitting room was far from fashionable. It was clean and simple, but the cheap laminate flooring and florescent lighting cast the room in an unflattering light.
The chiffon dress was light and the silk lining felt smooth and cool against my body.
Luckily, I was so impressed with all three pieces. They were exactly as I had pictured them. The chiffon dress was light and the silk lining felt smooth and cool against my body. The jumpsuit looked effortlessly stylish, and the Ted Baker copy was impressively accurate to the photo. Minor adjustments needed to be made, but two short visits later, I was ready to take my finished garments home with me.

As delighted as I was to have my finished pieces in hand, the most exciting part was going through the process of shopping for a tailor while wandering the picturesque streets of Hoi An. A river runs through the town center, and waterfront restaurants line either side of the river. The lovely city and its cafes and colourful lanterns is a perfect destination to relax and explore on foot or by bike for a few days.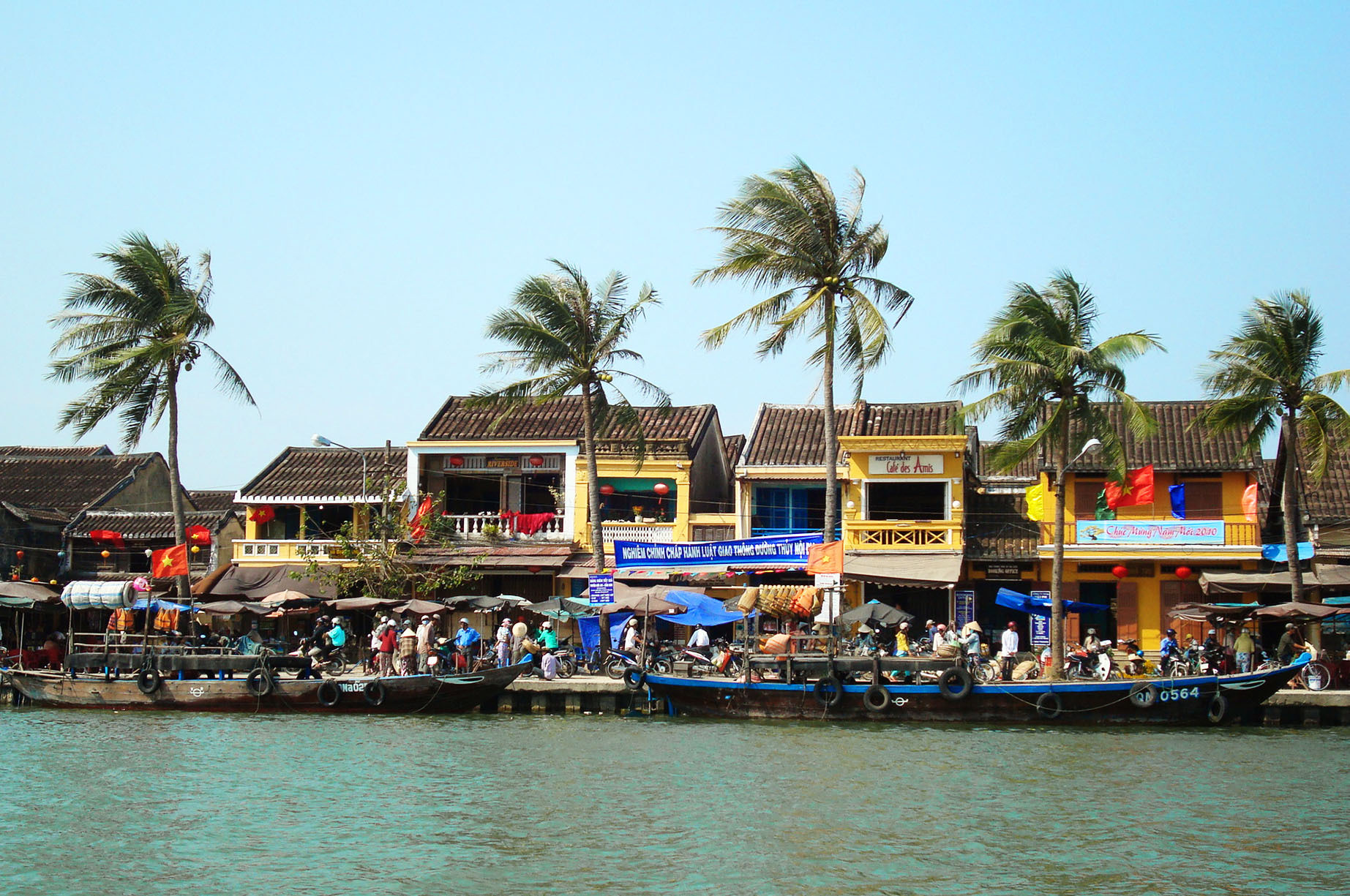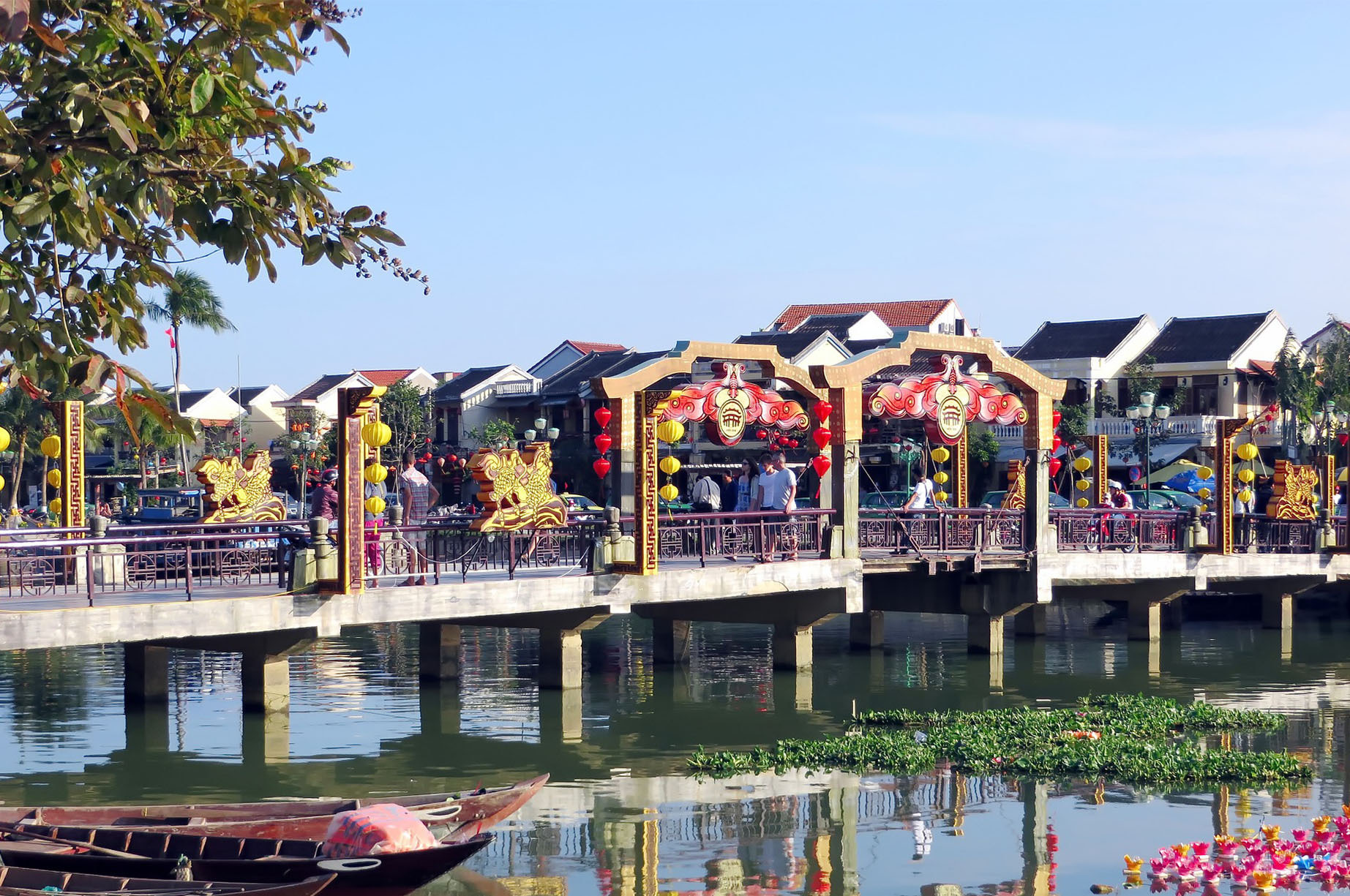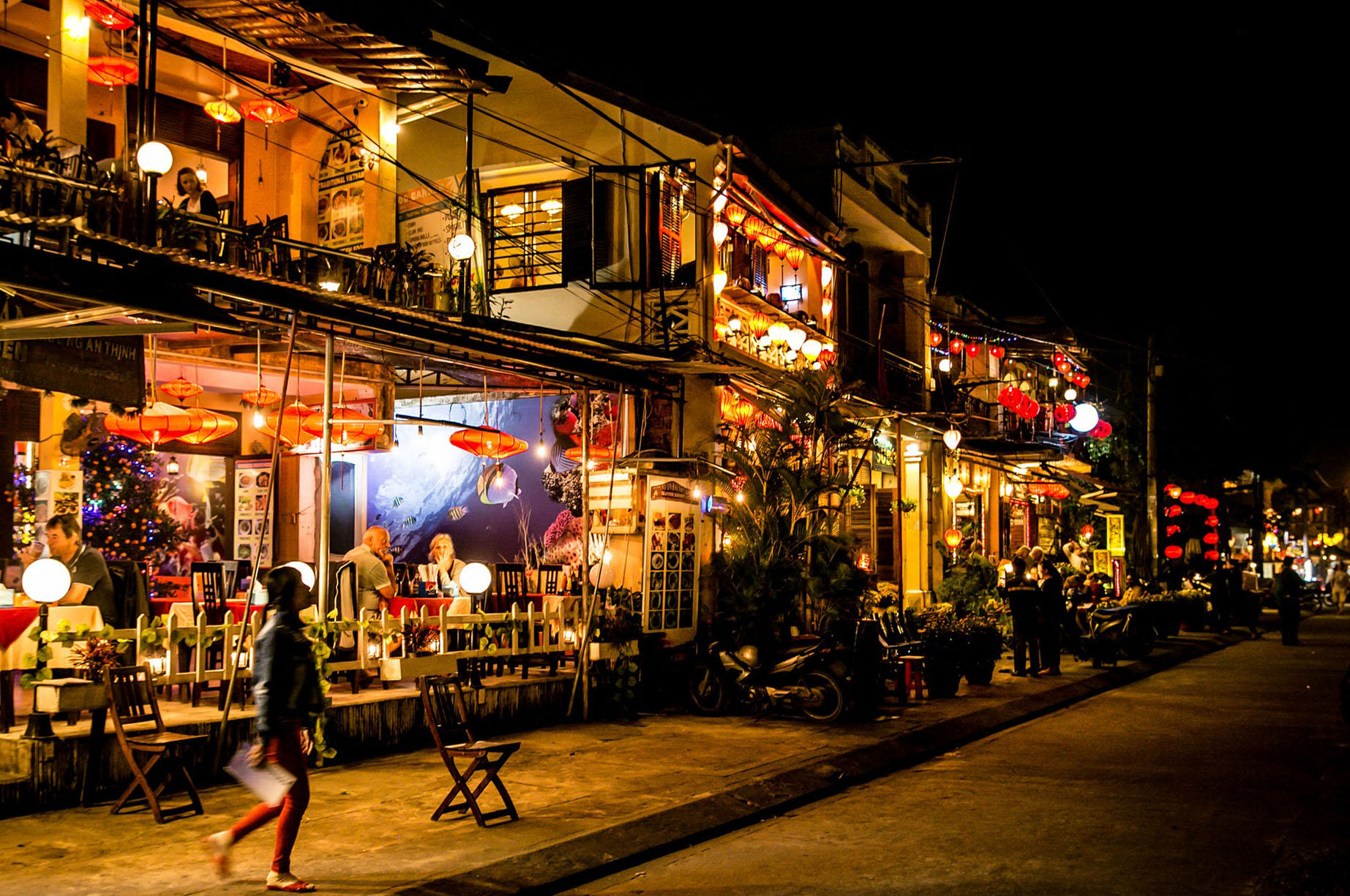 It's important to note that Vietnamese tailors—or any tailors in the world—are neither mind readers nor magicians. At the end of the day, you still have to pick a style that suits your body type. Just because an outfit looks good on someone else, doesn't mean it'll look good on everyone, even if it's made to your measurements.
Getting garments made at a tailor shop in Hoi An is a uniquely Vietnamese experience, and a wonderful and practical souvenir to bring home at the end of your travels. Every time I wear my new outfits to an event back home, they bring back a memory of my visit to Vietnam—yet another opportunity to tell and retell my favourite travel stories.
You may also like to read