What it's really like going on a safari in Sri Lanka
Going on a safari and getting up close and personal with exotic animals in their natural habitat had long been on my travel wish list. So when my boyfriend and I were in Sri Lanka recently, an island nation with 21 national parks and wildlife reserves, it seemed like the perfect opportunity. Although safaris are often on the bucket list for many travellers, they're not as glamorous as they appear in movies and photos. In reality, it's a long day in the heat, driving around in circles from sunrise until sunset, hoping to catch a glimpse of local wildlife. Buckle up and prepare for a bumpy and dusty ride, here's what it was really like going on a safari in Sri Lanka.
Our day at Yala National Park, Sri Lanka's most popular wildlife reserve, began with our safari guide picking us up at the ungodly hour of 4:30 am. I felt like my head barely hit my pillow before I was roused awake again by my phone alarm. My boyfriend and I got dressed and climbed into a big jeep, which had six open-air seats behind the driver's cabin. The seats were elevated, our guide explained, because it provides a better viewpoint of the landscape. We were the only ones on his tour that day, so we lucked out with a private tour. Our guide turned his key and the jeep roared to life, disturbing the otherwise peaceful silence of the hour before sunrise, and we headed to Yala National Park.
Every national park in Sri Lanka has its own mix of wildlife. At Yala, exotic birds, elephants, spotted deer, peacocks, alligators, water buffalos, red- and black-faced monkeys and sloth bears were a small sample of what you could expect to find. The prized animal that every traveller wants to see at Yala, however, is the leopard, the king of Sri Lanka's jungle.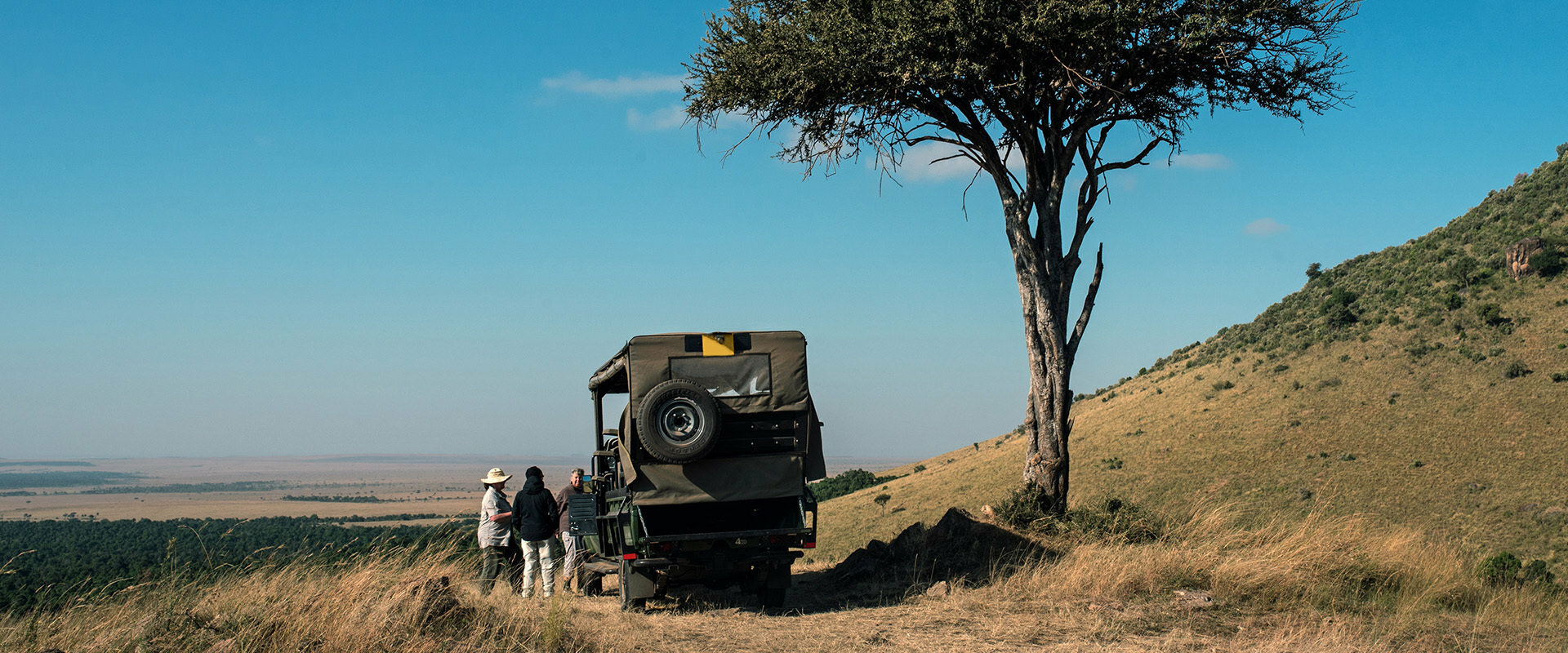 Although you can enter the park at any time during the day, the most hardworking tour operators will arrive as early as possible, racing against other drivers to be one of the first vehicles to enter the park when it opens at 5:30 am. Animals tend to be the most active at dusk and dawn because temperatures are cooler. They can comfortably emerge from their shaded forest havens into uncovered terrain to hunt, eat and drink.
When the clock struck 5:30 am, the gates to the park opened and the line of waiting vehicles entered the park, each kicking up a cloud of dust for the vehicle behind it. In the first hour of our safari, we spotted owls, birds and monkeys, but we quickly passed by in hopes of catching a glimpse of the leopard. We saw a beautiful sunrise, but no leopard.
After an hour of driving along dusty dirt trails, we still didn't see any leopards, but we did come across a skittish pair of deer, cautiously making their way out of the bush towards a muddy water hole. The process was graceful but this dance with nature was also painstakingly slow to watch. The pair would take a few steps forward, turning their heads and twitching their ears to detect any signs of danger, pause, then retreat back into the bushes. This cycle was repeated over and over again. We must have sat for at least 20 minutes observing this encounter with nature.
When I turned towards my boyfriend to show him my photos, to my annoyance, he had fallen asleep.
I watched with intensity, silently cheering on the deer, seeing the scene unfold from behind my camera lens, clicking on the shutter repeatedly to capture the pair in front of me. When I turned towards my boyfriend to show him my photos, to my annoyance, he had fallen asleep. I nudged him awake, but the deer had finally made their way to the water and were drinking thirstily. The show was over and we were ready to move on.
Our safari continued like this for the next three hours. We drove around the park, passing by popular watering holes and other wildlife hotspots where animals have been known to linger. Our driver used hand signals to communicate to other drivers passing by, indicating to each other whether there was anything of interest to see in the opposite direction.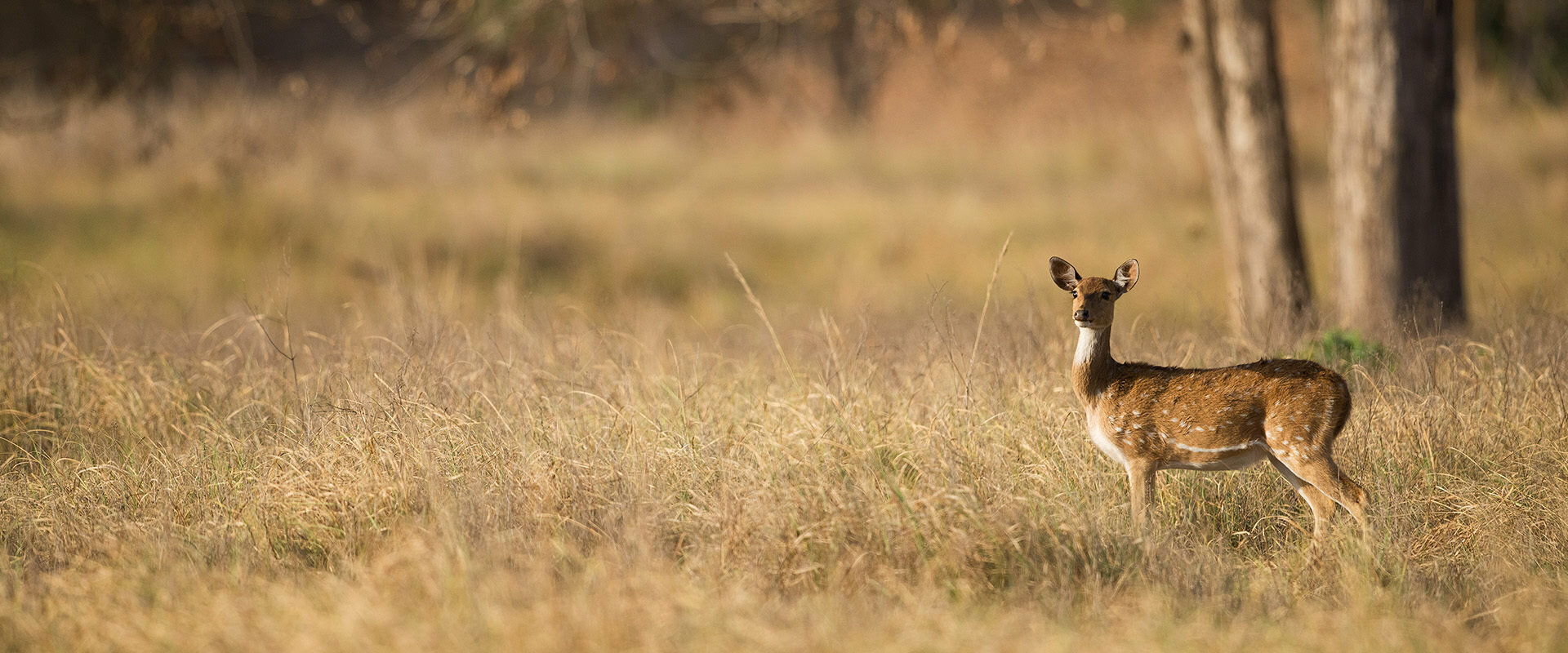 By this time, we still hadn't seen the prized leopard. Perhaps to curb our expectations, we were reminded that wildlife spotting on a safari is a luck-based endeavour. Sure, skill comes into play from having an experienced driver with a good eye, but your chances of spotting wildlife is mostly based on luck. And, in a not-so-subtle sales pitch, our driver told us if we wanted to maximize our chances of seeing a leopard, we should book an extra day in our tour.

At around noon, we pulled aside for a picnic lunch of local staples like curry, dal and crispy papadum. We sat on a mat in the middle of the park plains with a river—definitely with crocodiles in it—on one side of us. The food was prepared by our driver's neighbours and packed in stainless steel tiffins to keep the meal warm. Our driver peeled, sliced and diced fruit for us, arranging pineapple and other tropical fruits on a platter in front of us. Perhaps it was the novelty of being somewhere new and the surreal surroundings of being so far away from home, but this was one of the most memorable meals we had in Sri Lanka.
With bellies full, our driver then announced it was time for a nap. He wasn't joking.
With bellies full, our driver then announced it was time for a nap. He wasn't joking. In the heat of the day, he explained, animals hide from the sun, so it was the perfect time for us to rest up and recharge for the afternoon portion of our safari. Under the shade of a rosewood tree, my boyfriend and I lay down our towels and did what we were told. We had unluckily positioned ourselves in the path of ants, and I could feel the uncomfortable tickle of insects crawling over my bare legs. Other than that, we were happy and content.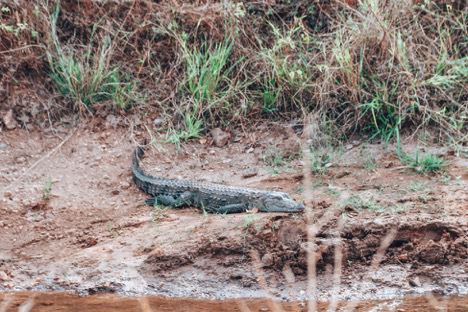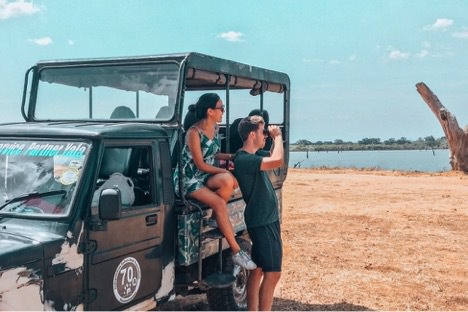 While we rested, our tour guide stood guard nearby, using his binoculars to look for wildlife.  After some time, when he spotted something, he woke us up and handed over his binoculars so we could see the backside of a lone elephant. It was far away and blurry, but the greyish figure was distinctly elephant-shaped. Every once in a while, an alligator would surface from the river beside us. We got up and went on a small walk on the grassy plains, where he pointed out elephant footprints fresh from the morning, leading into a muddy river.

Back in our vehicle, the afternoon half of our safari unfolded much in the same way as the morning: driving in circles, stopping to watch wildlife and taking photos. By the late afternoon, we were getting tired and sleepy from the heat of the day—and, if I were to be completely honest, a little bit bored. We made countless loops around the park, to the point where even I was beginning to recognize landmarks of places we had already been. We had seen everything we needed to see, and the novelty of spotting another monkey or another peacock just wasn't exciting anymore.
We never did see the prized leopard on our safari; however, we were told afterwards that another group on the same day did spot one on the other side of the park. When we spoke with them afterwards, they said it all happened really quickly. They heard the rustle of leaves from something jumping out of a tree, saw a spotted blur and that was it. A different group spotted a sloth bear crossing the road, which is on the same calibre of rarity as the leopard.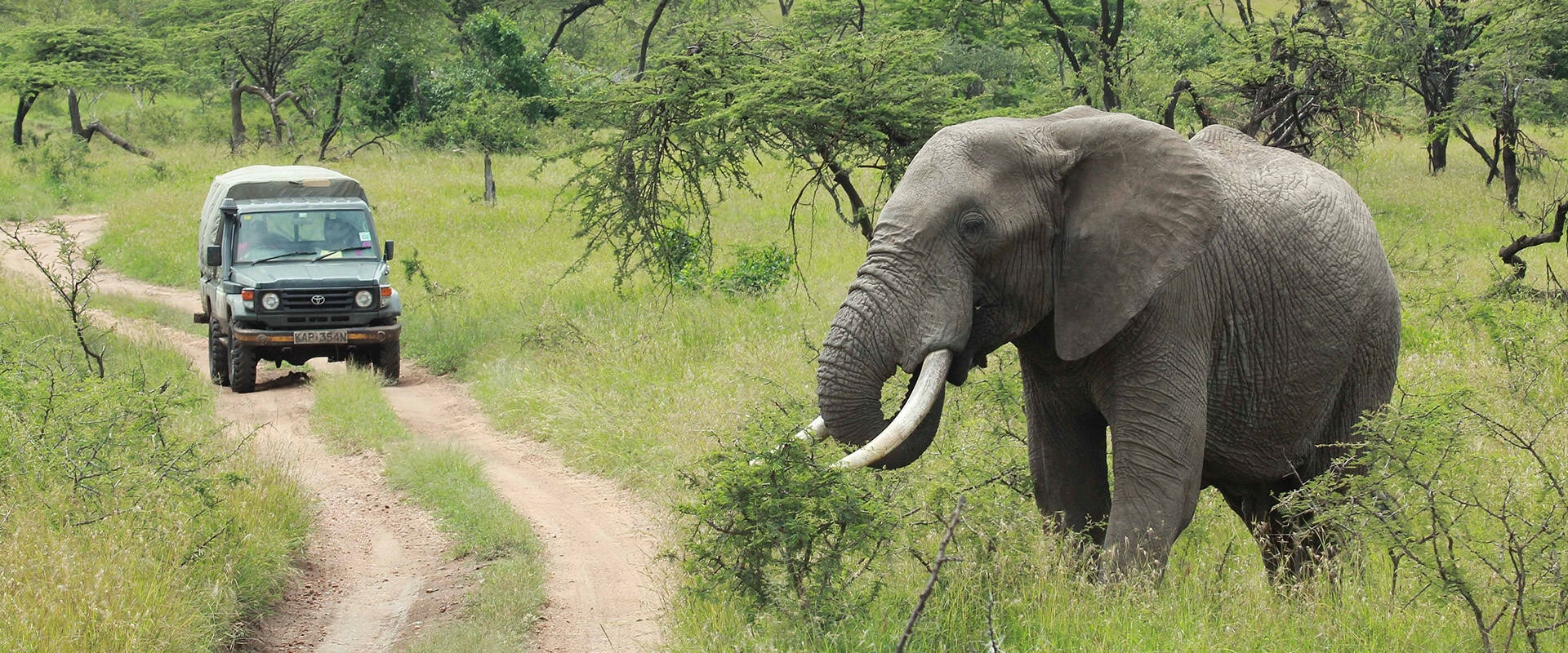 One of the elephants reached their trunk into the open window of our driver's cabin and dug his trunk into our lunch box, rummaging for food. 
At the end of our safari, we did have one final wildlife spotting. On our way out of the national park, we saw a pair of elephants coming out of the bushes along the main highway. We slowed down to watch. Unexpectedly, one of the elephants reached their trunk into the open window of our driver's cabin and dug his trunk into our lunch box, rummaging for food. Visibly annoyed, our driver tossed a pineapple core out the window to shoo the elephant away. As we sped off, I could see him wrapping his grey trunk around the pineapple, placing it into his mouth.

For some, going on a safari is a trip of a lifetime: the thrill of observing wildlife roaming in their natural habitat can be so exciting! But, be warned that going on a safari requires luck and patience. Keep your expectations in check, and you'll enjoy the ride.
You may also like to read