Exploring the Rockies
 without a car
Many national parks aren't that easy to explore without a vehicle. But if you wanted easy, you'd be at home, eating Cap'n Crunch in your pajamas, right? The Canadian Rockies are a special place, and if you're crafty you won't need your own vehicle to get out and romp in those alpine meadows. Here are some pro tips for getting around Banff, Jasper, Canmore and Kananaskis without a car.
Going to the Rockies without a car
From Vancouver or Calgary, you can get to Canmore, Banff and Lake Louise with Rider Express. If your wallet's up for a cushier ride, use the 15% off HI discount to take VIA Rail into Jasper from Vancouver or Edmonton. If you're in Edmonton, Sundog Tours also runs a bus from the airport and West Edmonton Mall to Jasper, and HI members get 15% off.
If you're flying into Calgary, the Banff Express will pick you up right at HI Calgary City Centre and drop you at HI Banff Alpine Centre (by request). You can also take the Banff Airporter or Brewster Express from Calgary. Both will pick up and drop off right at HI Banff Alpine Centre, while the Brewster Express can also drop you off in Kananaskis Village, Lake Louise and Jasper (though not at the hostels). On-It Regional Transit is running shuttles between downtown Calgary and downtown Banff on weekends and holidays only, between mid-May and early September, for $10 a ride (some stop in Canmore, too).
You can also rideshare through carpooling app Poparide, and join someone with a set of wheels planning to travel between Canadian cities and towns. HI members get $5 off their first Poparide trip.

Getting around
Bus
From Banff you can take a local Roam Transit bus to and from Canmore or Lake Louise. Roam will also take you around the Canmore and Banff areas, including stops within walking distance of each town's hostel. Even better yet, for a small deposit, guests of HI Banff Alpine Centre get a free Roam bus pass valid on Banff routes only for the duration of their stay.
Roam also run buses between Banff and Lake Minnewanka and Cave and Basin National Historic Site in the summer—a good option for getting out of town. 
Once in Lake Louise, you're going to really start to love on Parks Canada, which runs a shuttle between the village of Lake Louise and the lake itself, as well as Moraine Lake in the summer. You can meet some lovely people on board, and if you're me, all of these people will bizarrely share an interest in horses and you will learn more about the equestrian world than you ever thought possible, as the Bow River glints and gurgles past your window.

To explore some of the attractions around Banff and Lake Louise without committing to a full-blown tour, Hop On Banff offers full-day hop on/hop off bus service that stops off at places like Johnston Canyon, the Lake Louise gondola, Chateau Lake Louise and Moraine Lake. The service runs between late May and early October and a one-day pass costs $60.
Brewster is the only direct bus option for heading up to Jasper in the summer from the south, but Sundog offers a full-day, one-way summer-only tour between Banff and Jasper (or vice versa) that combines your transportation up or down the Parkway with some popular sightseeing stops along the way—including the Columbia Icefields, Glacier Skywalk and other impressive waterfalls and lookouts. This is a great way to get from A to B without a car, while also taking in some of the sights along the way (and HI members get 15% off and you can book all Sundog tours and transit right at HI Jasper's front desk).
Come winter, you can travel direct between Banff or Lake Louise and Jasper (no sightseeing stops) with Sundog, which drops off and picks up at HI Jasper.

If you're exploring the Rockies in the winter with skis or a snowboard in tow, the Ski Big 3 shuttles pick up in downtown Banff (get there from the hostel using your free Roam bus pass) and drop off at Sunshine Village, Lake Louise Ski Resort and Mount Norquay. Lake Louise Ski Resort also runs a free shuttle from Lake Louise village up to the ski hill there. In Jasper, a shuttle runs between downtown to Marmot Basin three times a day during the ski season.

Taxi
Several taxi companies operate throughout the Rockies. Beware, this is usually the priciest way to get around. 
Bike
Every town has at least one bike rental shop, including Kananaskis, and each usually stocks a variety of mountain bikes as well as road bikes or hybrids and many of them offer discounts to HI members. In Banff, get 10% off rentals at Bactrax. In Lake Louise, get 15% off rentals at Wilson Sports. In Jasper, get 10% off bike rentals at Vicious Cycle between June and September (and 50% off the rest of the year). HI Canmore also lends out bikes to guests at no cost, or you can rent a bike in town from Gear Up (with a 20% member discount).
From Canmore or Banff, ride the Legacy Trail between the two towns. While it's a great trip at any time of day, I recommend setting out early enough to avoid the throngs of forced-family-fun-havers in matching shirts. Pedal yourself awake as daylight pours into the Bow Valley, and treat yourself to fancy breakfast at the end of the trail.
If your gams are up for it, consider a multi-day bike tour. Stop at any vista you like, enjoy being outside all day and watch your adrenaline skyrocket when a bear pops onto the road. The wilderness hostels peppering Highway 1 and the Icefields Parkway are spaced out nicely and make great stopping points for the night (just remember to pack your food and everything you'll need as there are very, very few shops and restaurants along the Parkway). If you're not ready to go solo, loads of companies do guided tours. Either way, be prepared to sacrifice your legs to the mountain gods. In a good way.

Carpooling
You'll be surprised how often a nice Dutch couple on the trail or the rowdy Aussie bunch at your hostel offers you a ride or invites you on an excursion. You can't plan them, you can't book them ahead, but these new-friend adventures can get you further out of town and they make up many of my favorite mountain memories. Chat with people, ask about their plans, check notice boards and even pool your funds to split a car rental if you need it.
For more options, check out Kijiji or the Bow Valley Community Connection group on Facebook for the odd carpooling offer. Be safe and use your head when picking road buddies, and you might end up with a new pal.
Group tours
If the ease of planned tours sounds right for you, use the 10% HI member discount with the Moose Travel Network, which offers all lengths of trips through the Rockies. If you're not keen to give up all your freedom to an itinerary, use their flexi-pass option to try different tours as you go. This hop-on, hop-off backpacker bus also makes it easy to meet people and it can be a nice break from handling all the planning on your own. Plus, with trips that stop at places like HI Rampart Creek Wilderness Hostel, it's a good way to get from A to B while checking out some more remote spots in between.
Getting to trailheads
If you're able, hiking is one of the best reasons to go to the Rockies. Unfortunately, it's also the trickiest part of being a zero-wheeled traveller, as many great trails start a ways out of town. Fortunately many HI hostels in the area have trails leading right from the front door!
Canmore
Several paths start out the door from HI Canmore, including Grotto Mountain and Lady MacDonald. If you're staying elsewhere, the Lady MacDonald trailhead is also easily reachable by bus, foot or bike. With a hostel bike, cruise to Grassi Lakes for an easier hike and wildly coloured water. Look up the Bike n Hike shuttle for transport to mountain bike trails and more hikes in and around Canmore and Banff, including Ha Ling and backpacking routes in the Mt. Assiniboine area.
Banff
Banff is laced with pleasant walks, like the path along the Bow and Spray rivers, or to the Hoodoos. HI Banff Alpine Centre is part way up Tunnel Mountain, and a short walk from the trailhead that'll take you up to the mountaintop or back down to town. If the crowds are really driving you nuts, take the bus out to Lake Minnewanka, and when you're ready for more of a challenge, give Rundle a go—the trailhead is a short walk out of town. Hop on Banff will also drop off at a few trailheads between Banff and Lake Louise, by request if you contact them ahead of time.
Lake Louise
Thanks to the shuttle, Lake Louise is perhaps the easiest place to get to without a car, and has all levels of hikes to suit your fancy. The lakeside hordes can be off-putting, but as soon as you set off into the woods the numbers dwindle. From Moraine Lake you'll have a handful more options including the Larch Valley hike, which you can extend by trekking up to Sentinel Pass.
Jasper
If you're staying at HI Jasper, wander down Bighorn Alley to Annette Lake for an unreal cerulean swim, or enjoy the Pyramid and Athabasca lookouts. If you're down to shell out a chunk of cash for a bigger excursion, the Maligne Valley Hiker's Shuttle will help get you to and pick you up from the multi-day Skyline Trail backpacking route.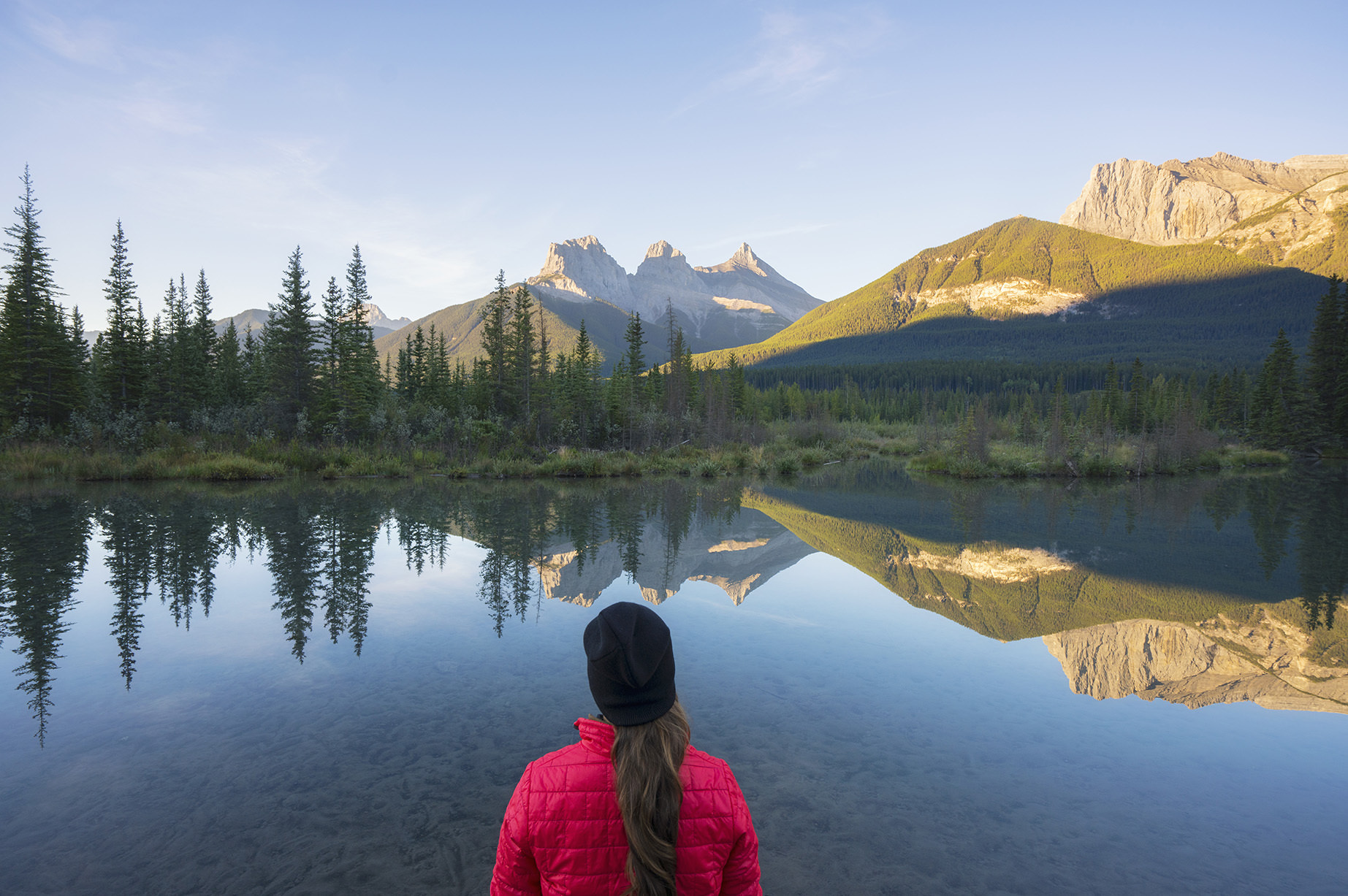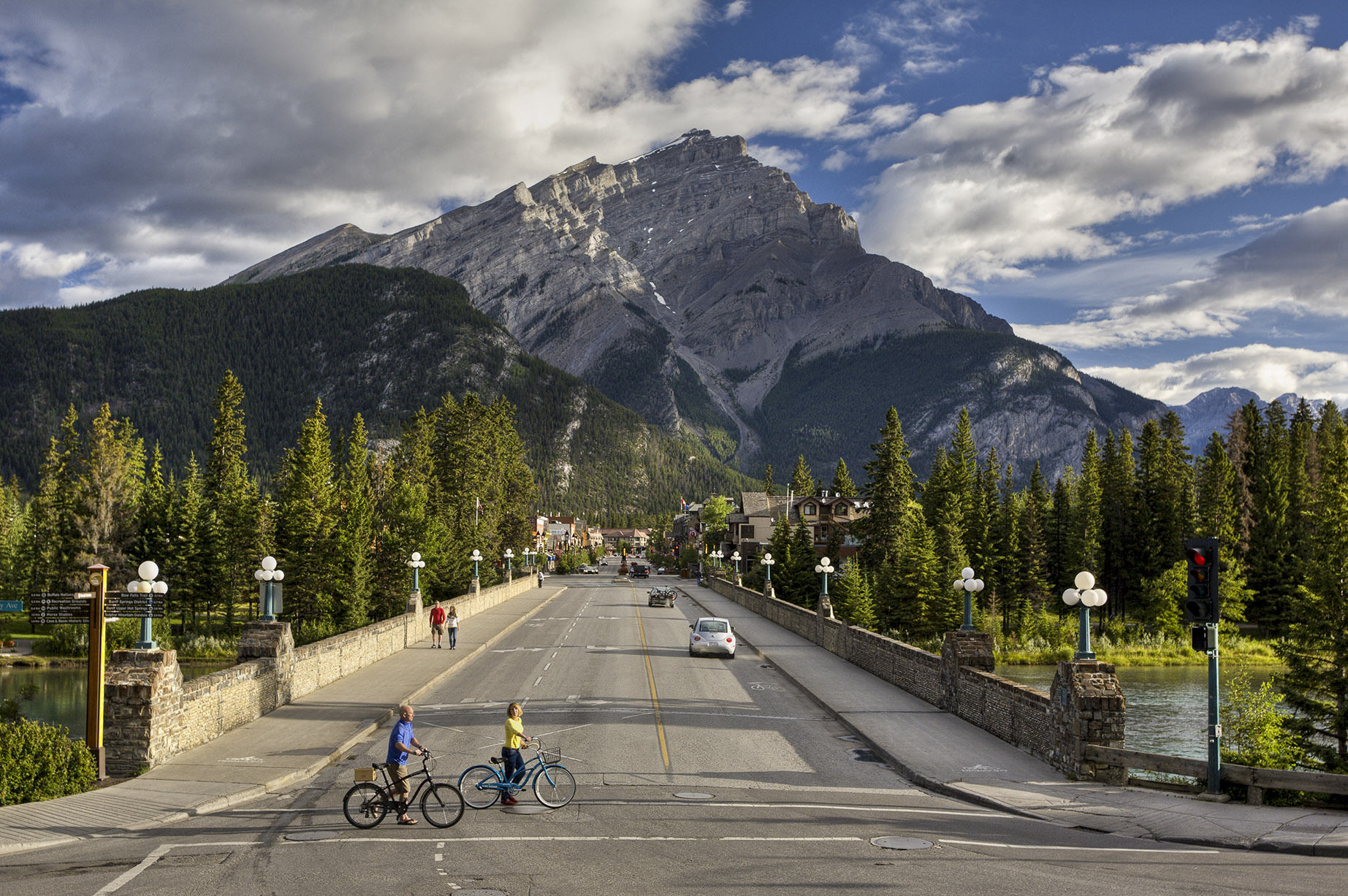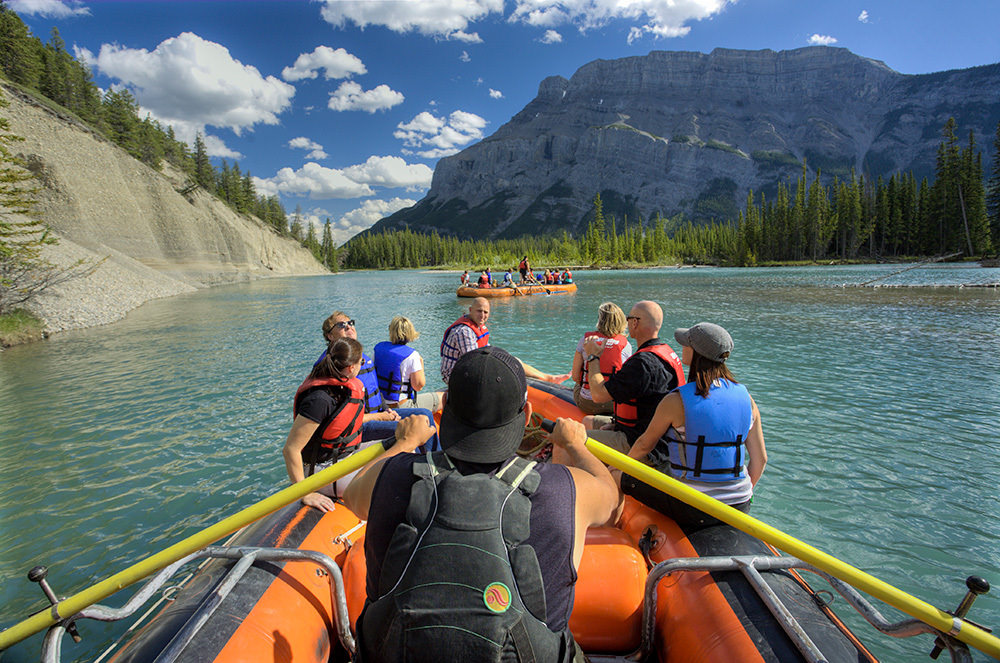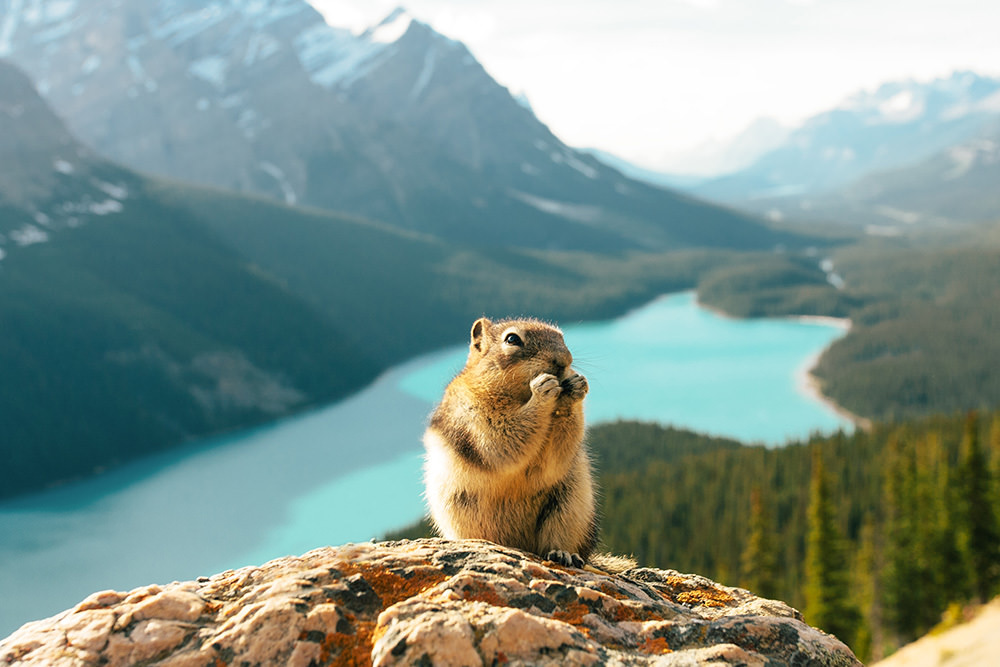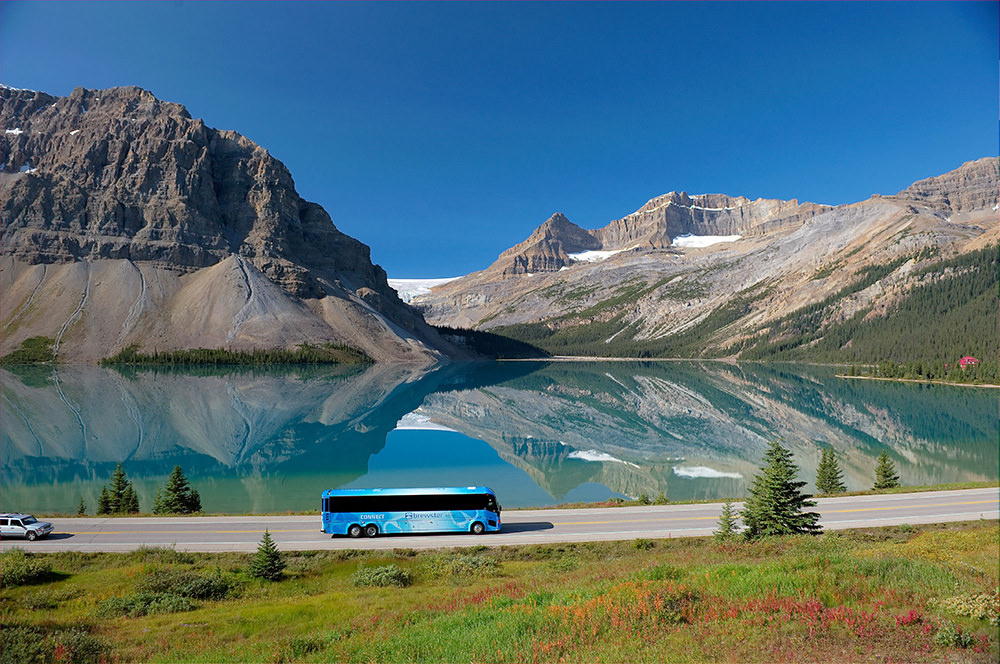 Activities to do without a car in the Rockies 
It's no secret there's a ton to do in the Rockies, even beyond the epic hiking opportunities. If you're looking to try out white water rafting, explore some glaciers and icefields, spot wildlife or just hike with a crew or a guide, there's a TON to choose from, but a lot of these activities happen outside of the mountain towns. Fortunately, most tour operators will help you out by either picking you up right at the hostel or at a convenient meeting spot in town. Always check to see what kind of to/from transportation is included when you're booking your activities and excursions.
In Banff, White Mountain Adventures and Canadian Rockies Rafting pick up right at HI Banff Alpine Centre, while Discover Banff Tours will pick you up across the street. In Lake Louise, many rafting companies will pick you up at HI Lake Louise Alpine Centre. In Jasper, Sundog Tours and Maligne Adventures pick up at HI Jasper (and both offer member discounts).
Some other attractions closer to town are accessible on foot or via local transit, like the Sulphur Mountain gondola, the Banff Upper Hot Springs and Cave & Basin National Historic Site (some routes may be seasonal).
In any area, the best way around is to be creative. Hitch a ride with a new friend one day, then combine bike and public transit the next. Check out hostel-led activities, and if you make it to a wilderness hostel you'll often have trailheads out your door or down the road. Ask the wardens and hostel staff for advice—in my experience they know every trailhead (marked and unmarked) in the area and every trick in the book around exploring this beautiful part of the world by any means necessary.
You may also like to read