Canadian Olympics legacies you can still experience in Vancouver, Whistler and Calgary
The torch has been lit and the Winter Olympics have officially begun and while it's still kinda awkward to watch, it's impossible not to feel that hopeful pride seeing your country go for the gold. It might also bring back feelings of winning goals, underdog stories and breaking world records. Did you get chills just thinking about them? No judgement here. If you're feeling nostalgic or if you're prone to Olympic fever (cause let's be honest, there are few things that are more Canadian than a winter sports competition) take your fandom up a notch. Canada's former host cities have some pretty sweet Olympic legacies that are free for the wandering.
Whistler & Vancouver (Winter Olympics 2010)
Winter 2010 was the year Canada's 14 gold medals were the most ever won by one country at a Winter Games. A number of facilities built for these games are still around and open to the public, including one of our hostels! Back then, HI Whistler was built as part of the athlete's village. Now, you can stay in an epic hostel and literally walk in the shadows of legends. Spend a day at the Whistler Sliding Centre where you can try out bobsleigh, luge and skeleton. Sure, it might be too late to become a world-class athlete but you'll have a new appreciation for the G-Force on those banked turns.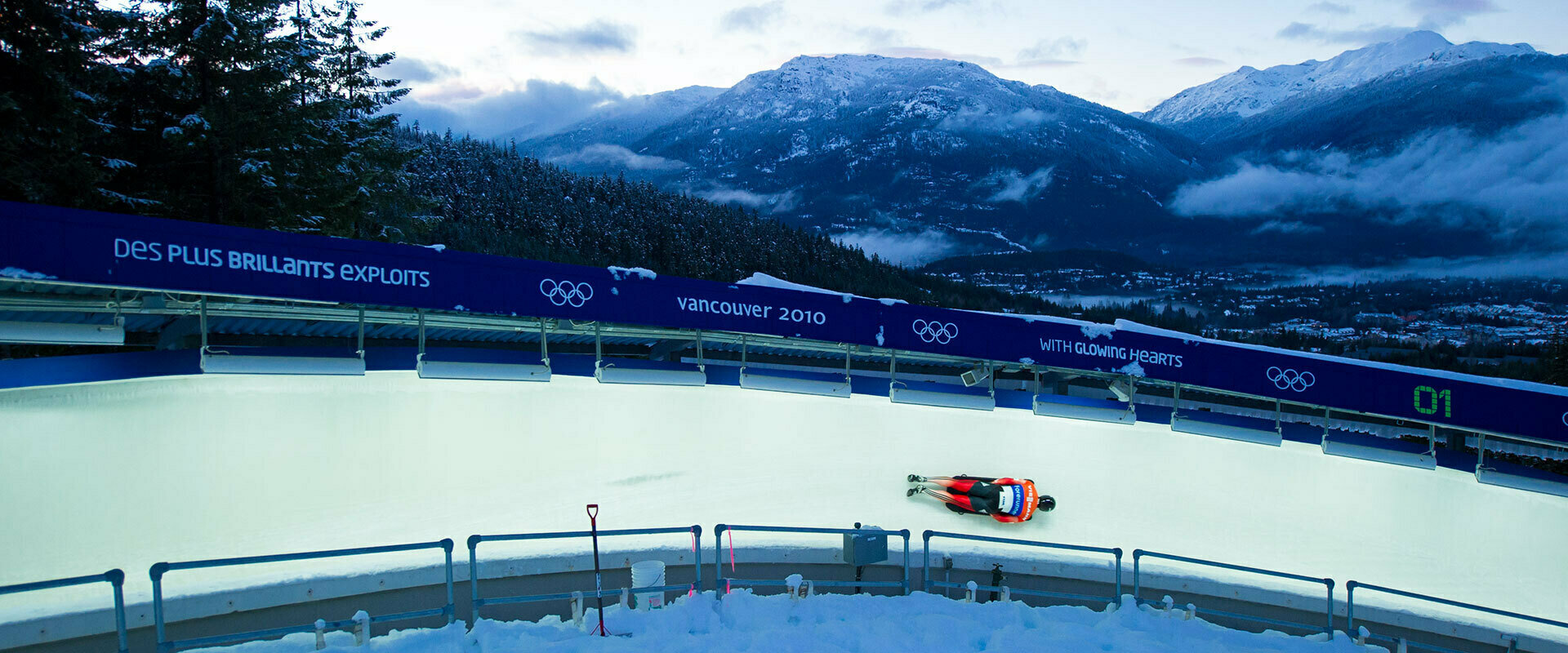 Whistler Sliding Centre © Tourism Whistler / Mike Crane
Down in Vancouver, check out the artsy Olympic cauldron that's still on display next door to the Vancouver Convention Centre in Coal Harbour. The flame is briefly relit at the beginning of each Olympics and Paralympic games (next will be March 4, 2022). Overlooking the harbour and the North Shore, the neighbouring convention centre was the international media broadcast centre during the games. It also houses a display inside about the 2010 Olympics. After that, head a tiny bit south to the waterfront promenade at False Creek. This former industrial area was redeveloped for athletes, it's now home to condo towers and commercial spaces with a ton of shops, restaurants, pubs and public art. Along the way, be sure to make a stop in Robson Square next to the Vancouver Art Gallery. This public square got an Olympic makeover, including a public skating rink where you can skate for free between December and February each year (skate rentals are $5).
Visiting from afar? You can thank the 2010 Olympics for connecting YVR to downtown via the Canada Line extension of the Skytrain rapid transit line, which gets you from the airport to downtown for under 10 dollars and in under 30 minutes. If you're heading further, you can thank the Olympics for helping make the trek up the Sea to Sky Highway a little better. Just as picturesque as ever, the drive from Vancouver to Whistler is smoother, wider and better. Break it up with a half-time stop in Squamish, a gem in its own right, and kick back at HI Squamish.
Fun fact: Vancouver is considering a bid to host the 2030 Winter Olympics. This bid would be a partnership between four First Nations, the City of Vancouver, the Resort Municipality of Whistler and the Canadian Olympic and Paralympic Committees. If plans move forward, it would be the Olympics first Indigenous-led bid.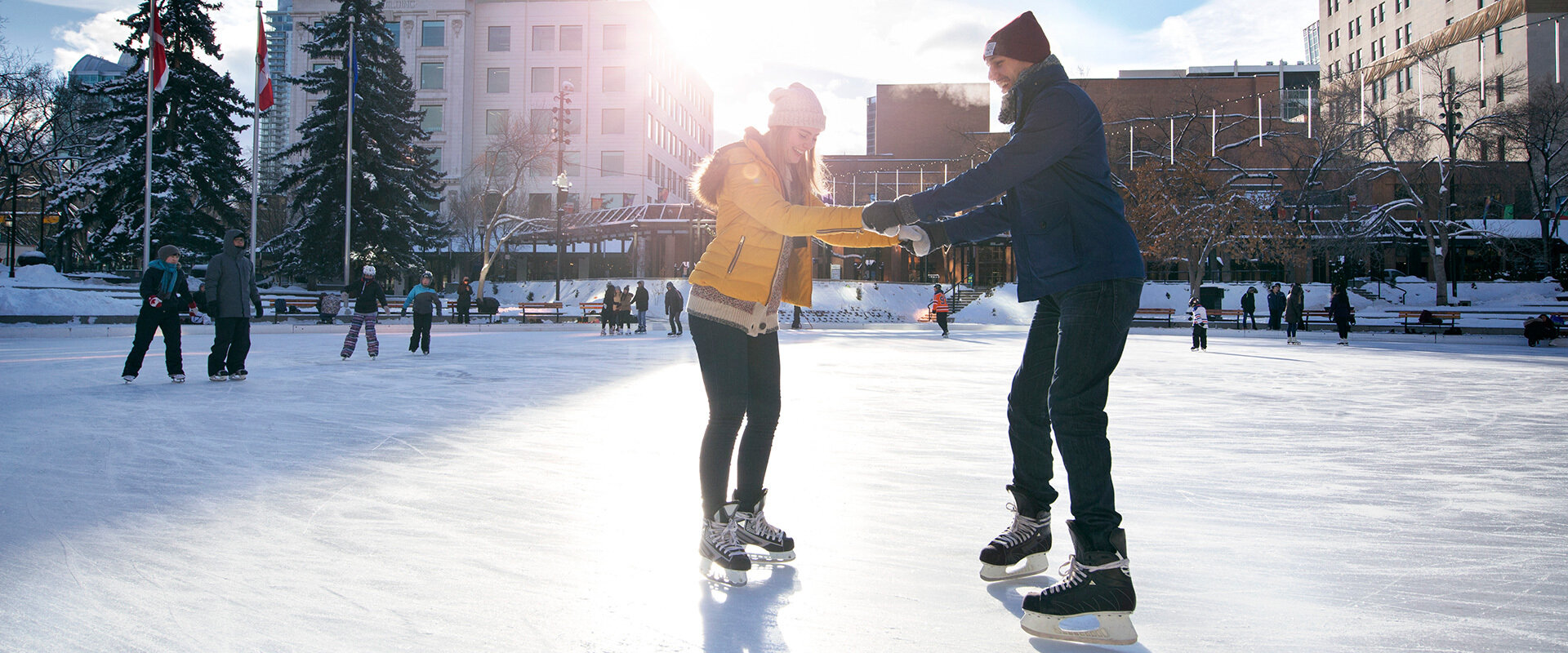 Olympic Plaza © Travel Alberta / Roth and Ramberg
Calgary (Winter Olympics 1988)
Though it might be best remembered for the debut Jamaican bobsled team, Calgary's 1988 Olympic legacies are notorious in their own right. The Saddledome, the iconic arena shaped like (you guessed it!) a saddle, hosted the year's figure skating events. It's now the home ice for the city's resident NHL team, the Calgary Flames, so you can still get a whiff of that competitive athletic spirit. And while there's been talk of tearing it down to make way for a new stadium, those plans have been, uh, put on ice for now.
Over in the Olympic Plaza, the public space that hosted the medal ceremonies, you can skate on a public ice rink and attend the occasional festival or event. From there, check out the Calgary Tower, which served as the 1988 Olympic cauldron. If you're lucky, you can see it re-lit for special events.
Heading out of the city, stop at Canada Olympic Park, a ski hill and training facility that was the 1988 venue for ski jumping, bobsleigh and luge. Here, you can go skiing, skating and tubing or try out one of their many lessons and programs for up and coming athletes and Olympians. Milan 2026, anyone?
Further into the mountains, you can find the Canmore Nordic Centre. Built as a venue for nordic skiing events, it offers cross-country ski trails in the winter plus disc golf, mountain biking and hiking trails in the summer. Don't worry, there are lessons and rentals, too! There's also the Nakiska Ski Area in Kananaskis, the official training centre for Alpine Canada, that was the venue for the 1988 alpine events. The Olympic flame still burns at the entrance to the resort where you can visualize yourself as a ski cross racer as you swish down the slopes.
Fun fact: the men's downhill course was modified three days before the 1988 events started after it was decided that the original course was too easy. The display inside the Nakiska ski lodge still shows the original course since there wasn't enough time to change it.
You may also like to read