Biking the Kettle Valley Rail Trail
I have memories of riding a bike around my neighbourhood as a child, but it wasn't a huge part of my young existence. I mostly got into trouble by foot and was never very sporty. Cycling didn't really enter my radar until I was in my 30s and started dating a guy who loved to ride his bike. It looked fun and seemed like the ideal way to get around, so I began searching for a bike that was in my price range and would fit me. Turns out, that wasn't the easiest, especially since I'm only five foot two and my legs are short too. It took over a year before I finally settled on a sturdy Del Sol Campus II.
I felt quite insecure the first few months of riding. After all, I hadn't been on a bike in over 15 years! Despite living in the bike-friendly city of Vancouver, I mostly stuck to side streets and greenways while I figured out how to switch gears, navigate a route and signal without coming to a full stop. When it came to rides with other people, I wasn't scared of the things friends expected, such as cars and traffic. Instead, I was worried that I wouldn't be able to keep up with them, especially when it came to hills.
Slowly but surely the fear dissipated as I realized it wasn't the end of the world if I had to get off and walk my bike up a hill. A friend mentioned a bike trip they had taken through the Okanagan, a few hours from Vancouver, and it sounded beautiful and exciting. I wanted to do one of my own, but was skeptical I had what it would take to haul myself and days of camping gear from point A to point B. I learned that the trail followed an old railway line (meaning it would be flat), and my partner and I started planning a three day adventure.
The Kettle Valley Rail Trail is the longest rail trail network in British Columbia, extending from Hope to Castlegar, and comprising of almost 650 kilometers of trails throughout the region. We chose to go from Arlington Lakes to Penticton in order to limit our trip to a long weekend.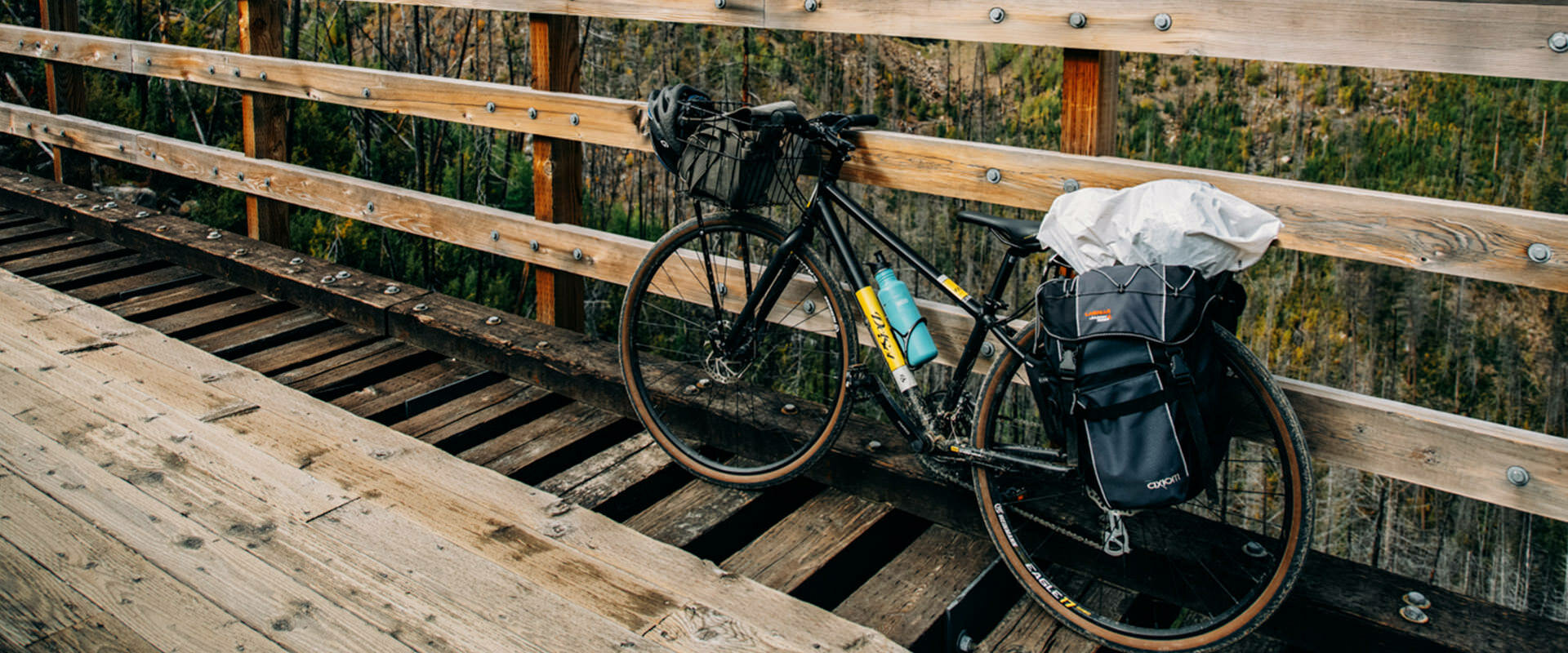 Waking up ridiculously early, we made the five hour drive to Penticton, where HI Penticton is located downtown and just a few blocks from Lake Okanagan. Dave, a man we had found online, runs a KVR shuttle service, and loaded our bikes into his truck to drop us off at our starting location. The plan was to ride back to our car over three days. 
Dave drove us through Kelowna, telling us a bit about living in the area and his own cycling adventures, and eventually turned toward the hills. We went higher and higher up the mountain, until he stopped the car at a rugged camp spot that felt like it was in the middle of nowhere. As we unloaded our bikes and our four panniers of gear, rain started to trickle. Dave told us good luck and drove away with a friendly wave. The remoteness of where we were sunk in as the sky turned dark grey and rain began to pour upon us. We decided we wouldn't wait for the rain to stop since it was getting dark.
I hadn't brought the best clothing for a rainy ride, and the downpour was relentless, but I couldn't remember a time when I had been happier. Less than five minutes into riding, we came upon a small herd of cows in the middle of the path. I had expected the rain, wondered about the roughness of the trail but had never considered we'd encounter a family of cows blocking our way. I was laughing so hard that it was difficult to ride. The rain had nothing on those mooing cows, who had just helped set the tone of our adventure. 
After hesitantly passing them, we pressed on. Though flat, the pathway was quite technical. There were roots and fallen branches littered along the way. The trail was bumpy, wet and rugged. I wasn't struggling with an incline, but definitely had to pay close attention to where I was steering and my legs were working hard to push through stretches of sand and mud.
I was cold, wet and hungry, but I had just biked 25 kilometers along a trail full of potholes, and I felt supremely accomplished.
The rain subsided just as we pulled into Hydraulic Lake, our first camp spot. I could not wipe the fat grin off my wet face. I was cold, wet and hungry, but I had just biked 25 kilometers along a trail full of potholes, and I felt supremely accomplished. As a safety measure, we had borrowed a small UV water filter, but we were happily surprised to find that the campground offered complimentary water and firewood to cyclists staying the night. We hurriedly set up our tent, built a fire, ate our pre-packaged $2.99 curry meals and spent the next few hours drying every piece of clothing we had been wearing.

In the morning the weather was beautiful and I was pumped for day two. We ate oatmeal, drank coffee and continued on our journey. It was a bright and sunny day but the path was mostly covered in the shade of large trees. We puttered along, mostly in silence, enjoying the forest and concentrating on choosing a line to follow amongst the deep grooves and holes in the terrain. Because of how technical it was, being timid with the bike just meant more slipping and sliding. I began to feel more confident as I discovered this, sort of holding my breath and pedaling furiously into whatever came next. Momentum was my friend.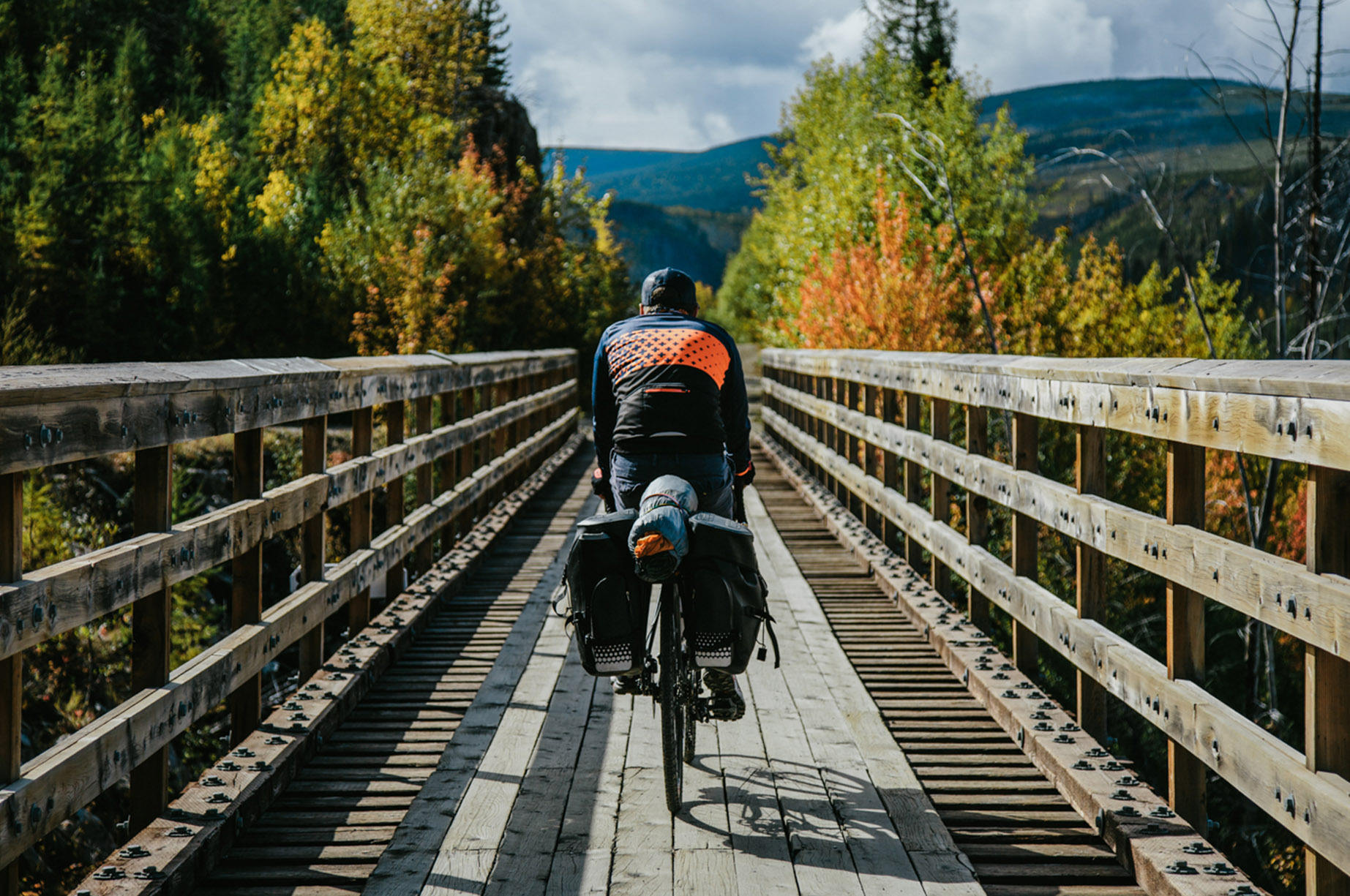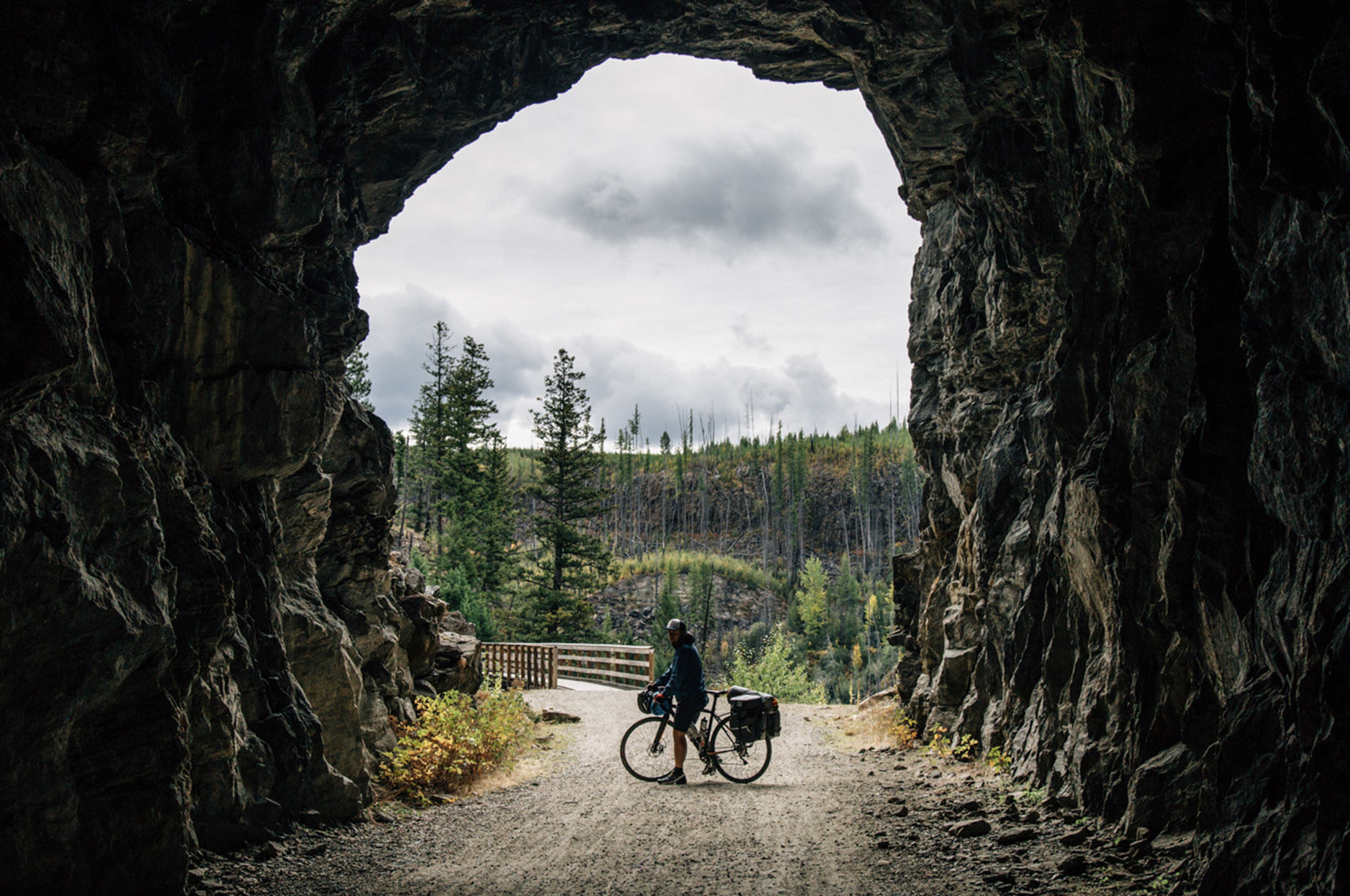 There had been a few car campers at the campsite the night before but it wasn't until we were nearing the Myra Canyon that we saw other cyclists. This is the busiest part of the trail, a common day trip, packed with trestle bridges and tunnels. The Myra Canyon is interesting because while passing over the intricate trestle bridges, many of which had burned down in 2004, you can easily see the rich history of railroad life, fires and rebuilding.
On the second night, we stayed at a free campground located just around the bend from Chute Lake Lodge, where we headed for a beer and a side of fries after setting up our tent. Frozen in the 1970s, decorated with orange naugahyde couches, fading photographs and beer bottles from every era, Chute Lake Lodge was the place of my dreams. Too tired for a round of pool after biking over 50 kilometers, we sat at a table near the window and soaked in the view of fall leaves taking over the lakefront. Today had shown me I had stamina. Back at the campground we added water to a dehydrated pasta package and threw the rest of our food up in a tree so the bears wouldn't devour it.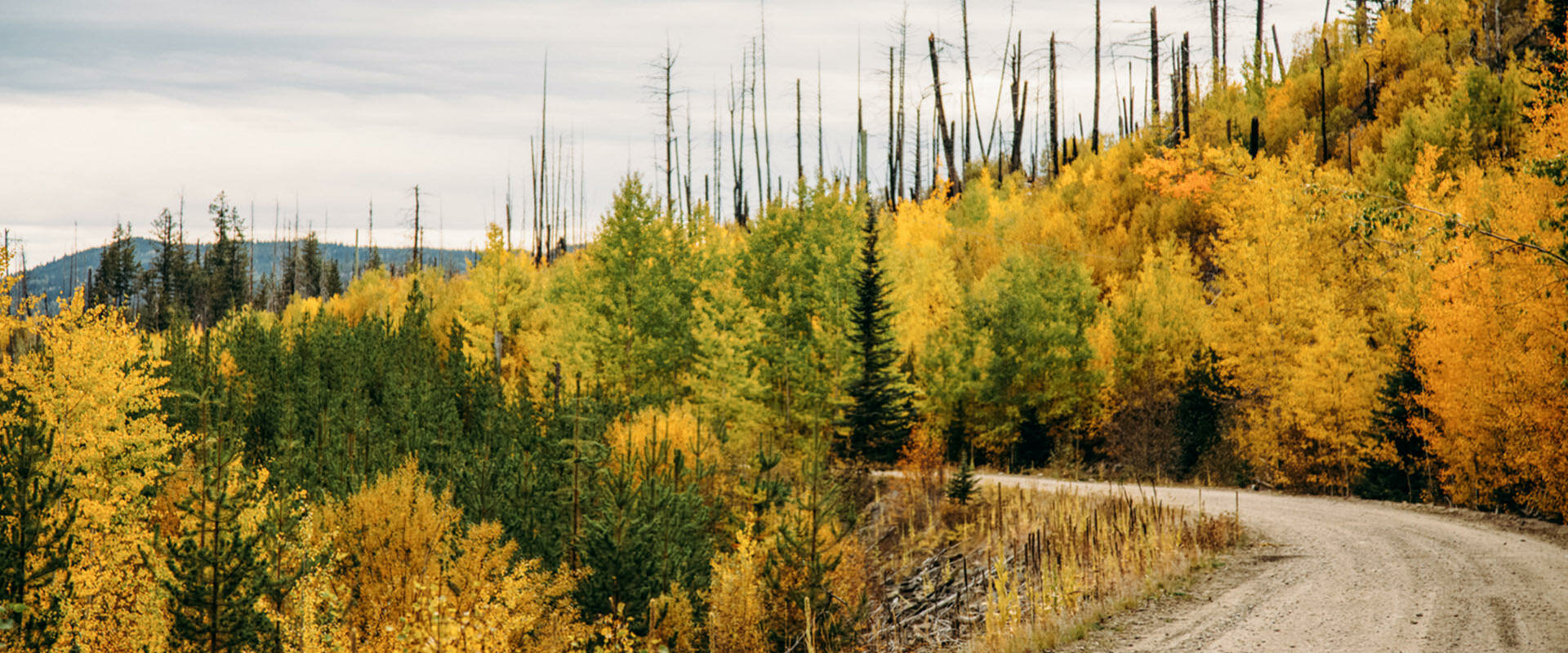 My perma-smile remained strong when I woke up on day three. As we pedaled off into the crisp morning I imaged my alternate life as a lodge owner and snuck an emotional final glance at the old place. Around Adra Station there is a section of the trail that still has several rock ovens, originally built when the railway was undergoing construction. A plaque nearby suggests that the ovens were made to boost morale among the workers by providing them with daily fresh bread.

The trees eventually gave way to vineyards and there were wineries in every direction. It felt like we were riding through the hills of Italy.
As we biked on, the trail began to smooth out more until eventually, we hit a glorious paved section that had just enough decline that we didn't actually have to pedal to keep going! The trees eventually gave way to vineyards and there were wineries in every direction. It felt like we were riding through the hills of Italy. A large Hollywood-esque sign to the left indicated we had reached Penticton.
When we arrived back at the car, the image I had of myself had changed. The three day ride wasn't a huge feat, but it had been just enough outside of my comfort zone. Completing it made me realize I didn't have to defer to myself as someone who wasn't capable of embarking on an outdoor adventure.
You may also like to read