Are fall colours better in Quebec or Ontario?
Though you might enthusiastically start every summer promising yourself you'll never let the heat and humidity shake your gratitude for long summer days, we all seem to welcome fall with a sense of nostalgic relief. September rolls around with a weird sense of renewal—weird considering everything around us seems to be retreating into itself, shedding its summer glow and hunkering down for an inevitable winter. But it's because there's a lot to love about fall—that beautiful and fleeting season of change and transition. Ontario and Quebec have long jostled for the top spot on lists of the best places to enjoy the fall colours in Canada, but which one of them truly does it best? We're taking a look at some of our favourite spots in both provinces to get to the bottom of it.
ONTARIO
Algonquin Park
Algonquin Park is the oldest provincial park in Canada and is not just a historically important park, it's also biodiverse, straddling areas of mostly deciduous forest to the south and coniferous forest to the north. Those deciduous trees down south, where most visitors end up, put on quite the show in the fall. It's such serious business, there's even an online fall colour tracker to help you plan your attack.
There are a ton of ways to enjoy the colours here, and you really don't have to try that hard to find a good spot. You could simply go for a leisurely drive along the rolling Highway 60 and watch the show from your window. Or get out on one of the park's 2,400 (yup) lakes to admire the colours from above and in the reflection below. There's also no end to the hiking opportunities—Lookout Trail and Centennial Ridges Trail are relatively easy and give you a good birds-eye, miles-wide views of the trees from impressive vantage points. Or you could go an entirely different route and enter the park from the Sand Lake Gate on the park's eastern edge, and go wander atop the majestic Baron Canyon.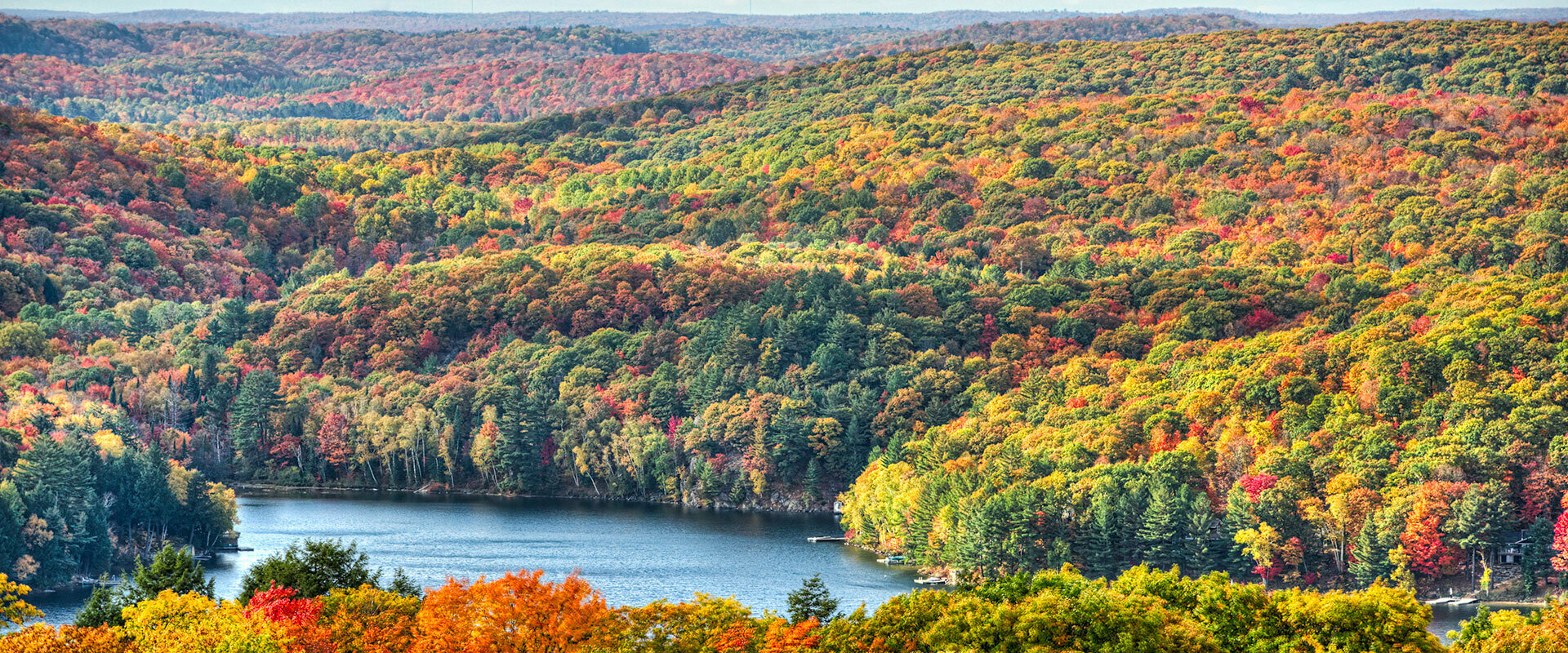 Niagara Region
Crossing southwestern Ontario from the falls to the Georgian Bay, the Niagara Escarpment's sweeping scenic views and 1675-foot cliffs make for some pretty dramatic foliage-viewing. Not to mention it's a recognized UNESCO World Biosphere Reserve and the most biodiverse region in the province.
It doesn't take much to see the region's fall display. In fact, one of the best ways is by driving along the 55 scenic kilometres of the Niagara Parkway, but you'll definitely want more of an adventure than that. Be sure to stop and hike at least some of the four kilometres of trails at Niagara Glen to be totally immersed in pristine Carolinian forest. The view over the Niagara River Gorge Whirlpool is especially stunning. Further south along the Parkway, you won't want to miss exploring Dufferin Islands, a small and quiet park with 10 acres of islands connected by quaint bridges and footpaths. Known as a photographer's paradise any time of the year, the entire landscape brightens up in September. Pro tip: pack a picnic, maybe even a bottle of Niagara wine, and drink it all in.
Of course, the most dramatic feature of the Escarpment is the famous cliff where the Niagara River plunges over top to create the Niagara Falls. Stunning orange, yellow, red and brown fall colours create a backdrop that make this natural wonder all the more impressive.
Ottawa
The nation's capital dresses up in its autumnal best every fall and you can capture some great colours without getting too far out of the city.
Right downtown you can see some pops of red and orange in Major's Hill Park, from which you can stroll along the Rideau Canal and admire the locks next to Chateau Laurier, before strolling up Rideau Street to the Parliament Buildings.
In fact, the entire Rideau Canal (which stretches well beyond Ottawa) is flanked by walking and cycling paths through the city—a great way to enjoy the crisp fall air.
If you've got a set of wheels, you can venture outside of the city to see more colours along the Ottawa River Valley, or hop over the river to explore Gatineau Park, which is actually… in Quebec!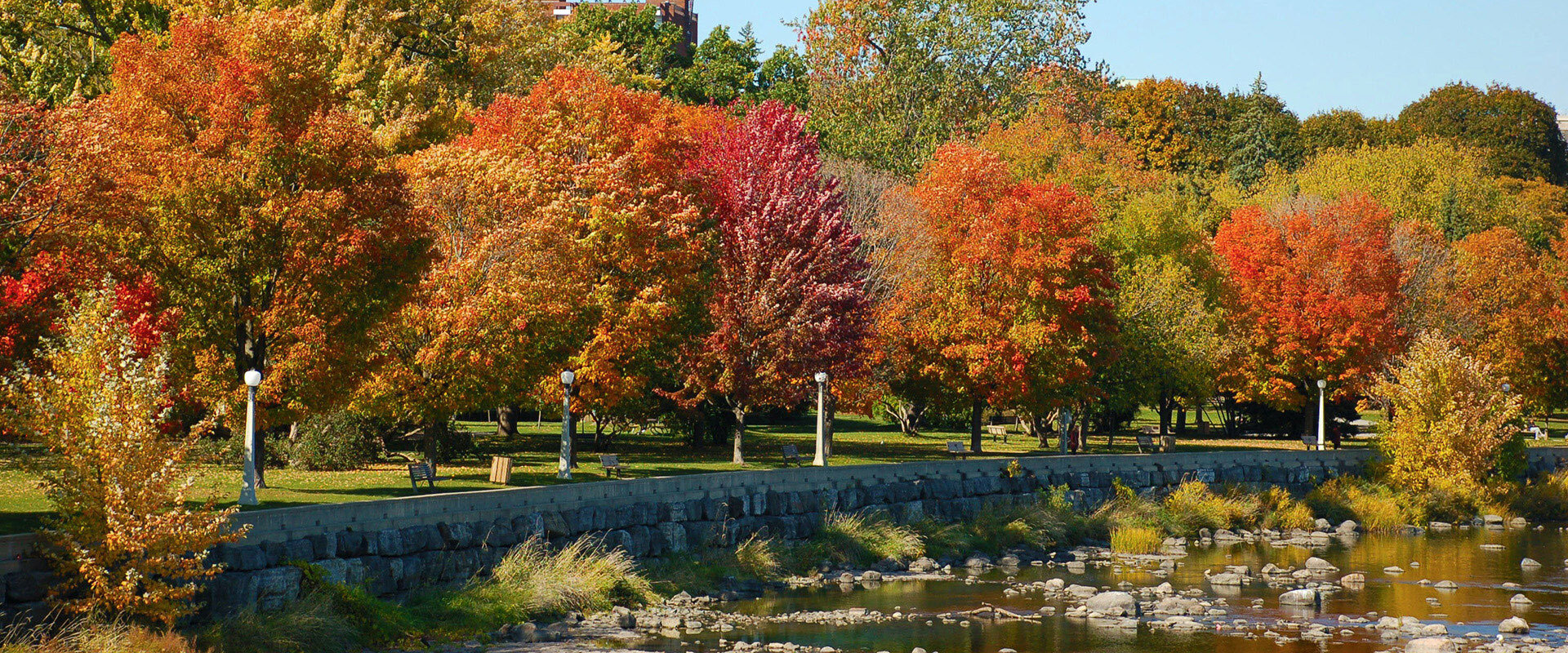 QUEBEC
La Malbaie
Known for its rolling hills, sprawling farmlands and riverside views, Quebec's Charlevoix region has plenty of wide-open spaces that teem with vibrant colours come fall. Between Québec City and Baie Saint Paul, les Sentiers (trails) de Charlevoix are a great spot for an autumn hike with incredible views of the river forests. If you're lucky, you might even see the great black-wing-tipped snow geese cruise by In a V overhead.
Travel the scenic route to La Malbaie by taking the Route du Fleuve, via Route 362, which follows the river, from Baie Saint Paul to La Malbaie where you can set up a basecamp at HI La Malbaie.
Travelling onwards, Parc des Hautes Gorges, only a 40-minute drive from La Malbaie, is a true Québec gem, with incredible panoramas and an impressive diversity of landscapes: valleys, rivers and waterfalls to name a few. The park is known for one of the most rewarding but difficult hikes in the province: the Acropole des Draveurs. If you hike up to the top, and if the sky is clear, you're guaranteed breathtaking views.
After La Malbaie, catch the ferry to Rivière-du-Loup, on the south shore of the St. Lawrence.
Rivière-du-Loup
The fall views from the other side of the river are no less spectacular. The SEBKA (Société d'écologie de la batture du Kamouraska) is a recreation area on the banks of the river, offering sweeping vistas over the river's intertidal flats. There are plenty of lookouts, and it's a great spot for all levels of climbing. Get up high to enjoy the flashes of red and orange trees backed by the mighty St. Lawrence.
Craving a bit more action and activity? Head out for a guided paddle in a kayak on Rivière du Loup, until mid-October, with Zone Aventure. If cycling is your thing, try the 40-kilometre Circuit des Églantiers: a bike path that will take you past amazing river views, rocky hills and magnificent heritage houses.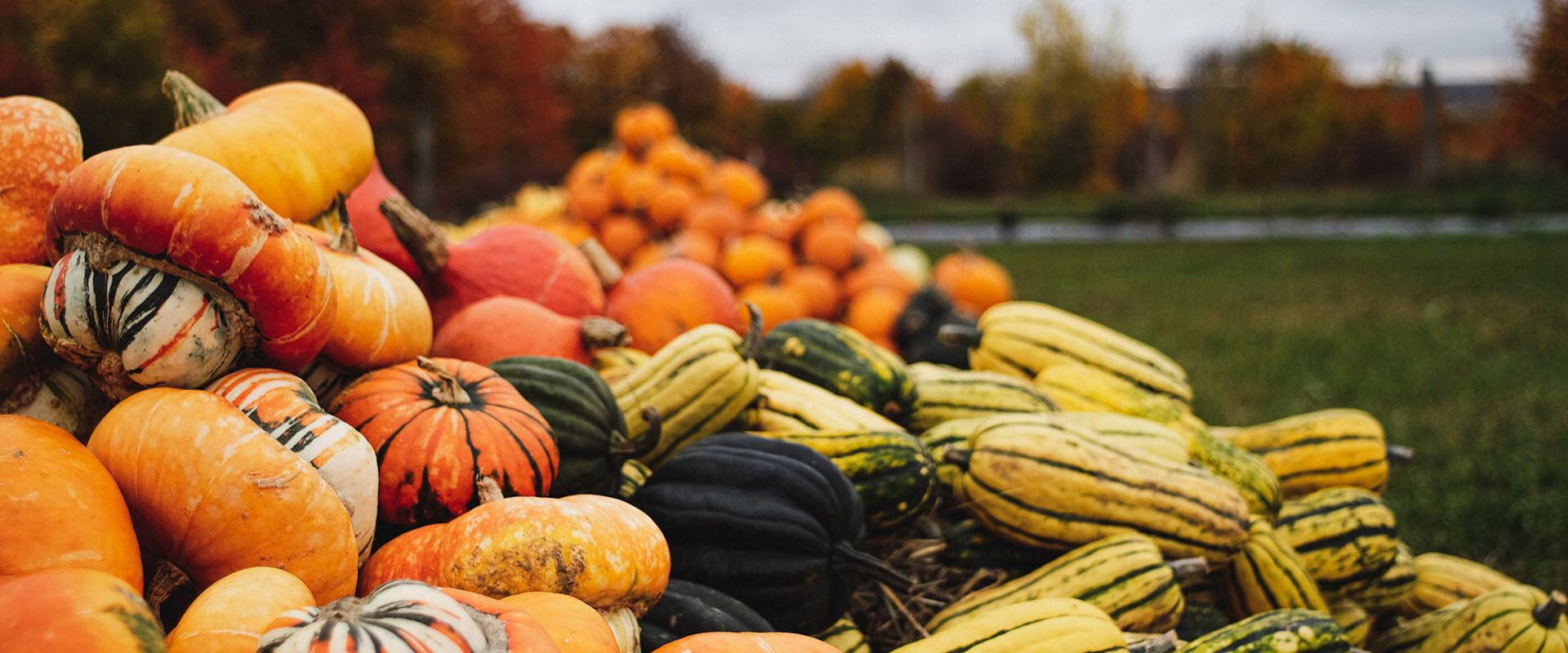 Montréal
Back in the city, there's still a lot of cozy autumn vibes to enjoy. And here's the thing: the colours of fall aren't just reserved for trees. Get a load of orange in pumpkin form at Atwater Market (and grab yourself something warm and yummy for an al fresco, on-the-go snack) and maybe pocket a nice little decorative gourd as a souvenir.
Enjoy the crisp fall air with a walk through parc Lafontaine with its colourful tree-lined pond feels, or head up through the trees to the top of Mont Royal for views of the city. The city's botanical garden is also worth a re-visit come September and October to see its foliage and late-season blooms in their autumnal best.
For a totally immersive fall experience, head 25 minutes west of downtown to Verger Labonté, a fall-time wonderland with multiple corn mazes (each with its own mystery to solve) and pick-your-own pumpkins and apples.
THE VERDICT
So, it turns out trees don't respect provincial borders. Who knew. When it comes to fall colours, it's better to think of Canada's geographic regions as opposed to its provinces. Central Canada, which comprises both Quebec and Ontario, is a fall wonderland and it's not hard to find Canada's best fall colours all over the entire region. So if you're looking for an incredible display of brilliant fall trees and a crisp, calm, sweater-friendly escape, you can't go wrong in either province. Thank your sandals and shorts for another great summer, and go enjoy the show.
You may also like to read