Why hostel kitchens are one of the best parts of backpacker travel
Sure, each travel destination has its bucket-list locations and sights that grace the Instagram feeds of curious travellers, but it's often in the cozy, tranquil shared kitchens where some of the best memories are made.
On my most recent trip to Europe, I was offered a free crepe from a kind hostel employee in Dubrovnik, Croatia. They generously smothered the soft, warm dough in Nutella, and I nibbled away in the cozy kitchen, as I chatted with fellow travellers. It wasn't glamorous or Instagram-worthy, but I felt relaxed and content. Some of the best mornings and evenings abroad are the quiet ones spent sharing stories, learning about different cultures, and eating delicious homemade food in a hostel kitchen.
I believe that every good hostel should have a kitchen. Hostel kitchens aren't just for cooking—they also provide a unique atmosphere for connection and camaraderie. Food brings people together. At home, kitchens are typically warm, fragrant, welcoming spaces. If you're avoiding the hostel kitchen, you might be missing out on the best room in the entire establishment. Sure, each travel destination has its bucket-list locations and sights that grace the Instagram feeds of curious travellers, but it's often in the cozy, tranquil shared kitchens where some of the best memories are made.
If you're not convinced, here are five good reasons to spend some time in the hostel kitchen.

Broaden your cooking knowledge
When I was a naïve 18-year-old backpacker, my cooking skills were extremely basic. I knew I'd need to cook at hostels in order to keep to my minuscule travel budget. I remember tossing butter—honestly, it was probably margarine—into a pan to saute some vegetables for a cheap pasta dish in a hostel kitchen. Immediately, someone cried out, as if they were in pain. In the next moments, I was met by a group of Italian travellers who chastised me for not using olive oil and showed me how to properly cook penne primavera.
If you don't receive unsolicited advice from a passionate traveller about their country's cuisine, you can't observe how people prepare their meals, what they cook, and how they eat it. These spaces are such a perfect blend of nationalities around the world. Even cooking something simple can give you a glimpse into how food is shared in far-flung places. Hostels don't always have the best amenities—you may not find a quality pan, sharp knife, or working oven—which forces you out of your comfort zone. You must adapt and use what you can.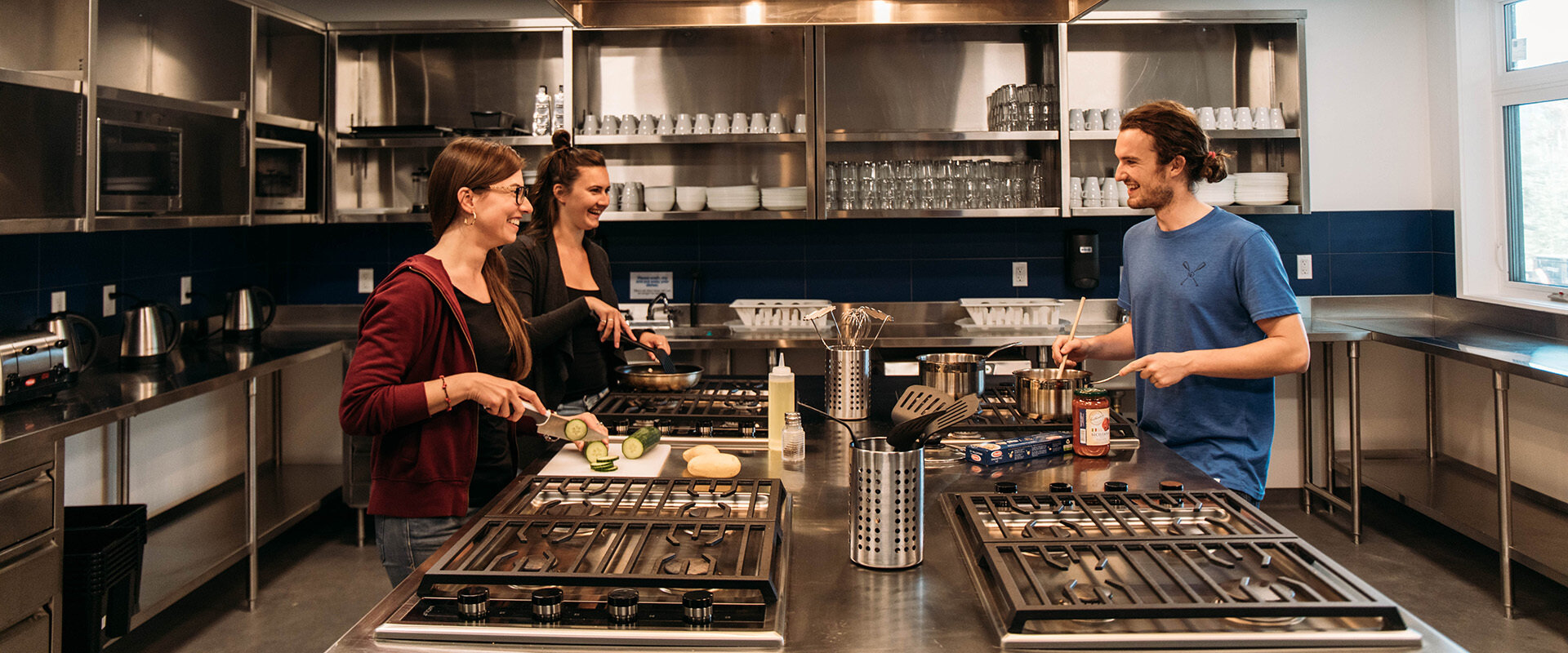 HI Jasper
Try something new
Shopping at grocery stores and markets in different countries can be a fun, immersive experience. It's an adventure to discover new fruits, vegetables, ingredients, and drinks for your next meal. See what other shoppers gravitate towards and ask someone if you don't know what something is.
I love visiting farmer's markets and finding fresh produce. One of the best parts is connecting with people in the community who you might not otherwise get to meet. Talk to vendors selling spices, sauces, and herbs. Sometimes, you can even try a sample of food or liquor. Take the opportunity to learn about the regional specialties and national cuisine—you might even bring home a new recipe for a delicious dish.
Save money
Cooking is almost always cheaper than dining out. There are some countries where groceries can be extremely expensive, but cooking at the hostel usually makes it easier to stick to a shoestring budget. One trick I learned is to pack a Tupperware container. I'd whip up a big dinner, save half in my Tupperware, and bring the leftovers in my backpack for lunch the next day.
Another hot tip is to buy a cooler bag so you can cart groceries from hostel to hostel. (Bonus: you won't end up with nothing to eat if you arrive at your next destination super late.) On my first backpacking trip, I purchased freshly-baked raisin bread to make toast for breakfast. When I checked out of the hostel, I left most of the loaf on the free food shelf. Now that I know better, I can't believe I abandoned that expensive bread, which would have been easy to bring to the next hostel. I hope I made another backpacker very happy when they found it…
Minimise your homesickness
When you're travelling long-term, it's normal to miss the comforts of home. Sharing a meal is a wonderful way to feel like you belong to a family. One of my best hostel memories is of a family-style dinner with fellow travellers in Edinburgh, Scotland. We all pitched in about £5, and one of my Australian friends cooked a massive pot of food. I don't remember what we ate, but I'll never forget sitting together at a long table, feeling like it was Thanksgiving dinner.
You don't need a large group or big budget to share your food. Late one night in a New Zealand hostel, a kind traveller noticed I didn't have anything ready to eat and offered me a plate of rice, beans, and apple slices. The dinner was surprisingly tasty, but the full feeling in my belly was outweighed by the warmth in my heart after being offered a simple meal from a complete stranger.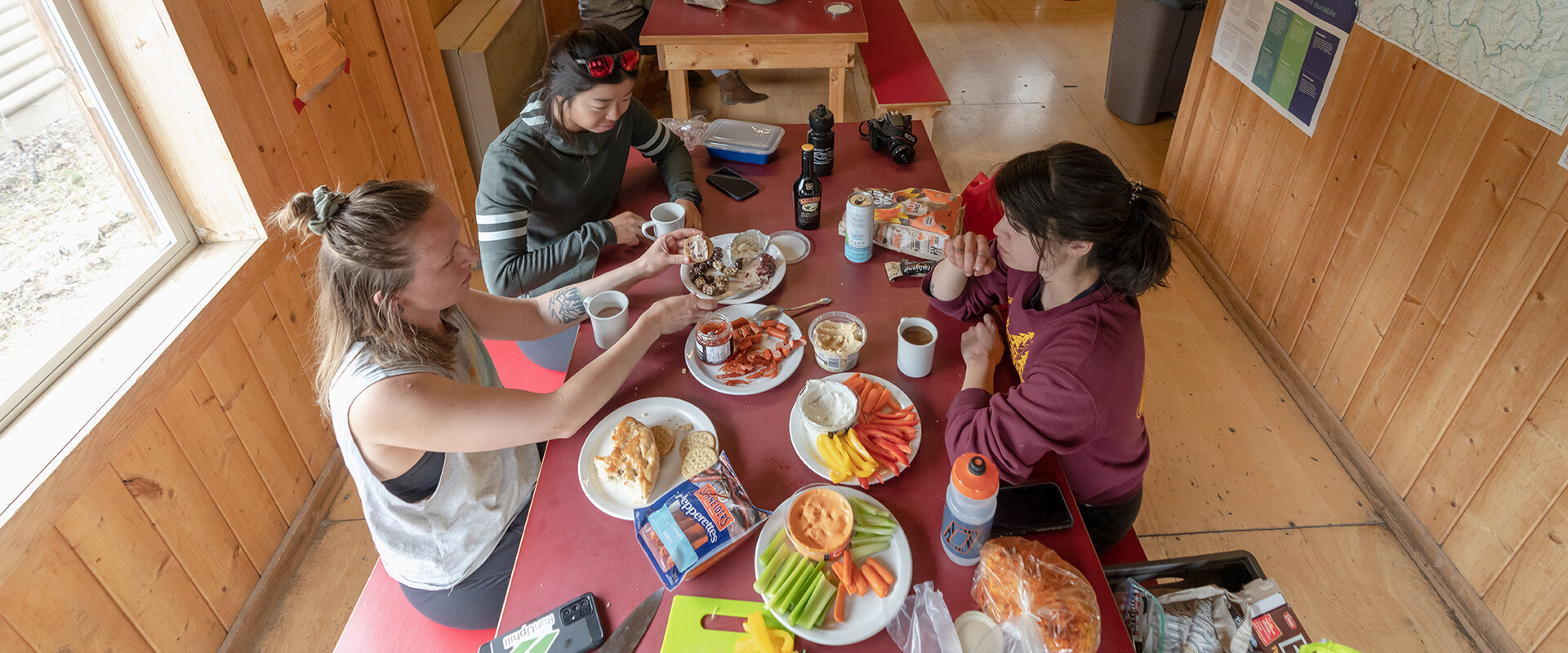 HI Rampart Creek
Make new friends
Hostel kitchens are one of the easiest places to meet travellers and form quick bonds. People typically sit together, so don't be afraid to join someone at a table. If you're alone and too nervous to walk up to a group, stay off your phone and try to look open—someone will likely join you.
It sounds strange, but one of the deepest connections I've formed with another traveller was over a single dinner. We met while cooking, sat together and ate, and talked about our lives, aspirations, and fears. He left the next day, and I never saw him again, but we had a memorable conversation. Sometimes, it can be easier to be your true self with a passing stranger. To connect with others and make new friends in the hostel kitchen, all you need is the willingness to be open—although a big plate of pasta or shared pastries doesn't hurt.
I hope you feel inspired to spend some time in the hostel kitchen on your next trip. Even if you don't want to cook a full meal, there is often free tea and coffee up for grabs in the kitchen. Brew a cup, crack open a book, sit back and relax. The magic of travelling can often be found in those small, simple moments. Don't let them pass you by.
You may also like to read