10 ways to save money on your next Canadian winter ski trip
At last, ski season is upon us. For Canadians, the time between late November and early April is when some of the best outdoor adventures happen.

To someone who doesn't *truly* know the magic of the great white north, winter might seem… frigid, cruel, and unrelenting. But Canadian outdoor adventurers (and foreigners who have fallen in love with our snowy provinces) know that winter—and the outdoor activities that come with it—is a magical season to be protected at all costs. Think clear blue skies, mountains covered in thick layers of white powder, and charming ski towns that look like a scene inside a snowglobe.
For Canadians and foreigners alike, putting a winter ski trip (or several) on the calendar is a no-brainer. The problem? Ski vacations can cost a chunk of change. Here are some of our best tips to cut costs where you can.
Buy tickets in advance
Not buying your tickets in advance is about as much of a rookie mistake as hitting a black diamond on not-yet-warmed-up legs. If you're buying your pass on the mountain, there's a high probability you're shelling out extra bucks without reason. Get 'em early and get those savings.
Forget resorts, stay in hostels
Weren't you going to anyway? Seriously though, fancy resorts and chalets may have an appeal for a certain kind of skier but hostels are more likely the way to go. (Ok, we may be biased but still…) With a hostel, you're saving piles of money and you also get the perks of having access to a community and social life right there. HI Canada's hostels are cozy spots to hunker down after spending time in the cold mountain air all day. Many have that log-cabin style feel that just adds to the allure of skiing in the mountains. There are tons of ski spots both big and small, where you can save a buck or two on accommodation: Banff, Canmore, Whistler, Lake Louise, Fernie, Cumberland and RED Mountain to name a few.

Pro Tip: Save even more on your hostel accommodations with one of our Winter Deals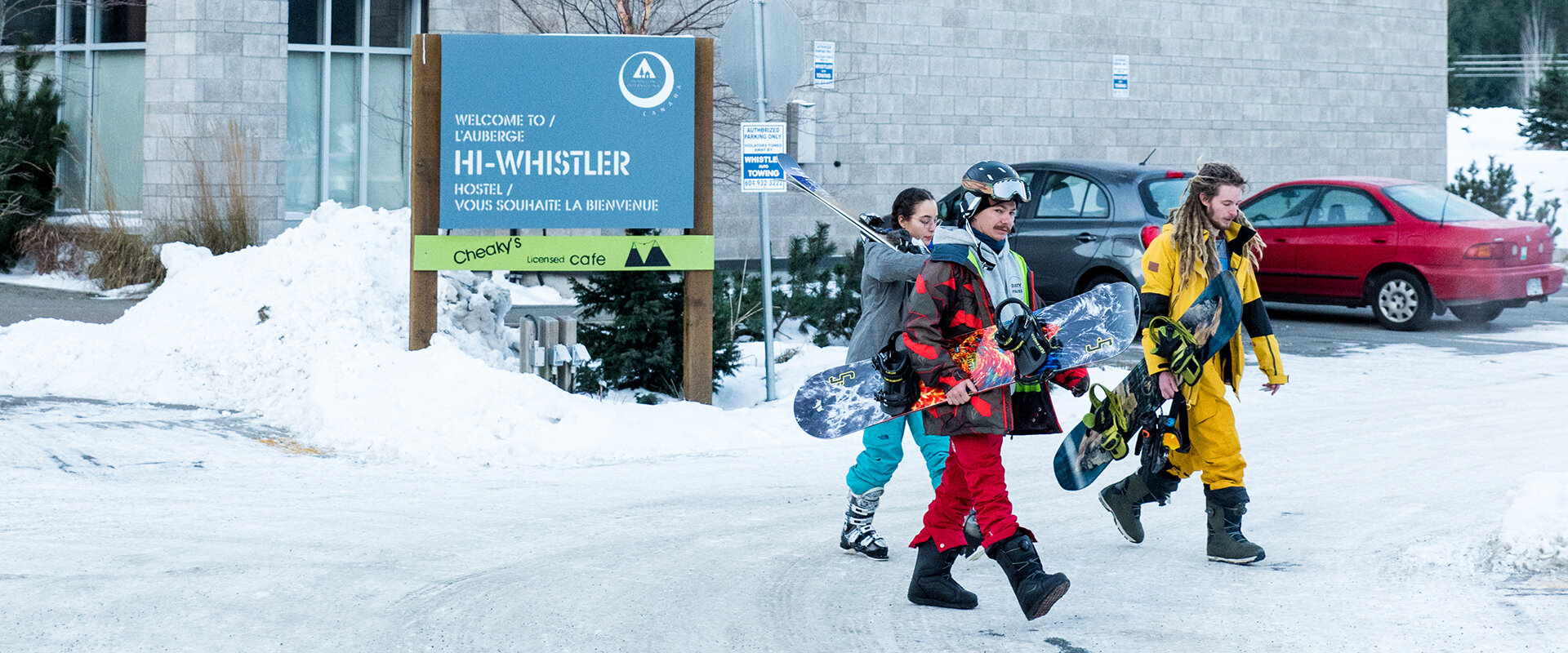 HI Whistler
Head to the gear exchanges or consignment shops

No, your winter ski trip doesn't require a pricey visit to Patagonia to get suited up for those sub-zero temperatures. As anyone who lives in or frequents Canadian ski towns already knows, there are so many gear exchanges or consignment shops where you can find the outerwear you're looking for. Because so many people are coming and going from these ski hubs, you'll find their brand-name cast-offs here at a steal.

Utilize your network

Don't have all the right gear but don't wanna shop? Don't be shy to ask around before you go out and buy. That friend who is just a mere size larger than you might have snow pants that fit fine. Or that outdoorsy friend who always seems to be halfway up a mountain might be able to fit you for ski poles and goggles. If you don't want to come across as freeloading, make an offer. Your best friend's sister might be willing to rent out her skis for the weekend at a rate much lower than the rental shop's.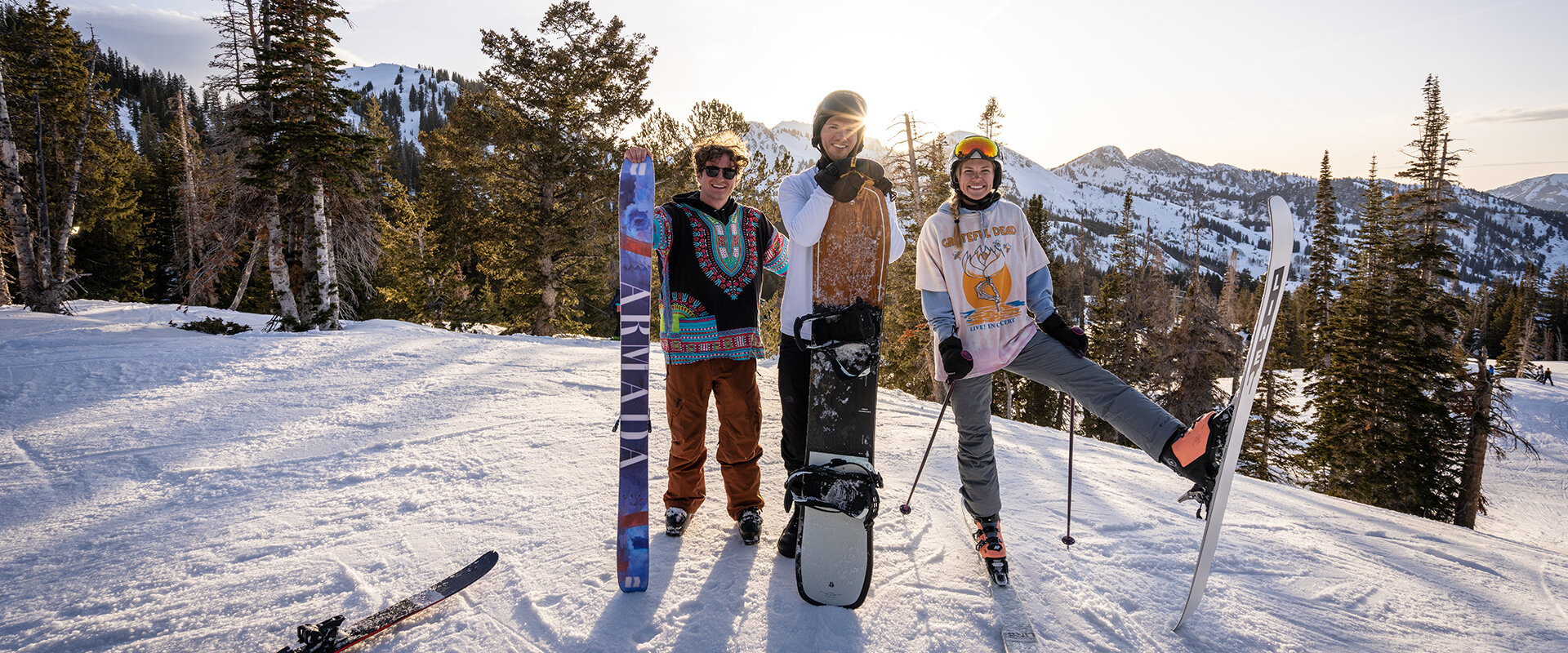 Hunt for lift ticket deals
There are lift ticket deals to be found for those who look. If you know the week or weekend that you're going to be on the mountain, start scouring for savings. Places like Costco often sell discounted tickets. And many resorts offer cheaper tickets for the off-season or for skiing during the less popular times. Keep tabs on things like the resort's social media, newsletters or early-season offers as well.
Rent!

This should almost go without saying but unless you're an avid skier who hits the slopes multiple times throughout the season, you probably don't need to own all of your own equipment. Buying boots, skis, poles, goggles, a helmet and all the outerwear really adds up. Find a rental shop and get fitted.
Make use of hostel common spaces
Hostel common spaces like kitchens, heated patios, and lounge areas already offer all the camaraderie and fun ski vibes that you'd get in any bar or restaurant in town. Without the bill. Right after you check in, scout out the local brewery or locally-made drinks sold in the nearest grocery store. (When in Canadian ski towns, you'll probably find at least a couple aptly-named brews to fit the apres-ski vibe.) Stock up so you can cheers to a solid day on the mountain. A word to the wise: they'll be serving the same thing in town at a mark-up anyway.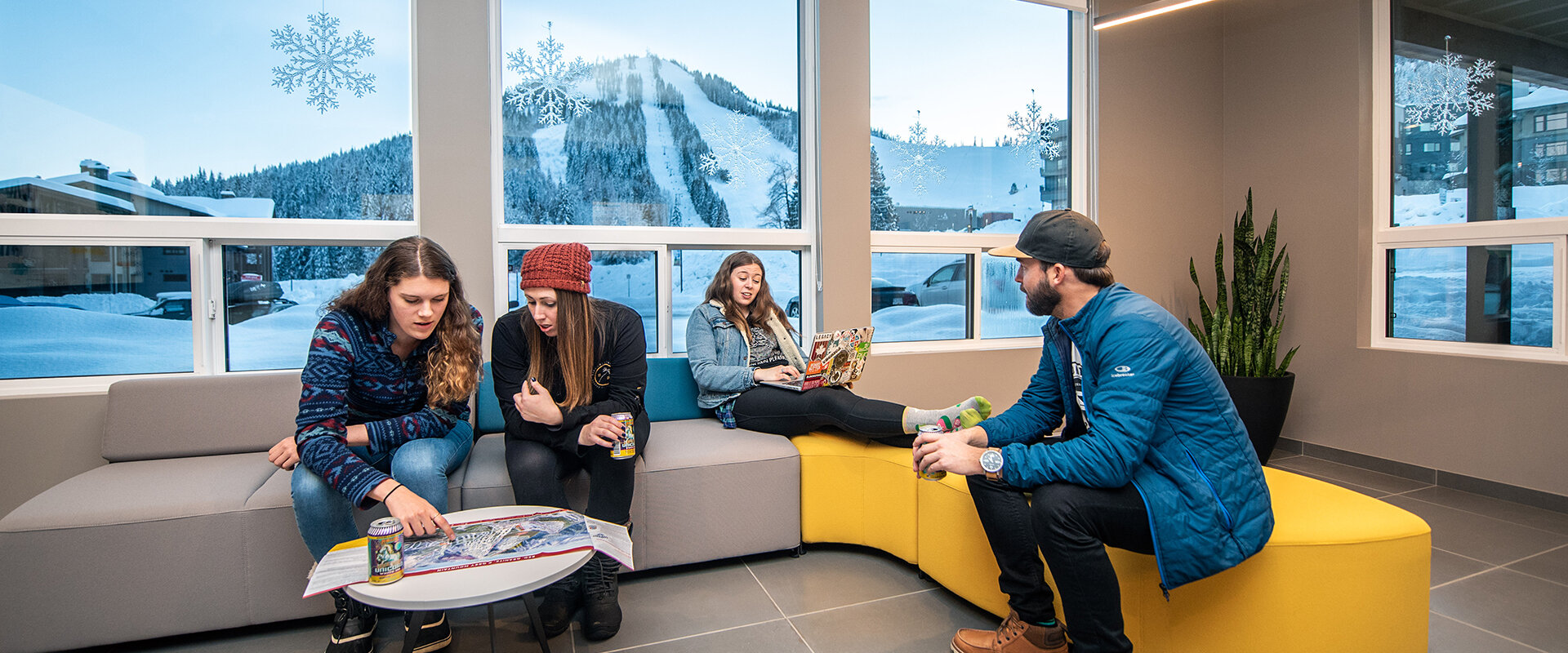 © Ashely Voykin | HI RED Mountain, Nowhere Special Inn
Check out smaller ski resorts

Sure, you probably already know about places like Banff, Jasper, Lake Louise or Mont Tremblant. These are some of the most popular places to ski… but they're not the only ones. Sometimes heading to smaller resorts means cheaper prices and fewer crowds.
Find the local watering hole
Listen, there's no way your die-hard ski bums are going anywhere near the overpriced chalet bars or pricey restaurants near the base of the mountains. There are plenty of local watering holes, pubs, and greasy spoon diners where you can get the best post-ski goods. Those cheap burgers and melty poutines are yours for the taking. Ask a liftie or someone you meet in the gondola where to go for your apres-ski food and drink.
Ditch chalet menus, pack your lunch
Backpacks aren't just for hopping from hostel to hostel. When you're out hitting the slopes, you'd be wise to pack a day pack filled with water, snacks and a warm lunch so you don't end up overspending on a chalet lunch to satiate the appetite you worked up on the mountain. Think a thermos full of hot soup, energy or granola bars for the chairlift, and the good ol' PB&J.
You may also like to read