The broke backpacker's guide to Vancouver
If there's one thing hostellers are known for, it's being thrifty. If there's one thing Vancouver is known for, it's well, the opposite. Luckily, cost-effective activities and adventures abound, even in Canada's notoriously expensive seaside city, Vancouver. From outdoor entertainment to indoor stargazing, these 19 totally free activities will bring you closer to British Columbia's nature, culture and lifestyle than a costly tour ever could.
1. Vancouver Art Gallery
The Vancouver Art Gallery houses impressive local and international exhibits in its beautiful downtown location. The regular $24 ticket charge can leave a hole in a backpacker's wallet, so visit on a Tuesday evening between 5 and 9 p.m. when admission is by donation. If you can't swing that, your HI membership card will get you 10% off admission the rest of the time.

3. The Gastown Steam Clock
Every hour on the hour, the Gastown Steam Clock sets off a steamy display of toots and whistles. Trolling tourists since 1977, the famous clock isn't actually steam-powered—it's electric. Still, it's a fun old-timey atmosphere, so watch the steam billow, listen to the chimes and wander the 'hood's cobblestone streets afterwards.
4. The Morris and Helen Belken Art Gallery
UBC, Vancouver's biggest and best-known university, houses the Morris and Helen Belken Art Gallery, which featuring rotating exhibits that shine the spotlight on important moments in Canada's and Vancouver's art history. There is no admission charge.
5. Pendulum Gallery
Pendulum Gallery is a self-funded, non-profit art exhibition in the heart of downtown on the main floor of a bank building. Historical photos, fashion and underrepresented artists fill the public space, underneath a swinging 27-metre aluminum pendulum.
6. Street Art
Vancouver's city streets burst with free art. Visit the Vancouver Convention Centre on the downtown waterfront and take a photo with the giant blue raindrop—the spot-on symbol of Raincouver. Then stroll over to the west side of the building and check out Douglas Coupland's Digital Orca—a massive and seemingly pixelated breaching orca.
7. Stanley Park
Spend an afternoon strolling the Seawall and exploring the trails that wind through Stanley Park. This impressive expanse of urban greenery is flanked by sandy beaches, outdoor artwork and breezy ocean views.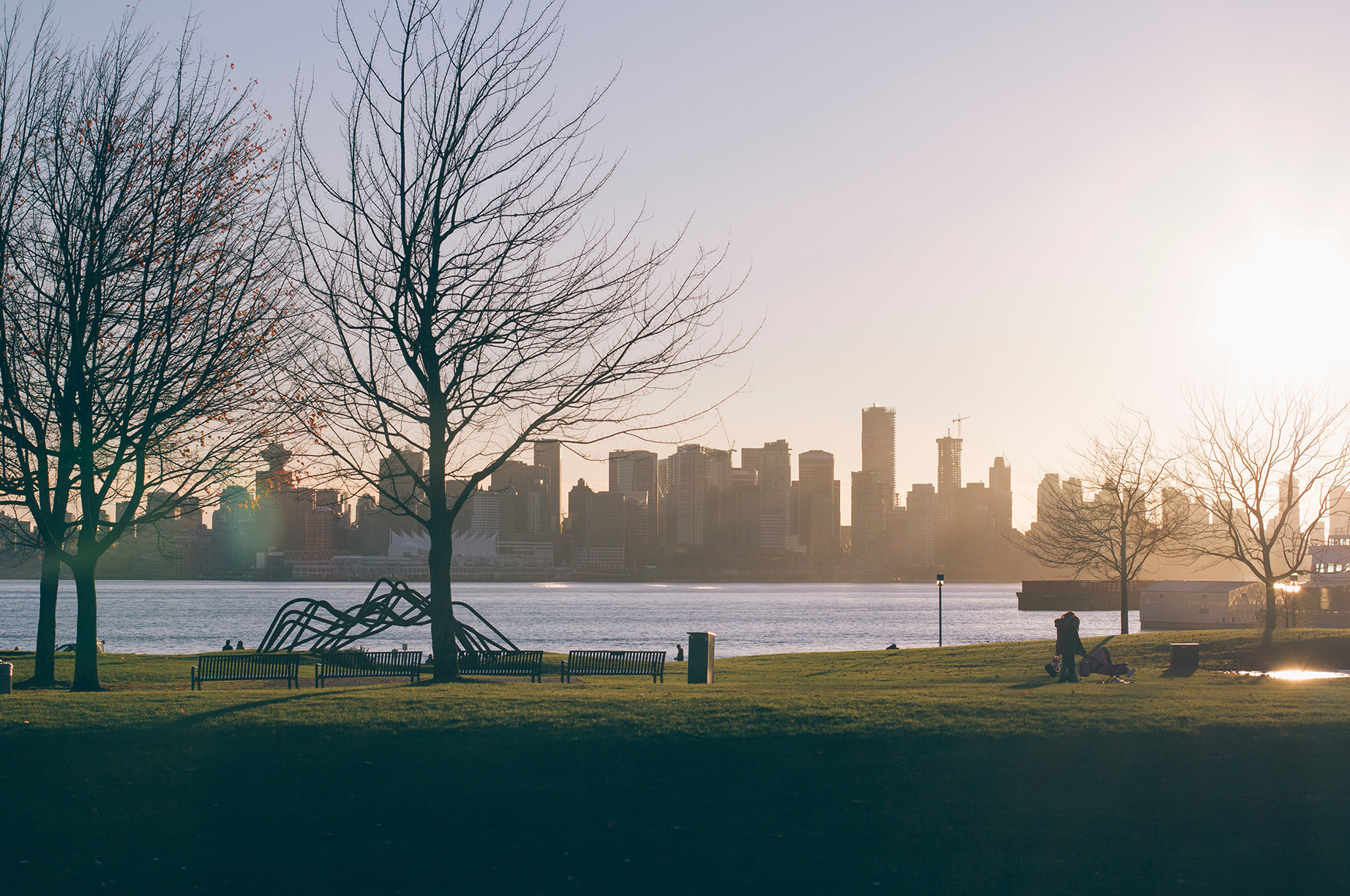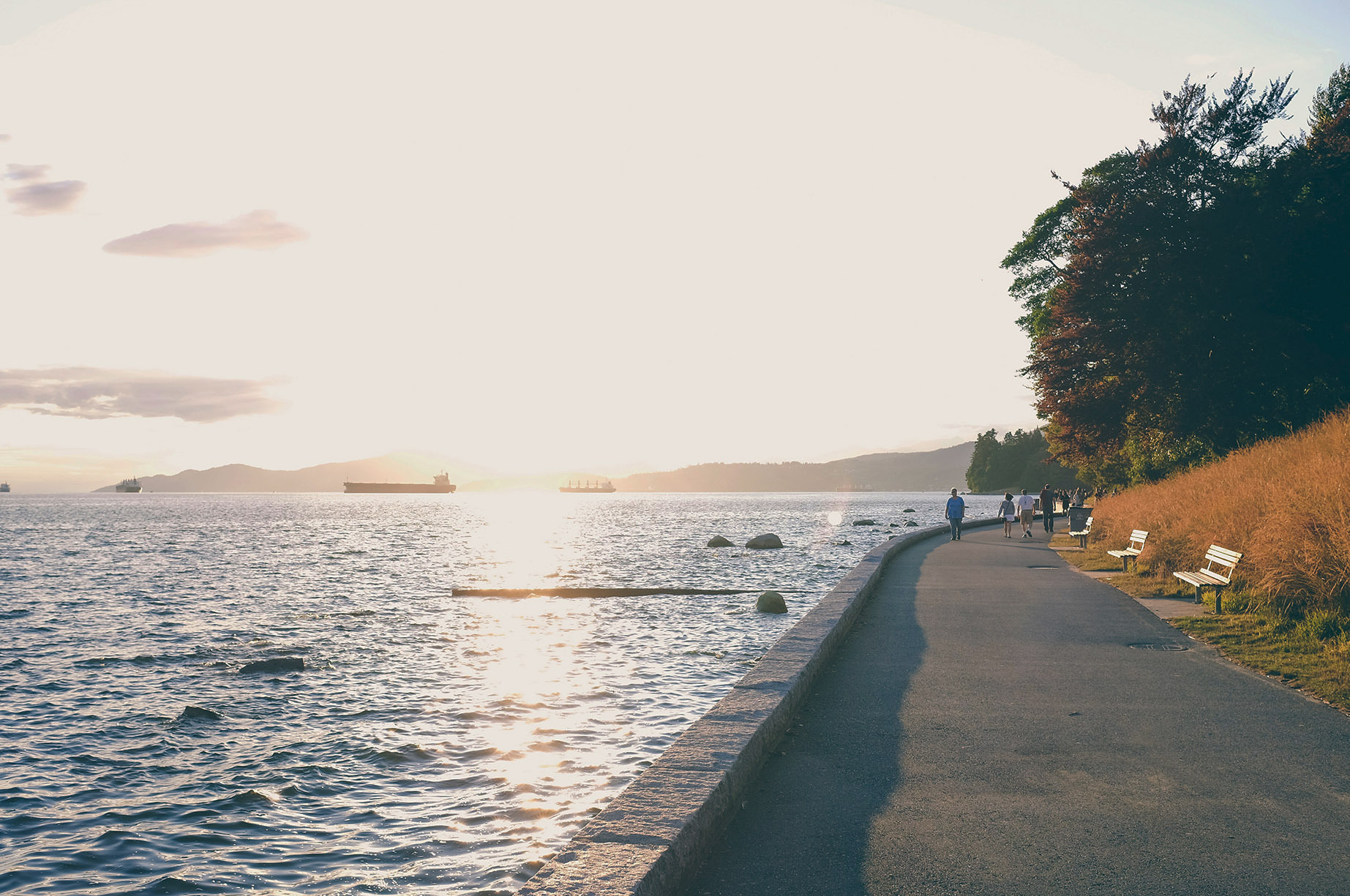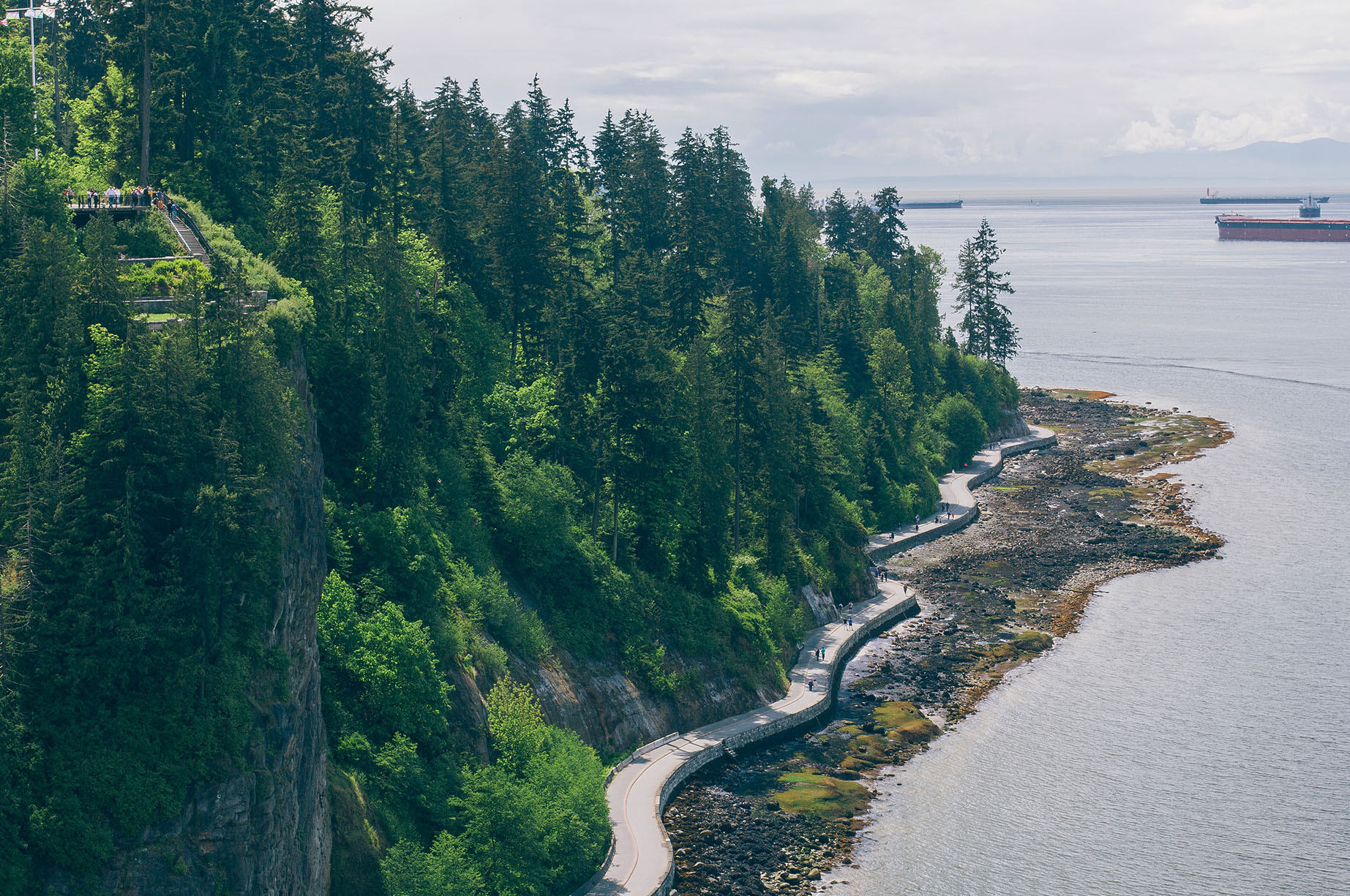 8. Grouse Grind
For a heart-pumping afternoon, time yourself on the Grouse Grind—a three-kilometre hiking trail that climbs 850 metres straight up the side of a mountain on the North Shore. At the top, meet the resident grizzly bears (don't worry, they're fenced in) or watch a lumberjack competition.
9. Deep Cove
Take a hike! Whether you choose to climb to the bald face of Quarry Rock in Deep Cove or stroll out to a lighthouse in West Vancouver, there are dozens of hikes yielding jaw-dropping panoramas that you can get to by public transit, costing you only some bus fare.
10. Jericho Beach
Join a beach volleyball game at Jericho Beach or a free yoga class on Kitsilano Beach, popular and perfect spots to soak up the sunset.

11. English Bay
Bring a musical instrument to English Bay and lean against the large driftwood logs. Join a drum circle or spend some time serenading the waves.
12. Gordon Southam Observatory
Go stargazing—inside. The Gordon Southam Observatory offers public viewings on Saturday evenings. Peer through a Cassegrain telescope to find moons and star clusters. Admission is by donation. (HI members can also get access to the three museums right next door for just $25: the HR MacMillan Space Centre, Vancouver Museum and the Vancouver Maritime Museum.)
13. Lynn Canyon Park
Visit the other suspension bridge. Admission fees are a bit steep at the famed Capilano Suspension Bridge, but head over to Lynn Canyon Park for another suspension bridge that's just as nerve-wracking to walk across, but totally free. Pro tip: head out on a mostly free (bus fare only) day trip to the park right from HI Vancouver Downtown every Tuesday in the warmer months.
14. Granville Island
Music pulses through Vancouver's streets. Find buskers and street performers entertaining crowds year-round on Granville Island.
15. Outdoor movie in Stanley Park
Take in a free outdoor movie in Stanley Park. This summertime staple is celebrating its 10th anniversary in 2018.
16. Movie sets
Did you know that a ton of Hollywood blockbusters are filmed in Vancouver? No? You probably haven't watched a movie with a Vancouverite then. One of the most typical "Vancouver" things you can do is stroll past a working movie set. Keep your eyes open for celebrity encounters, like the cast of Riverdale or one of the city's natives like Ryan Reynolds or Seth Rogan.
17. Vancouver Flea Market
Browse used treasures at the Vancouver Flea Market. From precious antiques to blasts from the past, stir up dust and old memories.
18. Farmers markets
Admire fresh produce, handmade jewelry and craft liquor at Vancouver's Farmers Markets. With eight locations to explore, it's easy to get lost in the numerous stalls (and fill your tum).

19. Hostel activities
Join in one of the many free activities on offer right from any of the two HI hostels in Vancouver. There are walking tours, bike tours, pub crawls, salsa lessons, rooftop BBQs, movie nights and more. 
Your turn: There are two HI hostels in Vancouver. HI Vancouver Downtown is in the West End and HI Vancouver Jericho Beach is a summer-only hostel next to the beach. As always, you'll find the best rates with no fees and no deposits right here on hihostels.ca.
This article is part of the
Issue 1
Canada on a budget
You may also like to read