The best places in Canada to get fully in holiday mode
Can you feel it? There's magic in the air as we round the corner of fall and move into the most wonderful time of the year, the holiday season! Lights strung across streets, store windows dressed up with displays, Christmas trees everywhere, seasonal treats, outdoor ice rinks! What's not to love? If you thought snow, you're wrong because that only adds to the atmosphere. So how do you join in the spirit? Whether you want a hearty dose of cheer or you're ready to full-on travel for the festivities, don your cap and stockings while we share the best places across Canada to get fully into holiday mode.
LAKE LOUISE
An iconic winter setting, enough said. Unleash your inner ice queen — lace up and glide over that azure blue surface surrounded by majestic mountains. This might be the most beautiful skating rink in the world. If that's not enough, try some of the many outdoor activities, skiing, snowboarding, snowshoeing, cross-country skiing, or tubing. There's something for everyone, even a sleigh ride!
Where to Stay: A big chalet feeling, an indoor fireplace and an outdoor firepit, HI Lake Louise has winter hikes right out the door and into the village where you can stock up on cozy foods to cook in the kitchen. Or stay warm and grab some good eats onsite at Bill Peyto's café.
QUEBEC CITY
Cities are always extra during the holiday season and the charm of Old Quebec City is definitely next-level. The German Christmas market is back on this year for festive performances, musicians, choirs and mulled wine. Even better, it's ice time! Skate in the heart of the action at Place d'Youville or glide through the Plains of Abraham before warming up with a hot drink. Don't forget to try Quebec's traditional alcoholic punch, caribou.
Where to stay: Right in the heart of Old Quebec, HI Quebec City gives you easy access along cobblestone streets to all the seasonal cheer of this historic neighbourhood, within walking distance of Place d'Youville, Chateau Frontenac and the Plains of Abraham.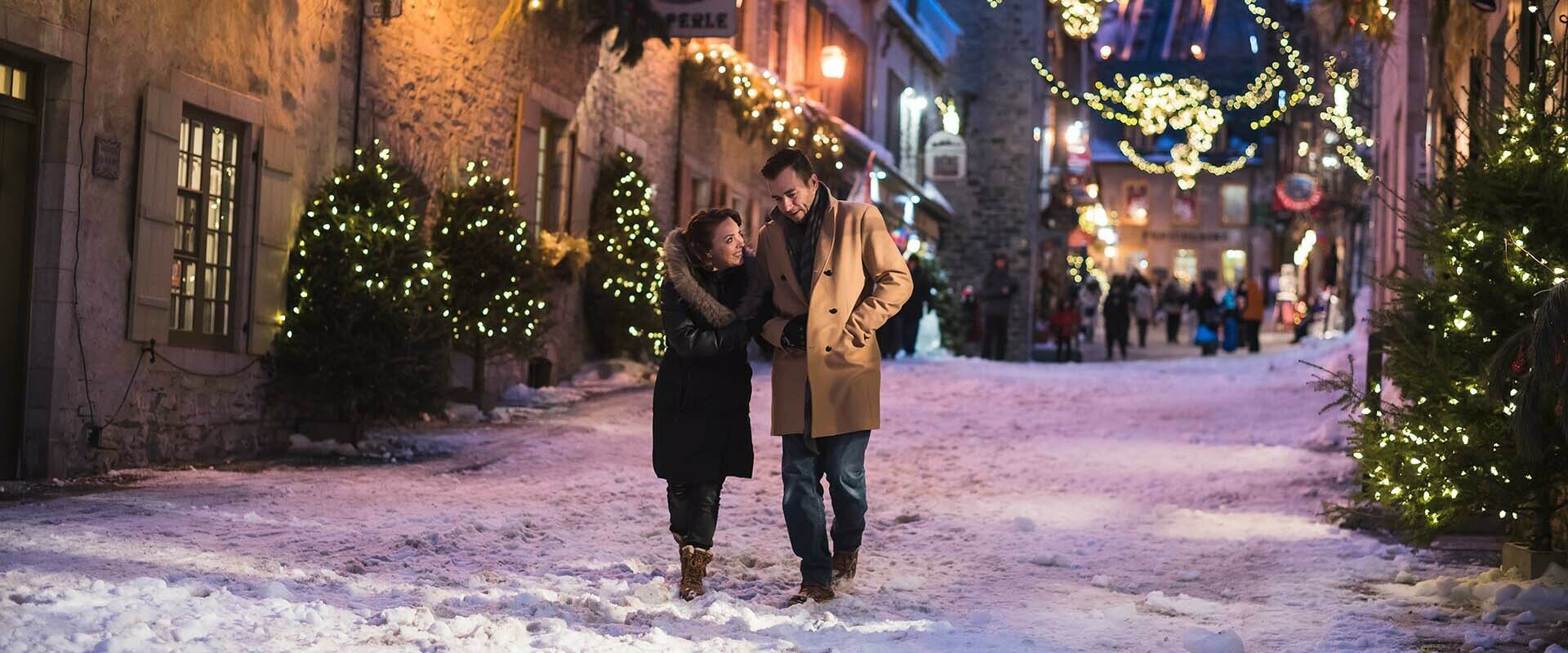 © Francis Gagnon, Tourisme Québec
BANFF
Banff is dreamy year-round but the holidays are even more enchanting. Surrounded by snow-capped mountains, there are loads of (heart)warming activities to enjoy in the weeks leading up to Christmas. Stop by the Banff Christmas Market for unique, artisanal gifts and festive entertainment. Stroll the outdoor lights at the In Search of Christmas Spirit display and enjoy the live Christmas story told through the wildlife of Banff National Park. Grab yourself a specialty hot chocolate and a fondue lunch and go for a snowshoe—this is what the holidays in the mountains are all about.
Where to stay: Tucked up on the mountainside with lots of winter trails right out the door, the chalet-style fireplace lounges and the on-site restaurant and bar at HI Banff Alpine Centre make for the perfect cozy getaway.
JASPER
Small town, big spirit. Jasper pulls out all the stops for the holiday season. Want to try a unique winter activity? Get out on a dogsled. Feel more like experiencing a traditional Christmas pastime? Take a sleigh ride complete with jingle bells. You can even join pick-up hockey games on a groomed rink on Lake Mildred. Keep an eye out for some epic deals, too, Marmot Basin boasts some of the best snow around.
Where to stay: With a sauna, a fireplace and great food at the Sleepy Hollow Café, HI Jasper is budget winter luxury.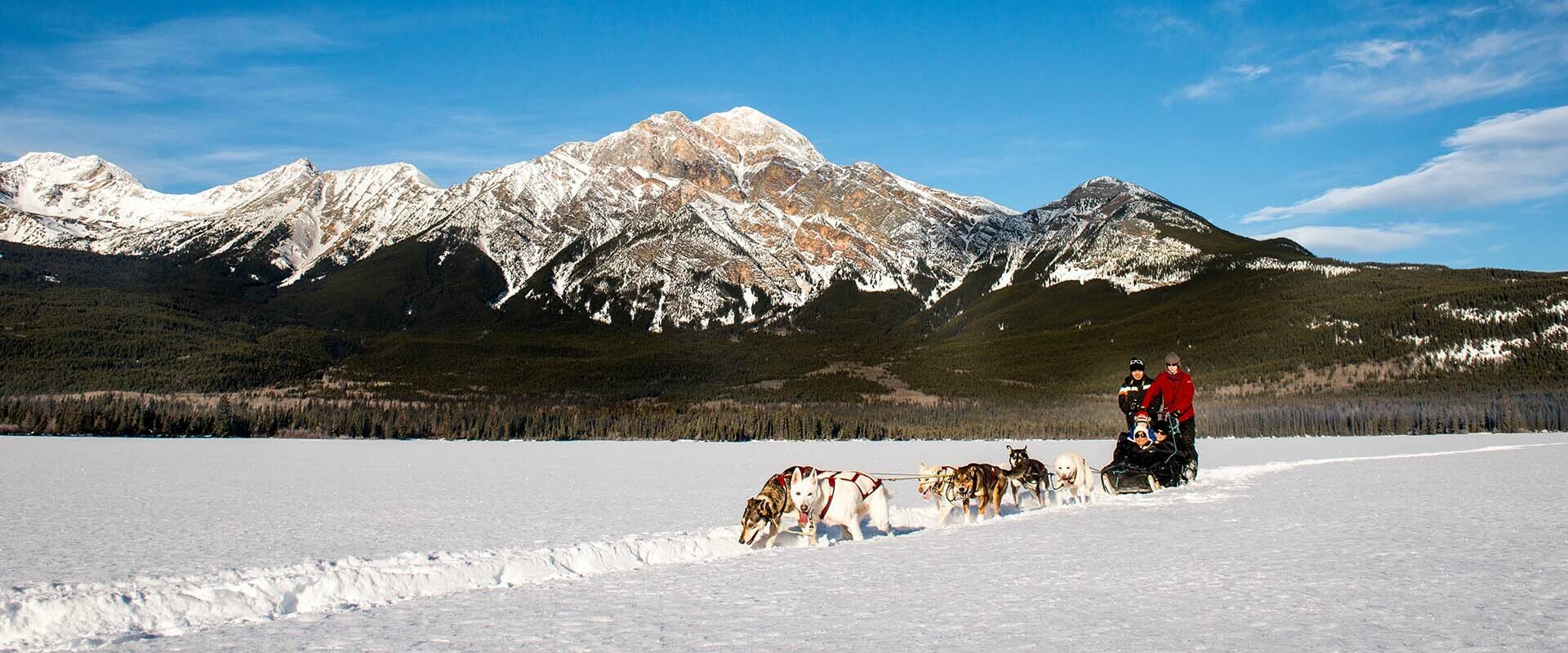 © Travel Alberta - Jeff Bartlett @photojbartlett
WHISTLER
Can it feel any more like the holidays than being right on a mountain? Yes, yes it can. Whistler takes festivity to a whole new level by beautifully lighting up the village. Enjoy the twinkling displays from the comfort of the many heated patios or wander through the Vallea Lumina, a multimedia night walk through an enchanted forest. When you need to warm up, grab your skates and take a few turns around the rink at the Olympic Plaza or relax by treating yourself to the baths at Scandinave Spa.
Where to stay: In the former athlete's village, HI Whistler's huge communal lounges and on-site café are close to great off-the-beaten-path activities but not far from the village's festivities.
You may also like to read