The best Canadian ski resorts with hostels nearby
Another ski season is upon us and it's shaping up to be a good one! If you've got your sights set on a ski vacation this winter but you're on a budget, there are actually a lot of amazing ski destinations with hostels nearby, which allows you to save on your accommodation costs and tap into some top-notch hostel amenities while you hit some new slopes and get away for a little bit. Check out some of our best bets for Canadian ski resorts with a hostel.
Beyond being one of the best budget options in a ski town, hostels also get you added perks like fully equipped kitchens so you can save on your food costs by DIYing your meals and even pack yourself a sandwich to eat on the lifts. Plus, most hostels offer a wide range of room types including private rooms and private dorms so you can travel easily as a small group (or find some privacy) and most ski-town hostels offer secure storage for all your gear so you don't have to leave it in your car or lug it up to your room.

Whistler Blackcomb
Consistently top ranked in the world, Whistler Blackcomb has a ton of terrain to choose from—and a ton of accommodation options where rates spike for this small town's winter high season. HI Whistler is one of the few hostels around and offers both shared and private room accommodation. There's a regular bus to the lifts that runs just down the street, plus an on-site café where you can grab coffee and a muffin to go as you head out for first tracks.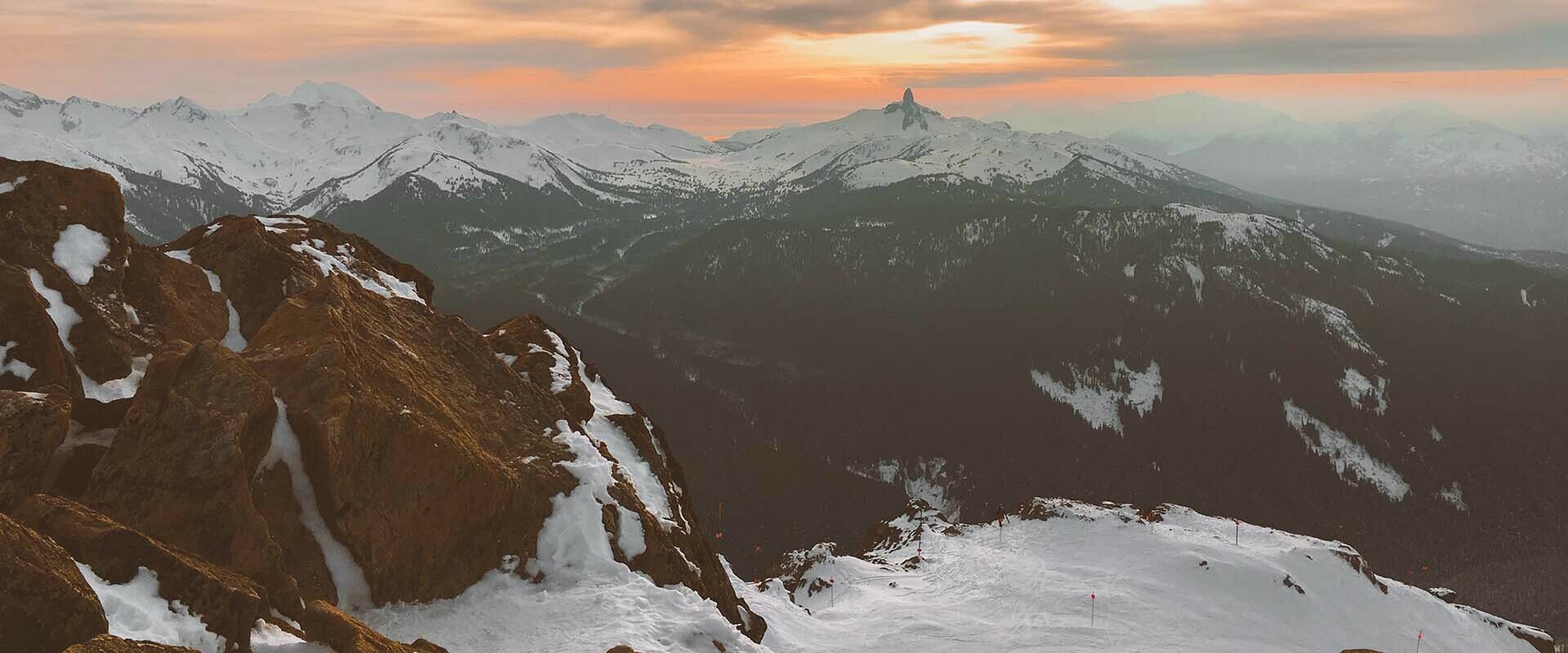 Mount Washington
On Vancouver Island, Mount Washington isn't far from the small town of Cumberland where you'll find HI Cumberland, Riding Fool Hostel. Cozy up at night at the hostel and take advantage of the small town's friendly amenities.
Fernie Alpine Resort
Powderhounds flock to Fernie every winter for good reason. This small town is known around the world for its mountain resort, and the folks at HI Fernie, Raging Elk Adventure Lodging are all about helping you get a piece of it. The hostel recently opened brand new pod accommodation, the first in the Rockies, which is a budget-friendly but still private way to spend a bit of time in the mountains. The hostel also has its own bar, which regularly hosts musicians and is the perfect après spot not far from your bed.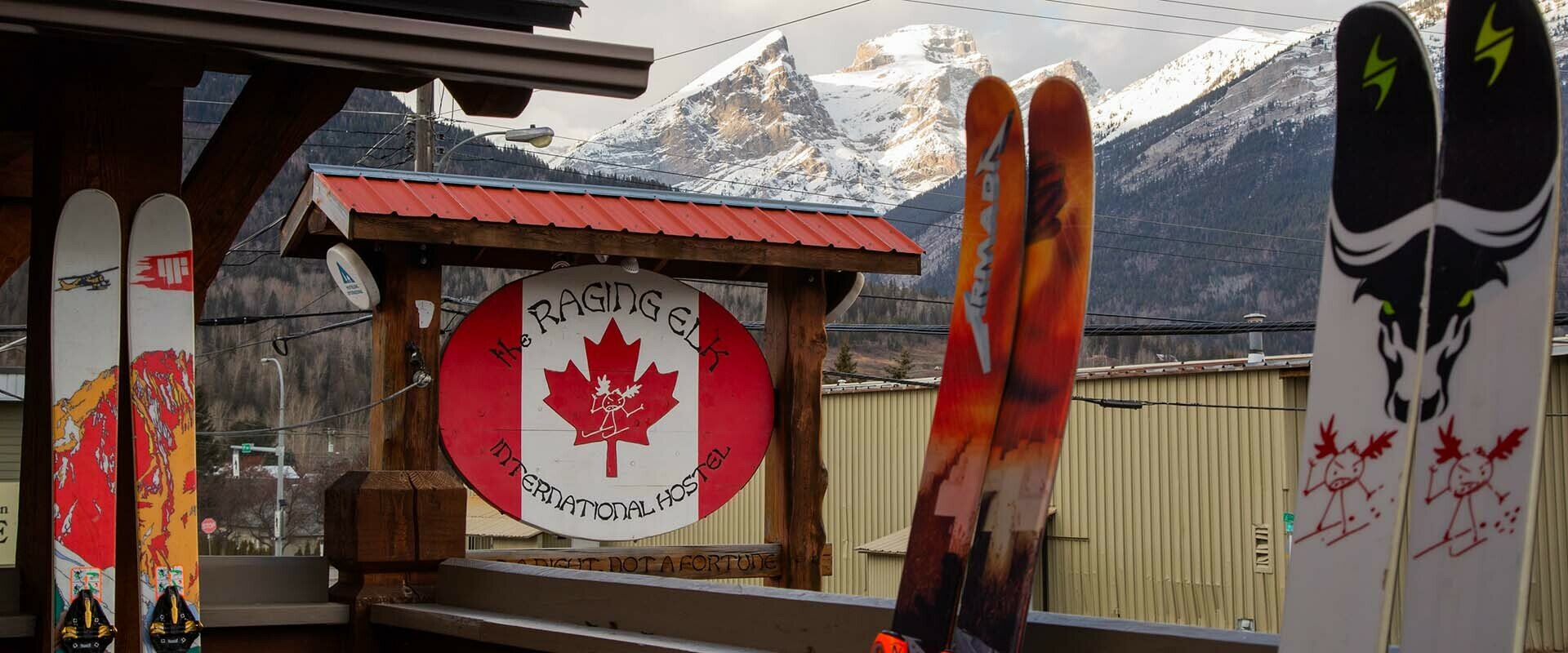 Whitewater Ski Resort
Whitewater in Nelson, BC, in the Selkirk Mountains doesn't always get the same buzz as some of the bigger mountains but it's a perfect Canadian ski weekend spot thanks to its abundant powder (over 40 feet fall each year), especially for seasoned skiers and riders. A full eighty percent of the resort's runs are intermediate or advanced level, plus backcountry skiing and ski touring are super popular here. Back in the quaint hillside town of Nelson, you can stay at the cozy HI Nelson, Dancing Bear Inn, with a range of room options including the fully private Bearhaus suite.
RED Mountain
Perhaps the closest hostel to ski lifts in all of Canada, HI RED Mountain, Nowhere Special Hostel is right at the base of RED Mountain in Rossland, BC. You can choose from shared or private rooms and take advantage of the modern amenities, including an outdoor patio and BBQ area for some DIY après. The lifts are literally a two-minute walk away. RED Mountain is the oldest ski resort in Western Canada and is also home to the country's only snowbound taco truck.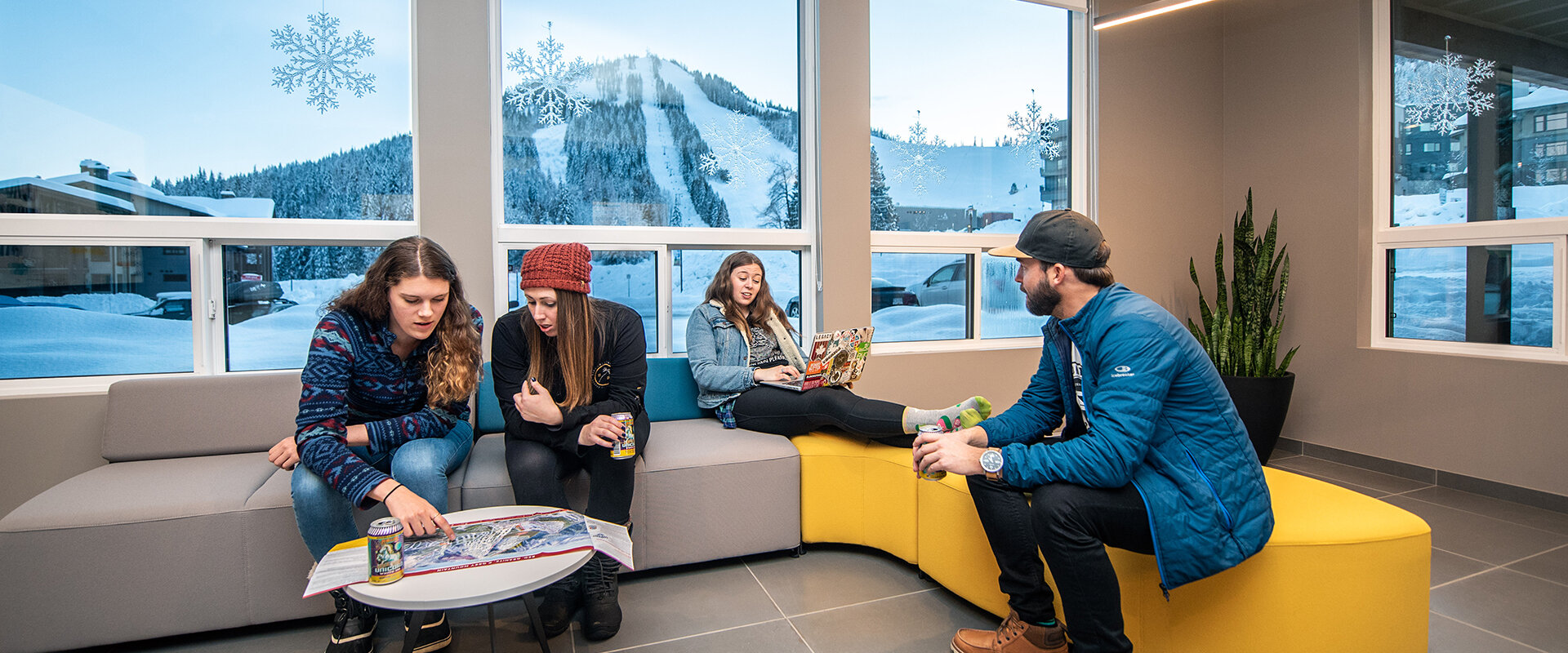 © Ashely Voykin | HI RED Mountain, Nowhere Special Inn
Banff Sunshine Village
Banff Sunshine Village is just 15 minutes from downtown Banff and offers 360 degrees of terrain spanning three mountaintops, perched atop the Continental Divide. Lots of fresh, soft powder and epic views are what Sunshine does best, and they offer the longest non-glacial ski season in the whole country. HI Banff Alpine Centre is in the nearby town of Banff in a mountain lodge on Tunnel Mountain. Choose from private rooms, shared rooms, private dorms or one of the private cabins. The on-site Cougar Pete's restaurant serves up good eats, while the basement Storm Cellar pub is always a good time.
Lake Louise Ski Resort
Banff National Park's largest ski resort takes on the name of maybe one of the swankiest lakes in the country, but there's a lot more than the Fairmont to choose from. HI Lake Louise Alpine Centre is in the village of Lake Louise and only a five-minute drive from the ski hill. This chalet-style lodge has a lot of cool room types, including loft family rooms, and it has two kitchens to cook in and a huge fireplace lounge to relax in. Not to mention Bill Peyto's Café, a full-service licensed restaurant, on the main floor.
Marmot Basin
Up in Jasper National Park, Marmot Basin is a quieter Rockies resort with lots of good skiing, and the super-modern HI Jasper hostel is only about a 20-minute drive away. HI Canada's newest hostel makes it easy to book out a private room or private dorm for yourself (and your friends), plus it has a lot of space for hanging out and cooking up something yummy in the kitchen. There's a fire pit outside where you can warm up, too, and downtown Jasper is a short stroll away.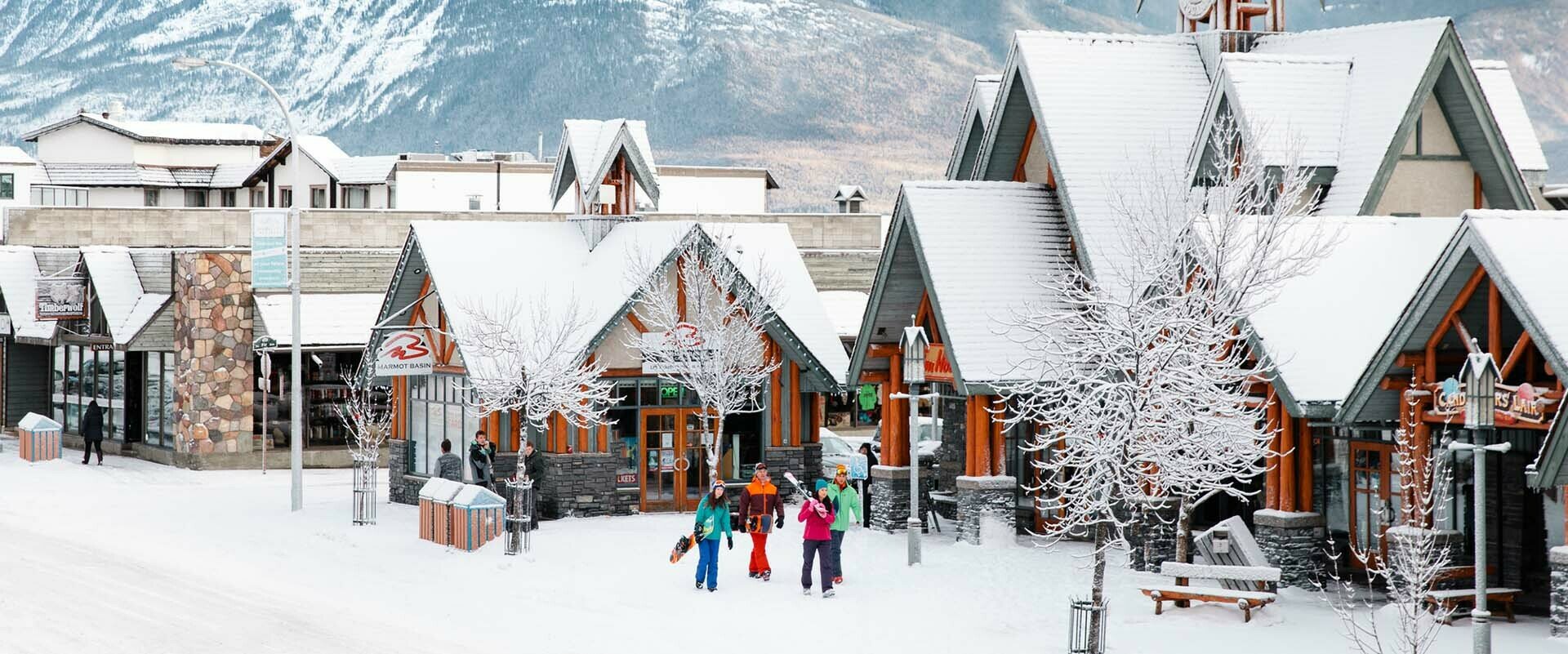 © Travel Alberta / Mike Seehagel
Ski Wentworth
The ski hostels aren't only in Western Canada! We've also got a gem of a ski retreat in… Nova Scotia! HI Wentworth is close to Ski Wentworth, the biggest ski resort in Nova Scotia. If you're looking for a quiet getaway, this heritage home nestled among the trees is a cozy spot to do a bit of East Coast skiing with some friends or family. You can even go cross-country skiing right from the hostel doors.
Mont Grand-Fonds
When it comes to skiing in the eastern half of Canada, Quebec offers the finest options, and the area in and around the Charlevoix region is the perfect place to get your turns in. Mont Grand-Fonds is a short drive from HI La Malbaie on the shores of the St. Lawrence River, so you can enjoy les pistes up in the mountains by day and then settle into some scenic riverside views in the evening while you enjoy some craft brews and yummy eats at the hostel's bistro. In addition to over 20 alpine runs, the resort also offers over 140 kilometres of cross-country ski trails.
You may also like to read