Our favourite Canadian destinations for a relaxing winter getaway
Winter travels can be underrated. In Canada, our summer season is usually our busiest: we have three months of hot weather and that paired with the many long weekends from May to September means that many choose to book trips then. But winter brings its own kind of magic. Many spots in Canada transform into fairytale-like settings with fresh powdery snow and picturesque frozen landscapes. Sure, sub-zero temperatures often send us indoors from December through to March, but if indoor pursuits are your thing, you might as well enjoy a cozy setting with a beautiful view.
Winter is the perfect opportunity to slow down, reflect, and experience nature's elements at leisurely paces. Here are eight spots in Canada that are perfect for recharging your batteries this season.

Fernie, British Columbia
When thinking of a rejuvenating winter trip, what comes to mind? Log cabins, steaming saunas, mountains wrapped in thick duvets of snow, or toasty kitchens to whip up a pot of piping-hot stew maybe? Fernie, B.C. is kind of the ultimate escape for winter lovers because it offers all of those things. If 2022 wore you out and you're looking for time to switch off and focus on wellness, a few days in Fernie might as well include time at a local spa, a morning of gentle nordic skiing through forests at Fernie Alpine Resort, a beverage with your travel pal at Fernie Brewing Centre, or a sleigh ride (yes, actually) through what'll feel like an afternoon in Narnia.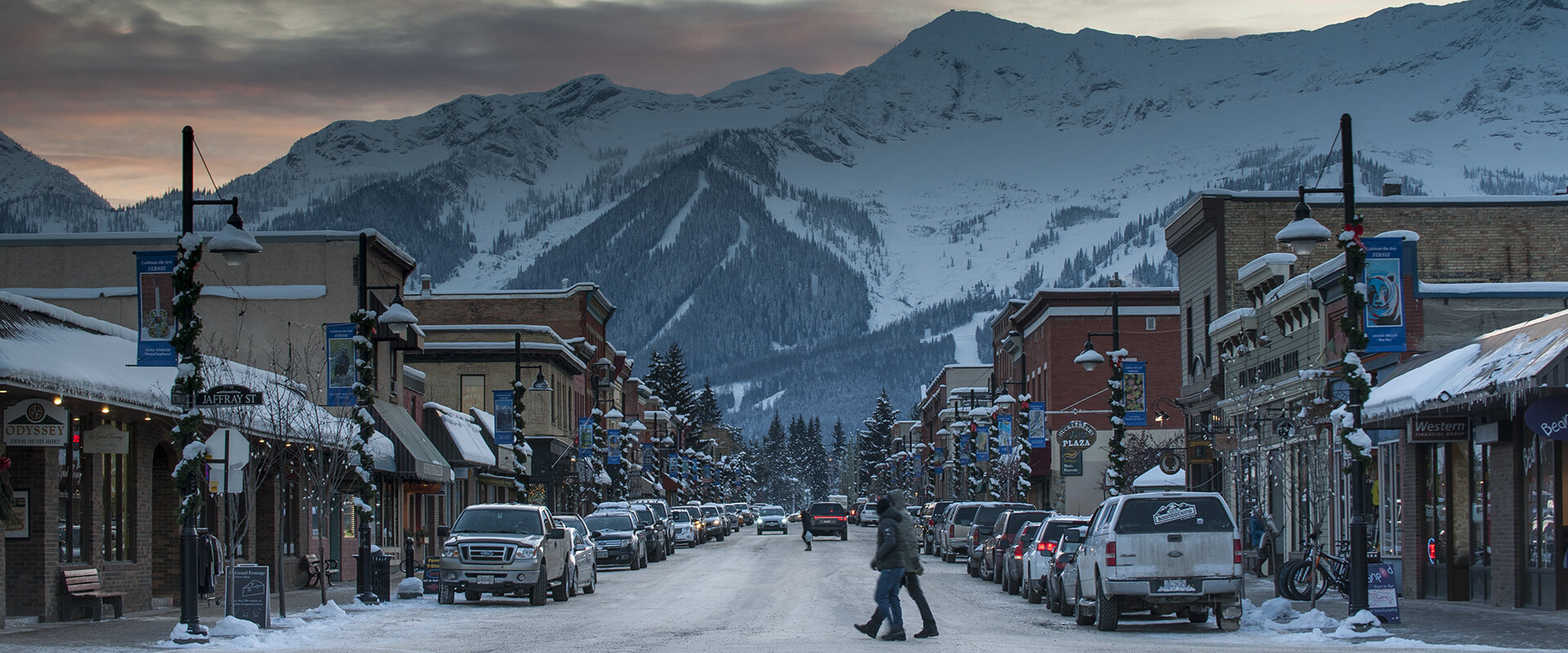 © Destination BC, Dave Heath / Fernie, BC
St. John's, Newfoundland
There's perhaps no better place to escape for a bit of rest and relaxation than to a quaint, seaside location in The Maritimes. St. John's has the small town charm of a relaxed Canadian fishing village and its homeland storefronts come in more colours than a box of crayons. Relax by looking at views of the craggy landscape and frozen shoreline. In your downtime, try indulging in winter brews from one of its many pubs (St. John's is known for its vibrant pub scene.) Hungry belly? Here, opt for fresh, locally-harvested foods and keep an eye out for beverages made from icebergs thousands of years old.
Wentworth, Nova Scotia
In winter, less is often more. After a busy year and a busier (possibly even stressful?) holiday season, a lowkey holiday and smalltown vibes can be exactly what's on order. The Danish practice of hygge that focuses on cozy practices like drinking cups of comforting tea or reading by the fire in a snuggly sweater made itself world famous a few years back. And for good reason: we need balance and slowness. Wentworth, Nova Scotia is the perfect place for that. Think snow globe scenes out the window, warm kitchens, wooded trails, and hot cider. When you venture outdoors, try hitting the slopes or going for a winter hike.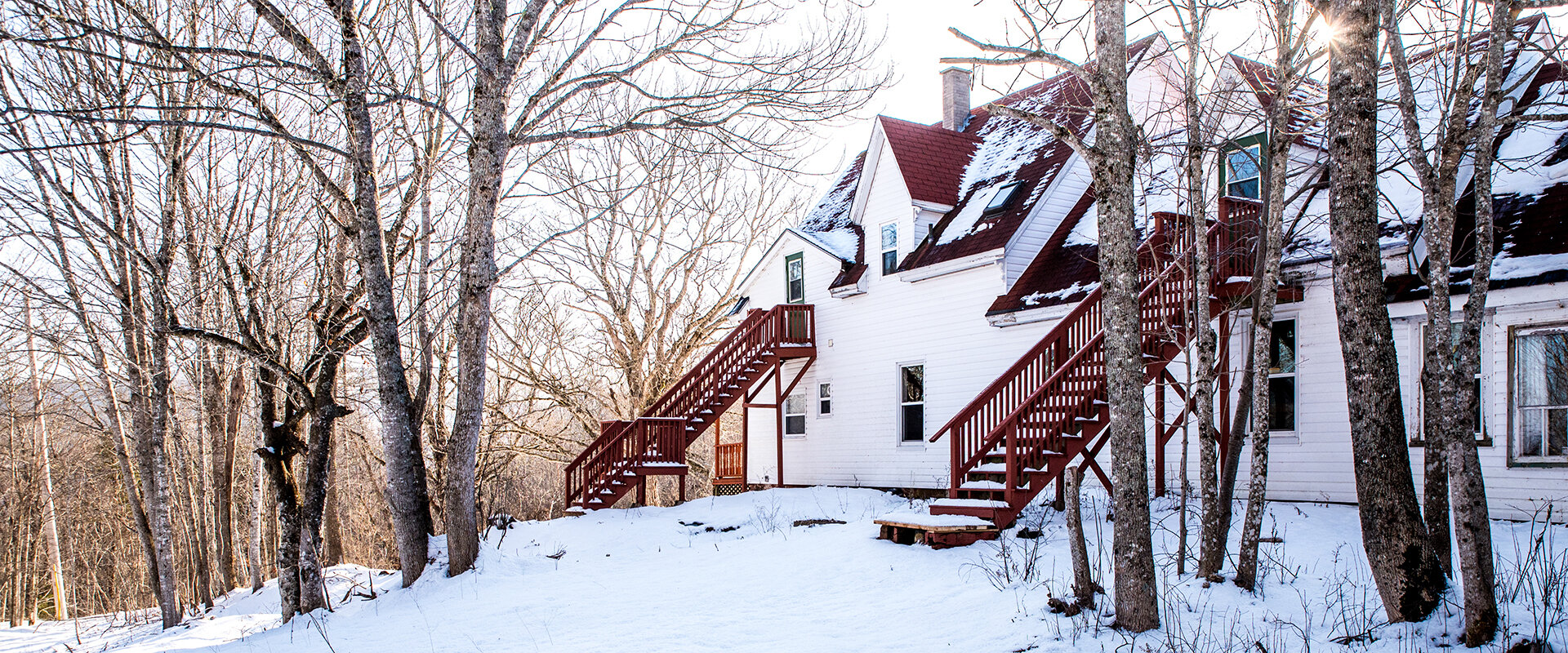 Cozy it up at HI Wentworth
Banff National Park, Alberta
Backpackers who love spending time in the mountains but want to stay somewhere remote to avoid the crowds in places like Banff and Jasper can escape to the wilderness of Banff National Park. A trip to Rampart Creek (located right in between these two destinations) would literally fit the definition of "getting away from it all." HI Canada's wilderness hostel is a peaceful abode for travellers who need a serious break from the stresses of day-to-day life in favour of time in pine tree forests with mountainous backdrops and fresh air. Here, plan for an all-round rustic escape in the great outdoors perhaps with some ice climbing, winter hiking, and time in the sauna to warm up afterwards.
Rossland, British Columbia
A winter vacation to Rossland, B.C. is basically like booking a stay inside a snowglobe. A getaway in Canada during the colder months should take full advantage of magical, snowy conditions. That's what a stay in the Kootenays in Rossland, B.C. will feel like. RED Mountain Resort is heaven for the skier or snowboarder looking for run after run of perfect powder. If you're more of the hot chocolate and chalet type of person, dress in snuggly knits and watch travel buddies cruise down the mountain from the comfort of your room. Or, grab your warmest toque and grab a space beside one of the outdoor fires. To vary it up, consider getting outside on a pair of snowshoes or cross-country skiing through icing-like trails. Afterwards, hungry backpackers should know that there's no shortage of bistros, cafes, and pubs in towns. Don't miss the freshly-baked bread from Alpine Grind Coffee house on Mondays.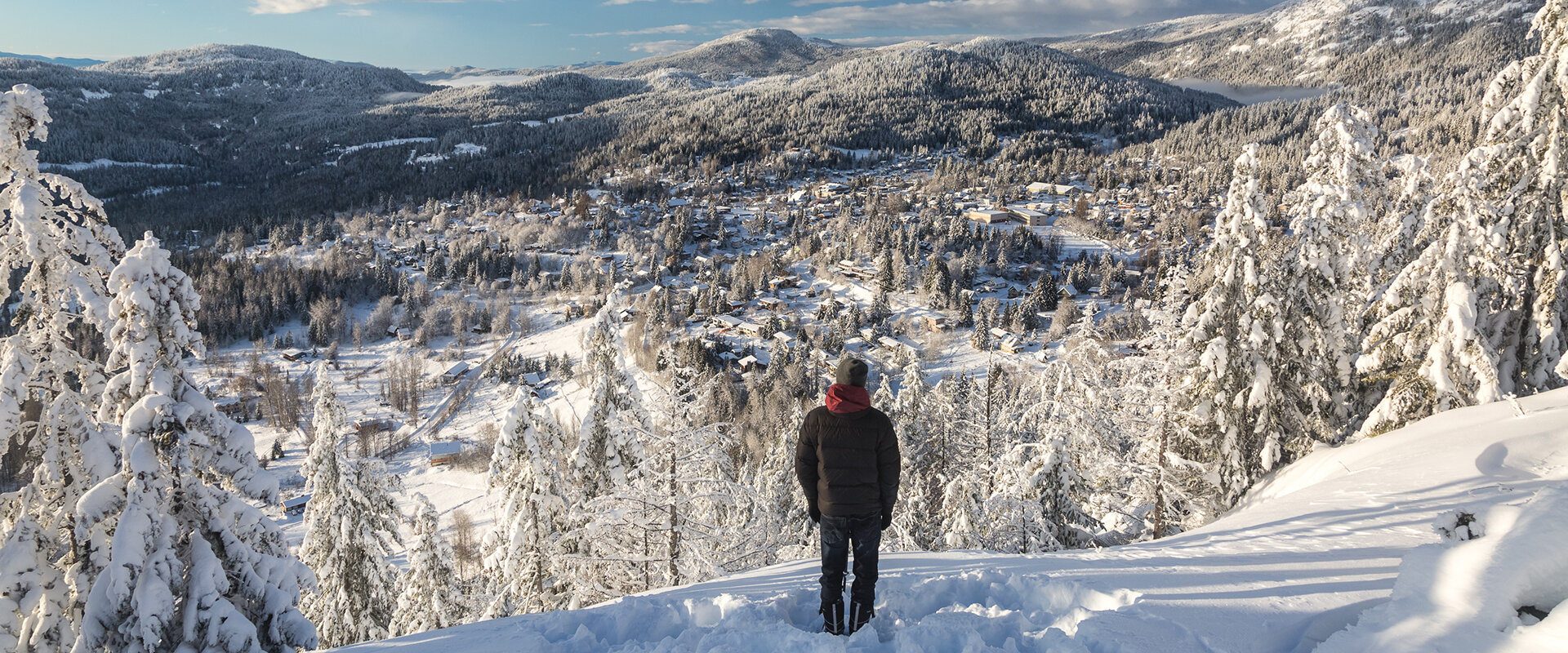 © Ryan Flett / Rossland, BC
Cumberland, British Columbia
If you're in desperate need to rest, relax and replenish, there's no better way than to escape to a literal island in the wintertime. Vancouver Island is full of the exact types of places where backpackers are forced into a slower pace and simpler living. The old mining town of Cumberland is a small town where snowboarders and skiers can get some runs done early at Mount Washington Alpine Resort. It also makes a great hub for backcountry skiing, hiking and ice climbing. If spending time in our hostel, make use of our communal library and warm your bones next to the wood stove. If resting the legs, no better way than to venture to small-town cafes just steps from the hostel.
Canmore, Alberta
Canmore, Alberta is one of those places that people might think about when they imagine the ideal Canadian winter getaway. A small mountain town, Canmore is a hub for cross-country, downhill, and backcountry skiing, ice climbing, trail running and skating. Some of the best recharging happens in nature away from technology and the constant pinging of phone notifications. After all that outdoor exploration, take in views of the Three Sisters while cozying up with a new book by the fireplace inside.
You may also like to read