Our best Canadian hostels for summer stargazing
It's a stargazer's favourite time of year. For the average person, mid-summer might mean lazy days by the pool, afternoons soaking up the sun, or weekends spent cycling and enjoying the clear blue skies. But for astronomers, stargazers, night owls, and outdoorsy folks, the stretch between mid-July through most of August indicates the best time to kick back and watch the night sky.
The Perseid Shower (named after constellation Perseus) happens every year and is the *the* meteor shower to watch if you're living or travelling in the northern hemisphere. Technically, it spans from July 17th until August 24th though, if you're really keen to catch the best of the shooting stars, you'll want to plan an all-nighter from August 12th to 13th. (The meteor shower is supposed to be at its best in the wee hours of the morning so if you're planning to stargaze with hostel friends, do that Tim Horton's coffee brewing after the sun sets to stay awake… and maybe postpone the snoozing until dawn.)
For backpackers and travellers hoping to catch the Perseid Shower, you're going to want to be in a location that's dark and secluded and away from major city hubs. While you won't necessarily need any telescopes or binoculars, you should plan to bring cozy clothing and repellent to keep the mosquitos at bay. Not sure where to head for the mid-August night sky show? Below, a round-up of the best HI Canada hostels for stargazing.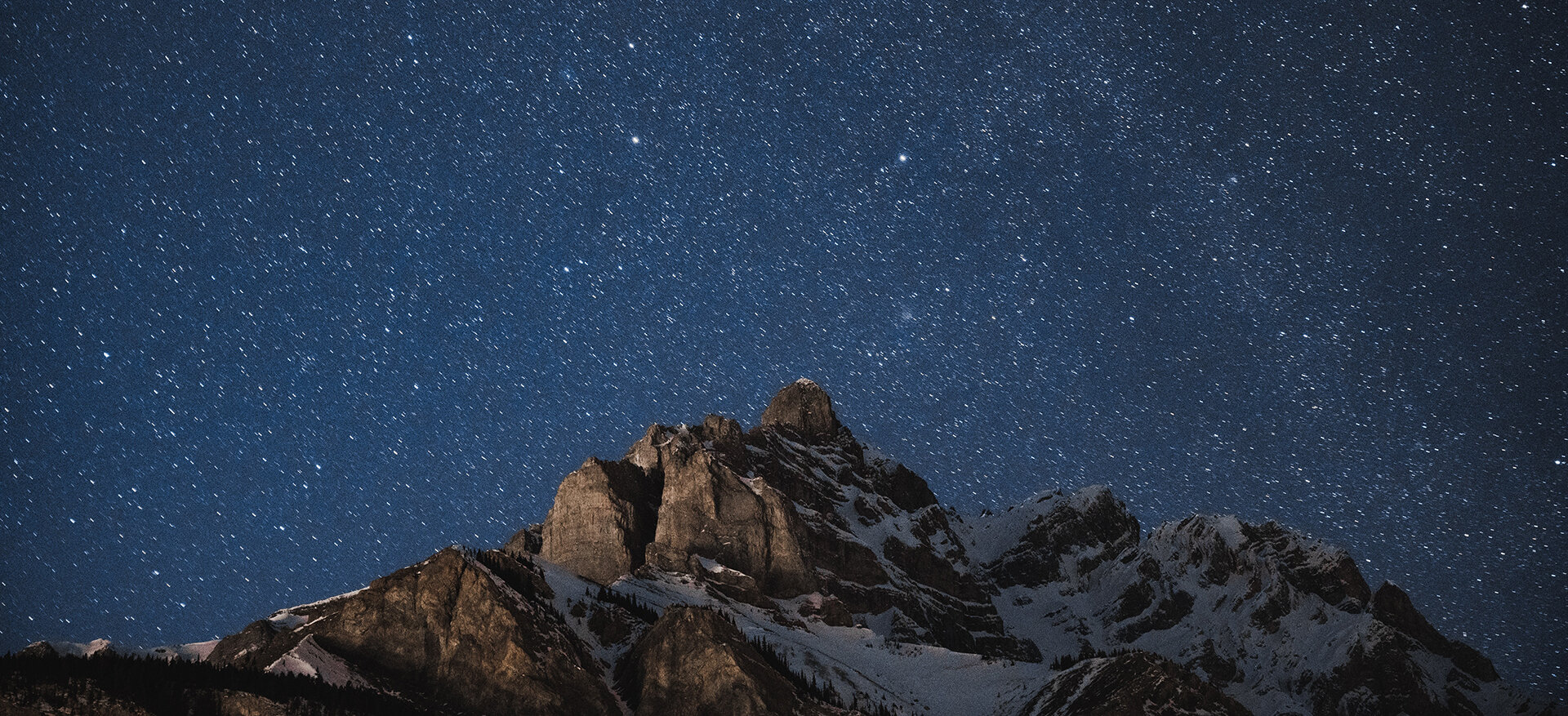 Unsplash / Ryunosuke Kikuno

HI Alberta Wilderness Hostels
There's no better place to keep eyes peeled for falling stars than in a wilderness location. Luckily, HI Canada has a handful of spots out in the boonies of Alberta where stargazers will have no fear of urban light pollution encroaching on the meteor shower. If you're really wanting to get as far away from the city as possible to be one with nature (and the stars), you're going to want to visit a location in Athabasca Falls, Beauty Creek, Castle Mountain, or Kananaskis to name a few. As their names suggest, these spots are out in the wilderness so pack and buy all essentials before you hit the road!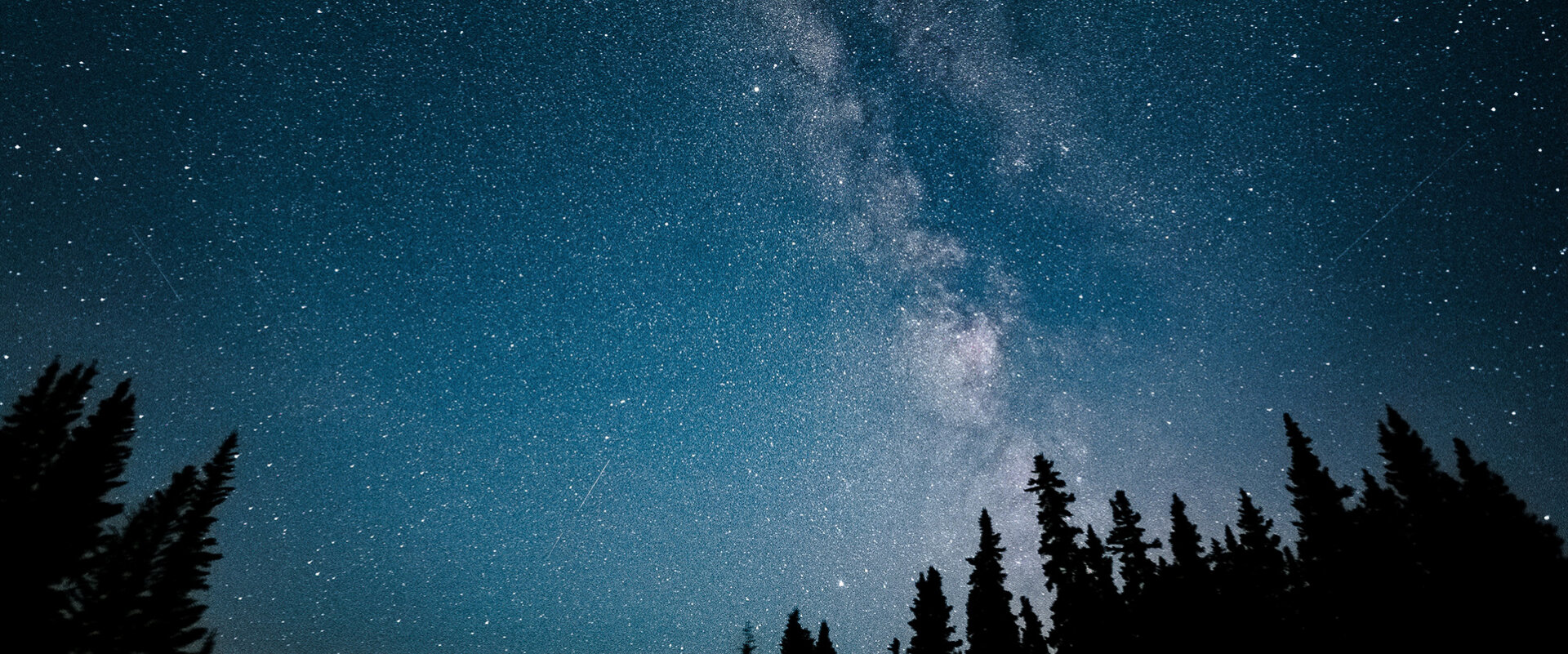 HI Squamish

Squamish is known as the adventure capital of Canada. Whether you're into mountain biking, trail-running, hiking, paddling… or really any outdoor pursuit, Squamish should be top on the list of places to visit. Because it's located in a well-treed pocket away from high-populated areas, Squamish offers an impeccable, sparkling night sky. The northern lights can also be viewed from Squamish if you're lucky so there's a chance you might get two incredible viewing opportunities here! It could be *the* Canadian experience of a lifetime. Don't miss out!
HI Whistler
For many, Whistler is the ultimate bucket-list Canadian adventure. Whistler has gained clout among an international crowd and for good reason. The mountain views are perfect, the smell of the pine trees is irresistible, there's no shortage of exhilarating outdoor activities to take part in, and the air is fresh. A visit here could be a once-in-a-lifetime experience and if you stay at our HI location, you're staying in the former athlete's village from the 2010 Olympics. Plus, with mountain views from nearly all of the rooms, this is the kind of place you will want to wake up in after a full night of stargazing.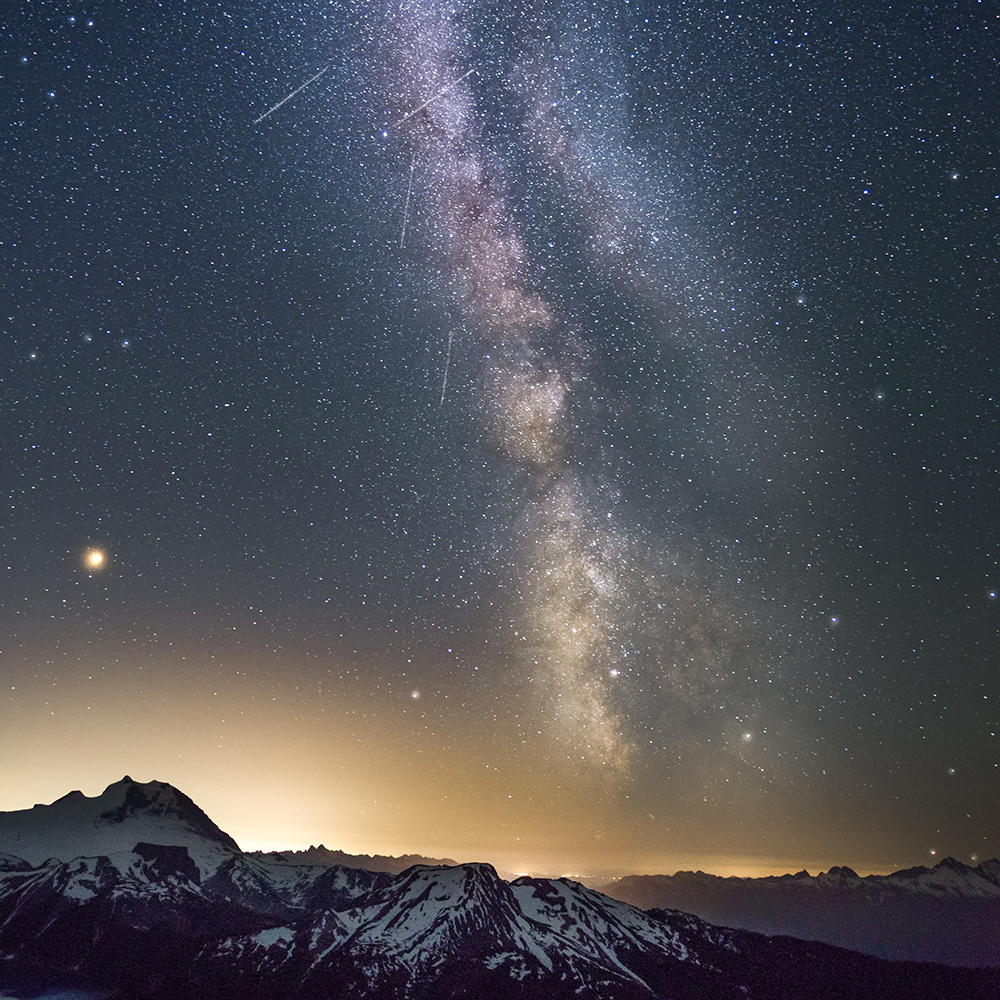 Stars over Whistler
Unsplash / Mike Markov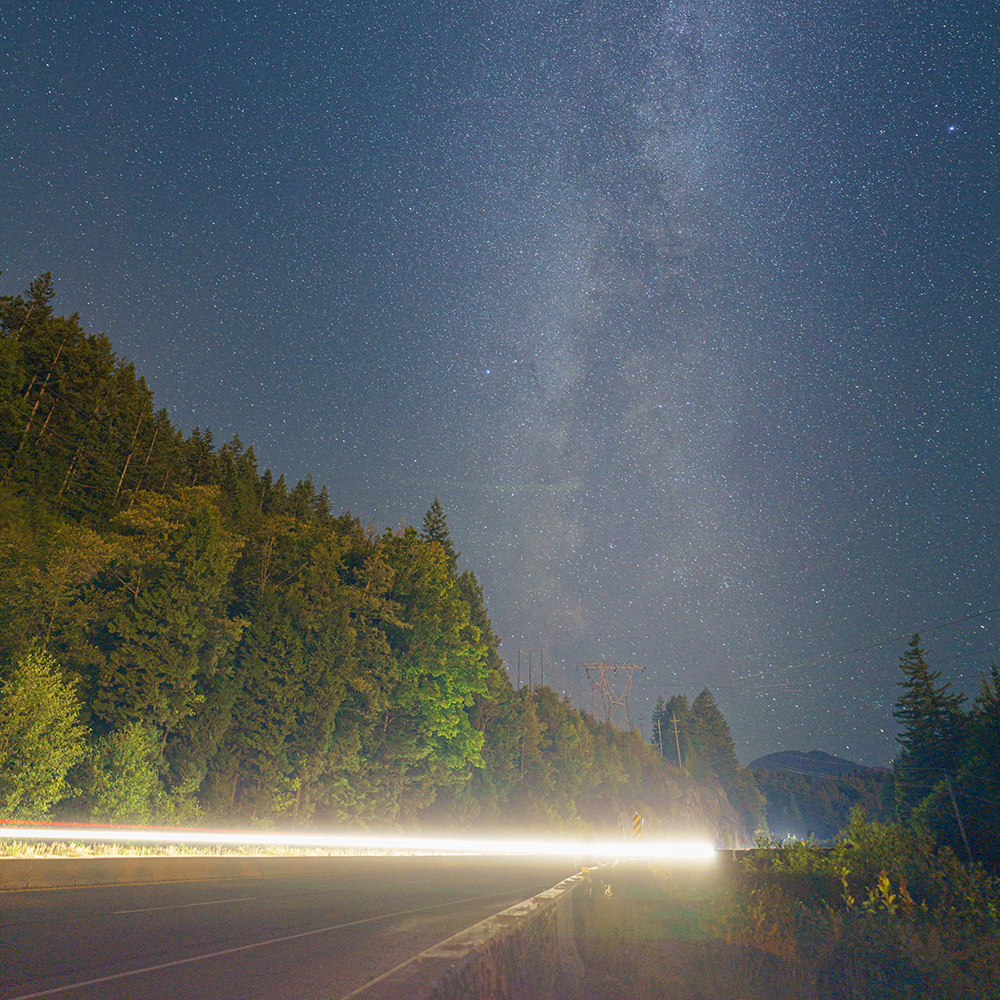 Stars over Squamish
Unsplash / Mingxin Gong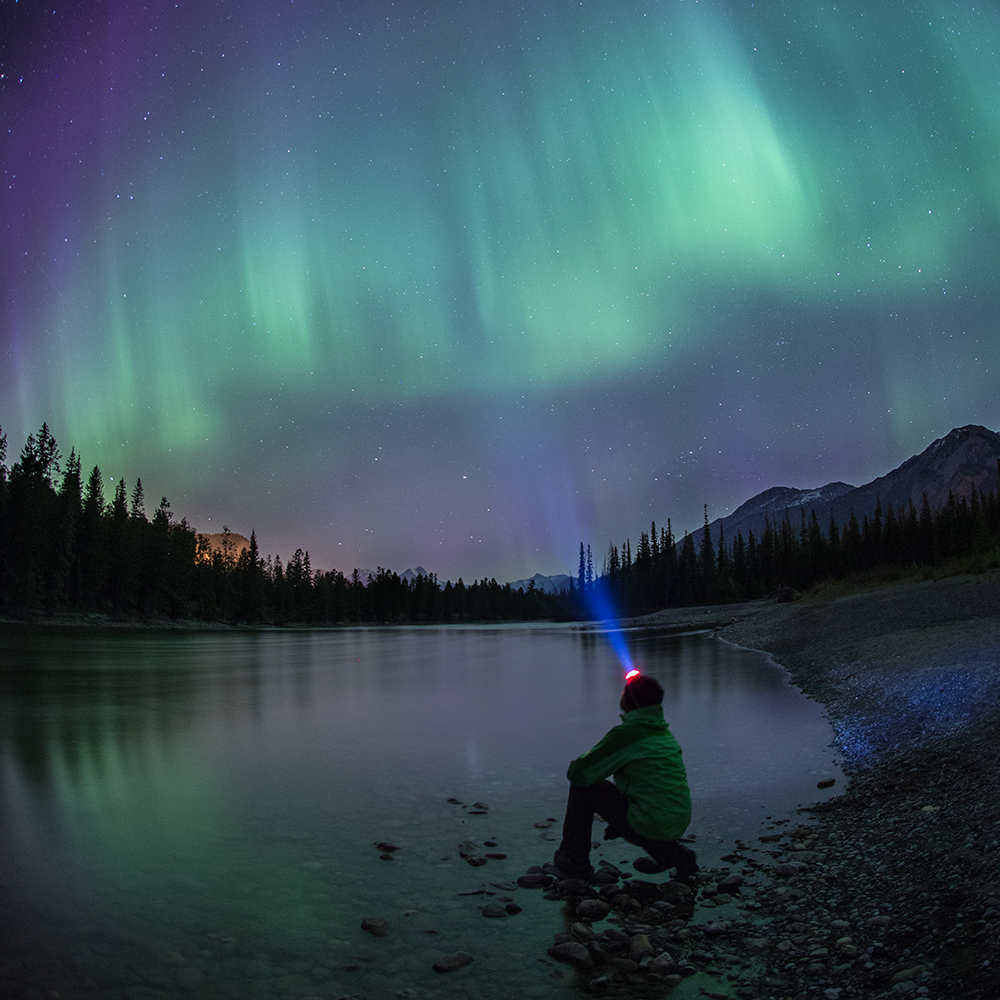 Aurora over Jasper
© Travel Alberta / Ryan Bray
HI Jasper
Jasper National Park is literally the stuff of postcards. It's the largest national park in the Canadian Rockies and it's also part of UNESCO's Canadian Rocky Mountain Parks World Heritage Site. If its turquoise waters, mountain views, and wildlife aren't enough of a draw (tough crowd!), consider that it's probably also one of the best places to catch the July/August meteor shower due to its lack of light pollution and clear skies. One thing that hostel goers should be aware of: Jasper is a dark sky preserve. What does that mean? It means that the park actively does all that it can to preserve the night sky and keep it in its purest form (i.e. no artificial light should be visible!). Not able to make it for the meteor shower this summer? That's just fine! Jasper also holds its annual dark sky festival in October so you can plan to be mesmerized by the twinkling sky all night then!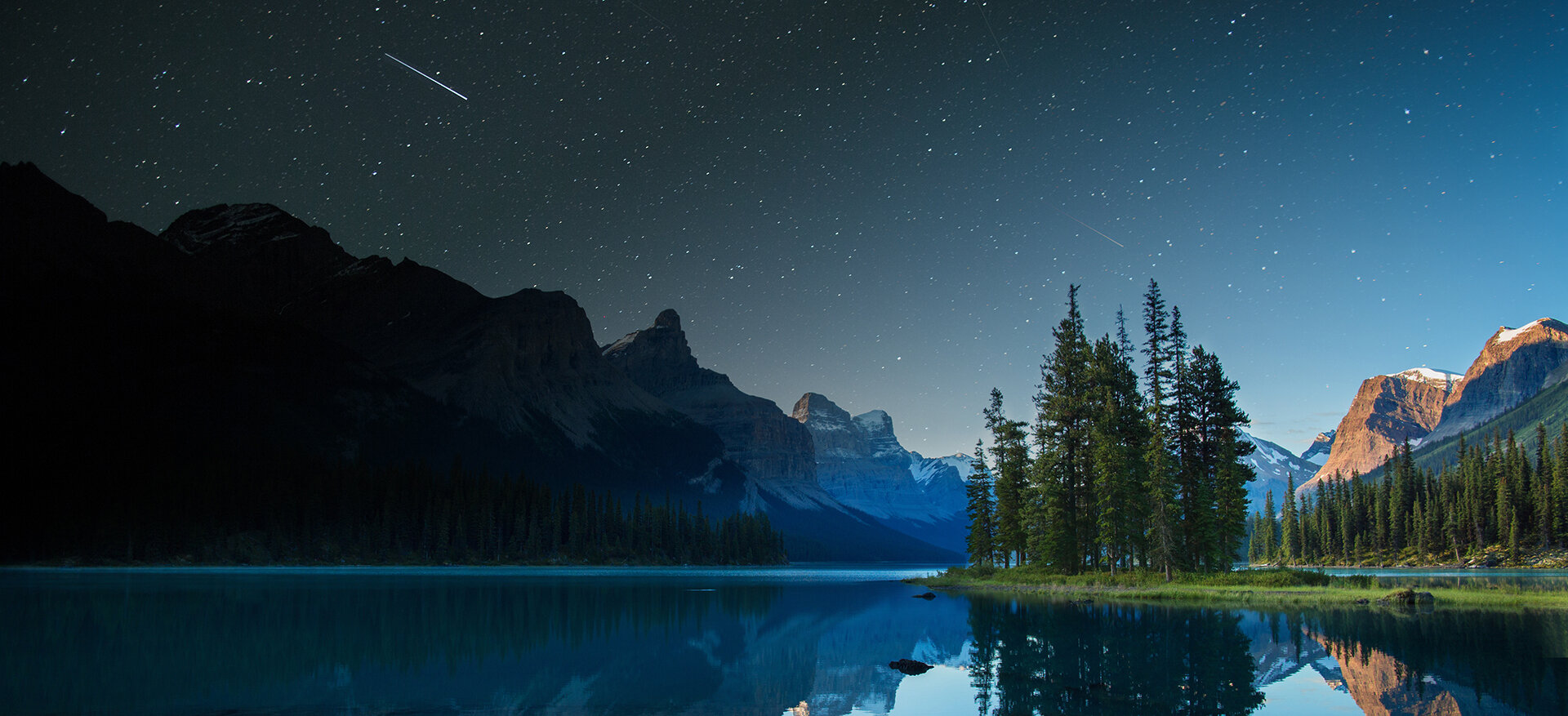 © Travel Alberta / Ryan Bray
HI Tofino

Known for its surfing, kayaking and beaches, Tofino is a bucket-list destination for both local and international travellers. The good thing about stargazing here is that you can plan for days that are just as exciting as watching the busy night sky. Though, don't tire yourself out *too* much while surfing during the day: you don't want to accidentally doze off during the height of the dazzling meteor shower.
You may also like to read