My rent-a-hostel staycation in the Rockies wilderness was just what I needed this year
It's no secret I love to travel. It's been a big part of my life for more than five years, and I'm someone who usually has a trip in sight that I am looking forward to, saving money for and planning. After travelling for over seven months in 2018/19, I spent the latter half of 2019 back home in Banff, working hard to help pay off those travels. To me, travelling is always worth every penny. You can't put a price on those kinds of experiences and memories. By the start of 2020 though, I was already itching to plan a trip for later in the year.
Fast forward a few months and, as you know, chaos hits, the world stops, I find myself laid off for a few months, then eventually back at work working my butt off again just to get on top of life in the current state of the world. 2020's been fun, right? Unfortunately, travelling didn't seem like it was going to be in sight anytime soon. Instead of letting myself get too down about this (okay, I'll admit I was pretty sad for a little while), I decided to focus on what I still could do: explore my own backyard.

I am incredibly grateful and fortunate to be able to say I have the most beautiful backyard in the entire world: Banff National Park. So, focusing on local trips and planning to spend all of my time here for the next little while was really not something that I could complain about at all. Amidst work this summer and the constant curveballs this year has seemed to bring, I spent my entire summer running all over the mountains with some of the most amazing friends around. I am closing in on running nearly 1000 km this year, and over 1500 km spent in the mountains. For such an unpredictable, up-in-the-air kind of year, I am truly feeling like I've made the most of it.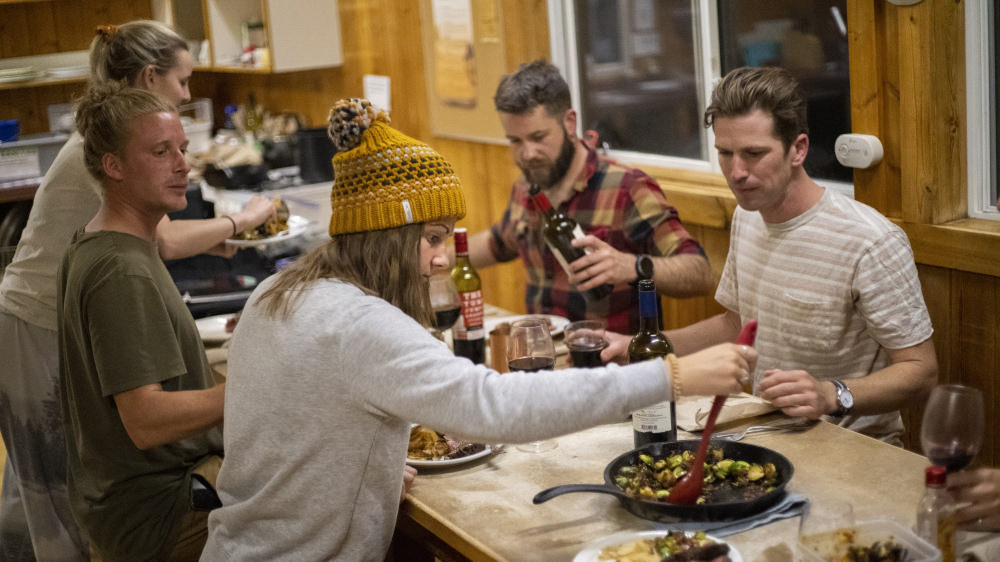 As this past summer started to fade away, I started looking for more trips to plan this fall and especially for this upcoming winter. Winter is long here, so there is a lot of time to plan trips and activities to do. One of my favourite areas of the park is the Icefields Parkway. Along the Parkway, there are endless opportunities for outdoor activities any time of year. Hiking, skiing, rock climbing, ice climbing—you name it, you can do it. So, to celebrate one last end-of-summer getaway, a small group of friends and I hit the road after work on a Friday to spend a weekend on the Icefields Parkway at HI Mosquito Creek Wilderness Hostel.
For us, it's about an hour, hour-and-a-half drive from home. At Mosquito, the hostel manager welcomed us when we arrived and gave us a distanced run-down of everything we needed to know for our weekend stay, and then he left us to it. They have great safety protocols in place to help keep the hostel clean and safe for everyone. And then, first things first, we got that fire started!
The place was cozy and we were settled in super quick, so of course our next priorities were snacks and dinner (I mean, what's a weekend away without great food!). The kitchen had everything we needed to cook and enjoy amazing meals with your group. It's equipped with fridges and freezers as well, which felt like such a treat as many of us are used to backcountry huts that do not have either. Thanks to our amazing friend Chris, we enjoyed the most delicious feast you can imagine. After dinner, we had some wine by the fire and a few people went for an evening sauna. Yes, you read that right—HI Mosquito Creek has its own wood fire sauna! (Psst, so does HI Rampart Creek Wilderness Hostel.) This is such a luxury to have for a weekend getaway.
With our wonderful luck, we woke up the next morning to the most beautiful autumn, bluebird day. If I'm being completely honest, it was probably one of the nicest fall days I've experienced in a long time. We got out of bed, made some coffee and breakfast and packed our backpacks before hitting the road to head for a hike up Cirque Peak. It was so nice being so close to the trails that are usually quite a drive from home. Within ten minutes of leaving the hostel, we were at the trailhead! We met some friends there who would be joining us for the night as well, and then started making our way up the trail towards Helen Lake.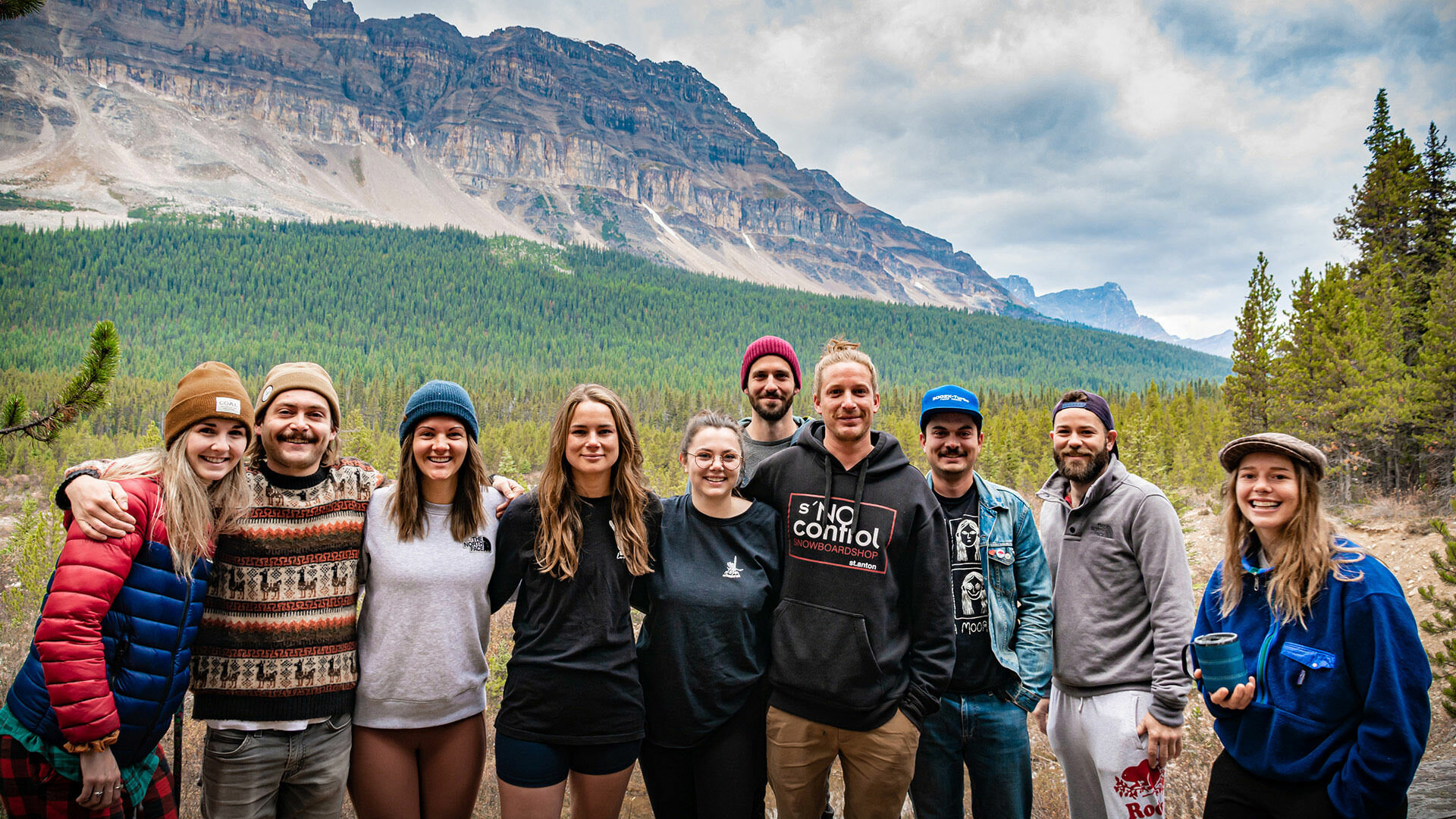 If you haven't hiked back in this area before, I highly recommend checking it out. The views are 11/10 and the trail itself is in great shape. Before long we were at Helen Lake. We decided to stop just above the lake for lunch, and this is where I ended up calling it a day as my knee was unfortunately in quite a lot of pain. I guess this is the price I pay for running so much this summer (and neglecting my foam rolling—oops!). From here, the rest of the group headed for the top of Cirque Peak while I soaked up a nice, long, warm alpine nap. Naps in high places have to be one of my favourite things. It was a warm, windless fall day, so just being outside was a treat. Eventually they met back up with me on the way down and together we headed back down the trail.

In no time we were back at the hostel, enjoying yet another top-notch charcuterie board thanks to Dorian. We sat around the fire, caught up on our days and eventually started prepping everything for a giant make-your-own taco bar. With full stomachs and tired legs, we had a great group game of Taboo and, again, an evening sauna!
On Sunday morning we woke up and sadly it was time for us to head home. Check-out is 10 a.m. sharp as the staff need to do a big, deep clean of the entire place. I wasn't kidding when I said they had their cleaning and safety practices dialed! You can count on it being clean and sanitized from top to bottom for your stay. So, we cleaned up, packed our stuff back into the cars and hit the road home.
We had the most wonderful time during our weekend away at HI Mosquito Creek Wilderness Hostel. It was such a cool experience to have the place rented out for just our group of friends, and it was the perfect location to base ourselves for a weekend of outdoor adventuring. As we head into a winter season that looks like it will continue to be spent close to home, this is definitely something I will be doing again. Can you imagine driving out after work, skiing deep backcountry powder all weekend long, then coming back to a warm hostel with everything you need AND a hot sauna to warm up in at the end of the day!? Sure sounds like paradise to me!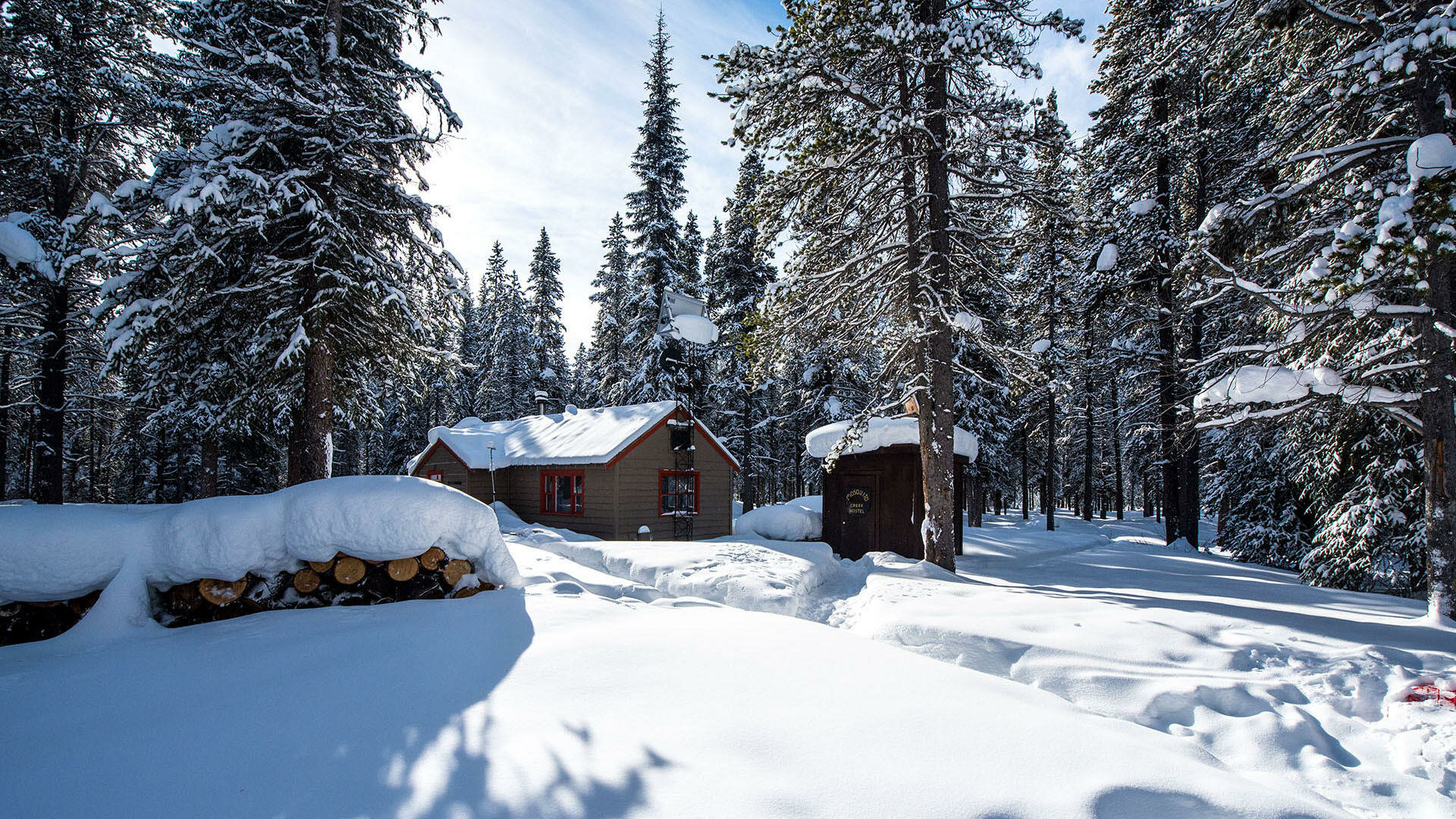 6 tips to make the most of your wilderness Rent-a-Hostel
1. Be comfy with the outdoors and rustic amenities 
If you're not familiar with wilderness hostels, take a minute to get to know them. Most wilderness hostels don't have much in the way of electricity, and many come with outhouses instead of indoor plumbing (however some do have these amenities!) Because you'll have the run of the place, you should be comfortable operating propane-powered appliances and lights and keeping a fire going for heat. You should also have a good amount of familiarity and comfort with wilderness conditions, especially if you plan to stay in the winter.
2. Bring your own bedding 
As a safety precaution, wilderness hostels don't provide bedding right now, so you'll need to bring your own sleeping bag or sheets and blankets plus a pillow and your own towel.
3. Pack in all your food, drinks and snacks 
Bring everything you need to fuel yourself during your stay, but get creative. Taco bars are a go, plus the kitchens have enough gear to cook up a feast. Expect a cook top and a fridge and sometimes an oven. Check out the photos on each hostel's page to get a sense of what its kitchen is packing.
4. Clean up after yourself 
While the hostel will get a deep clean between groups, it's important you do your part to clean up after yourself. That means washing and drying your dishes, clearing out your trash and leaving the place like you found it.
5. Disconnect 
You're kind of forced to disconnect in a lot of these places, where cell service is non-existent. But relish in the quiet isolation (by choice this time) and ditch your phone in the car and read a book or play board games by the fire.
6. Book ahead 
Not surprisingly, wilderness hostels are a popular getaway option in Alberta this year. You can't book directly online, so head to the Rent-a-Hostel page to send an inquiry. Someone will get back to you ASAP with availability and more info. 
The author stayed as a guest of HI Canada.
You may also like to read