12 most Instagrammable places in Canada in winter
From snowy Banff to chasing the Northern Lights, winter is when Canada truly shines. And it's the stuff Instagram was made for. Don't worry: It's not all hiking in snow-capped mountains (though we've got that, too). There are plenty of urban destinations just as glorious. So pack your thermal underwear and make sure your phone is charged. These 12 places are too beautiful not to share.
1. Banff National Park
Like there was any chance this wouldn't be the first on the list. Banff National Park is quintessential Canada. You've got mountains, snowy trees, frozen lakes. Every corner is another postcard-perfect view. So which to choose? Try the Norquay Green Spot viewpoint for a lofty perch over distant mountains plus those classic red Adirondack chairs. Nearby Bow Falls is another great option. But Vermilion Lakes might be the best of all with the iconic, slanted Mount Rundle reflected in the shallow pools.
Photo tip: Go when the water is half frozen to see ice islands floating on the Vermilion Lakes.
When to go: November to February
Where to stay: HI Banff Alpine Centre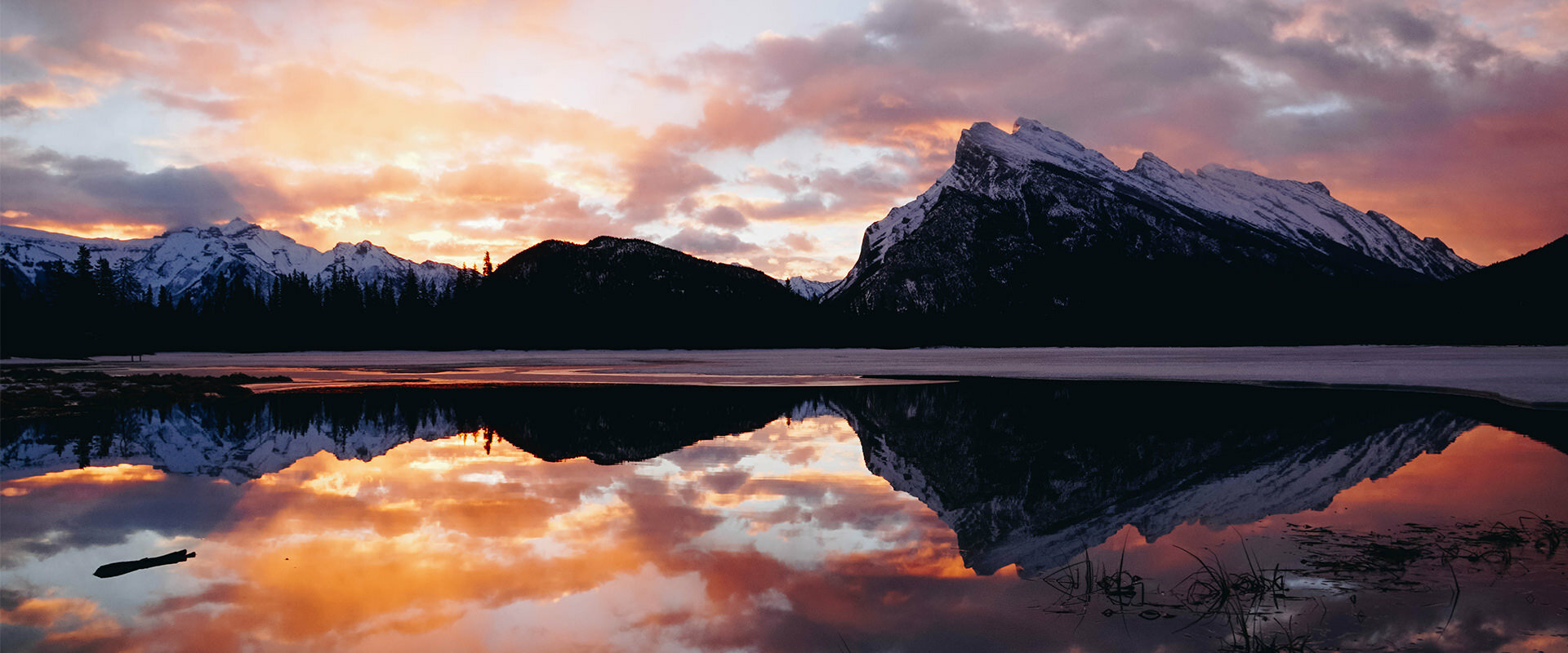 2. Vieux-Québec
Cobblestone streets flecked with snowflakes get a touch of holiday charm with Christmas trees and a gazillion lights. It's the old-world charm that makes it all so irresistible. At the German Christmas Market, rows of wooden stalls, decked with wreaths, lights and garlands, sell festive treats like gingerbread and mulled wine. In Quartier Petit-Champlain, lit-up snowflakes hang over narrow alleys with snug shop windows. And at Place-Royale, a 35-foot star-topped evergreen fronts a centuries-old stone church.
When to go: Nov 21 to Dec 31
Photo tip: Shoot the storefronts and buildings at an angle to create some perspective.
Where to stay: HI Québec, Auberge Internationale de Québec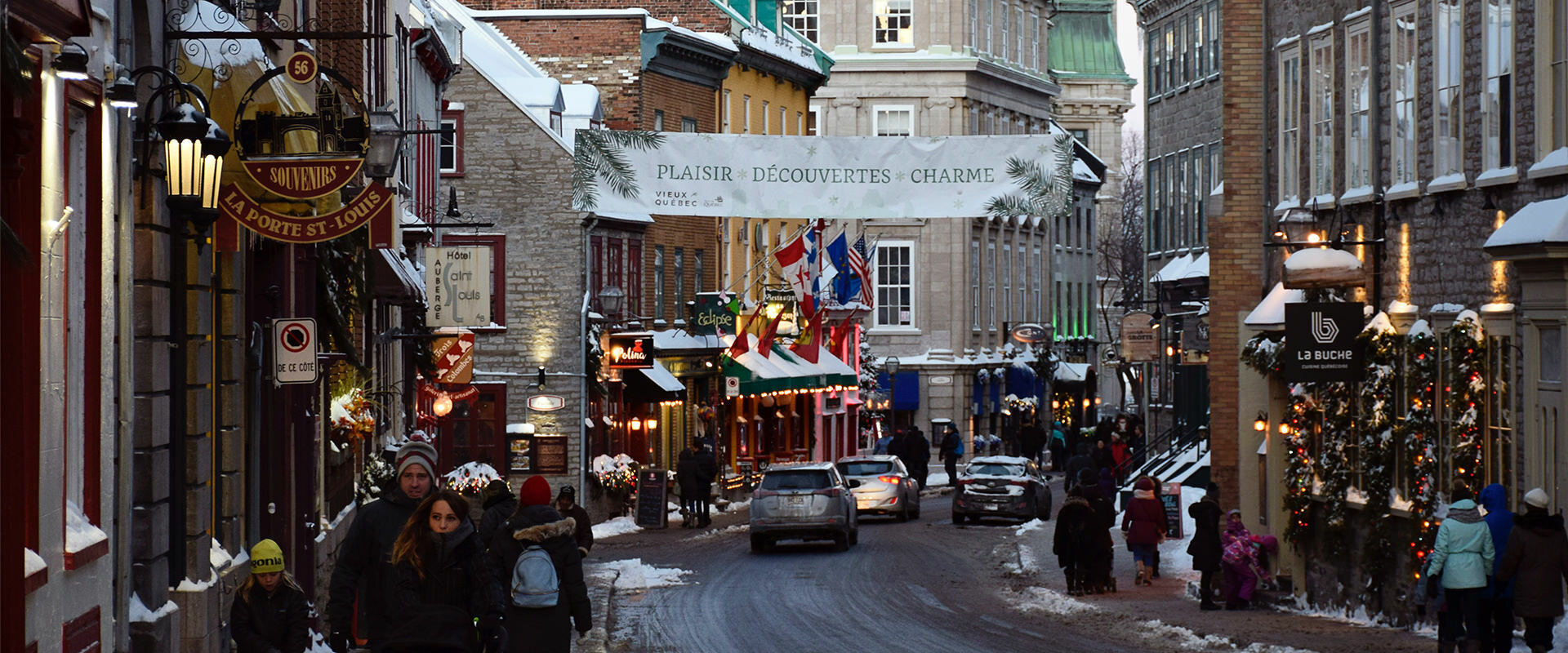 3. Stormwatching
Who said winter is all about snow and lights? Head to Tofino for something a little different, and a little more wet. Winter is storm season on the West Coast. A wild, inky sea under dark, rolling clouds will add just the right touch of moodiness to your Insta. Waves off the coast can reach as high as 20 feet. Try heading to MacKenzie Beach, closer to town than the better known Chesterman Beach but still prime for stormwatching.
Photo tip: Wait for after the storm to snap glorious pics of the sun breaking through the clouds.
When to go: October to February
Where to stay: HI Tofino, Whaler's on the Point Guesthouse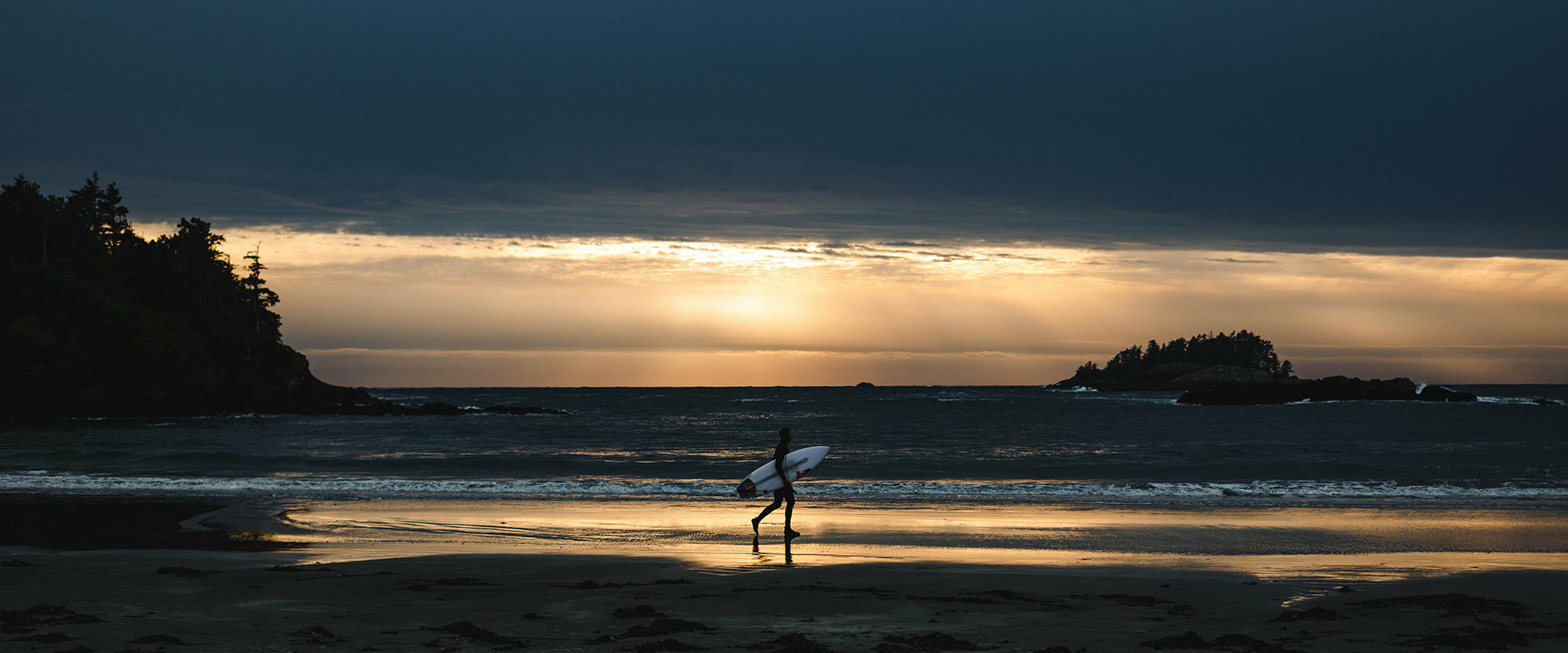 4. Niagara Falls
While Niagara Falls is never truly frozen—it's too powerful for that—massive ice crystals and mounds of snow line the gorge each winter, creating one of the most impressive seasonal displays on the continent. Skeletal trees, walls, fences and lampposts are wintry white while the Falls' signature mist swirls over the rushing water. Add in the nightly Falls Illumination, and it's Instagram magic.
Photo tip: Lots of white means lots of bright. Err on the side of darker images to capture more detail.
When to go: November to January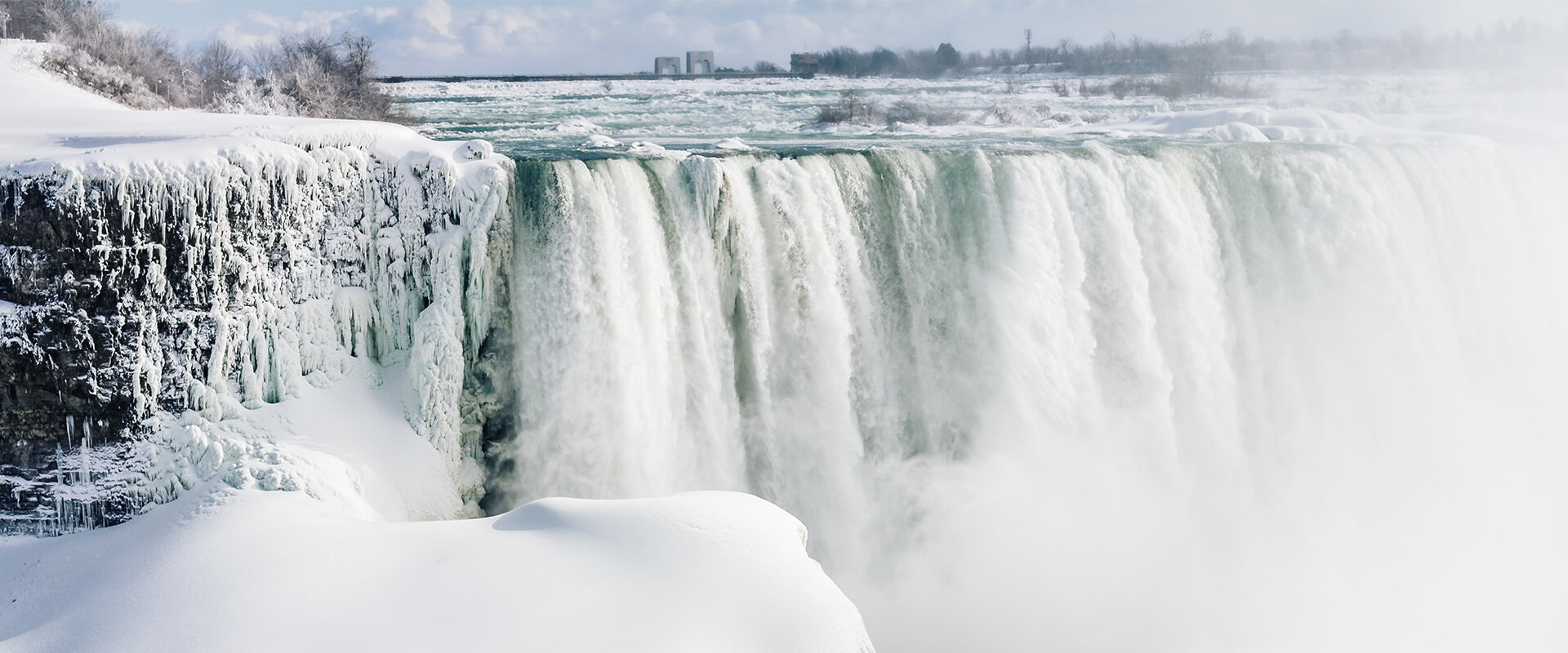 5. Abraham Lake
Surreal frozen bubbles suspended in water surrounded by snowy mountains—it's one of Canada's most impressive sights, drawing photographers from around the world. While Abraham Lake is actually man-made (and the bubbles themselves are methane gas from decomposing plants), there's no denying the beauty of this winter scene. It's hard to take a bad shot here, but Preacher's Point at the southern end offers a brilliant vista: the deep blue reservoir with the jagged Rockies in the background. Go when it hasn't snowed recently to make sure the lake is pristine and mirror-like.
Photo tip: Get low and shoot up to capture the strange, bubble-like formations close-up.
When to go: January to February
Where to stay: HI Nordegg, Shunda Creek Hostel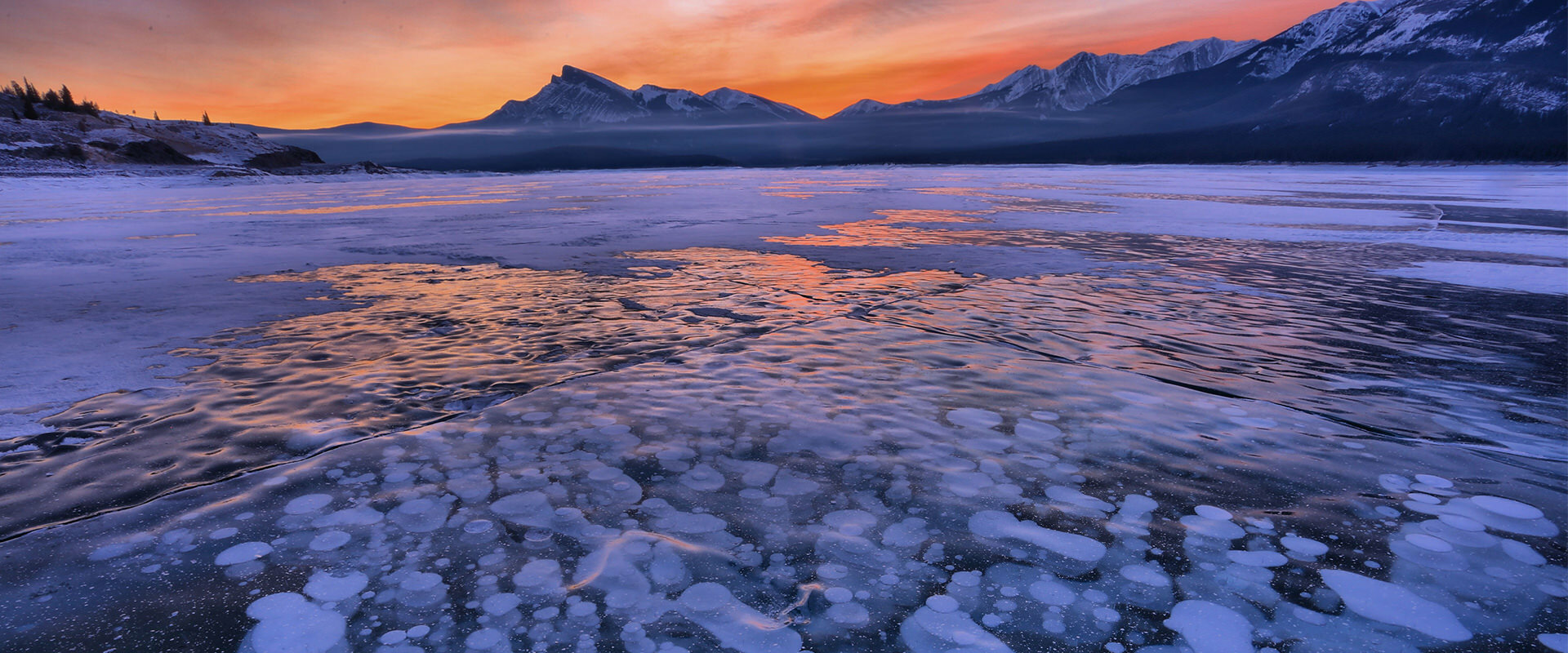 6. Aurora Borealis
Jasper National Park is the world's second largest dark-sky preserve, making night a perfect time to pull out your camera. While the lakes around Jasper tend to be a favourite spot for catching the Northern Lights, this elusive phenomenon can show up in unexpected places across the park. If you're lucky, looking north you'll see gauzy streaks of green, blue and purple light up the Athabasca Glacier ice cave. It's hard to predict when the Northern Lights will strike, but they're more likely to put on a show past midnight. Get free alerts at Aurorawatch.ca so you know when they're active.
Photo tip: Bring your tripod and opt for a wide angle and low shutter speed to get that glossy blur. Or get an app to do it for you.
When to go: October to March
Where to stay: HI Jasper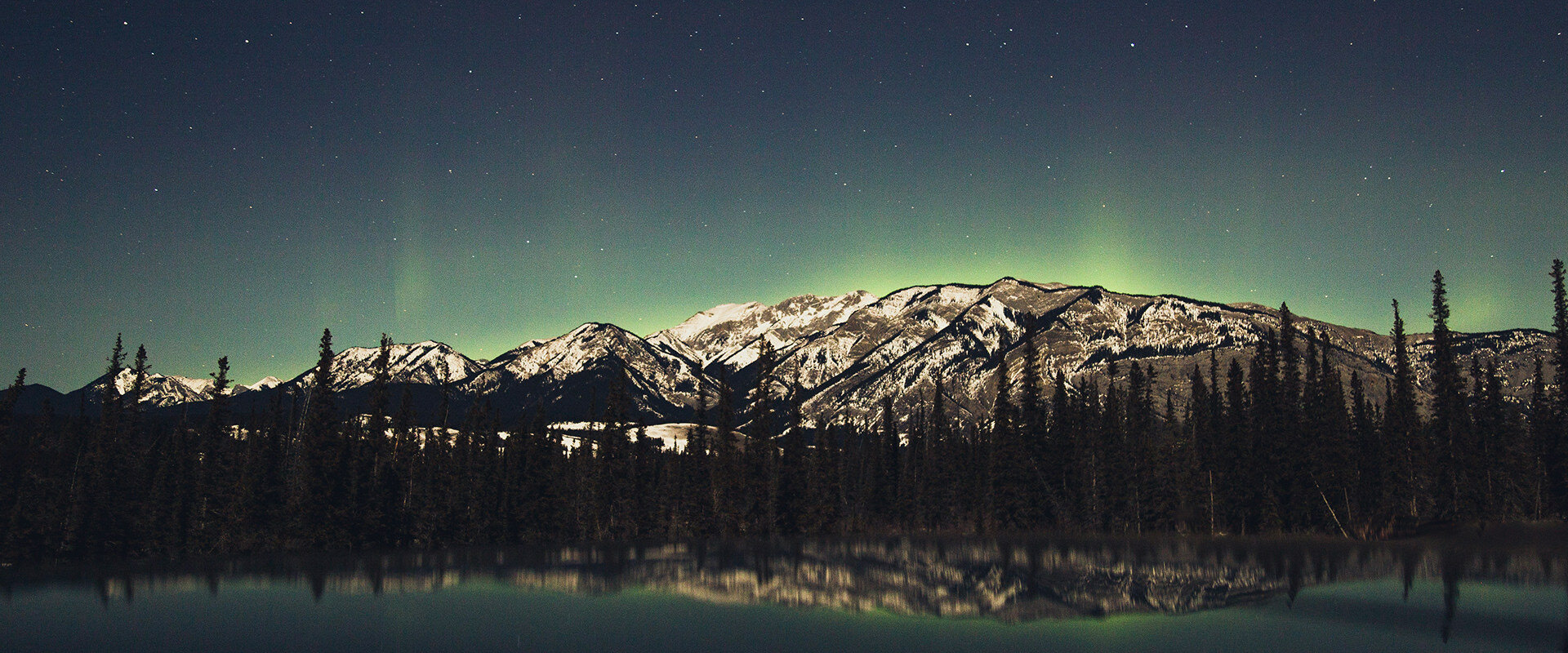 7. Igloofest
Consider it the ultimate outdoor party. Sure, it's -20° out there, but Igloofest is hot. And if you can capture some of the energy of this Montreal music festival on your Insta, all the better. The light displays change each year, but a team of professional VJs keep it interesting. Past examples include fire shooting from the stage, neon lasers and 32-foot video screens that shift and morph in time to the music. Plus, you'll find slides, fires for roasting marshmallows and ice installations.
Photo tip: Try to get near the stage where the lighting installations are set up.
When to go: January 16 to February 1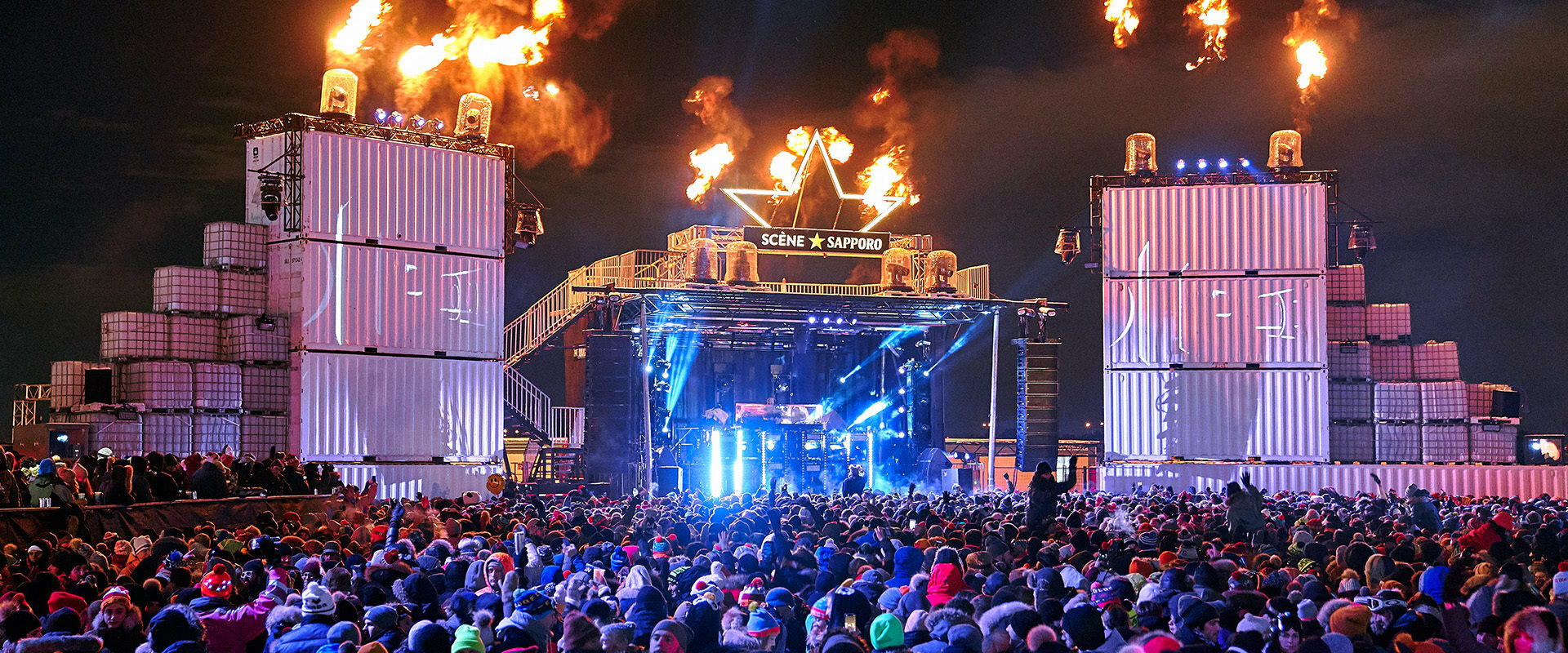 8. Rideau Canal
This UNESCO World Heritage Site turns into the world's largest skating rink in the cold winter months. Usually, you don't want strangers in your photos, but the 7.8-kilometer Rideau Canal Skateway breaks all the rules. Capture its magic from the Mackenzie King Bridge, facing north. Parliament Hill will be in the background, and the tiny skaters below will look like figurines in a Christmas village. And if that's not enough, time your visit during Winterlude for ice carvings, art and other mostly free wintry fun.
Photo tip: If you're feeling artsy, slow your shutter speed so the skaters blur as they move.
When to go: January to late February or early March (weather dependent)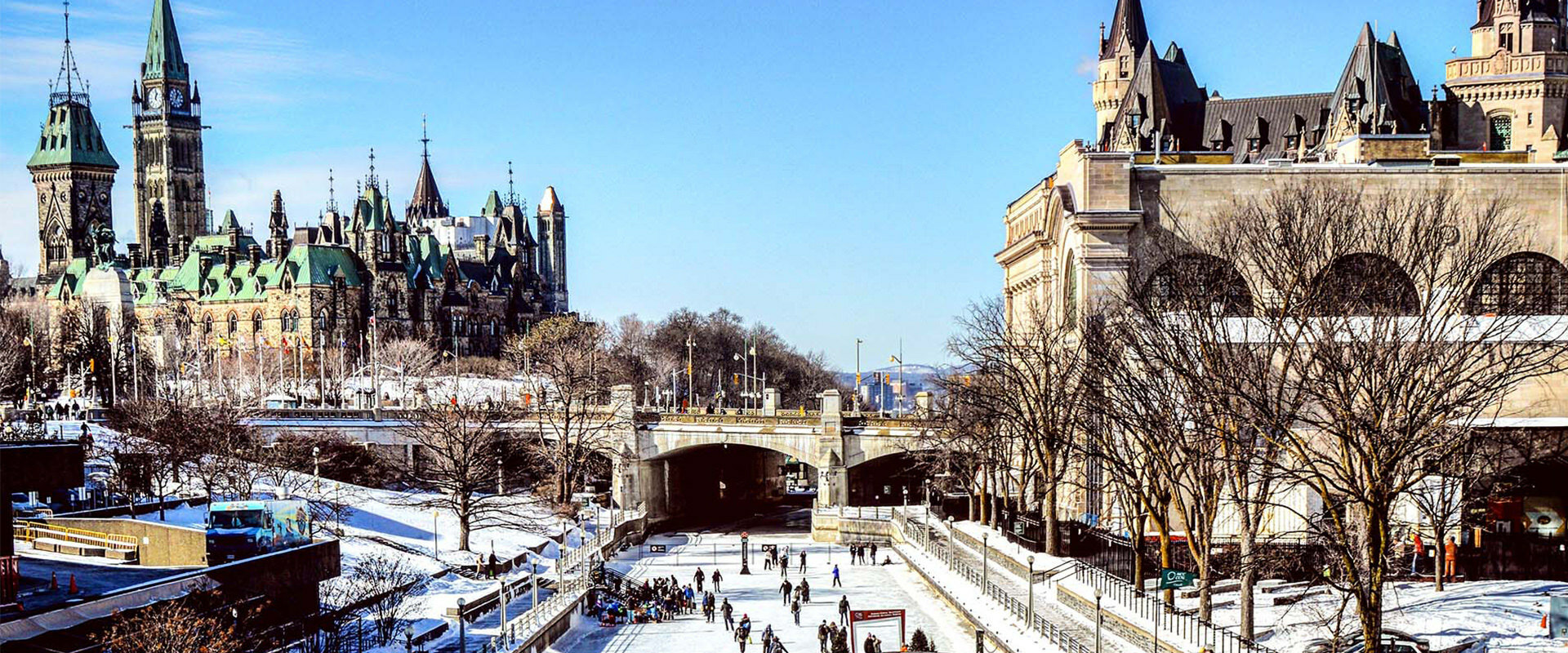 9. Hatley Park
Imagine Hatley Park as a kingdom fallen under the ice queen's spell—Italian statues laced with frost, hedges almost hidden under snow. And a turreted fairytale castle looms in the background. The park is free to enjoy year-round with 15 kilometers of trails across 565 waterfront acres. Wander the gardens for closeups to fill your camera roll: a snowy sundial, stone lanterns in the Japanese Garden and a triple-arched bridge trimmed with icicles.
Photo tip: Snow is rare on the Island, so act fast if you're lucky enough to catch some flakes fall.
When to go: December to February
Where to stay: HI Victoria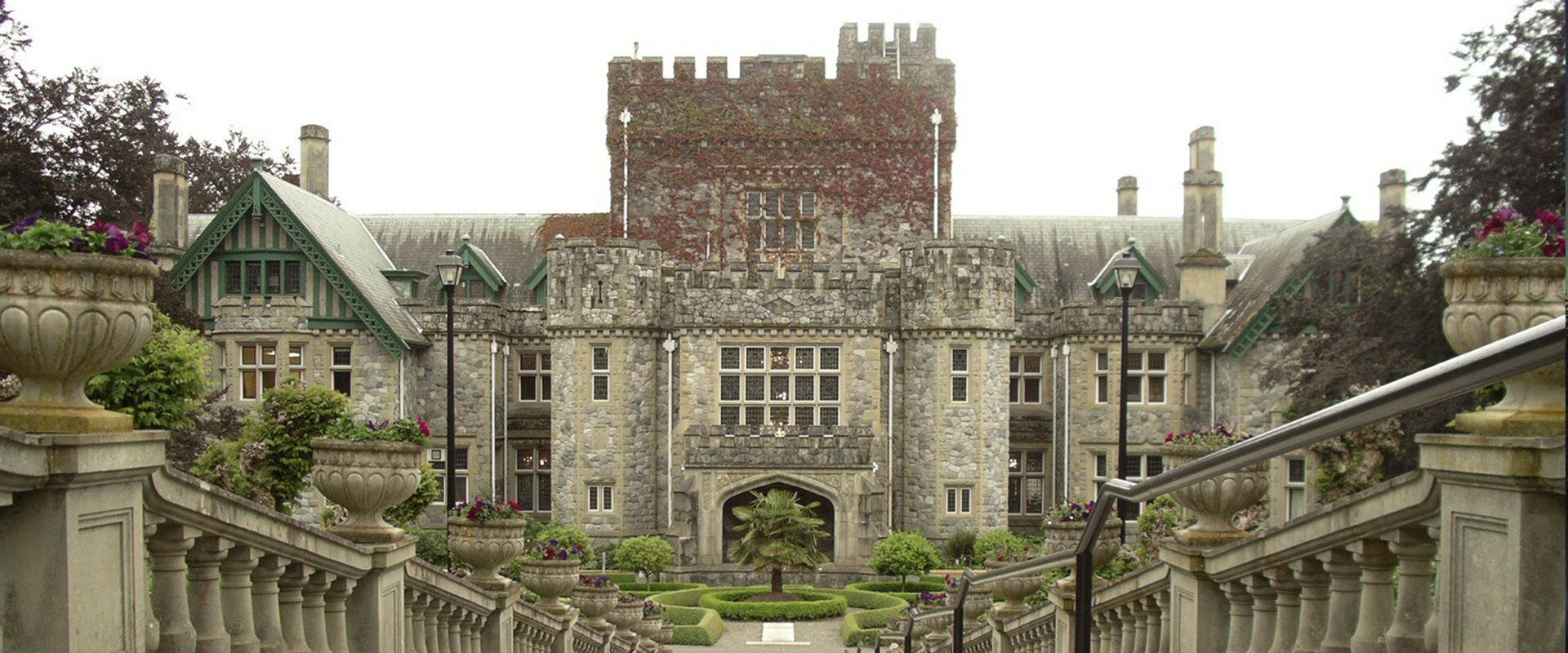 10. Maligne Canyon
Walk on a frozen canyon floor with icicles towering above your head. It's as incredible as it sounds. Maligne River cuts through the Canadian Rockies, creating a narrow gorge in Jasper National Park. In winter, you can actually walk along the frozen water to see unusual ice formations and layered limestone boulders. While you can go on your own, for safety reasons, Parks Canada strongly encourages you to choose a guided trip. Tours typically last about three hours.
Photo tip: Shoot up for a dizzying angle and to show you're at the bottom of a 50-foot crevice.
When to go: January to March (weather dependent)
Where to stay: HI Maligne Canyon Wilderness Hostel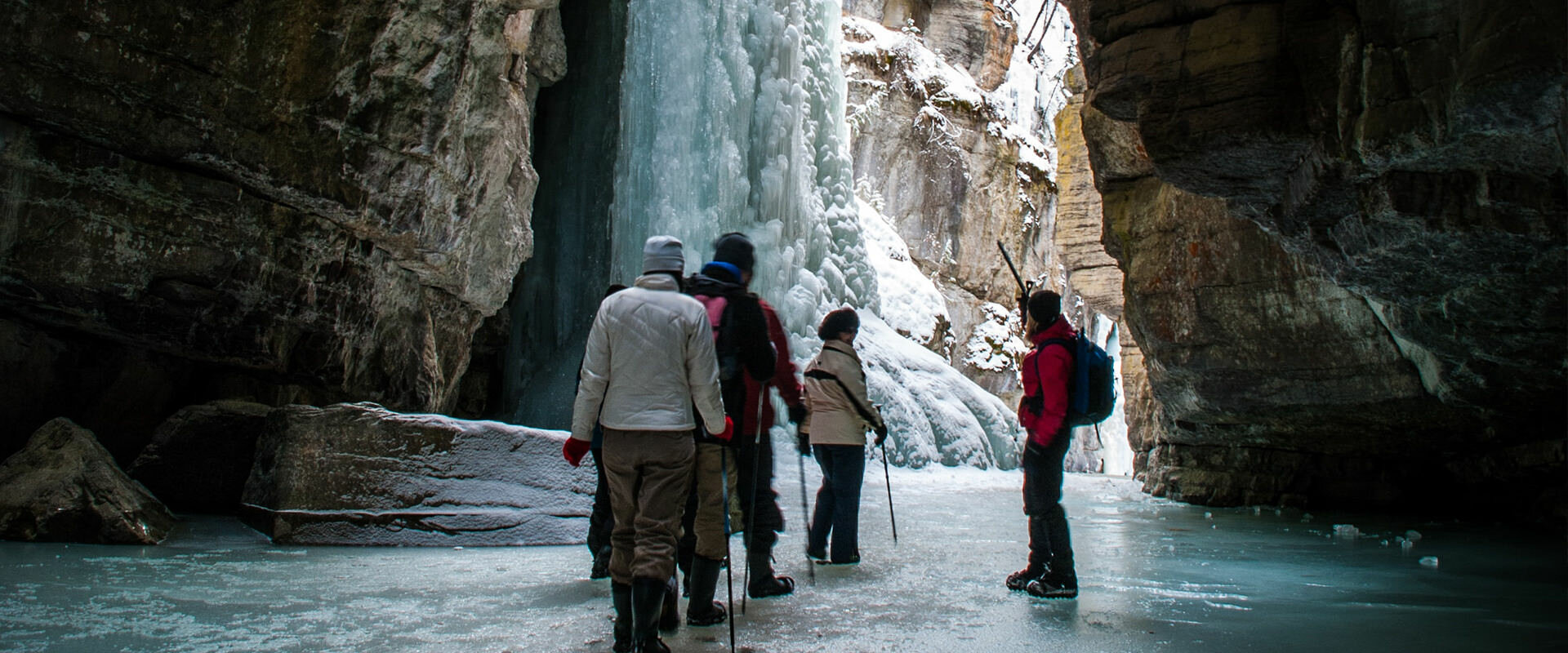 11. Scarborough Bluffs
These lakefront cliffs are better known for their Mediterranean vibe in summer, but they take on a completely different, just as Instagrammable look in colder months. Scarborough Bluffs actually encompasses 11 parks in Toronto, but the prettiest in winter are Guild Park and Cathedral Bluffs Lookout. Guild Park's sculptures and columns are all the better with a blanket of snow. Meanwhile, Cathedral Bluffs Lookout, where everyone snaps a shot from the top of the cliffs, suddenly feels rugged and remote.
When to go: December to January
Photo tip: Get your tall friend or (hate to say it) a selfie stick to take a photo of you from up high looking down toward the base of the bluffs.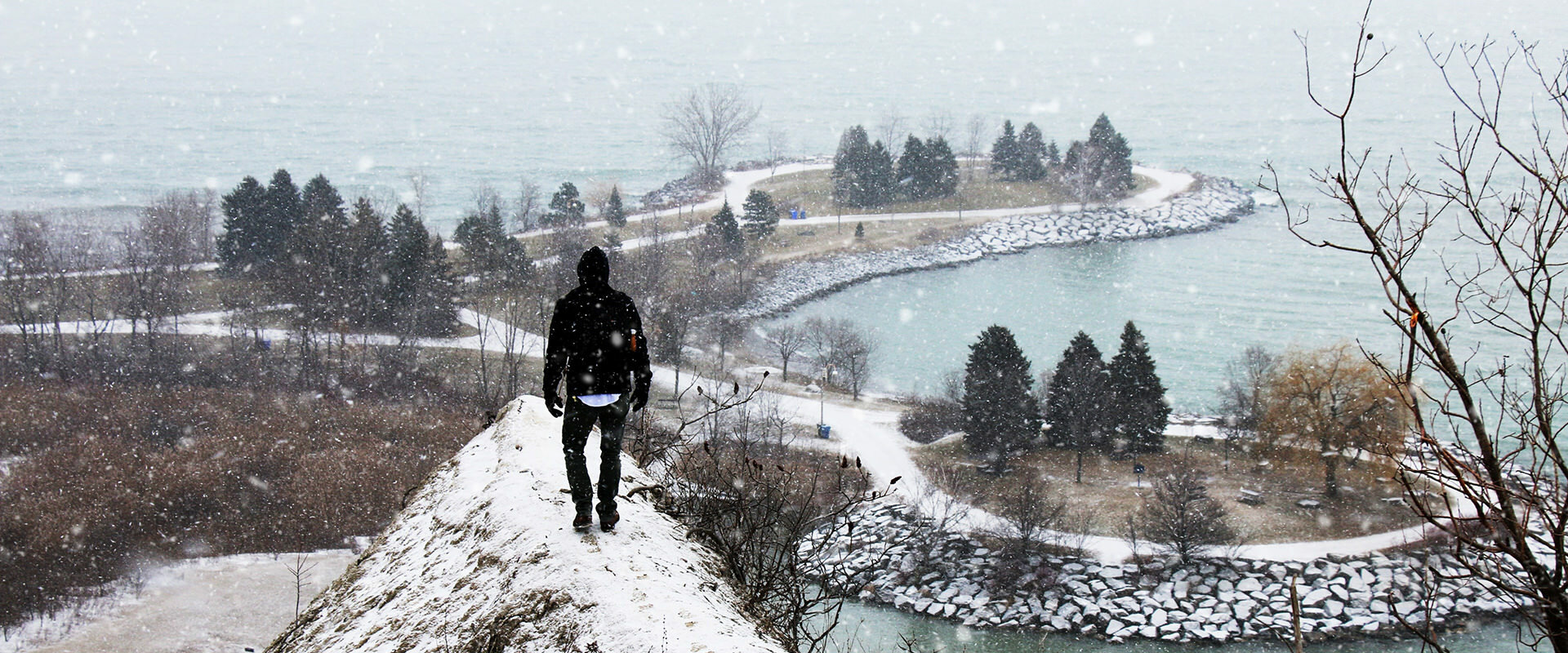 12. Point Pleasant Park
We all know sunrise shots are the best, but who wants to get up at dawn? Luckily in winter, it's a little bit later, giving you a reasonable amount of time to roll out of bed and head to Point Pleasant Park. Walkable from downtown Halifax, this 186-acre park covers woodlands, colonial fort ruins and a shipyard. For sunrises with snow-dusted rocks in the foreground, head down the hill toward Point Pleasant Battery and look east.
Photo tip: If you sleep in, catch the sunset at the western-facing Purcell's Landing with its snowy, curved coastline.
When to go: January to February
Where to stay: HI Halifax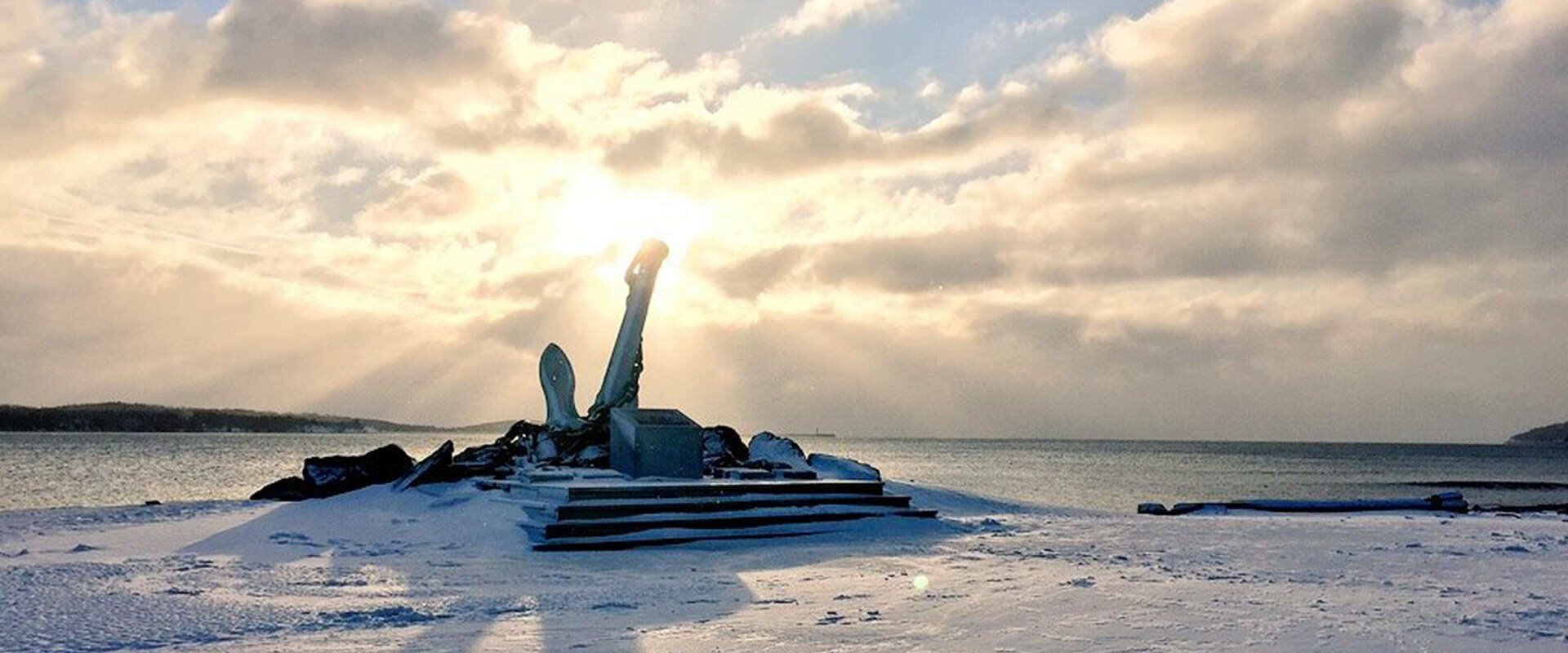 You may also like to read