As a proud Canadian, the Great White North will always be my home. But as a digital nomad who travels for a living, my heart is constantly pulled back to Africa, where my safari bug has grown into a full-fledged addiction. What can I say? Safari life is the best life. Bring me all the leopards. My work as a travel content creator, trip planner and tour group leader, and my overall passion for wildlife have taken me on safaris (and trust me, I never stop pinching myself when I say this) from Kenya to Uganda to Rwanda to South Africa, where I now consider to be my home away from home. Through all of these safaris, I have picked up on various tips and tricks to tracking down the animals, and I shamelessly pride myself on having eagle eyes when spotting wildlife. 
So naturally, when road tripping the Rocky Mountains and staying at HI's iconic hostels along the way, I made sure to pack along my safari intel. And although there is always luck involved when it comes to wildlife, I've scored myself some incredible sightings that can't just be chalked up to pure coincidence!
Before we dive in, it's important to note that "safari" means "journey" in Swahili, so any road trip is technically already a safari, but as the Rocky Mountains are known for their iconic Canadian wildlife from moose to bears to elk, your road trip deserves to feature some guest appearances.
Here are some tips to enhance your chances of seeing wildlife in the Rocky Mountains and turn your road trip into a real Canadian safari.
Practice safe distancing
We're all social distancing experts now anyway, but when it comes to wildlife keeping your distance is extra important. Never approach an animal, no matter how friendly it looks. If you spot a bear, especially on foot, stay as far away as possible, and even animals like elk and other deer can be extremely dangerous when spooked.
Venture out at sunrise or sunset
Time of day is extremely key for spotting animals, as many like to hide out during the heat of the day. My most successful sightings have been at sunrise; not only is this when the animals are most active and their tracks are the most prominent after the morning dew, but it's also when tourist crowds are thinner so you'll get to enjoy sightings all to yourself.
Stay in the vehicle
A lot of people have concerns about whether a safari is safe, thinking a lion could easily pounce on the guests in an open vehicle. But as long as you stay in the vehicle, you are as safe as can be. Some of my guides have told me horror stories about guests jumping out and making a run for it when frightened by an elephant and let me tell you, this is not a wise idea. Similarly, on your Rockies safari, remain in your vehicle for safe viewing.
Pack binoculars
A good pair of binoculars is a safari necessity, so keep 'em at the ready on your road trip to get the full viewing experience. The Rocky Mountains are composed of vast spaces, so looking through your binoculars can allow you to spot animals and features on them that the naked eye would miss.
Prepare snacks
Looking for wildlife is a practice that requires patience. Just like when we enjoy sundowner snacks on safari (shout out biltong), snacks on your road trip are key for staying energized while waiting for the animals to show their cute faces.
Research recent sightings
Look into spots that have had recent animal visitors by browsing recently geotagged photos on Instagram, reading reviews on forums such as the AllTrails app, or asking the locals (a grizzly on the main drag will be the talk of the town). There's no guarantee the animals will linger, but they are often creatures of habit so the sites of recent sightings are a good place to start.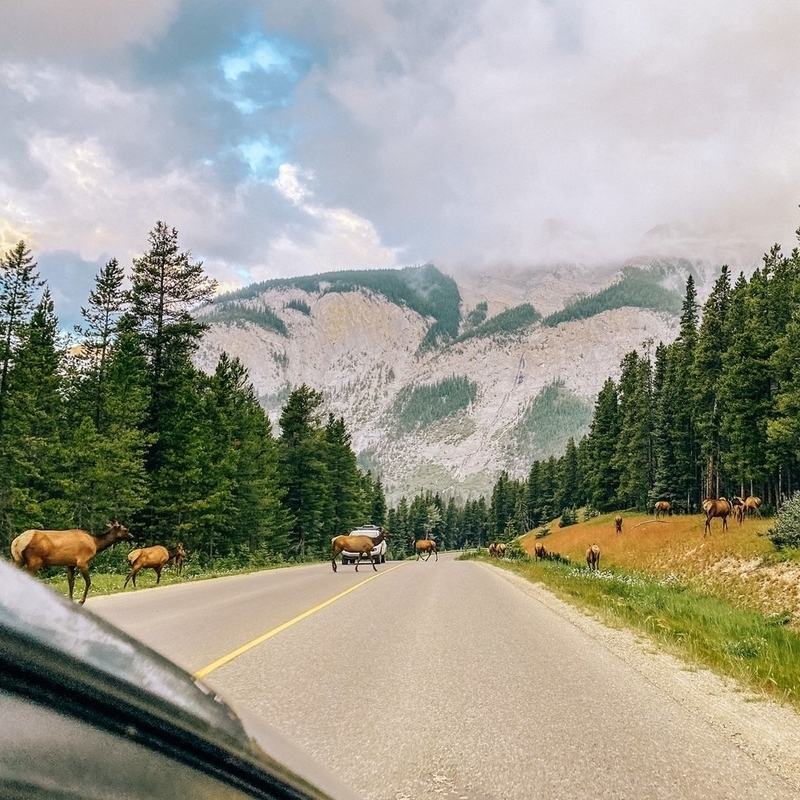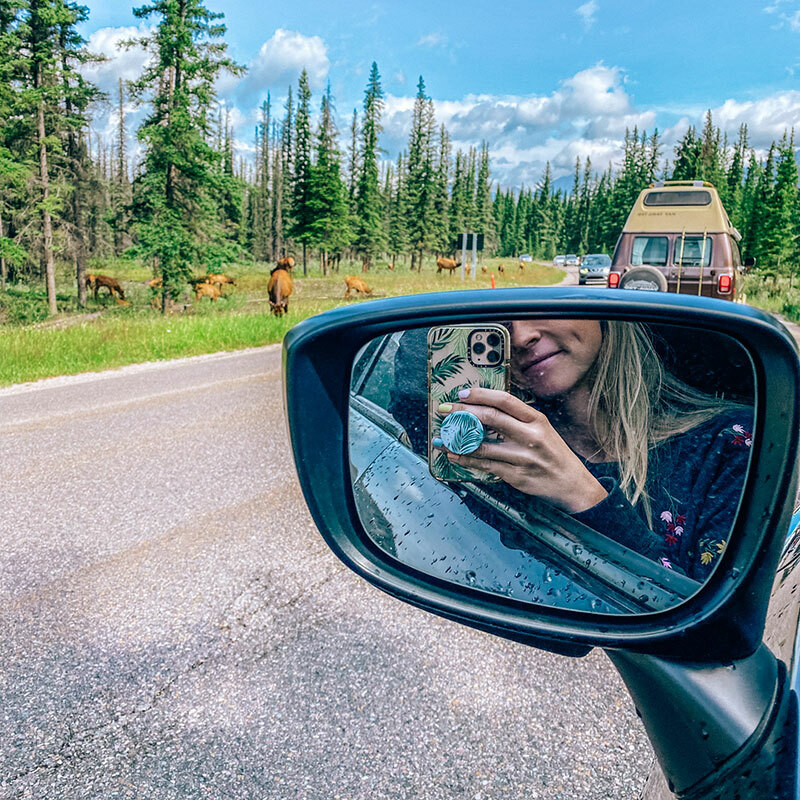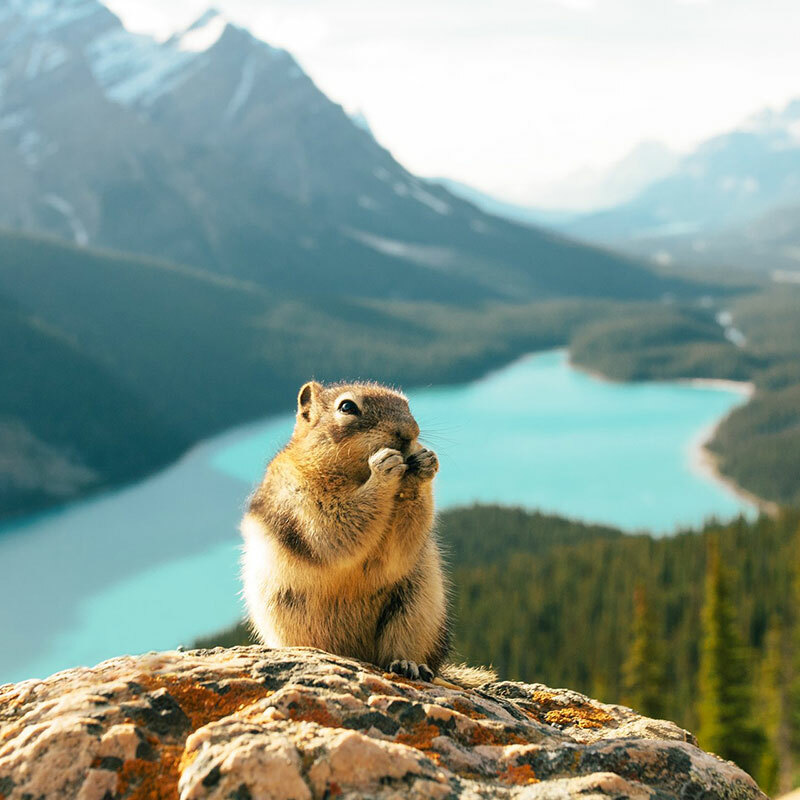 © Destination Canada / Johan Lolos
Learn the common wildlife spots
If your research tip didn't pan out, here are a few tips based on experience: Maligne Lake is known for its moose visitors, the road to Two Jack Lake is frequented by elk herds, and the entire Icefields Parkway is home to abundant wildlife species.
Keep your eyes alert
Keep your peripheral vision open, scanning your eyes from both sides of the road (or get your co-pilot on the job), and keep your eye out for any movement in the bushes or flashes of fur.
Drive slowly
Wildlife is abundant in the Rocky Mountains and animals can dart out into the road at any time, so drive slowly for their safety and your own. Plus, if you do spot them, you won't have to slam on the brakes in order to get a good look (which I am guilty of—do as I say, not as I do).
Track the animals
Look for signs that the animals have passed through the earth. Use the same techniques your tracker will use on a game drive by identifying fresh scat on the path or prints in the mud.
Bring layers
In both the African bush and the Rocky Mountains, temperatures can change drastically from day to night so make sure to pack accordingly so your body temperature doesn't get in the way of an amazing sighting.
These tips should set you up with some great chances of spotting our amazing Canadian wildlife, and the rest is up to the animals to reveal themselves. May the wildlife horseshoes be in your favour!
You may also like to read