How to make more meaningful connections in hostels
Opening your world up to travel is truly one of the most rewarding experiences you can give yourself. Stripping away standard to-do lists, schedules and routine for a little while creates the opportunity for sights we may never have dreamed of seeing, spontaneous afternoons we never could have even thought to plan, or maybe a whole new passion we'd never have thought to tap into.
Most travellers feel the same. Most of us just have a need to wander, or a curiosity to open doors purely for the thrill of seeking what's on the other side. Well-seasoned travellers often have at least one experience abroad that changed them, or a crazy story of an adventure gone wrong with a happy ending. Backpackers have experiences that have influenced who they are today, where they go, and how. When you look around a hostel lounge, kitchen or dorm, there's a good chance that you already have so much in common with the person sitting next to you…
Sometimes it's just a matter of knowing how to foster those connections beyond the boring stock questions that we all tend to ask to break the ice. You know the ones: "Where are you from?" "Where are you going?" "Where have you been?".

Need some help? Here's where you can start:
Plan a hike or outdoor adventure
Some of the best conversations happen outdoors in nature. Planning something like a hike in the mountains or a winter picnic on the shores of a remote lake allows for deeper connection because you're away from distractions, city stressors, and are less likely to be mindlessly scrolling on your phone. Plus, something like hiking to a mountain summit brings people together as you work towards a common goal of overcoming craggy landscape for a grand finale finish at the peak. There's few things that bond people better than completing something difficult together and basking in incredible views as a celebration. If staying at a hostel in Canada, consider other outdoor activities like trying your hand at downhill or cross-country skiing, skating at the local pond or rink or packing thermoses of piping-hot soup and venturing along wooded trails.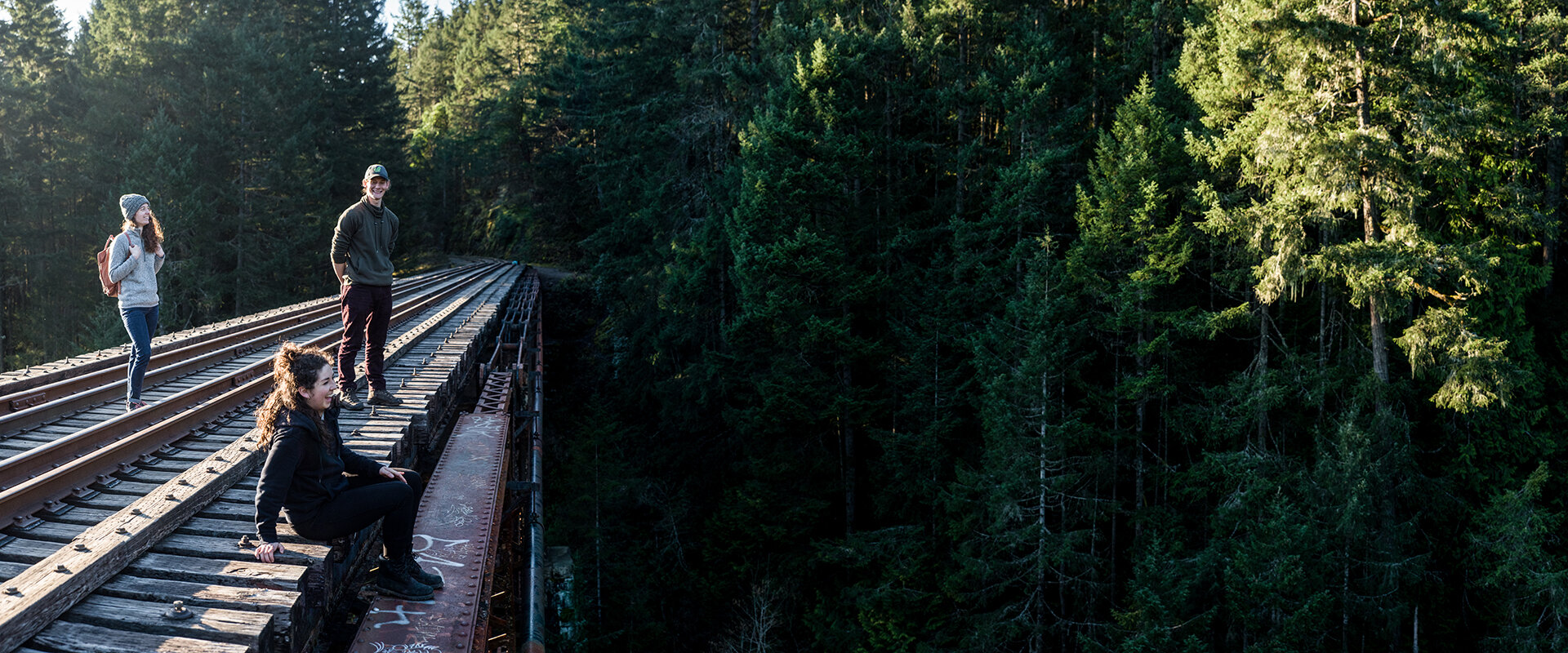 Language exchange
Hostel spaces are such a perfect mix of different cultures from around the world. You might have a pair of French hikers fit and ready to explore The Canadian Rockies. Beside them, perhaps there's a group from Argentina newly arrived on a working holiday after leapfrogging their way through Latin America. Maybe last night's crew who rolled into the dorms after midnight are from Switzerland, have endless stories about European travels and are handy in three languages. Language—and taking the time to learn each others'—is a great way to expand your worldview, connect, and appreciate the cultures of fellow hostel goers. And language exchanges in a hostel might be one of the best uses of a rainy evening. Of course, you're not becoming fluent in Spanish over a weekend. That's not the point. Learning a few phrases, words that don't translate into your native language, or hearing about the roots of regional accents gives a new and valuable perspective.
Get cooking
Your Nonna had the right idea where she cooked up enough bolognese for family gatherings to feed a small town (with baskets full of fresh bread and enough salad to wash it all down, no less). Food—cooked lovingly and served warm—has the power to bring people together. When travelling, especially if travelling solo, you have the power to turn a quiet hostel kitchen into a banquet. Or at least, an inviting and aroma-filled space where tired backpackers can recharge with a home-cooked meal or talkative hostellers can transform a room with some solid jokes. We're not talking anything complicated here: some extra bread from the local bakery, a slightly bigger brick of cheese or additional tomatoes for the sauce could go a long way.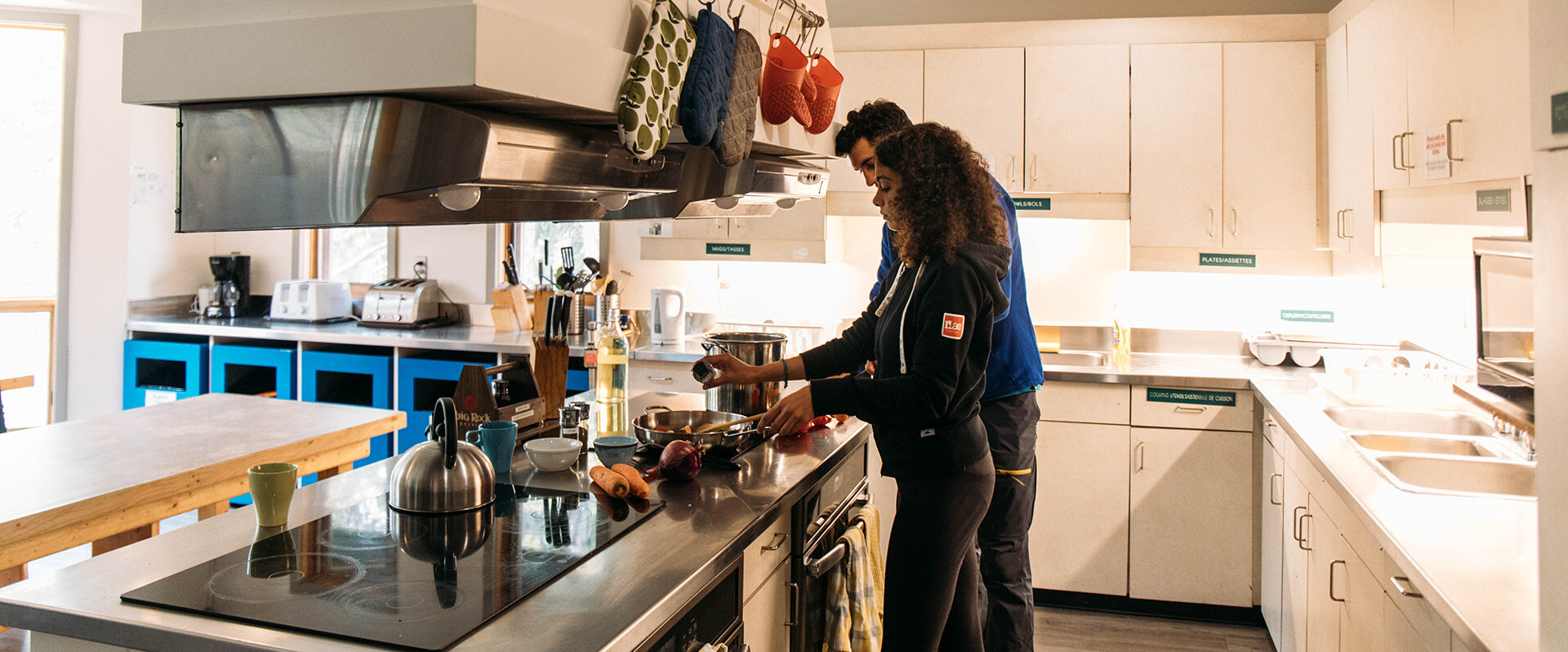 Ask more engaging questions
It doesn't take much more than a couple weekend hostel stays or a week or two on the road to feel bored by the standard, "Where are you from?", "Where are you travelling from today?" and "Where are you headed next?" questions. We all do what we can to initiate conversation and break the ice and hey, that's a really obvious palace to start. That said, if you're looking to form better connections or have more interesting conversations in that bustling hostel kitchen or the cozy nook in the common space, ask more engaging questions.
"If I were to visit your town, what's something I should definitely see?" "What's the local cuisine where you're from?" "What's the biggest difference between your culture and the local culture here?" "If you were to relive one travel adventure from your past, which would it be?" "What country or region would you love to visit?" "Why are you travelling in the first place? What prompted you to go?" Any of these should elicit an engaging conversation about incredible past experiences, quirky cultural observations, or an inspirational life change.
Buy a bottle of the local liquor with the intention to share
Whether it's a bottle of Canadian whiskey, Australian shiraz, U.S. bourbon, or Japanese sake, it's almost a 100% guarantee that the place that you're visiting has a locally-made (and cherished) drink. Why not tour a winery, brewery or distillery and buy a bottle not only to savor an element of the local culture, but to split amongst friends at the hostel later on. Maybe your wine will pair nicely with whatever today's new arrivals are creating in the kitchen. Or maybe there's an ex-bartender on a solo adventure who knows how to shake up an excellent maple-whiskey cocktail for chilly winter evenings. In any case, sometimes cheersing a glass (and staying together for a second round) is enough to get shy backpackers chatting all evening.
The connections you make under the roof of a hostel could be lifelong… or they could just make your travels a more valuable experience. Who knows? Maybe someone you have a one-off drink with will inspire some sort of adventurous travel in your future. You won't know if you don't initiate a conversation.
You may also like to read