How our newest hostel became HI Squamish Adventure Inn
Squamish is nestled ever so perfectly between Whistler and Vancouver in beautiful British Columbia. It's a small town (about 20,000 souls call it their home), and a lot of the time can be missed on the epic drive to world-famous Whistler.  For those who aren't familiar with the destination, you might not yet know that Squamish is, in fact, an adventurer's paradise.  
Yep, an adventurer's paradise.  The town very appropriately bills itself as 'the outdoor recreation capital of Canada', and for good reason. There are even signs on the highway making sure everyone knows it.  You'll more than often see someone lugging a kiteboard under their arm or climbing gear on their back rather than a laptop or briefcase in hand.
Over the past few years, Squamish's reputation as an adventure mecca has grown rapidly, but until recently, there wasn't a hostel in Squamish.  Why wouldn't there be a hostel in the outdoor recreation capital of Canada?  Canadians love outdoor recreation!  And people come from all over the world to get a slice of it too.  Well, apparently quite a few people were silently wondering about this.  But Dave Williams got in first.
"I'm the fearless Squastel leader."
Introducing HI Squamish Adventure Inn: HI Canada's newest affiliate hostel, which opened its doors to guests in March 2016.
What better way to introduce a new hostel than by interviewing the man of the hour himself, who pretty much built the hostel with his bare hands.
First of all Dave, what's your story? What's your role at the hostel? 
Hi!  So I'm Dave Williams, I'm originally from North Vancouver, and I'm one of the three owners of HI Squamish Adventure Inn. I'm more of the on-site manager and have the most operational role running the hostel. I share the load with Chris and Mary, who live in Vancouver. They both do more of the accounting, website upkeep and business side of things. I'm the fearless Squastel leader.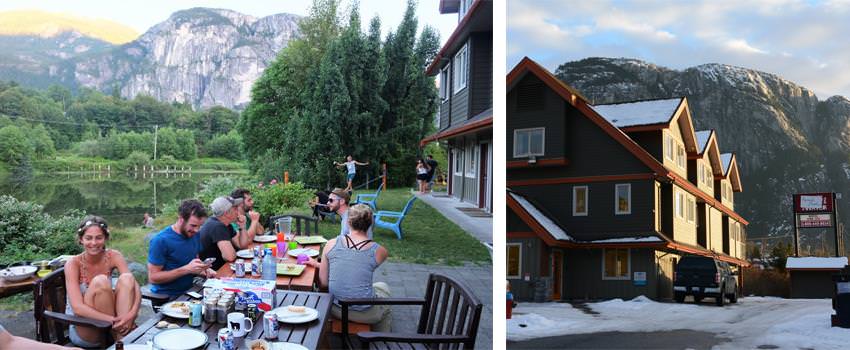 Where have you travelled?  What's your favourite style of travel?
I've been all around North America including Mexico, as well as South America, New Zealand and Europe. I've pretty much been everywhere except I haven't spent much time in central Asia or Russia yet. I absolutely love bicylcle touring.  I've cycled around a lot of the places I've been to. It keeps me fit and happy, and I love being able to stop wherever I want because I'm really into photography.  When I was biking around NZ I would see tour buses leave the city at the same time of the day as me, and I would run into them at popular spots along the road, but I would always end up at the next night's end point before them. I love keeping to my own schedule.
What do you like the most about hostelling and hostels?
Definitely meeting people and finding new experiences. It's just so easy in a hostel. I think that a well-rounded hostel really facilitates this. There has to be a good common area to cook and eat together, and funky outdoor spaces for people to socialise in. Great hostels also run events that encourage guests to do things together. At HI Squamish Adventure Inn we do regular group activities like potluck dinners, bouldering, hikes and games.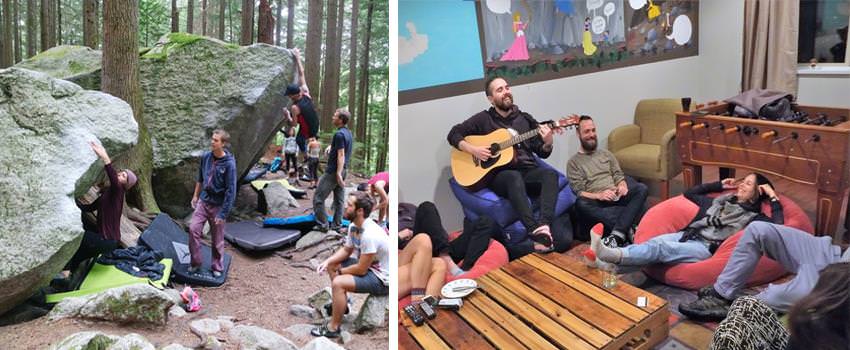 Why did you choose Squamish for a hostel?
Well, it's pretty obvious. You can do every outdoor adventure activity you could dream of, except surfing. I spent most of my childhood in the mountains, doing trips from Vancouver to Whistler to see family and would drive past Squamish all the time. It wasn't until much later I decided to move there and focus on my outdoor lifestyle. I'm really into mountain biking, climbing and kiteboarding, they're my favorites.
So when I moved to Squamish I wanted to start a business. My first idea was a funky new cafe or climbing gym, but someone got in on both of those first. So I was like, my first two ideas are taken, what will I do? Then I realized the hostel was the next big thing. Squamish didn't have any budget accommodation and it's been booming.   
"My first idea was a funky new cafe or climbing gym."
The place is packed every summer but there was no social place for people to go and meet each other. I was over the idea of a party hostel and super into the emerging market of adventurous hostels in meccas like Squamish is. It was just shocking to me that no one had built a hostel here.  
When I finally got the mortgage approved, I found out within about 24 hrs, no less than three people had secretly been working on starting a hostel in Squamish too.  I just happened to get there first without anyone else knowing each other's plans.  So the idea was definitely there in the town.

What's the history of the hostel building?
A guy about thirteen years ago actually built the site as a hostel. He even built it to HI standards and wanted it to be affiliated like it is now. But the timing wasn't right and things went south for him. Squamish was a different town back then. So after a year or two it closed down. It was purchased to use as a camp for the logging or dam industry and called 'Inn on the Water'. It always said 'No Vacancy' because it was always leased out to these worker groups. I finally purchased it in June last year, and we opened in March after many months of renovations. It was great being able to renovate it myself.  When I was finished, you know, I could put my hands on my hips and say, 'yeah we did it'.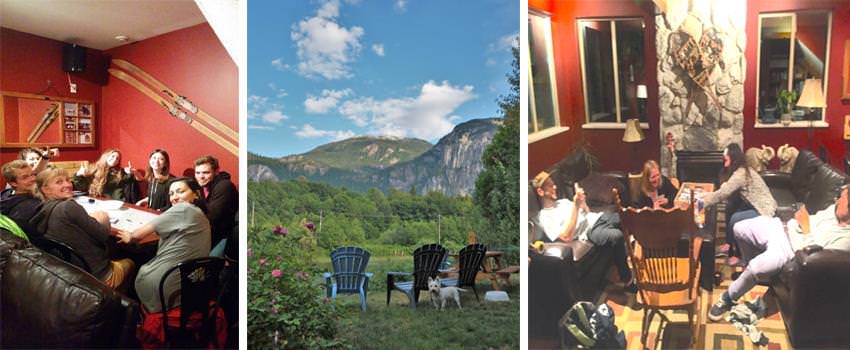 What kind of atmosphere does HI Squamish Adventure Inn  have? 
The number one thing we either lucked out on or just made happen really well is that the vibe and hostel guests mix really well. We built it for a certain type of person and those people came. Everyone is here for adventure – to go on hikes, kayak, climb, everything. They go out in the day, come back, make dinner and socialize and then get up really early the next morning and repeat. It isn't a typical 'party hostel'. The hostel is really laid back and has a comfortable lodge feeling, especially in the common areas where everyone gets together.
Do you have any memorable moments for you at the hostel?
The launch party was pretty awesome. I hosted it for everyone in the community who had helped out with anything and everything in getting the hostel up and running. 60 or 70 people showed up. My buddy is a DJ, we turned the tables into beer pong, had giant Jenga, people playing guitars, and then everyone stayed the night at the hostel. Other memorable moments are just from spending time with the guests I see in and out. They're the kind of people that I want to be friends with. As a hostel owner, it's important to make sure you create a space that you yourself want to be in because it will attract people you want to be around. I find that people are at their best when staying in a hostel. They're at a moment in their lives when they're traveling, exploring and experiencing new, exciting things.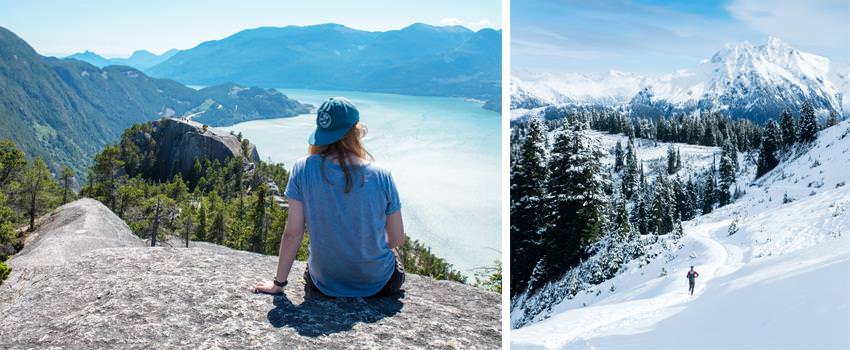 Anything you've learned about yourself while owning and managing the hostel?
Definitely, the biggest mistake I made was that the project was too big to do everything by myself. It took ten months to renovate. I'm good at handling a lot, but the size of this was a little beyond me and it took too long for me to hire enough people to help me. I know it's a classic mistake. I didn't know how much time and energy it would take to make a hostel perfect. You need a big a team to run a hostel well and give it the vibe you're looking for.
"Definitely, the biggest mistake I made was that the project was too big to do everything by myself.  It took ten months to renovate."
What's something you can do in Squamish that you wouldn't expect?
That's funny you say that. I've found that so many people come to Squamish for one specific reason. They come to climb, mountain bike, backcountry ski, kiteboard, or something, and they get here and are continuously blown away that they can do every sport they could want, and at a world class level. People that stay for a day or two, often stay a lot longer. Lots never leave and stay for whole summers.
Top local secrets to see or do in Squamish?
We give that to our guests when they arrive!
HI Squamish, Adventure Inn in pictures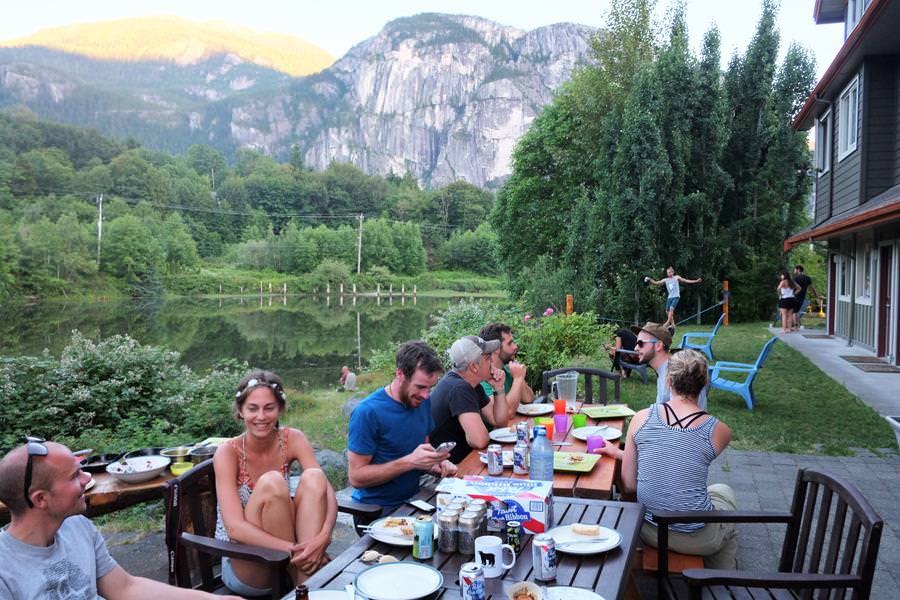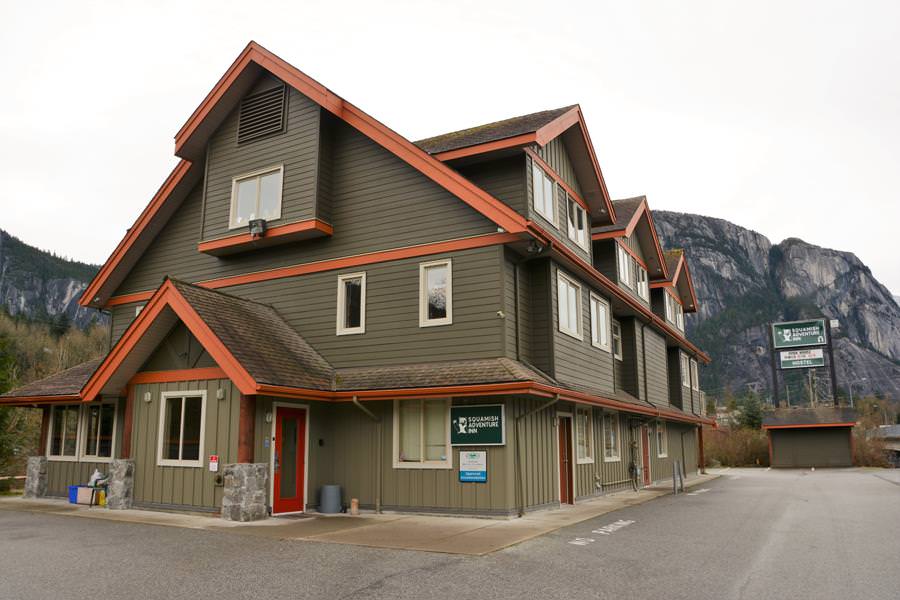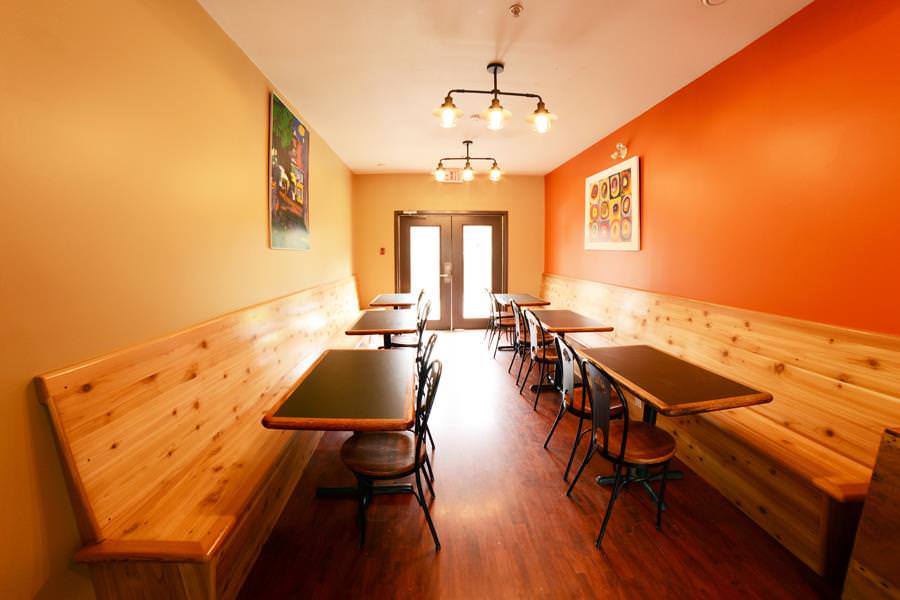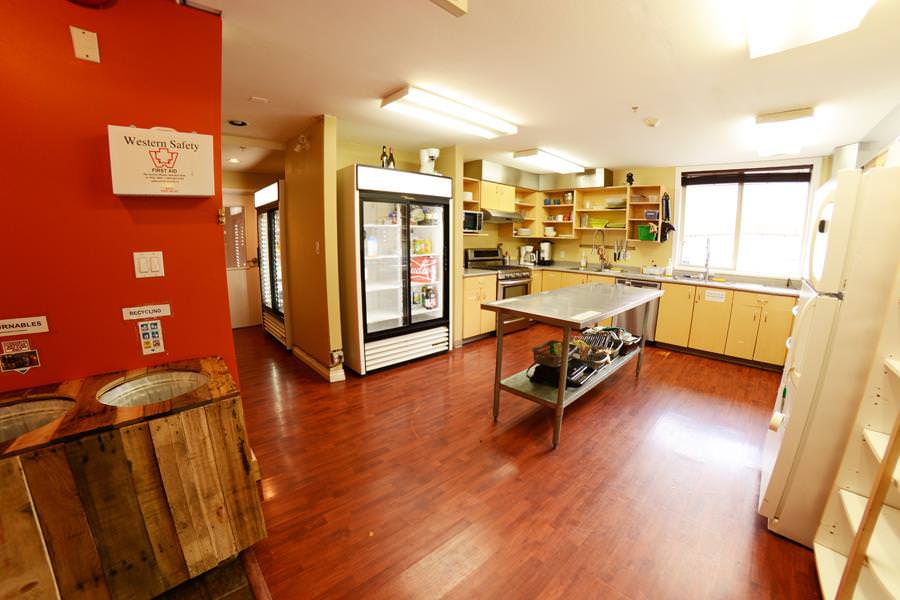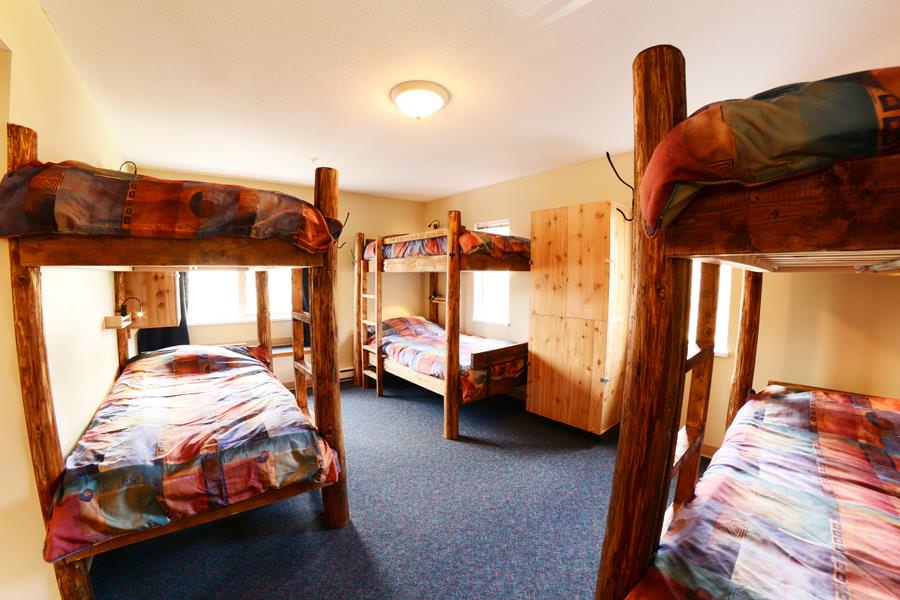 You may also like to read