Calgary may be synonymous with big oil and big spenders, but it's also a place full of sweet deals. You can most definitely have a great time without breaking the bank. Plus, many YYC experiences offer discounts to students, so make sure to bring along your student ID if you have one, and don't hesitate to ask if you don't see an offer posted. Here's a rundown of 22 free and cheap thrills to enjoy in one of the most livable cities in the world.  
Walk the YYC
One of the best ways to get acquainted with a city is to walk it. And what better way to do that than with a knowledgeable guide to show you the way. Walk the YYC offers free tours with local guides of Calgary's historic Stephen Avenue on weekends and a daily downtown tour using the Plus 15 system, the world's largest pedestrian walkway of its kind.
Devonian Gardens
The last place you might expect to find a massive indoor garden is at a mall. And yet, that's precisely where you'll find this urban oasis. Located on the top floor of the downtown CORE shopping centre, the Devonian Gardens offer one hectare of botanical gardens, including more than 500 trees, 50 varieties of plants and a 900 square-foot living wall. Take a wander through—you might even catch a musical performance or chat with an environmental educator—all for free!
Olympic Plaza Ice Skating
One of Calgary's favourite gathering places, Olympic Plaza was built for the 1988 Winter Olympic medal presentations. During winter months, the plaza transforms into a free public skating rink. As long as it's cold enough for the ice to stay frozen, you can skate as long and as often as you like. Cheap skate rentals are available next to the rink.
Ride the CTrain
Just a two-minute walk from HI Calgary, the CTrain is Calgary's LRT and it's free along 7 Avenue between City Hall and West/Kerby Stations.
Public Art and Murals
Public art pieces and large painted murals grace much of downtown Calgary, making perfect backdrops for your Instagrammable moments. The City of Calgary's Public Art Map can help you plan a route to see beautiful works of art, including a 12-metre wire sculpture of a girl's head and eight powder-coated steel cut-outs of horses by famed Canadian sculptor Joe Fafard.
St. Patrick's Island
Just a short walk from HI Calgary, St. Patrick's Island is a natural park with access via the George C. King Bridge from the East Village's RiverWalk. The scenic park is great for walking, biking, and exploring any time of year. In summer, you can wade in the channel as well as see live theatrical and musical performances—all free to the public.
Float Down the Bow
A favourite pastime in Calgary is floating down the Bow River. It's a fun and relaxing way to enjoy a hot afternoon. A great option for safely hitting the water is seeing a river expert at the Paddle Station where they can hook you up with a raft, paddles, lifejackets (these are mandatory) as well riverside assistance to get you on your way. HI members save 15% on rentals, making for a fun budget-friendly day on the water.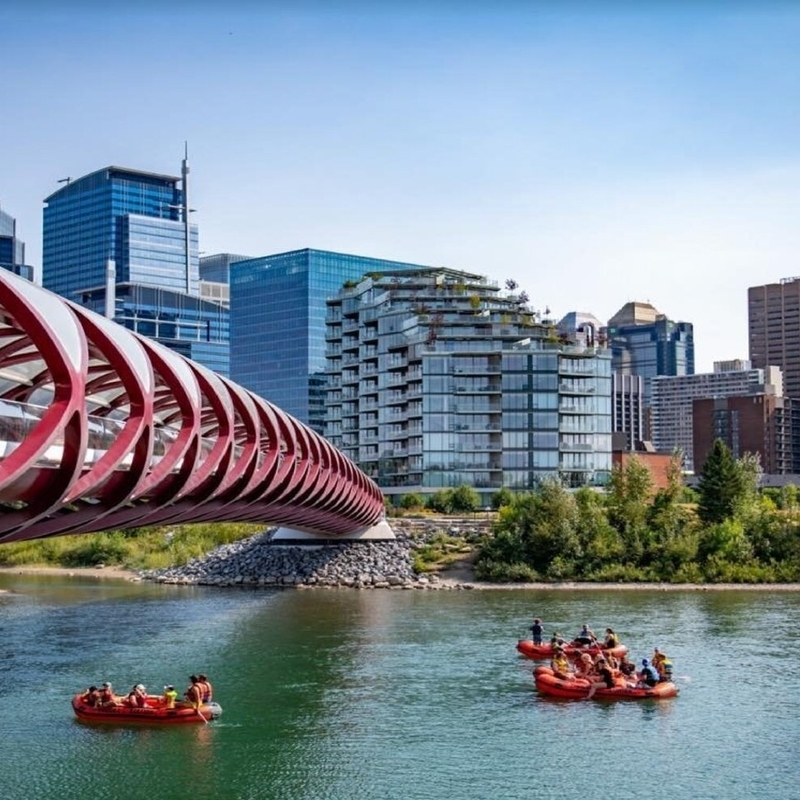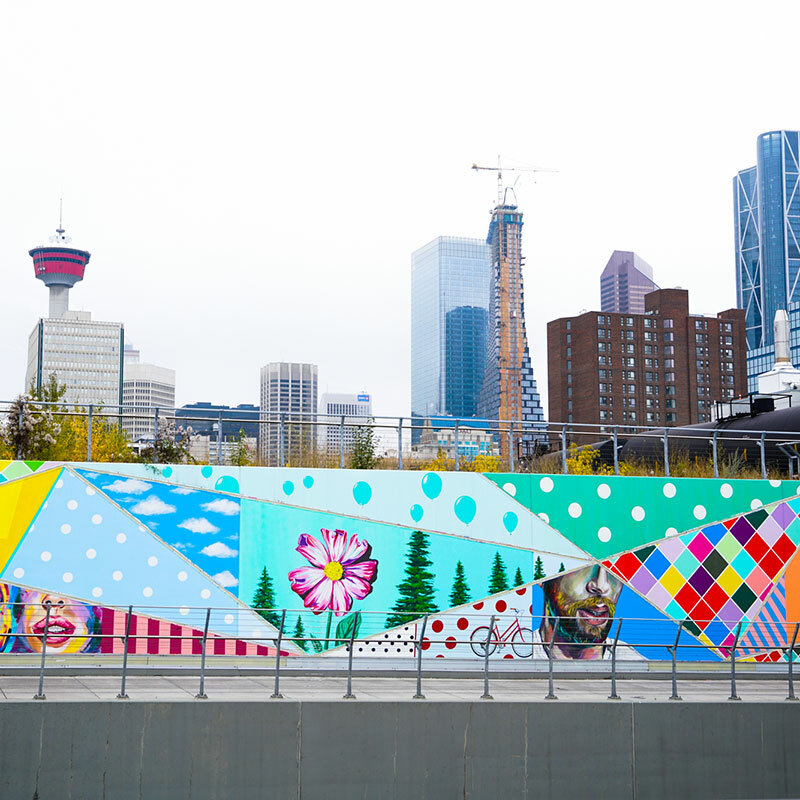 © Tourism Calgary / Jessica Gray
© Tourism Calgary / Philippe Clairo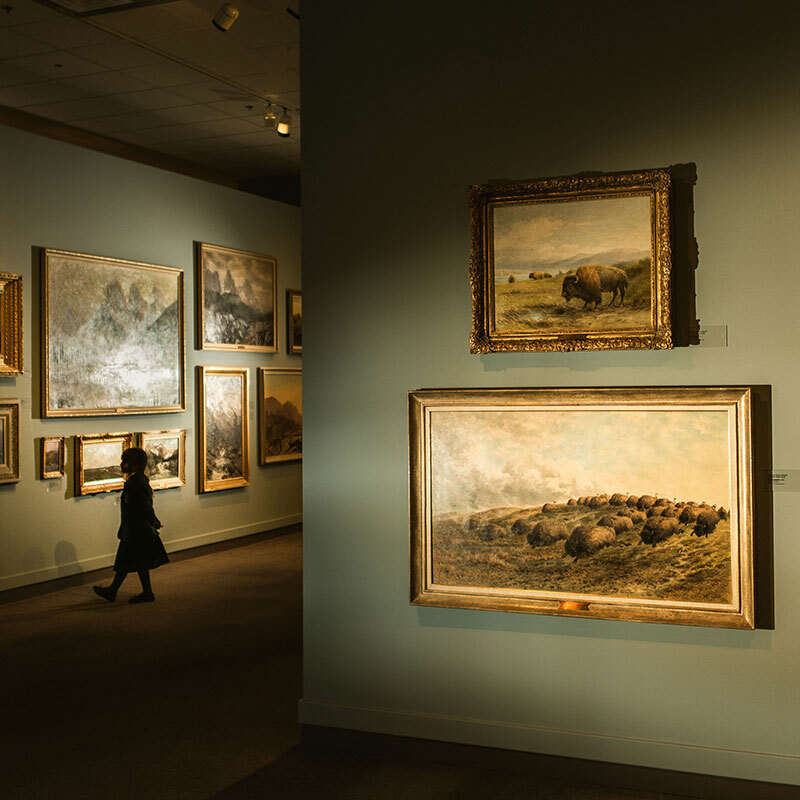 Glenbow Museum | © Tourism Calgary / Kelly Hofer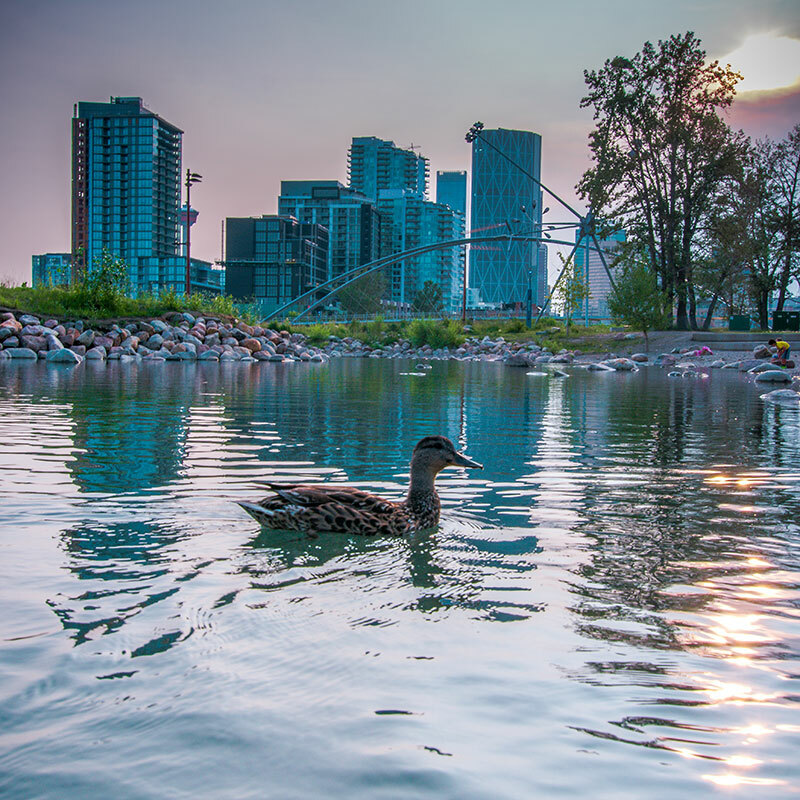 St. Patrick's Island | © Tourism Calgary / Andrew Bain
Yoga in the Park
Feel like getting your zen on? From May to October, Outdoor Yoga Calgary runs "pay what you want" outdoor yoga classes, open to the public on Sundays at 1 pm in Stanley Park.
Esker Foundation
If you want to see some relevant and engaging contemporary art, head over to the Esker Foundation. The gallery offers year-round free public programming with many exhibits to explore.
Calgary Police Museum
The Calgary Police Museum offers free entry to more than 50 immersive exhibits, incredible stories of history, and true crime displays. While it is family-friendly, the museum also has adult-only experiences, exploring true crime and learning behind-the-scenes info from real experts.
Central Library
Calgary's downtown public central library is a sight to behold. Not only is it an architectural wonder, it also hosts a number of free programs and events. Find a comfy seat and flip through some magazines, or settle in amid the striking artwork and read a classic or new release. You can also take a free hour-long tour of the library, available daily.
Glenbow Museum
While the Glenbow Museum is currently closed for a major renovation, it has set up a pop-up exhibition space in the Edison Building in downtown Calgary that is now open. Better yet, admission to these exhibits is free! Admission to the Glenbow Museum will continue to be free once it reopens in 2024.
Shakespeare by the Bow
From June to August, take part in an annual Calgary summer tradition—Shakespeare by the Bow. On Tuesday through Sunday nights, let the actors and the natural scenery of beautiful Prince's Island Park take you back to Shakespeare's 17th-century Europe. Tickets are not required, and admission is by donation. All of the actors in the play are recent graduates from post-secondary theatre training programs. Bring a blanket and snacks and enjoy some Shakespeare in the park.
Calgary Stampede and Stampede Breakfasts
If you're in town in July for the greatest outdoor show on earth, make sure you check out the many value days and deals you can get at the Calgary Stampede. Once you're in the gates, there are so many things to see and do without spending a cent, including a concert every night at the Coca-Cola Stage. And, if you want to fill your belly for free, you can hit a Stampede breakfast every day of Stampede. One of the biggest is hosted by Chinook Centre. It features live country music, activities and, of course, tons of free pancakes. For a list of breakfasts happening, visit stampedebreakfast.ca.
Inglewood Bird Sanctuary
Enjoy bird watching? Look no further than the Inglewood Bird Sanctuary, which has been providing migratory birds with a place to rest their wings since 1929. To date, 270 species of birds, 21 species of mammals and 347 species of plants have been recorded at the sanctuary. The trails are open daily from sunrise to sunset with no entrance fee. Get back to nature, right in the middle of the city!
Shaw Millennium Park
Want to brush up on your skateboarding skills? Located in downtown Calgary, Shaw Millennium Park is Canada's largest free outdoor skatepark. Open 24 hours, the park features 75,000 square feet of skateable surface, basketball courts and a stage and amphitheatre.
Reader Rock Garden
A designated provincial historic site, Reader Rock Garden is a tribute to William Roland Reader, the superintendent for Calgary Parks from 1913 to 1942. He transformed a stark hillside into an internationally acclaimed garden, and it continues to bloom every year from mid-March to mid-November. The garden helps educate about the gardening potential of the prairie/foothills region of Alberta. Entry is free so come wind your way through rock pathways, bridges, benches and hundreds of different plants and flowers.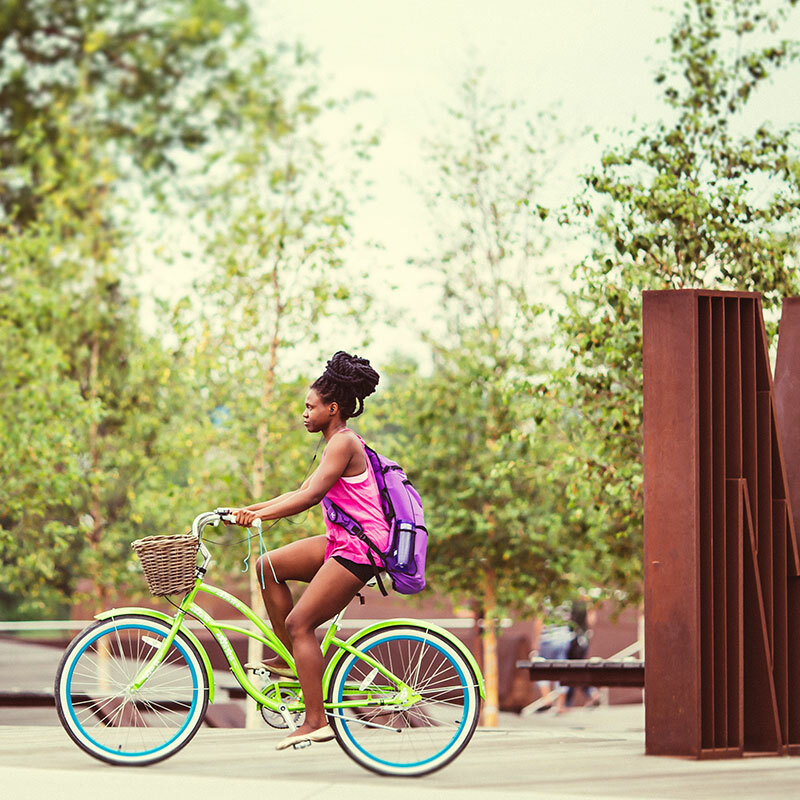 © Tourism Calgary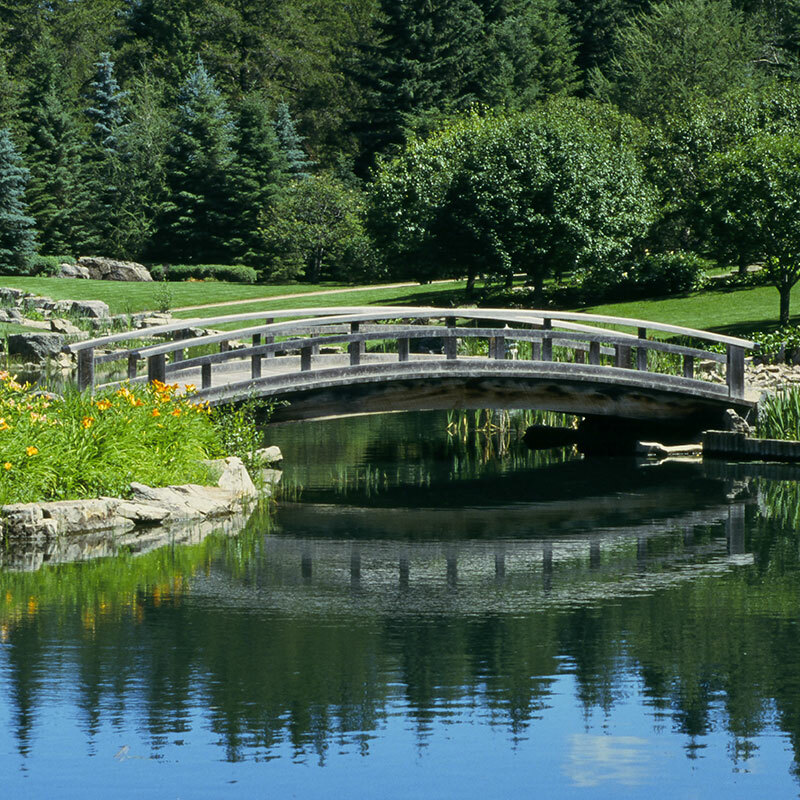 Devonian Bontanic Garden | © Travel Alberta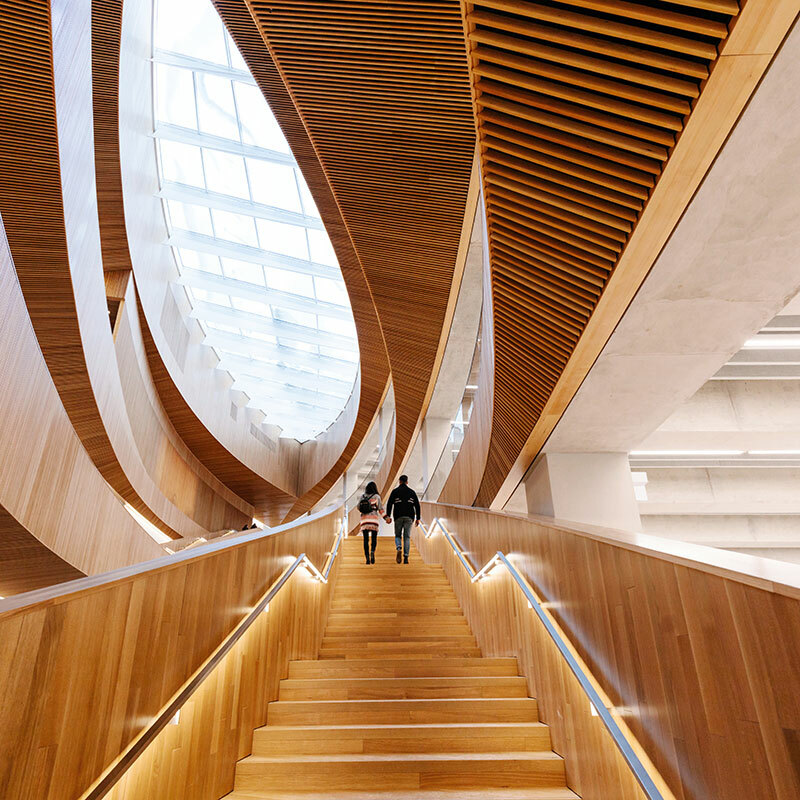 Calgary Central Library | © Travel Alberta / Chris Amat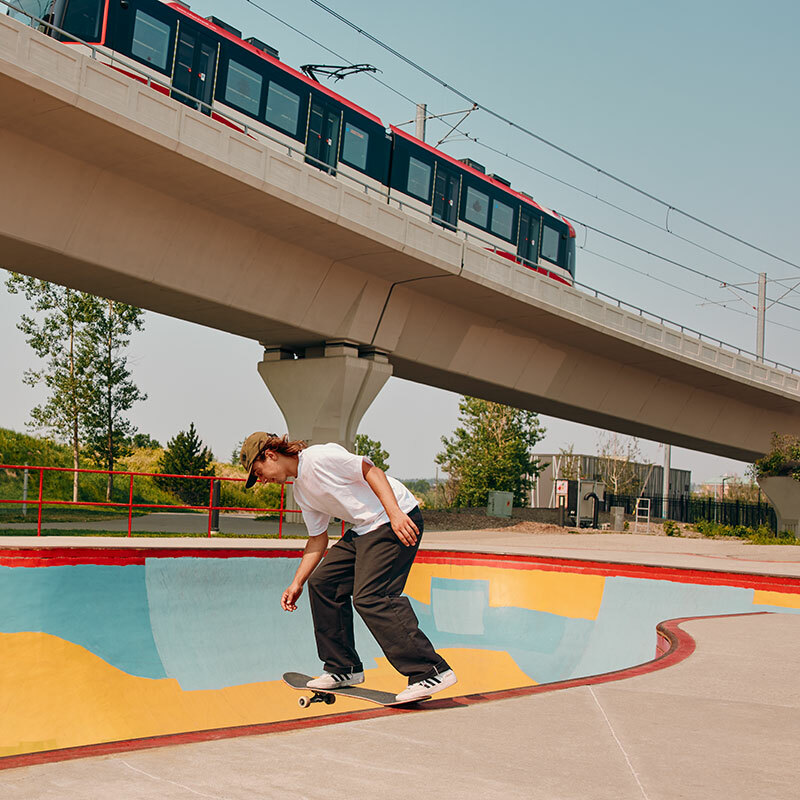 Shaw Millennium Skatepark | © Travel Alberta / Hubert Kang
Spruce Meadows
Spruce Meadows is one of the world's premier venues for horse jumping. Visit the grounds year-round for free. You can even take in any of their indoor tournaments, featuring anywhere from novice riders to Olympic-level athletes. If you visit during an outdoor event, such as the North American or Masters, admission is a mere $5 to see some of the best show jumping in the world.
Hexagon Board Game Café
If you're in the mood for a rousing game of Catan or Scrabble, make your way to the Hex Café. Here you'll find coffee, games (more than 600 to choose from!) and community. For only $2.50 an hour per person, you can play as many games as you like!
Live Music
For the price of a beverage or two, you can enjoy live music all day and night at many venues all over Calgary. A few popular spots to take in an amazing jam session include: The Blues Can, Ironwood Stage & Bar, Ship & Anchor, Mikey's on 12th, and The Palomino.
Explore by Bike
Calgary boasts the most extensive urban pathway system in North America so biking the city is an amazing and easy way to see it. You can rent a bike right at HI Calgary City Centre (and members get $5 off). You can also look for a Lime Bike, download the app, and hop aboard. It's $1.00 to unlock and $0.30 per minute to ride an electrically assisted bike around town. When you're done, you can just lock up anywhere as the bikes are dockless. From spring to fall, you can also take a ride on a Lime e-scooter.
Fort Calgary
This historic Northwest Mounted Police is now a National Historic Site and HI members save 25% on entrance fees. Learn about how these traditional Mohkinsstsis (Blackfoot), Wîchîspa (Nakoda), and Guts'ists'i (Tsuut'ina) lands transitioned to a whiskey-fighting police outpost to a railway station and finally to the heritage and interpretive site that you can explore today.
Where to stay? HI Calgary City Centre!
This renovated and soon to re-open hostel is in downtown Calgary, within walking distance of lots of attractions and the free CTrain. It opens on April 20th!
This article is part of the
Issue 1
Canada on a budget
You may also like to read