Five Unreal and Unexpected Surfing Destinations Around the World
Surfing, you say? Sure we all know surfing, that sport that all the chiseled cool kids do in places like Hawaii and California where they all hang ten. These popular places buzz with protective locals, as well as tourists from all over the world for a reason:  they're home to perfect surf conditions with jaw-dropping scenery. However as travelers, we're always looking for new and exciting experiences, so try taking a chance and steer clear from the cliché spots. You might find something wonderful. 
Raglan, New Zealand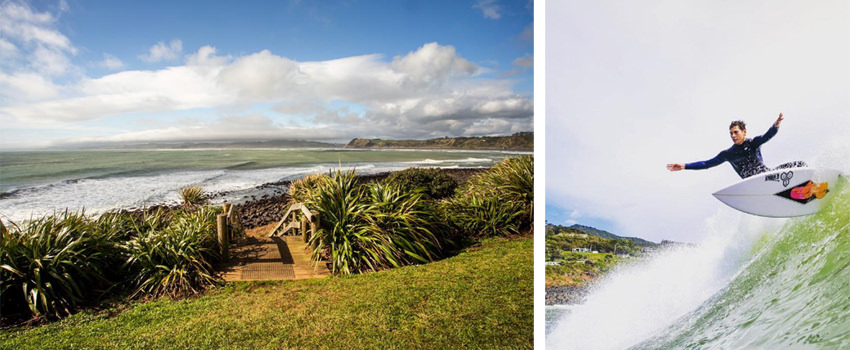 Your first thought of Middle Earth might not be of clean waves crashing onto sandy shores, but Raglan's Manu Bay on the north island of New Zealand is home to a world-class surf break. Just two hours south of the tourist hub Auckland, the bay is famous for long, peeling left hand point breaks. Grab a board and feel the adrenaline pump through your veins when you stand up for the first time.  Maybe a curious seal will pop its head up out of the water and study your technique. After a fantasy-like surf session, watching the sun set across the Tasman Sea definitely won't wake you from your dream.
Where to stay & more to do:  Check out YHA Raglan, an off-the-grid, eco living hostel retreat, full of surfer babes and boys. You'll fit right into this friendly little community. There's also daily yoga, kayaking, Maori weaving, kite boarding and hiking to be enjoyed from the hostel.
Perranporth & Newquay, England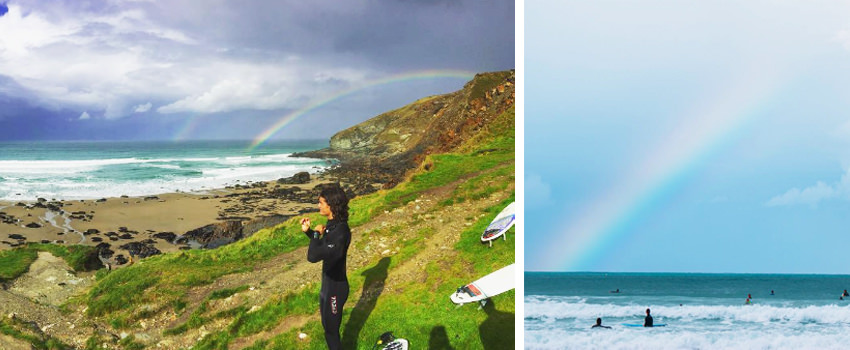 England is home to a lot of things:  English Breakfast tea, rolling countryside, Downton Abbey and the Beatles. You might not expect that 'cold and dreary' England is also home to some incredibly sunny surf beaches. 
Cornwall, the rugged south-western tip of England, is surrounded by clear blue water and made up of surf communities full of friendly, polite and well-tanned Brits. Here lie Perranporth and Newquay, two small laid back surf towns right beside each other. The towns are perched atop stunning cliff-faces with views over the Atlantic Ocean, the perfect spot to munch on some locally sourced fish and chips. Though you may feel as if you're far away from bumping city life, these are certainly not sleepy beach villages. Head down the road to the local watering hole, improve your surfer slang and soak up some British culture (gin & tonic and a game of billiards).
Where to stay & more to do:  YHA Perranporth is the place to stay when you want to cozy up with a hot mug of tea after a refreshing surf session. From here you can also try out a new sport, 'coasteering' - a mix of swimming, climbing, scrambling and jumping off cliffs.  Wouldn't expect that from posh ole' England!
Essaouira, Morocco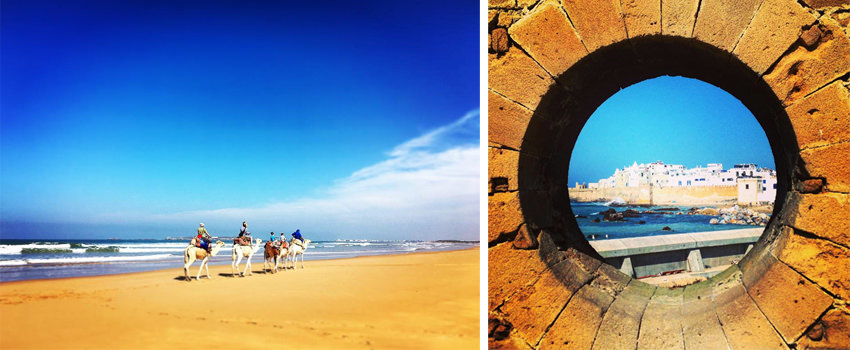 Situated on a peninsular on the wild Moroccan coast, Essaouira is a city of fortified walls, fishing boats and the most vivid beach sunsets you'll ever see. Wind through its narrow alleyways and breathe in the aromas of local spices mixed with ocean breeze and soon you'll pop out right onto the beach. Essaouira is known for being windy, and guess what that means?  Lots of waves to surf your heart out on. Float carelessly in the water and take in the views of the old city jutting above its walls, as seagulls soar overhead and the sounds of drums and singing rise from within the ancient medina (old town quarter). Keep an eye out though, that perfect wave might be right behind you!  Paddle hard and pump your fist high in the air when you stand up and tear through the aqua towards the shore.
Where to stay & more to do:  Book a bed at HI-Essaouria Hostel – a traditional Riad style hostel right in the heart of the cultural melting pot of the medina. You'll meet some new buddies to surf and explore with in no time. Pick up a fez at a market stall and bring it back home to remind you of your stoke filled surf trip in northern Africa. I bet your friends haven't done anything like that.
Iquique, Chile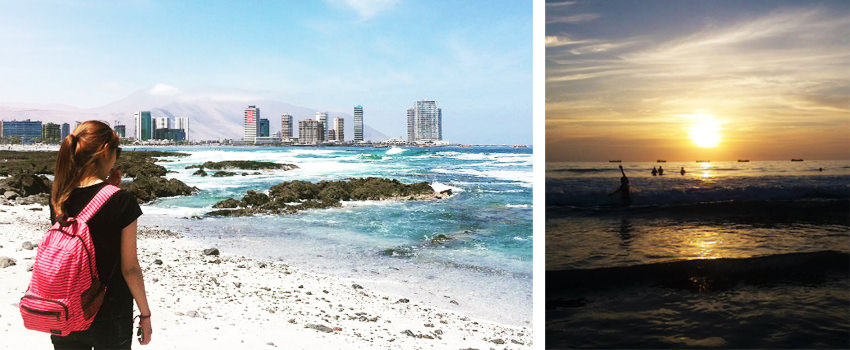 Chile has one of the most diverse landscapes out there - full of glaciers, volcanoes, rainforests, hot springs, dry desert, mountains and you guessed it, beaches. Far up in northern Chile you'll find Iquique, a beach resort town. Weave through the barefoot locals strutting along the crescent shaped coastline, boards in hand, and watch out for the tourists buzzing with frenzy amongst the markets. Some of the world's best surfing can be found in this pocket of the globe, and Chile is largely unknown to the beginner surfer world. Don't waste any time, suit up and paddle out. When swells are big, crowds will line up along the shores to watch surfers rip through the froth and slam down cylindrical barrel walls. Better hone in those skills and get ready to show off to the Chileans.
Where to stay & more to do:  Listen to the waves crash at night right from your room at the HI-Iquique Hostel or watch them from the roof terrace as you sip a glass of Chilean wine. If you're all surfed out, sand boarding, paragliding and just good old beach lazing are all the rage here too.
Lawrencetown, Canada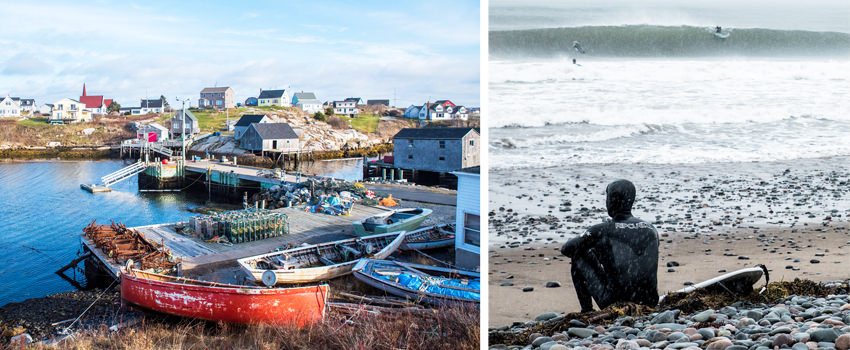 Brrr, it's cold up here in Canada. You'll need a thick wetsuit here, but don't let that stop you. Way out east in Nova Scotia, you'll find the tiny surf community of Lawrencetown, about half an hour outside of the province's capital, Halifax. The surf breaks are situated inside Lawrencetown Beach Provincial Park, and in the winter, the waves get huge. 
Nova Scotia is famous for its charming maritime culture and you'll find many small fishing towns full of all things nautical:  lighthouses, lobster traps and men with beards smoking pipes around every corner.  This little slice of cold-water surfing paradise has exploded in the global surf community in the last few years and gained quite a reputation for itself. Enjoy the rural Nova Scotian countryside backdrop and get involved in one of the most tight knit surf communities out there - they'll welcome you with open arms.
Where to stay & more to do: Meet new friends at the HI-Halifax Heritage House Hostel. Grab some poutine from Willy's (the best poutine in town) and explore the student town. In Halifax, Maritime and Celtic cultures are blended beautifully together, where local pubs burst at the seams with folk music and the freshest seafood you'll find in Canada.
You may also like to read