9 cheap and totally unique things to do on Prince Edward Island
Prince Edward Island is a tiny Canadian province with a huge personality. Whether you're visiting for a simple long weekend getaway or you're popping in for a visit on your epic coast-to-coast Canadian journey, there's tons to add to your itinerary this summer. You may be looking to stuff your face with Canadian cuisine, snooze on the beach and catch those summer rays, or get a sense of the local arts scene.
Wherever your interests lie, there's plenty to do. This is a charming Canadian destination that's as pretty as it is affordable. So zip up your backpack, book your hostel stay, and buckle up for travels that combine history, culture, and natural beauty. Here are some suggestions for what to see and do during your visit to Canada's "gentle island."
Celebrate the City's Arts Scene
One must-see spot is the Confederation Centre Of The Arts. (Ok, so the building isn't exactly trendy but, have faith, what you're looking for is on the inside!) There are historic exhibitions and for the theatregoer in your crew, there's a long list of on-stage performances (including Anne of Green Gables: The Musical, one of the longest-running productions of its kind in the country).
If you're looking for a chill night out to relax after your travels, check out City Cinema. Atlantic Canada's only full-time art house cinema is run by the non-profit Charlottetown Film Society. If you go early, this could be a good spot to chat with locals and find out about what's going on during the particular days when you're in town.
Visit the Iconic Green Gables House
This spot is one of the things that makes P.E.I. famous and even if you're not completely into heritage sites, it's still a really pretty area to appreciate the island's scenery. This beloved property features heavily in Lucy Maud Montgomery's classic, Anne of Green Gables. Some are surprised to find out that it's actually a real place too. For the traveller who likes history and context, don't rush through the new interpretive centre, which has all the details of Montgomery's life and the community which inspired her. And, at the risk of offering up a cliche, spend some time outside and be sure to stop and smell the roses—there are gorgeous flower beds all around Green Gables. (And if gift shops aren't your thing, skip it and just do this instead. It's worth it!)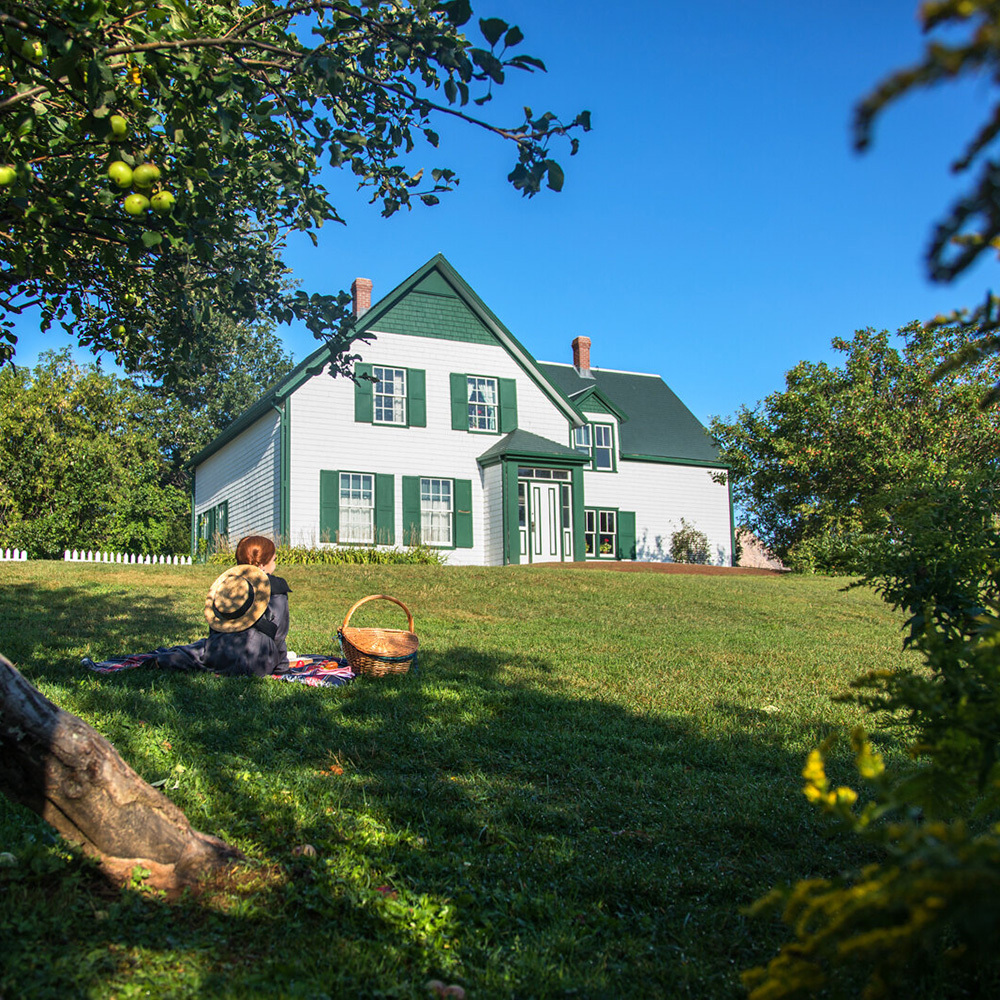 ©Tourism PEI / Stephen Harris
Chill on the Beach
P.E.I. is synonymous with red sand and gorgeous beaches. Basin Head Provincial Park has been nicknamed the "singing sands beach" because the high silica content in the sand makes the sand squeak underfoot as you saunter up and down the shoreline. Beach bumming is the way to go when spending time on either of Canada's coasts during the hot months. Make the most of it by packing a picnic of cheap eats and plenty of in-season island fruits. (Strawberries anyone?) For dessert, head to the nearby town of Souris and visit Cherry On Top Creamery for some delectable ice cream. If you're on the island to make the most of your beach days, Thunder Cove Beach is another popular beach amongst locals. While the sand there is silent, you'll see P.E.I.'s beautiful red cliffs in all their glory. Alas, there's no gourmet ice cream nearby but if you're driving to and from Charlottetown, you can get your fix at COWS ice cream, a Canadian favourite which started on the island.
Feast on Fresh Lobster
Even though most Canadians might dismissively laugh at the notion of a true "national cuisine," there *so is* a Canadian way of eating. At least in P.E.I. Prince Edward Island is a lobster lover's paradise so don't even think of making your exit without stuffing your face with this salty, fresh-from-the-ocean food. Fresh lobster rolls, served on a soft bun with minimal mayonnaise, are available across the island. Water Prince Corner Shop and Lobster Pound in Charlottetown is an excellent place to try one. Their lobster rolls are so good that they've won island-wide competitions.
If you want a more robust meal, the New Glasgow Lobster Suppers offers steamed whole lobster with melted butter, rolls, salads, soup, mussels, and desserts. Yes, bibs are necessary.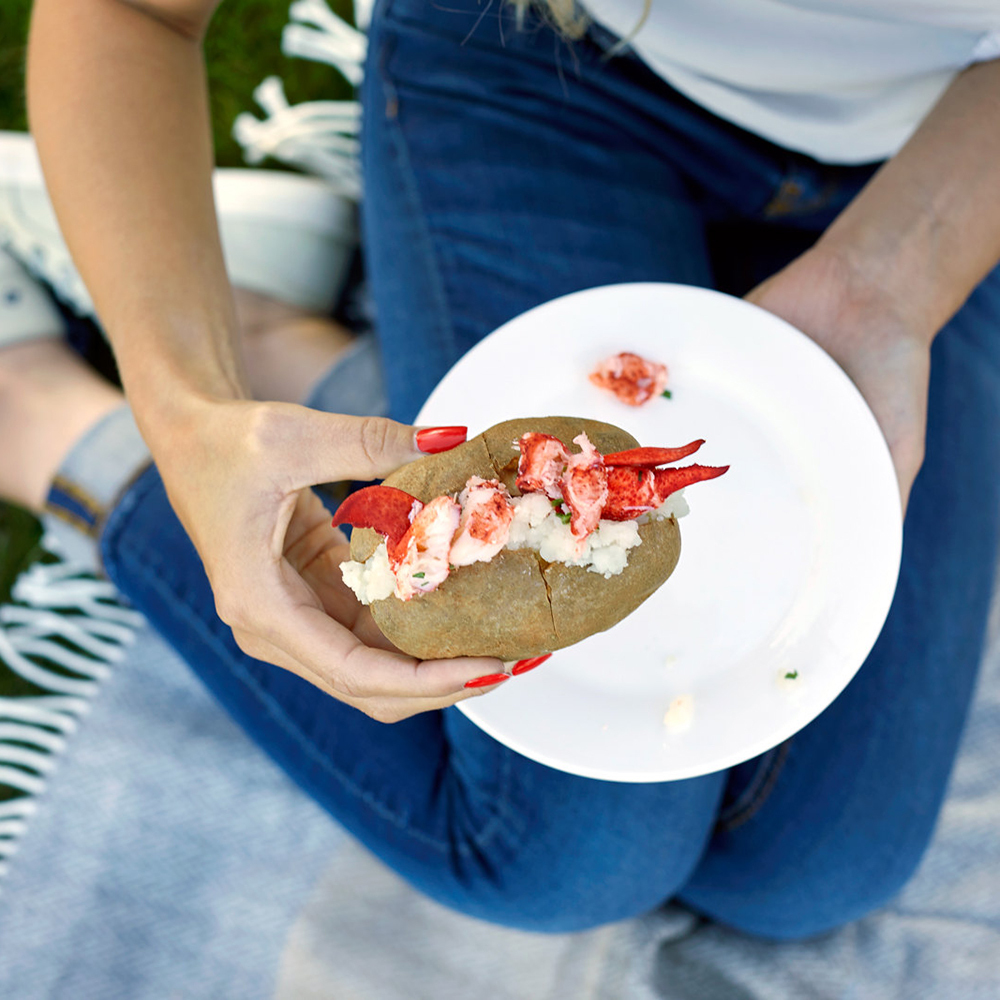 ©Tourism PEI / Stephen Harris
Eat 'n' Greet Some Potatoes
The only thing more delicious than P.E.I.'s lobster is its potatoes. "Fries with the Works" is a popular alternative to classic poutine (speaking of Canadian foods…). A plate of fresh local French fries is topped with ground hamburger, gravy, onions, and peas. Yep, it's messy. But it's also wildly delicious. You'll find it at any roadside chip stand or take-out bar.
The Canadian Potato Museum in O'Leary is a fun stop if you want to learn more about this important crop. And yes, they do have an on-site cafe for sampling! (They also serve seaweed pie for adventurous eaters. Or, you know, the travel buddy who lost last night's bet…)
Explore History in Charlottetown
P.E.I.'s cozy capital city likes to boast that it's the cradle of Canadian Confederation and there are ample attractions for history buffs. The provincial legislature, Province House National Historic Site, is currently undergoing conservation efforts but hopefully will reopen soon. In the meantime, the legislature grounds and gardens are open to visitors.
A few steps away, Receiver Coffee is surrounded by the cute shops of Victoria Row and serves a mean iced latte. This area is awesome for people-watching, getting to know fellow travellers, or partaking in a food/drink crawl.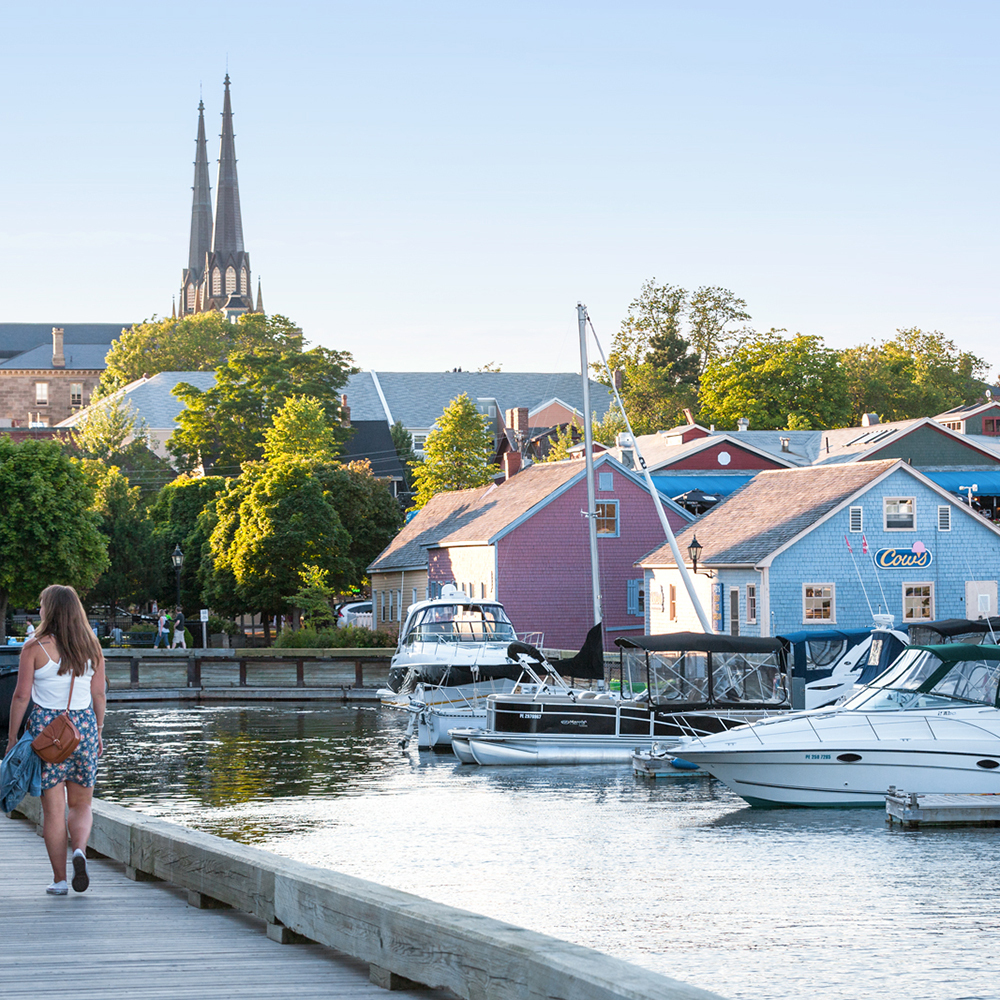 ©Tourism PEI / Emily O'Brien
Enjoy Live Music by the Waterfront
Prince Edward Island's music scene is often overlooked, but it's an awesome spot to unwind and appreciate folk, rock, and country songs performed live by talented local artists. Really, is there even a better way to inject some energy into a crowd of backpackers out for the evening? As a head's up: don't miss out on the good old P.E.I. ceilidh. This is basically a traditional Celtic "kitchen" party where locals and visitors can appreciate good music and a lively party. (Maybe plan to sleep in the morning after…)
P.E.I. also hosts several yearly music festivals, including the Cavendish Beach Music Festival in July and the Under The Spire Musical Festival (folk, jazz, blues, classical, and choral music) in Indian River throughout the summer. Jam sessions are also likely to happen at many farmers' markets, pubs, and community events around the island.
Play a Game of Pinball
Seven's Pinballorama is a blast from the past with machines from as far back as the 1960s to the early 2000s. This is a kooky spot that you and fellow backpackers shouldn't miss out on. Not exactly a pinball pro? (Really though, who is?) No worries! The machines in this one-of-a-kind retro joint range from really easy to advanced. And, it's a great budget option for travellers who are trying to make their bucks stretch. You just pay a fee upon entry and the machines are free beyond that!
Where to stay
HI Charlottetown Backpackers Inn
This cozy hostel will be your home away from home on Prince Edward Island. With its prime location in the heart of Charlottetown, it's the perfect basecamp for exploring all the amazing things the island has to offer.
You may also like to read