8 hot springs in western Canada guaranteed to keep you warm this winter
Brace yourself. Frosty days are just around the corner. In Canada, that often means that folks are seeking comfort (and warmth) with chunky knit sweaters, cups of hot chocolate, and indoor Netflix marathons. Temperatures are starting to drop, sure, but that doesn't mean being stuck inside is our only option. Canada is world-famous for its winter weather but this rugged territory also has the ultimate warm-up for those brave enough to face the cold: Mountain hot springs are the perfect compromise for those seeking outdoor adventure while still staying warm 'n' cozy. This winter, relax and unwind at one of our fave Canadian hot springs.
Banff Upper Hot Springs, AB
Located four kilometres outside of Banff, this hot springs facility is a popular spot for visitors to the area. It's located at the top of Sulphur Mountain—which means that those who go for a soak in its mineral-rich waters will be spoiled with views of Rundle and Cascade Mountains. Shuttles from Banff to the pools run frequently which makes logistics simple for backpackers who want to visit.
Where to stay: HI Banff Alpine Centre
Ainsworth Hot Springs, BC
Just a stone's throw from the edges of Kootenay Lake, the Ainsworth Hot Springs is the spot for rest, relaxation, and healing in the Kootenays. This spot has naturally heated mineral waters and wicked looking caves for you to explore as you thaw your bones from winter's chill. These pools have been in use for hundreds of years and were first used by the Ktunaxa First Nations peoples.
Where to stay: HI Nelson Dancing Bear Inn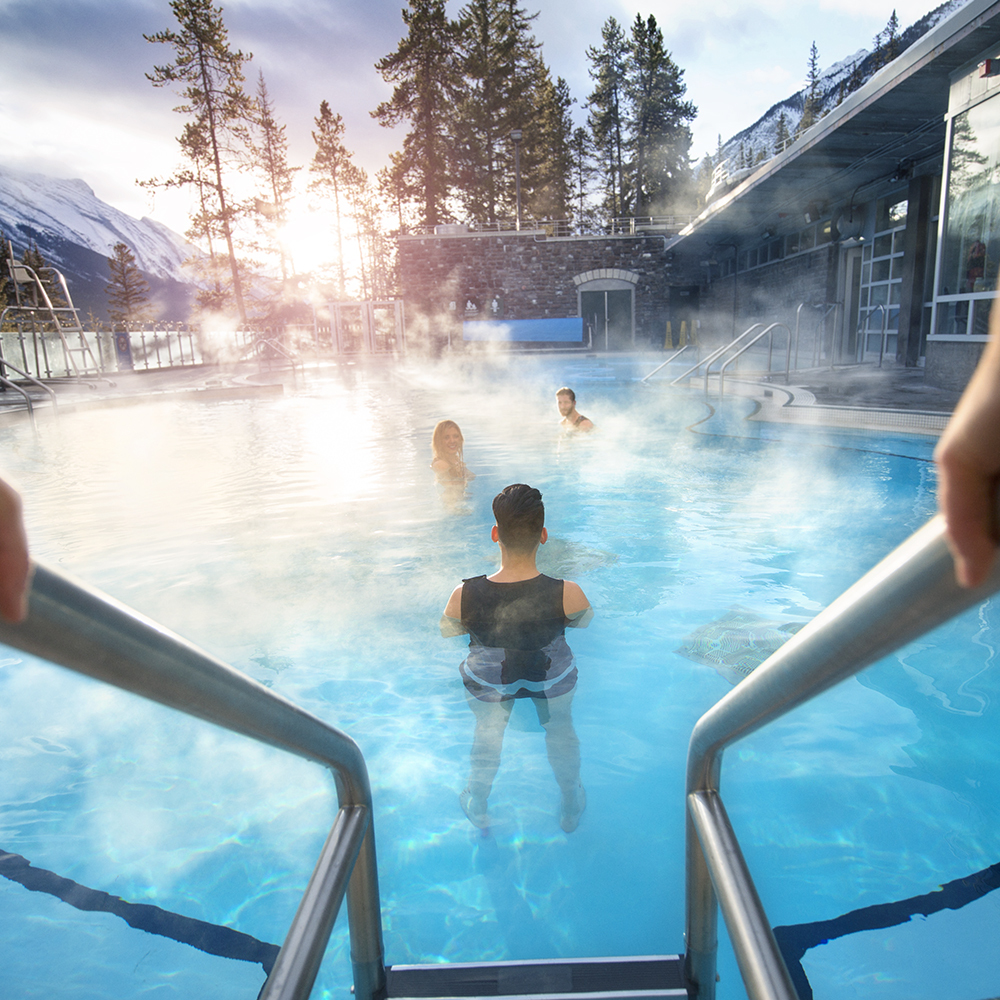 Banff Upper Hot Springs, © Travel Alberta / Roth Ramberg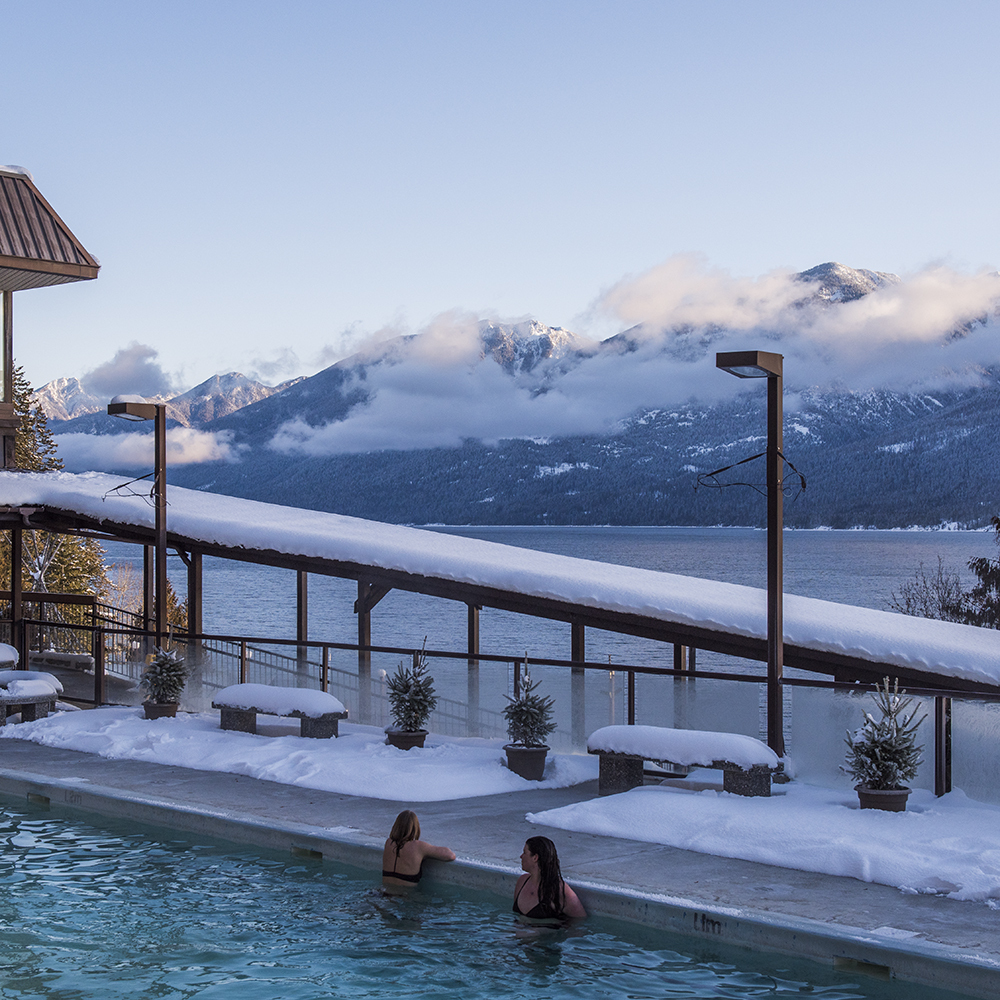 Ainsworth Hot Springs, © Destination BC / Kari Medig
Miette Hot Springs, AB
If already visiting Jasper—one of Canada's most prized destinations—don't skip a soak in Miette Hot Springs. A bath of magnesium, calcium, sodium and other muscle-loosening minerals, Miette is the hottest of the hot springs in the Rockies (the water emerges from the mountains at a piping 54 degrees celsius and is cooled to a more comfortable level). Turn off notifications, forget about the time, and gaze at craggy mountainscapes while you warm your bones. This is your place to rest up before enjoying tomorrow's active outdoor adventures that the region is so famous for.
Where to stay: HI Jasper
Radium Hot Springs, BC
Radium Hot Springs is open year-round so if visiting the area in the colder months, know that lounging outside here is a quintessential Canadian experience. (It's even worth extending the trip for!) The hot pool is so close to the mountainside it's likely you'll get strong scents of pine trees as you let the day's worries melt away. It's a rare experience to be able to float in a pool in the middle of winter while taking in views of the Rockies so make the most of your visit here—it might just be the best travel experience of your year. This trip to the spa will feel even more rewarding for travellers who have spent some time in the nearby wilderness or who are coming off of a trekking adventure.
Where to stay: HI Castle Mountain Wilderness Hostel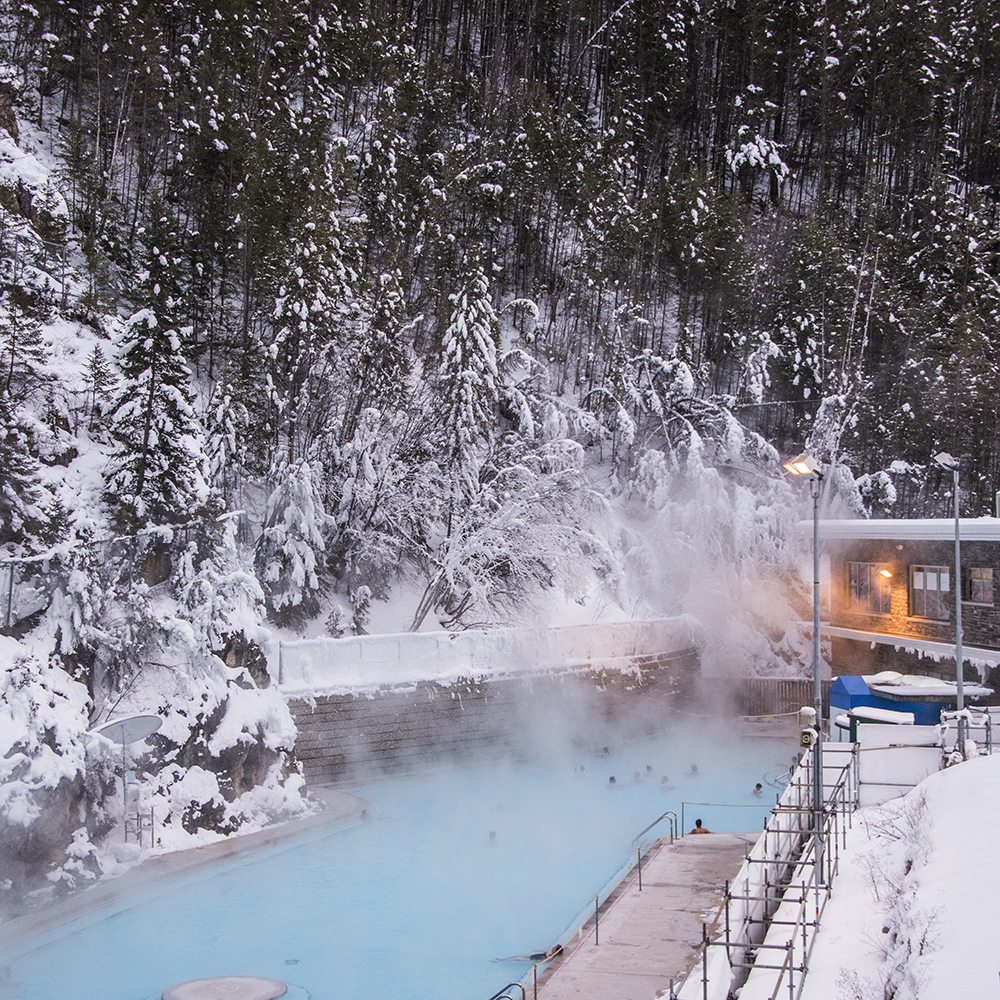 Radium Hot Springs, © Destination BC / Kari Medig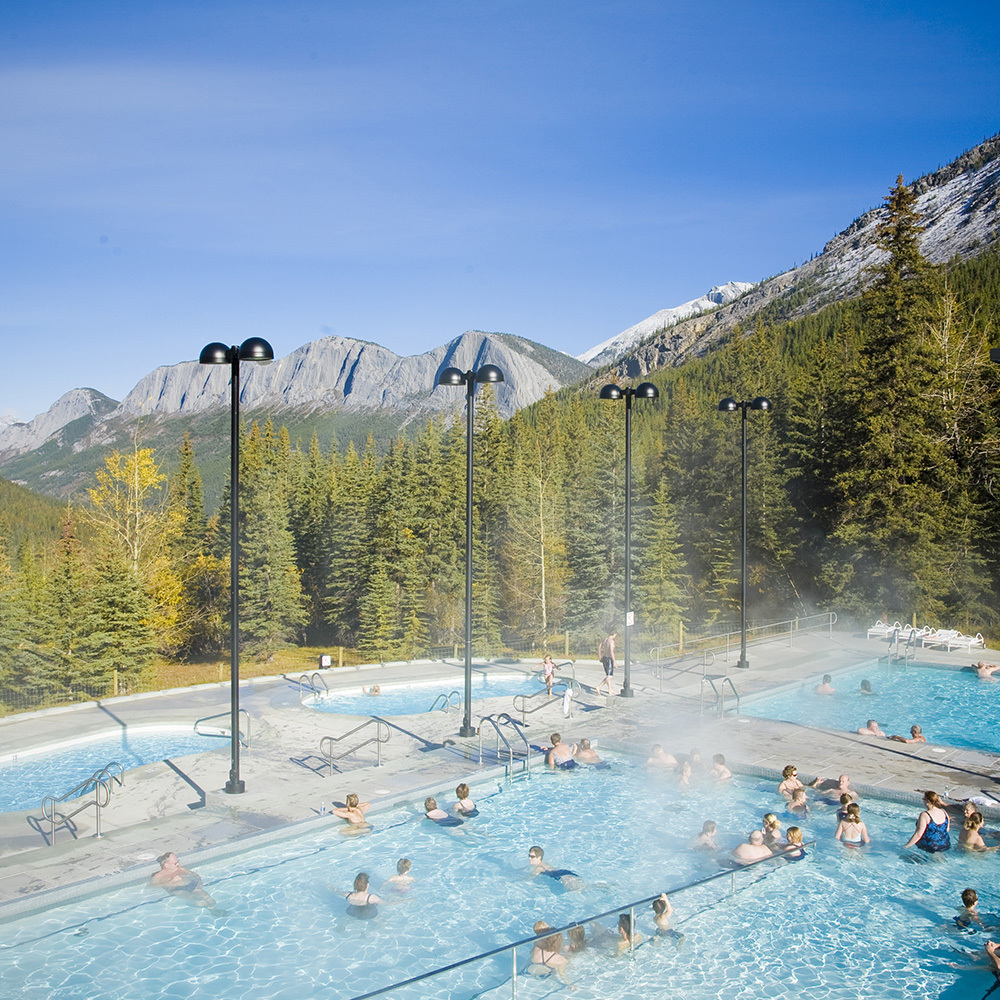 Miette Hot Springs, © Tourism Jasper
Lussier Hot Springs, BC
Located off of a logging road in Whiteswan Provincial Park, Lussier Hot Springs are the ultimate place to de-stress and get away from it all. Note that the park is only open from spring until fall (May to September) so if looking for a getaway in the Kootenay Mountains, it's best to put this on the agenda for after the snow melts.
Where to stay: HI Fernie
Hot Springs Cove, BC
Hot Springs Cove, located about 90 minutes via boat from Tofino, BC, is for the most adventurous of travellers. Because of its out-of-the-way location on the west of Vancouver Island, this isn't a quick, in-and-out activity. Many travellers are enticed by its setting in the middle of nature. After the 90-minute boat ride, visitors hike along a boardwalk through old-growth forest and pool hop between the seven geothermal pools in Maquinna Marine Provincial Park. Plan for pretty coastal views, glimpses of wildlife, rugged natural pools, and one of the most rewarding experiences a visit to Vancouver Island could offer.

*Note: Hot Springs Cove have now reopened after the pandemic with limited access only.
Where to stay: HI Tofino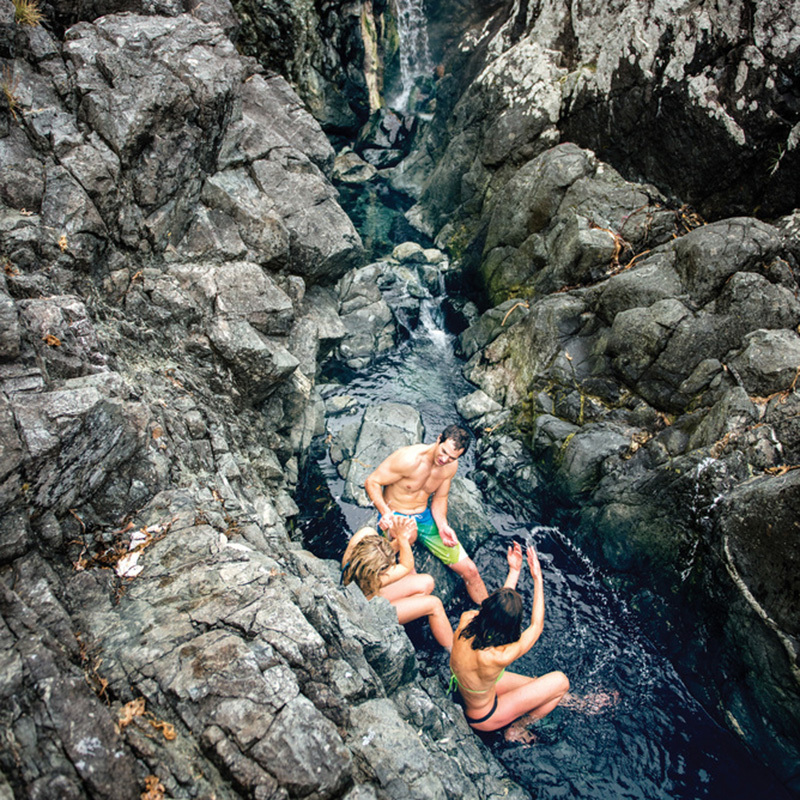 Hot Springs Cove, Tofino
Kananaskis Nordic Spa, AB
Okay... This spa is not a thermal spring BUT its peaceful nature atmosphere will relax you just as well if you are in this part of the Rockies. Sometimes, you're just looking for a place to really relax and indulge in some wellness time after a trip consisting of active travel or hardcore adventure. After time spent enjoying rustic, middle-of-nature settings, saunas and eucalyptus steams can be in order. The Kananaskis Nordic Spa offers exactly that. Think cozy campfires, adorable cabins, massage treatments, and peaceful mountain surroundings.
Where to stay: HI Kananaskis Wilderness Hostel; HI Canmore Alpine Club of Canada
Halcyon Hot Springs Resort, BC
When backpacking, living out of a bag and travelling on a budget, it can be nice to depart from typical budget-friendly activities for an afternoon and give yourself the royal treatment as you recharge. That's exactly what a day at the Halcyon Hot Springs Resort would feel like. Located on the edge of Upper Arrow Lake at the base of the Monashee Mountains, these hot springs are the place where travellers can get their well-due TLC. High in lithium, sodium, and magnesium, these pools were originally used by nearby First Nations groups who praised these pools for their health and rejuvenating benefits.
Where to stay: HI Shuswap Lake (open May to October)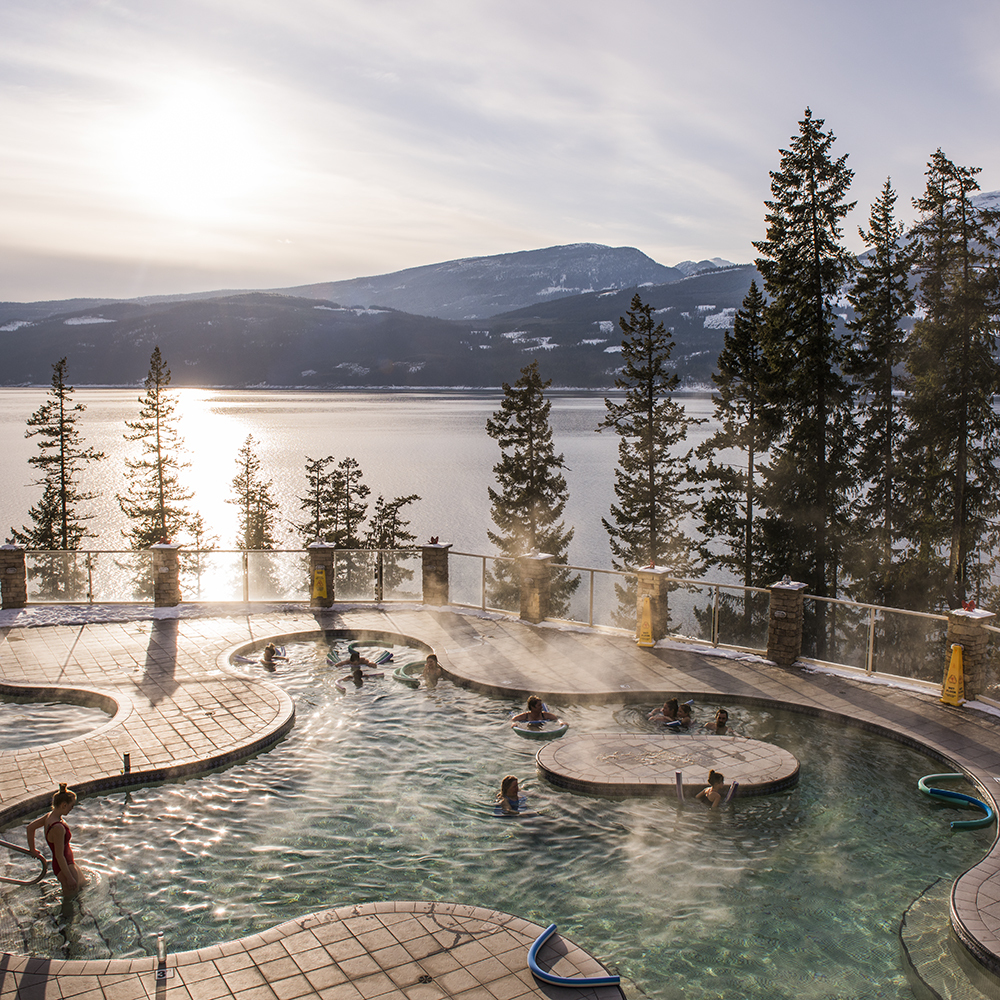 Halcyon Hot Springs, © Destination BC / Kari Medig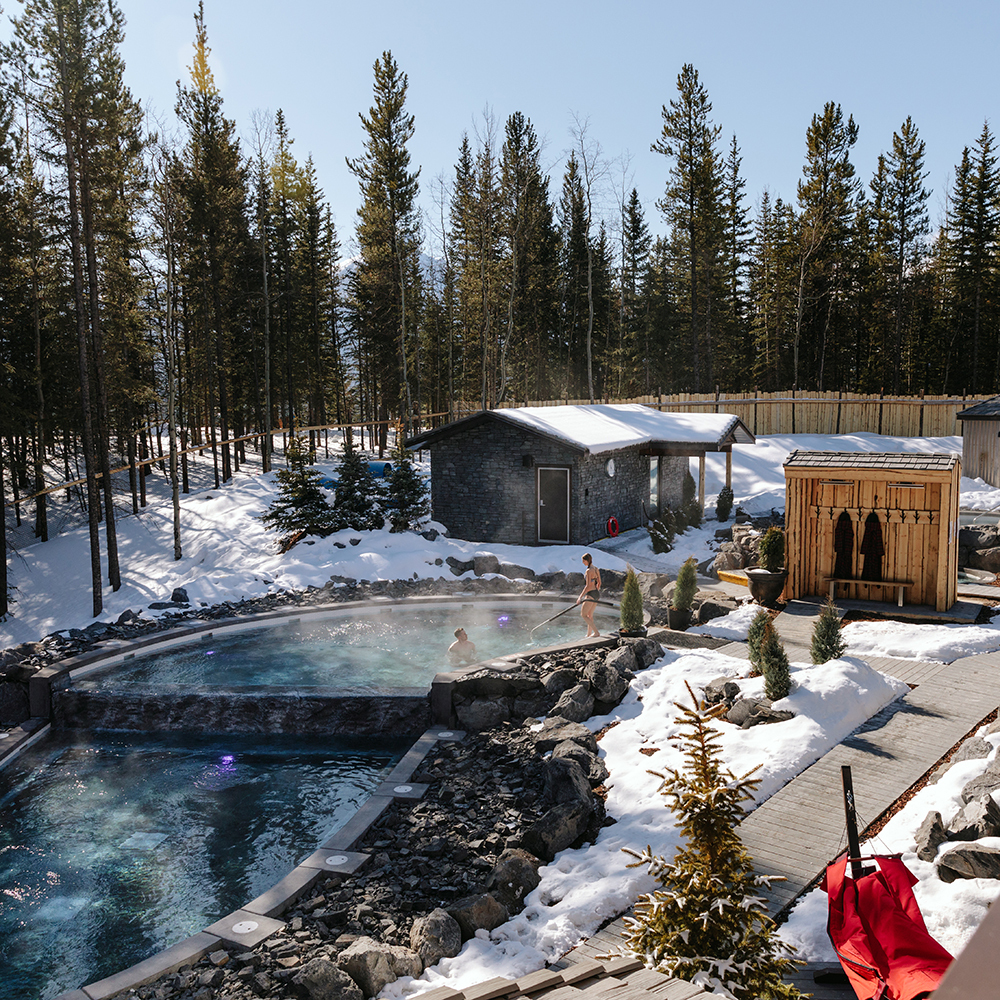 Kananaskis Nordic Spa, © Travel Alberta / Mike Seehagel
You may also like to read