Live and Work in the Wilderness
Work at the HI Wilderness Hostels
Chop wood, carry water, light campfires, get paid!
OK, maybe you won't get rich – but if you're looking for a true Canadian Wilderness experience, this job is for you.

Hostelling International is looking to fill the position of Relief Wilderness Hostel Manager for the 2023 Summer/Fall season. This person travels between several of the Banff Wilderness hostels, small 20-30 bed hostels located off the beaten path in Banff National Park, covering the days off of the regular managers at each facility.
These hostels are what we call "rustic". Either they have no electricity or running water, or just no telephone or internet. For what they lack in modern facilities and connectivity, they more than make up for in other ways; waking up to the peaceful quiet of the Wilderness, being able to count the millions of stars so far away from the city, or simply being surrounded by the vastness and indescribable beauty of rugged mountains, hanging glaciers and 400-metre tall waterfalls.
As relief manager you would spend your evenings welcoming guests into the facility, answering questions about local flora, fauna, history and hikes/activities they might be interested in. Then you would get to enjoy the company of these backcountry enthusiasts and international backpackers around a communal campfire. In the morning, it's saying goodbye to them, doing a bit of housekeeping then it's time to go exploring, hiking, biking, climbing or any other activities that you might enjoy in the surrounding mighty Rocky Mountains. There is never a dull day in the wilderness. On your off-weeks, you can go further afield to explore the beauty of the Canadian West. While working with us, you can stay at any of our 12 hostels in the Parks for free... or any of our hostels elsewhere in Canada, for that matter!
If you have your own transportation, think you'd like to be a host to our guests staying in these little backcountry cabins, please apply today!

Meet your manager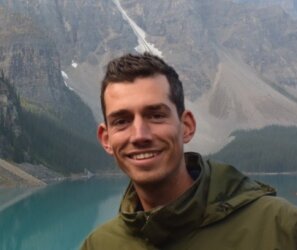 Remi started with HI in Belgium in 2018 and moved to Canada shortly after to lead the HI Banff Alpine Centre team and to oversee the wilderness hostels in Banff National Park. When not at work, Remi enjoys climbing, biking, skiing and playing baseball.
Staff Accommodation
Wilderness Hostel Managers and Relief Managers have access to on-site staff accommodation at each property. They consist of small wood cabins, separate from the hostel guests, with all the necessities required to be living there for a few weeks.
Fully furnished
Surrounded by National Parks
Bikes for your use
Free wifi
Live your best life
in the Canadian Wilderness