How to spend winter in the Rockies... without skis
If you've been planning to visit the Rockies for some winter fun, you may have heard that the snowpack is a little lighter than usual this year, and fresh powder has been slow to arrive.

So while it might not be the best season to be a skiier or snowboarder, a snowless winter doesn't have to be a disappointment. In fact, it can be an opportunity to venture to places that you might not have considered otherwise.

From exploring scenic winter landscapes to trying out new winter activities, there are endless possibilities to make the most of your winter, snow or no snow. If you're looking for some inspiration, read on for our ideas on how to have a great time this winter, even if you're not hitting the slopes.
Visit Johnston Canyon
Just in time for spring, Johnston Canyon has reopened. This 5 km round trip hike takes you through icy canyons draped with frozen curtains of ice—you might even spot climbers scaling scaling the ice shrouds of the 100 foot Upper Falls. We recommend you bring walking cleats and poles in winter, which can easily be rented in town.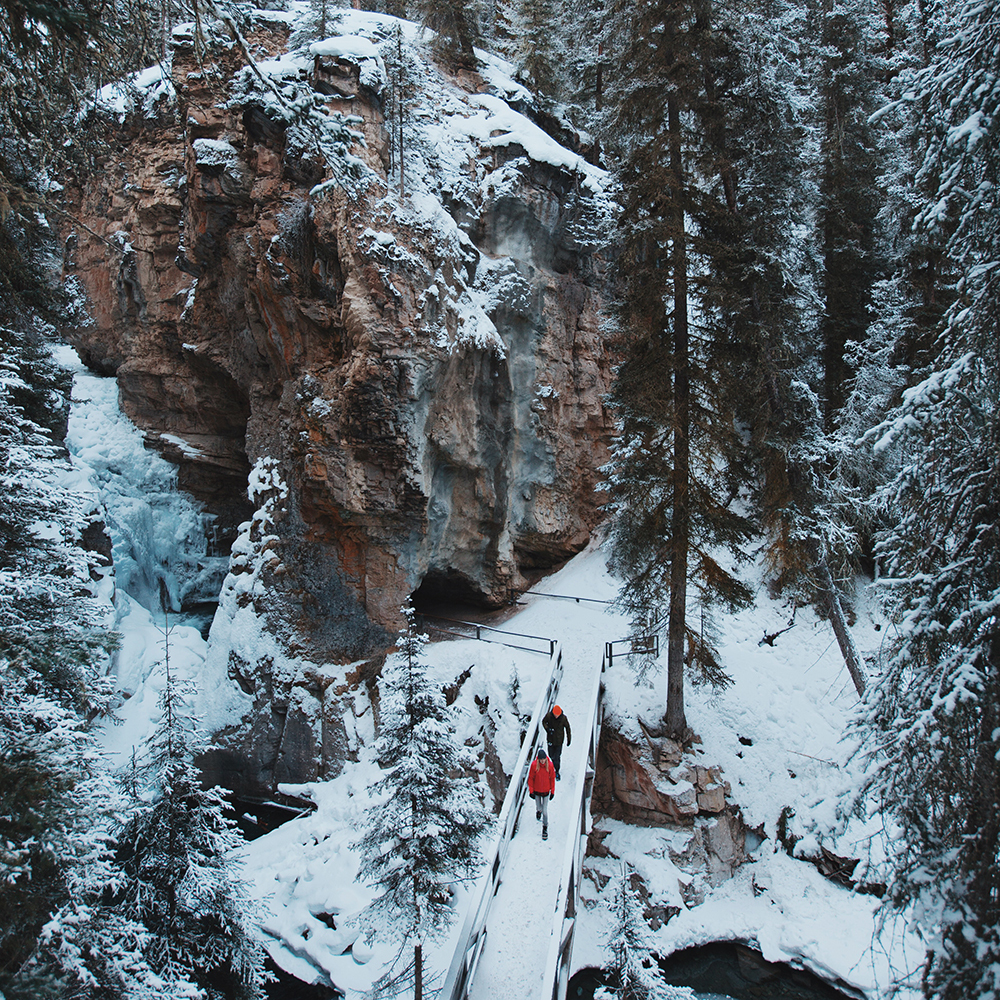 Johnston Canyon in the winter
© Banff Lake Louise Tourism / Jake Dyson
Wander Marble Canyon
A lesser-known canyon to its cousin Johnston, Marble Canyon in Kootenay National Park offers a much different experience. The hiking trail weaves through a recently burnt forest and leads you right to the canyon—a narrow chasm that opens beneath your feet. As you make your way across the narrow bridges, you can catch a glimpse of the ice formations and the rushing water below.

On the way back to Banff make a quick stop at the Continental Divide. It's the border between British Columbia and Alberta and the dividing point between the Pacific and Atlantic watersheds. Come spring, all the snow above you will begin the journey to either the Atlantic or Pacific Ocean.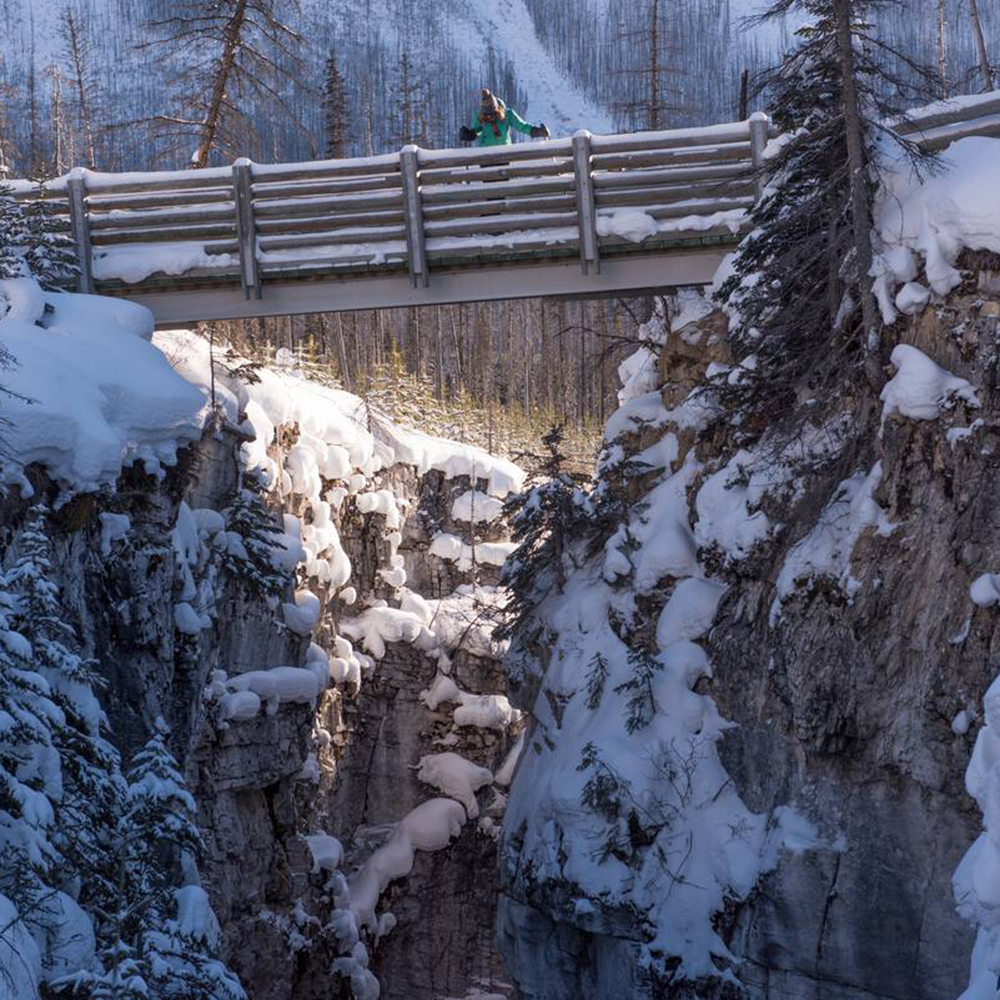 Marble Canyon in the winter
© Destination BC / Kari Medig

Go wild ice skating
Every few years or so, the cold comes before the snow or a warm spell melts the snowy blanket off of the frozen lakes. The result is a real treat which locals refer to as Wild Ice. Skating on these dark green expanses can be intimidating and exhilarating—sometimes you'll even see fish swimming below you.
You can see how thick the ice is by looking at the fissures in the ice itself. Not for the faint of heart, but not to be missed. Gap Lake, Lake Minnewanka, Two Jack Lake, Pyramid Lake are all great spots. Remember to make sure the ice is at least 8 inches thick to stay safe.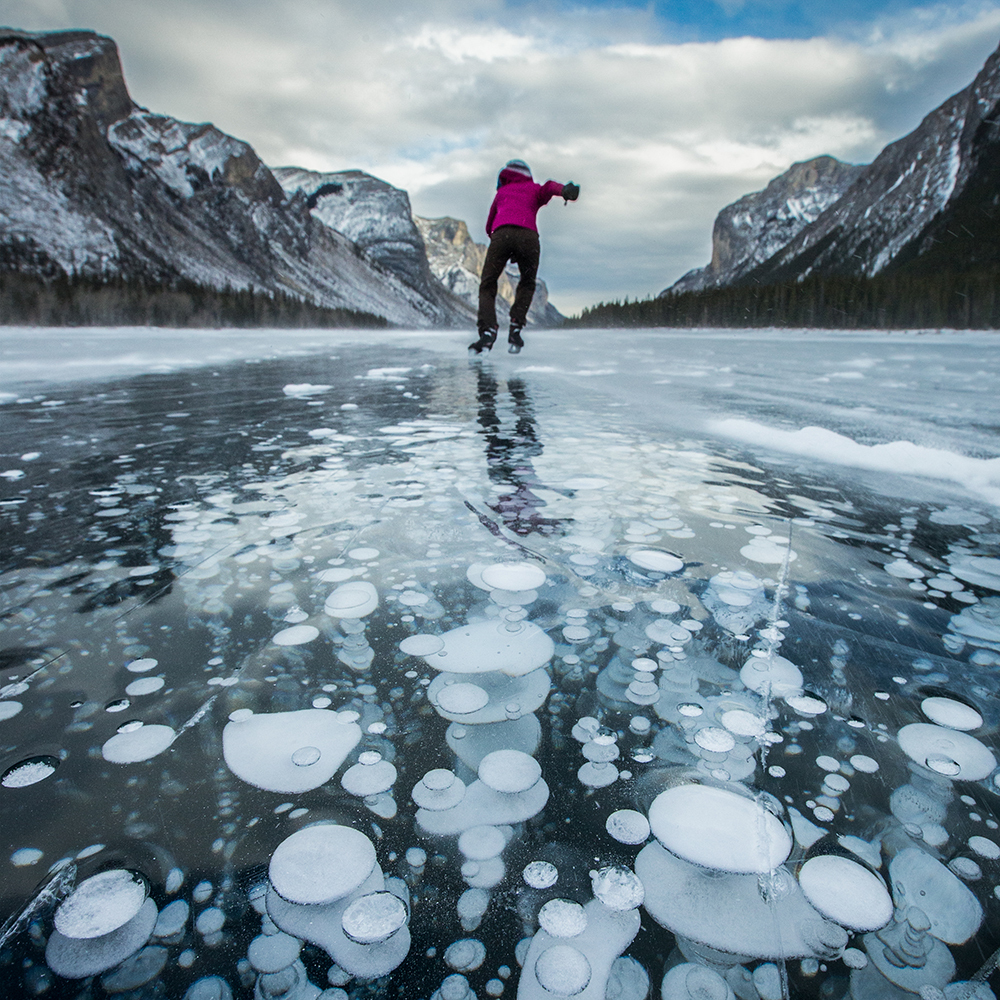 Wild Ice at Lake Minnewanka
© Travel Alberta / Paul Zizka

Go cross-country skiing
Okay technically it is still skiing - but cross-country skiing is a great option if you're looking for a fun winter activity that doesn't require a great deal of snow. And there's no shortage of excellent trails to explore in the Banff and Lake Louise area, including Cascade Fire Road, Tunnel Mountain, and the Canmore Nordic Centre. The groomers keep the trails in great conditions, so you can glide through the winter wonderland with ease. Plus, with breathtaking mountain views and fresh, crisp air, cross-country skiing is the perfect way to enjoy the beauty of the Canadian Rockies in the wintertime.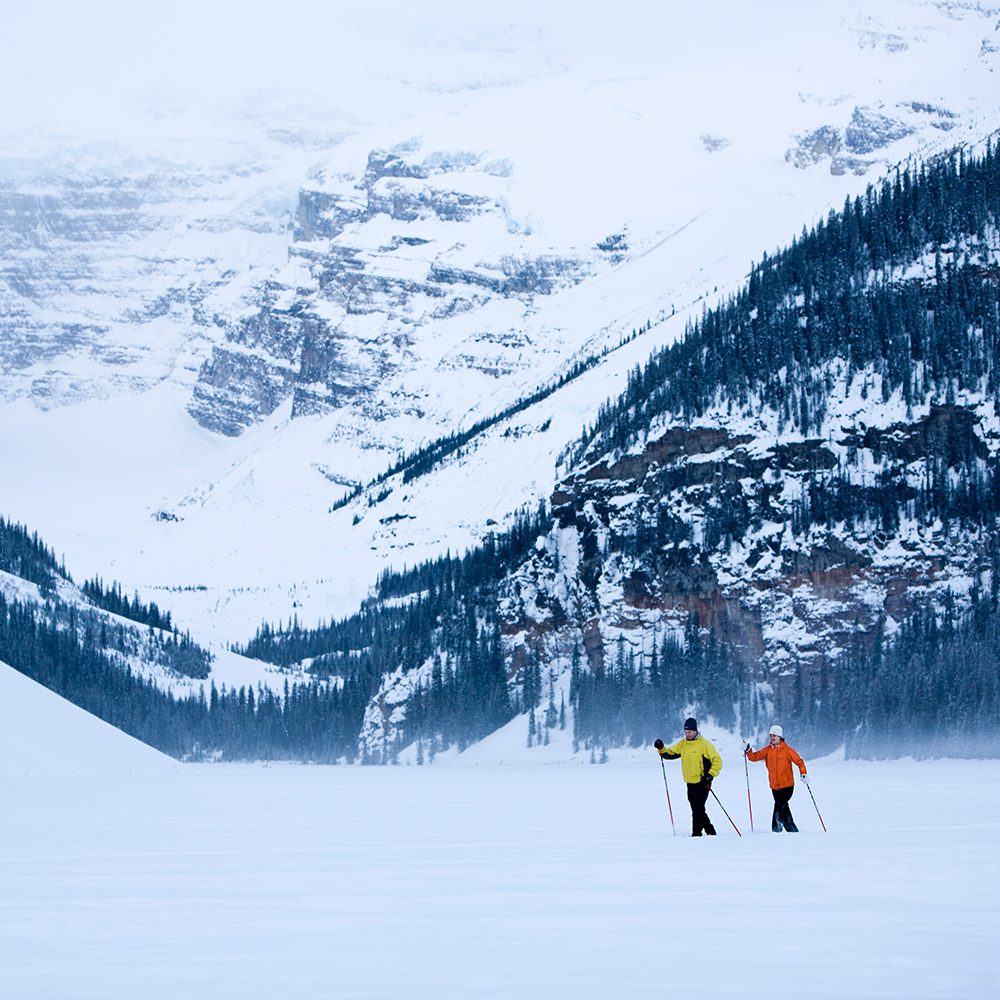 Cross-country skiing at Lake Louise
© Banff Lake Louise Tourism / Paul Zizka
Explore Mosquito Creek
If you really want to appreciate the beauty of nature, you have to get away from the crowds. Take a blanket, a picnic, snowshoes or cross-country skis, and venture off the beaten path.

After just a few hundred meters from the HI Mosquito Creek Wilderness Hostel, the snow will start to dampen the sound, and you'll find yourself enveloped in the peaceful solitude of the forest.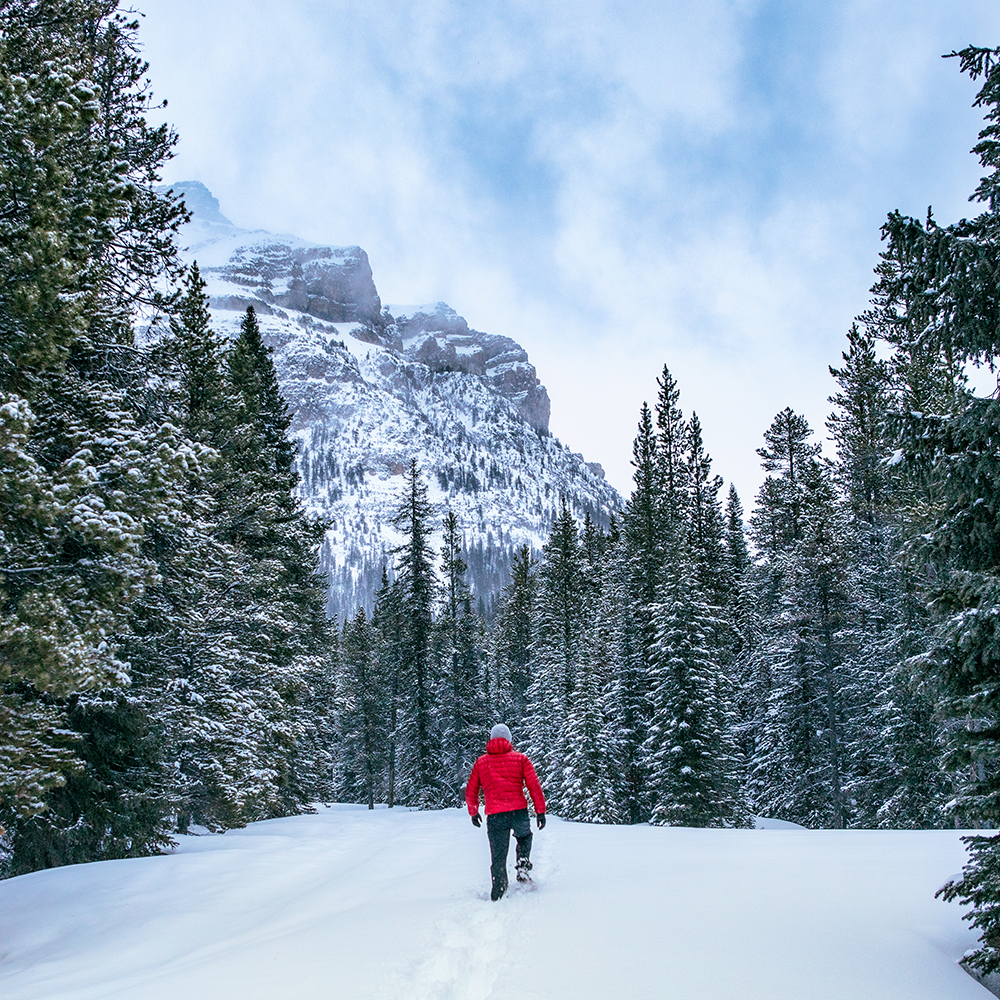 Mosquito Creek in the winter
Drive the Icefields Parkway
The Icefields Parkway is one of North America's most scenic drives. With towering limestones cliffs and azure lakes, a summer drive could not be more spectacular, unless of course it was winter. The snow capped peaks and gleaming glaciers are made all the more dramatic by the silence and isolation that you will experience. Luckily, the roads are in great condition for winter driving, so why not make the trek up to Jasper? Be sure to visit all the great viewpoints along the way—the views are even more stunning in the wintertime, and the best part is that you'll get to enjoy them without the usual crowds and traffic.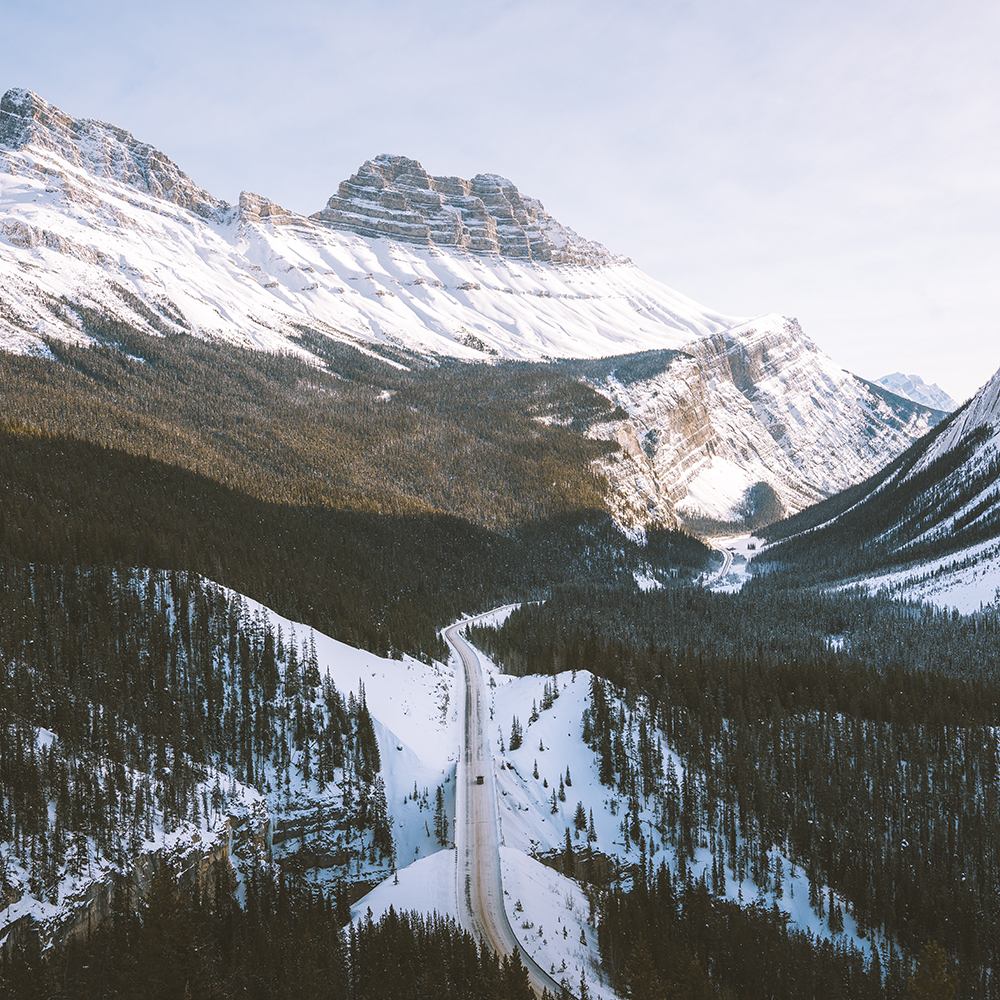 The Icefields Parkway
© Travel Alberta / Jason Hill

Ice climb at Johnson Canyon, the Junkyard or Maligne Canyon
Ice climbing is definitely an unusual sport. I mean, who in their right mind would want to scale a frozen waterfall using nothing but ice axes and pointy crampons? It sounds cold and scary, and yet, some people just can't get enough of it. The real question is, why wouldn't you want to give it a try?

If you're up for the challenge, you can take lessons in Canmore, Banff, or Jasper. Don't worry if you've never tried it before, with a little bit of instruction and practice, you'll be ready to tackle the ice. Just be sure to dress warm and bring your sense of adventure!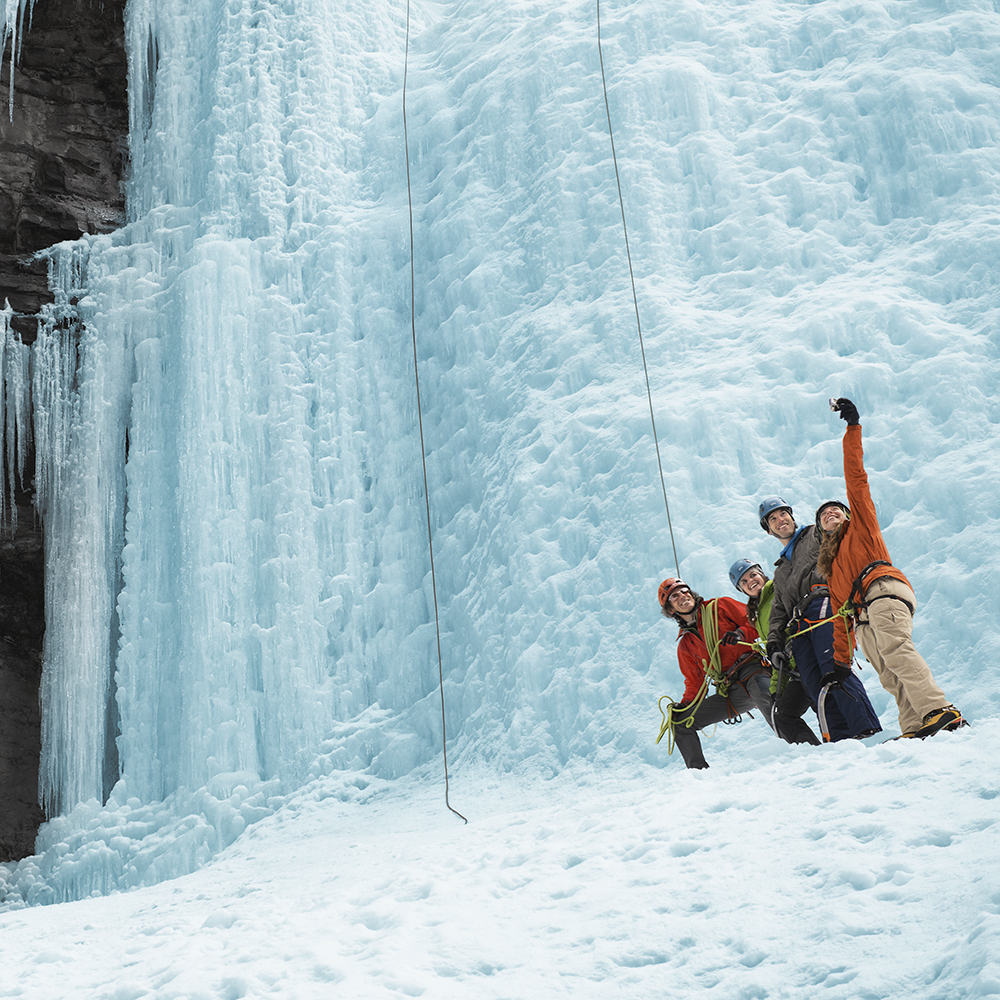 Ice climbing at Johnston Canyon
© Travel Alberta / Anthony Redpath
Take an ice walk at Maligne Canyon
Located in the heart of Jasper National Park, Maligne Canyon is a classic when it comes to ice walks in the Canadian Rockies. Whether you choose to explore on your own or take a guided tour, you'll be amazed by the towering frozen waterfalls and ice sculptures that surround you. Along the way, you can also learn about the unique geology and ecology of the area. Make sure to bundle up and bring your camera!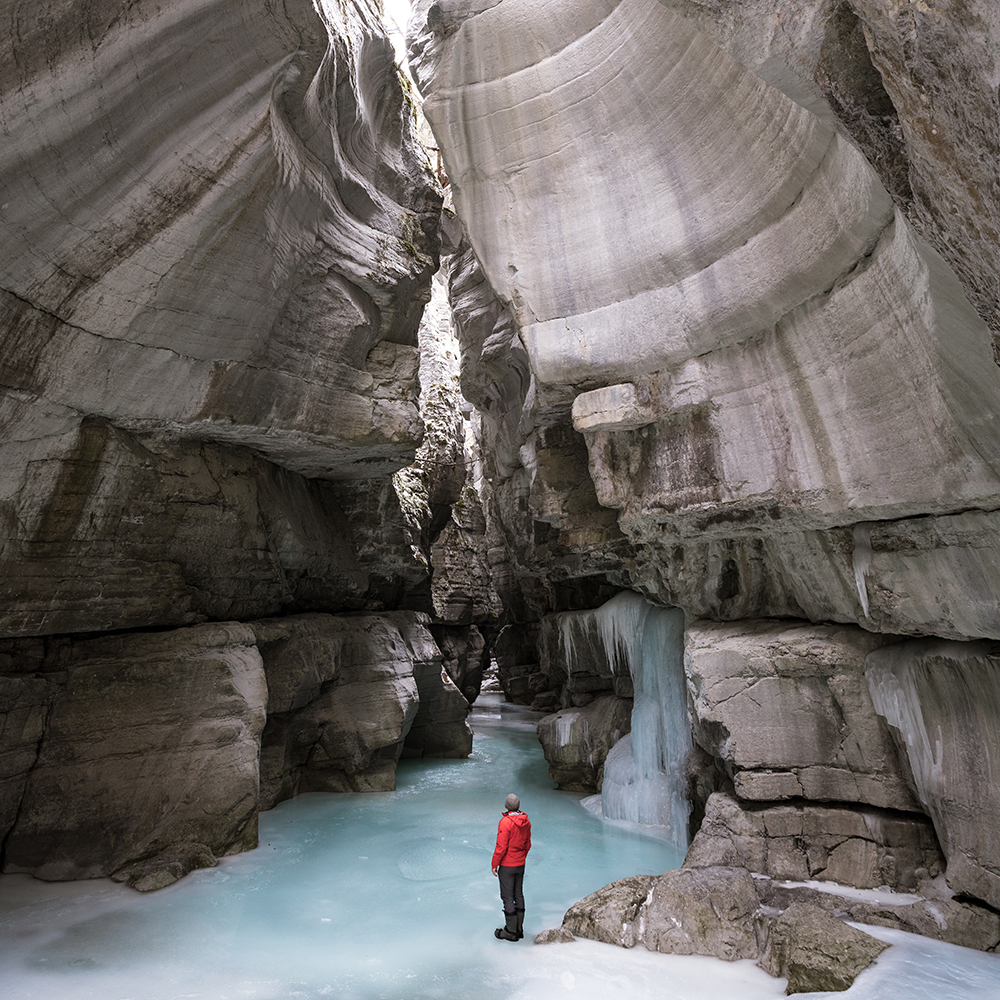 Maligne Canyon Ice Walk
© Travel Alberta / Tiffany Nguyen
Try fat biking
Biking in the winter used to make as much sense as skiing in Ontario or surfing in Newfoundland. Then came fat bikes and everything changed. Biking is now an all-season activity, and you can hit the trails no matter the weather. These bikes have got wide, heavily-treaded tires that can handle any terrain, and some even have motors, making it possible to ride all year round. You'll find plenty of rental shops and fat bike trails in Canmore, Banff, Lake Louise and Jasper.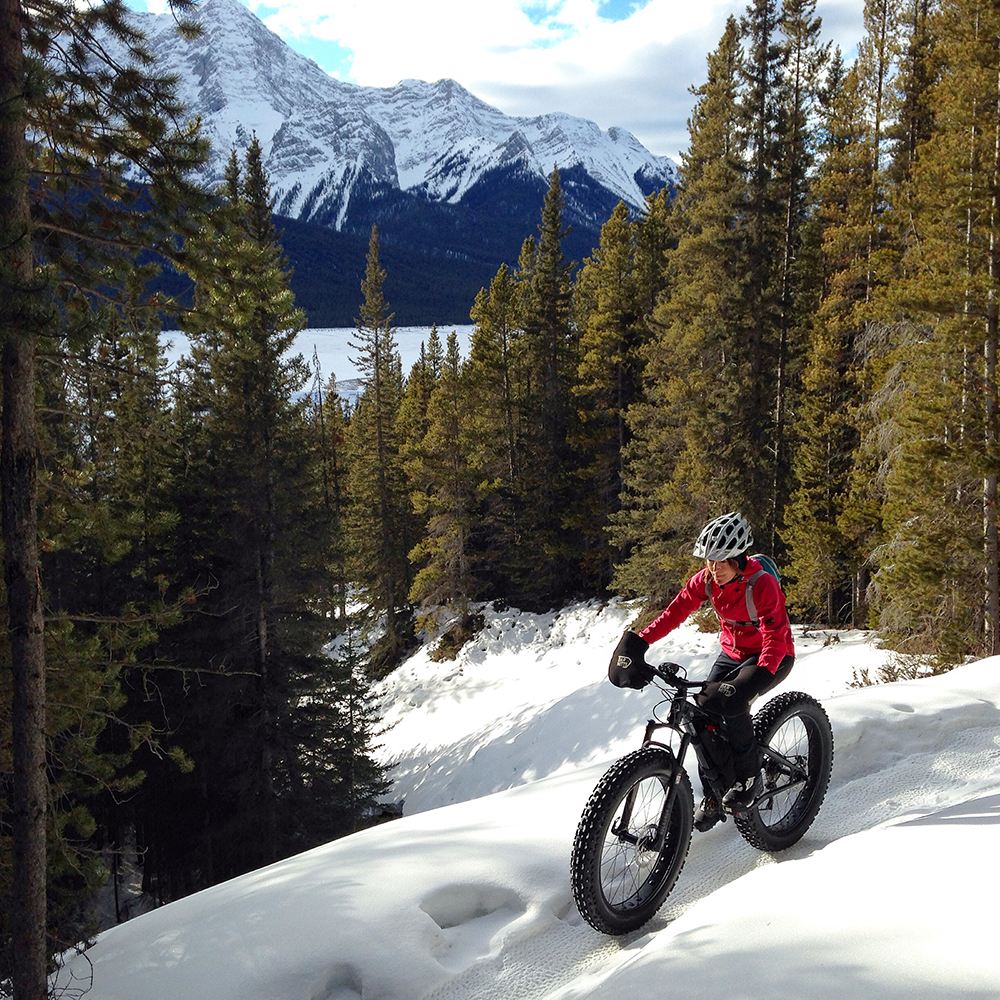 Fat biking
Travel Alberta / Carrie Neu
Go winter hiking in K Country or Jasper
Who says hiking is only a summer thing? The front ranges in Kananaskis and Jasper never get a great deal of snow and this year there is even less. With well-maintained trails and no heavy snowfall to contend with, why not explore the winter wilderness and take in the breathtaking views of the mountain ranges? Plus, with fewer layers required, it's a great way to get some exercise and stay active during the colder months.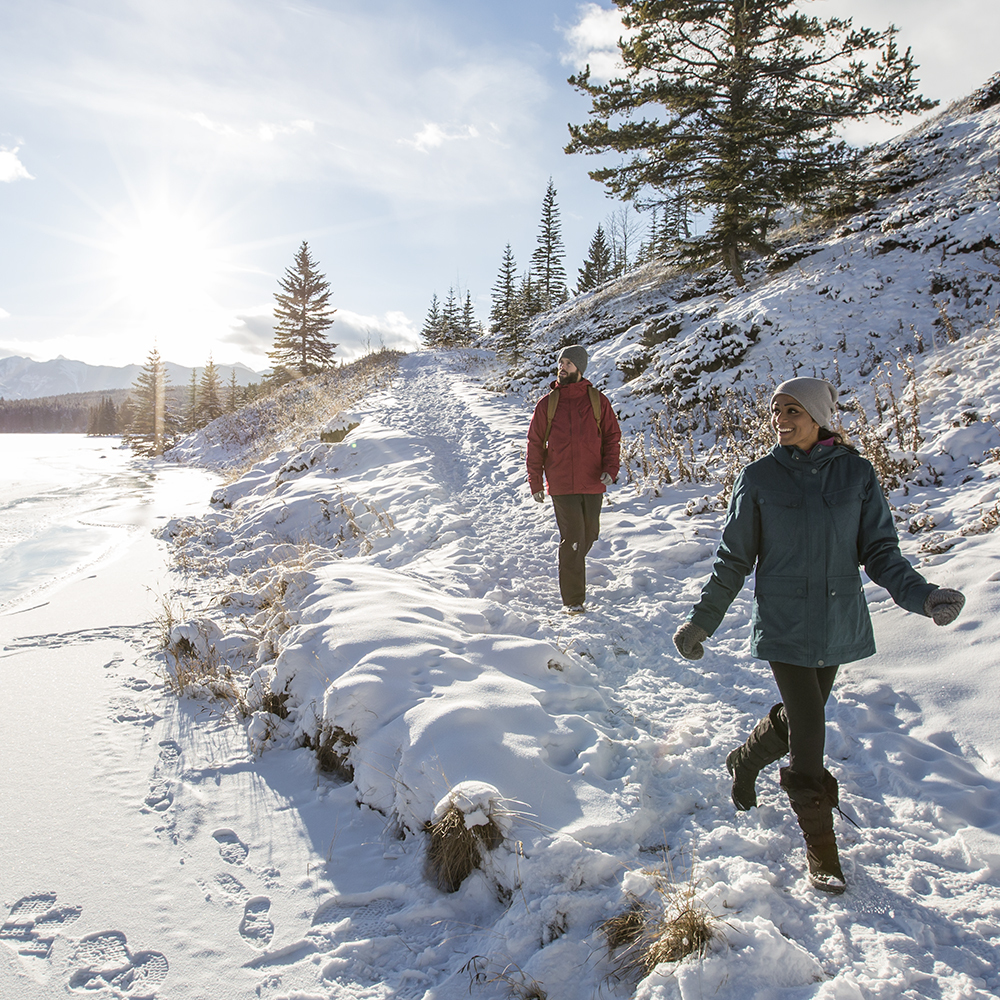 © Banff Lake Louise Tourism / Noel Hendrickson

Take a microbrewery or distillery tour
Exploring the local microbreweries and distilleries can be a great way to immerse yourself in the unique flavours of a region. The mountain towns are home to an abundance of craft beverage makers, and the best part is that they're often located close together. To make the most of your experience, you can either join an organized tour or simply hop in a cab and go on your own self-guided adventure.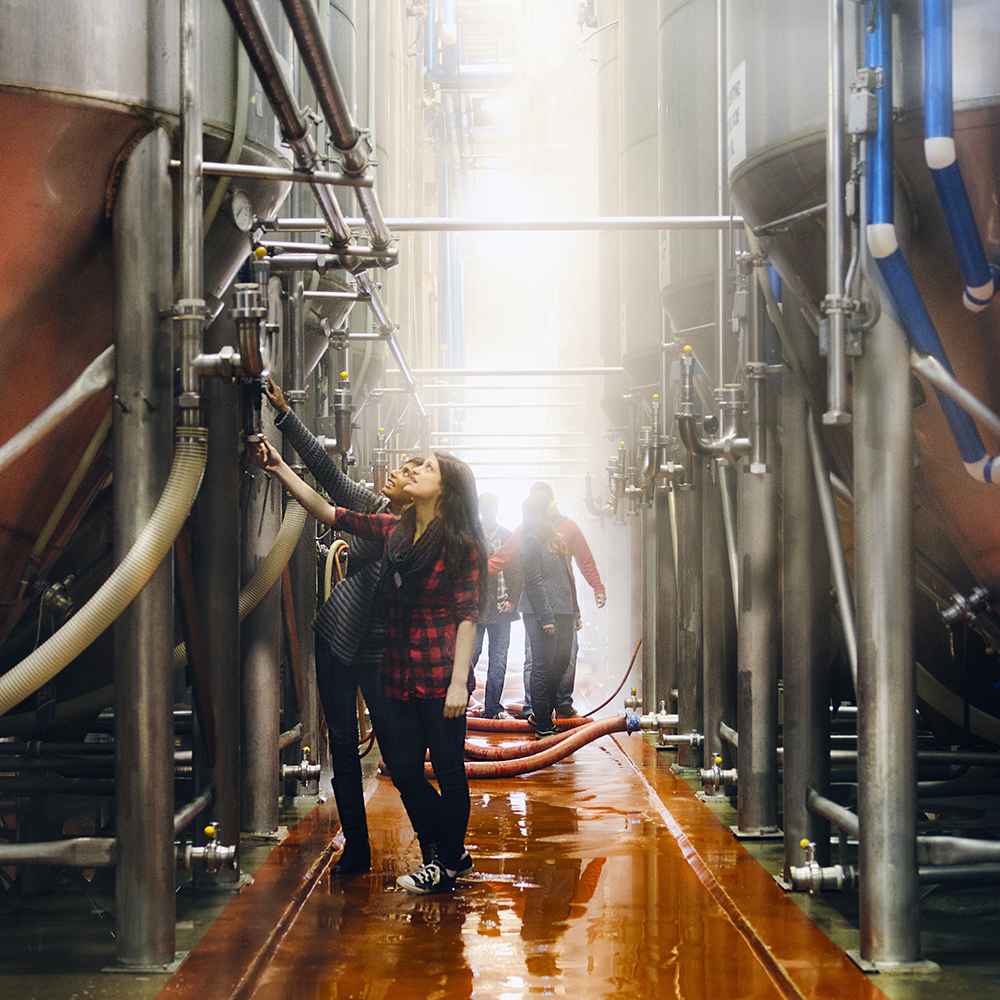 © Travel Alberta / Big Rock Brewery
You may also like to read