Live life at the lake
Nestled among rolling vineyards and sparkling lakes is Penticton, the gem of the laid-back Okanagan Valley. Here, there's no need to choose between beach life and the call of the mountains—you can have it all. Besides, we've got one of the best year-round climate of all Canada.
Working at HI Penticton means becoming a member of our work family, and making new friends among our guests every day. Our cozy hostel is close to everything you need, making it easy for you to get a taste of the signature Okanagan slow life, full of wine tastings, festivals, lazy afternoons on the water, and farmers markets.

Meet your manager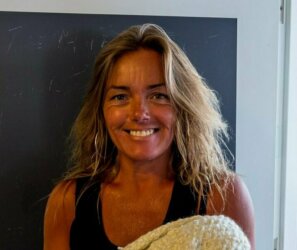 Lisa is a life-long Penticton resident and has been with the hostel for 27 years. In her spare time, she enjoys participating in local events, volunteering with various charities and spending time outdoors. Her daily routine includes a minimum 5km run every morning – no matter what the weather conditions are!
Staff Amenities
Like most hostels, the vibe at HI Penticton is made up of equal dose of professional and equal dose relaxed. Penticton is a true beach town and we're blessed to have the beach literally 4 blocks from the hostel. After our shifts, our team likes to gather together for a late afternoon at the beach or for a BBQ in the hostel's backyard. On days off, staff can join guests on guided tours like winery visits or guided cycling trips, or discover other regions by staying for free at other HI hostels.
• Free coffee and tea all day long

• Free participation in guests' tours
• Free stays at other HI hostels
• Staff BBQ nights in the summer
• Free Wi-Fi

Live your best life
in Penticton