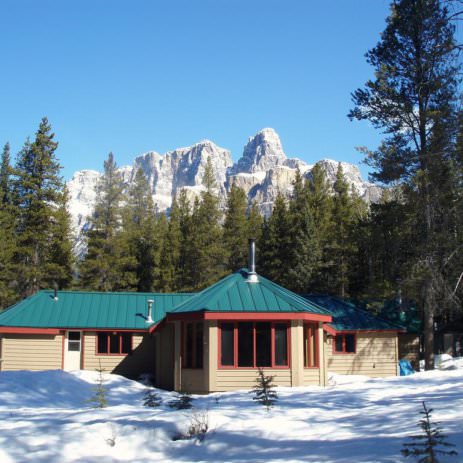 Banff National Park Wilderness Hostels
, Alberta
CHOP WOOD, CARRY WATER, LIGHT CAMPFIRES, GET PAID! 
OK, maybe you won't get rich – but if you're looking for a true Canadian Wilderness experience, this job may be for you. 
Hostelling International is looking to fill several positions as Relief Wilderness Hostel Manager for the 2019 Summer/Fall season.  This person travels between several of the Banff Wilderness hostels, small 20-30 bed hostels located off the beaten path in Banff National Park, covering the days off of the regular managers at each facility. 
These hostels are what we call "rustic". Some have no electricity or running water, some just have limited internet.  For what they lack in modern facilities and connectivity, they more than make up for in other ways; waking up to the peaceful quiet of the Wilderness, being able to count the millions of stars so far away from the city, or simply being surrounded by the vastness and indescribable beauty of rugged mountains, hanging glaciers and 400-metre tall waterfalls. 
If you have your own reliable transportation (if you have no vehicle, you will not be considered for the position,) you think you'd like to be a host to our guests staying in these little backcountry cabins, you're OK with a compressed work schedule (we usually have staff that work 8 days on / 6 days off, or 10 days on / 4 days off,) you'd like to spend your time off hiking, biking and climbing in some of the most beautiful areas that Canada has to offer, please apply today!  (Also, if you are interested in a block of time - a few weeks or a month - we may also have some opportunities for you this year.) 
The positions start in May/June 2019 and run to the end of September/beginning of October. The starting wage is $15/hour and includes a 6% vacation entitlement.  On site staff accommodation is provided at no cost at each hostel.   
Please apply by:
Emailing your resume as an attachment 
Mention in the body of the email that you have your own reliable vehicle
Intéressé(e)?
C'est le poste pour toi? Fais nous parvenir ton CV et ta lettre de présentation aujourd'hui!
(Ce site utilise une fenêtre pop-up)