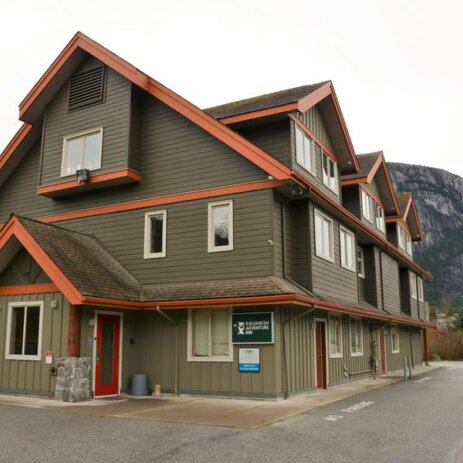 HI Squamish, Adventure Inn
Squamish, Colombie-Britannique
At the Squamish Adventure Inn we aspire to be the top West Coast destination for outdoor enthusiasts. Centrally located on waterfront and nestled between the Coastal mountains we have some of the best climbing, kiting, biking, kayaking, skiing, hiking and mountaineering around.  No other North American destination offer this caliber of outdoor adventure in one location!
 The following are some key components of the assistant manager position. The specific responsibilities of the role will shift based on the needs of the business.  As the assistant manager you would hold a high level of responsibility and be involved with identifying and developing the role based on the needs of the business. The goal is to work together to make Squamish Adventure Inn the best hostel in the Pacific Northwest!
This position is available May 1, and is permanent full-time.
Job Responsibilities:
General:
Ensure the optimal functioning and success of the hostel
Timely completion of assigned projects
Uphold hostel standards, especially in absence of manager
Work in conjunction with leadership team to develop, improve and maintain hostel systems and policies
Interact with guests to provide the best possible experience
Act in the Manager position when the Manager is unavailable or on vacation
Department Specific: (can include but not be limited to)
Coordinate and manage the volunteer program including
Recruitment/dismissal to meet the needs of the hostel
Orientation
Training
Direct supervision
Assist with managing paid staff when working as hostel supervisor
Help develop and implement systems to ensure the efficient and successful functioning of the hostel
Supervise reception and customer service
Manage the front desk and ensuring timely, friendly and accurate check-in and checkout procedures
Regularly interact with guests to identify needs, develop solutions and ensure that their experience meets or exceeds expectations
Responding quickly and professionally to customer and community inquiries and complaints
Responding to and assisting with guest requests and concerns
Follow procedures to ensuring the reservation system is maintained
Work to maximize and improve reviews
Work as a team to identify areas for growth and improvement and develop and implement systems to address these ideas
Other requirements:
On-call for managers days off to deal with emergencies
Act as back up support for vacation coverage and staffing shortages
Expectations:
Practice open and concise communication in a timely manner using correct methods and systems.
Be punctual and communicate in advance if delays are expected.
Come to meetings prepared and have an effective system for organizing action items, to do lists and requests.
When working or on call, have the provided cell phone on you and answer immediately in case it is an emergency.
Complete assigned tasks by due date or communicate in advance your reasons for not being able to and your plan for tackling it. If you require help to complete a task request it.
If any part of your day to day expectations cannot be met communicate your concerns and needs with the manager.
If you or your team notice that any part of a system, checklist or procedure is not working as expected, is redundant, or is not being completed you will report this to the manager.
Follow all procedures and contact the manager if you have questions or require clarification when unsure about a procedure. This is especially important in the case of emergency procedures or equipment.
If you are feeling overworked, overstressed or have issues in your personal life that are affecting your health and wellbeing, express your needs or concerns so we can provide support.
COMPENSATION AND WORK SCHEDULE
$17.70/hr
The general work schedule will be 3 set consecutive days per week, 10 hours per day, with a possible half day scheduled for administration, training or team meetings.  We believe in having time off to enjoy the beautiful surroundings! We also try to keep a consistent work schedule but at times the realities of running a hostel may require additional hours or days with short notice.  
Calls during on-call periods will be paid on the following schedule:
Receive a call but does not require assistance in the moment (can be dealt with during working hours following day: Compensation for 15 minutes
Any time the call takes more than the previous sentence then we will compensate a minimum ½ hr pay plus any additional time required to complete the call.
If you actually have to go to the Hostel we will compensate a minimum of 1 hour plus any additional time required
A performance review and assessment of fit for the permanent position will be completed approximately one month prior to completion of the contract. At this time both parties will have an opportunity to assess fit and the job description prior to starting the full time permanent position. Should it be decided that the employee shall not roll into the full time permanent position, or unforeseen circumstances arise which requires the company to adjust or change the terms of the contract, the bonus will be paid out to the employee assuming successful completion of the contract. Should the employee decide not to accept the permanent full time position if offered, successful completion of contract would include assistance with the training of an alternative candidate.
MILEAGE:
Use of company vehicles for work is allowed.  In situations where a vehicle is necessary but the work vehicle is unavailable, gas plus mileage will be reimbursed as per the current CRA rates for BC.  (currently 47.5 cents per kilometer)
Mileage must be approved in advance (except in emergencies) and logged
VACATION TIME:
Vacation pay will be paid as per BC labour laws.  
Vacation not to be taken between June 1 to Oct 1st or Christmas holiday period.
Vacation time must be approved in advance by management.
BENEFITS:
Company to either provide cell phone with plan or cover cost of personal cell phone and cell phone plan (at option of company) as it is required for the position.
Working with a supportive team to develop a new business with advancement opportunities.
Time to learn new skills based on your identified needs and interests (related to the functioning of hostel).
Professional development - occasional time allotted for professional development such as learning about industry, management, and business development, conferences etc. 
Intéressé(e)?
C'est le poste pour toi? Fais nous parvenir ton CV et ta lettre de présentation aujourd'hui!
(Ce site utilise une fenêtre pop-up)