A local's guide to Montreal
It's no secret that Montreal is one of Canada's most diverse cities. With tons of activities for every season, it's impossible to see it all, especially if time is a factor. If you really want to feel the pulse of the city and avoid tourists, spend time hanging out where locals go. Here's a local's guide to Montreal to get you started.
What are the best neighbourhoods?
1. Plateau-Mont-Royal
At the foot of Mount Royal, you'll find what used to be a working-class borough and now one of Montreal's most vibrant neighbourhoods. It's full of bars, cafés, restaurants, shops and charming, colourful houses. You'll also get to see the city's infamous outdoor staircases. At La Fontaine Park, you'll find locals barbecuing on sunny afternoons and likely, a friendly game of ice hockey in the winter.
2. Mile End
After strolling down the Plateau, spend time discovering this historic Jewish Quarter. Today, it's known for its hipster vibe, trendy bars and shops. The neighbourhood also saw the birth of several renowned Canadian artists and bands like Bran Van 3000 and Arcade Fire. Wander down St. Laurent Boulevard while munching on a freshly baked bagel (from St-Viateur Bagel or Fairmount Bagel, or both—they're actually competing for the title of Montreal's best bagel) and learn more about the Mile End with HI Montreal's walking tour on Wednesdays.
3. St-Henri
Need a break from busy downtown? Head to St-Henri to visit what used to be one of Montreal's most humble neighbourhoods. Today, locals enjoy the many restaurants on Notre-Dame Boulevard and fresh products of Atwater Market. Fancy a bike ride along peaceful Lachine Canal? HI members get a 20 per cent discount on bike rentals with Montreal on Wheels.
4. The Village
Montreal's gay village is one of the coolest and friendliest on the planet. St. Catherine Street (between St. Hubert and Cartier streets) is closed for pedestrians only from May to September and decorated with colourful balls strung in the air as part of Aires Libres festival. Mingle with the locals at Jardins Gamelin, a public park turned into an outdoor entertainment venue. The Village is also full of cafés, restaurants, bars and clubs. For a memorable night, Cabaret Mado is the place to go—be ready for an eccentric drag show. No matter the season, public art is also displayed along St. Catherine Street.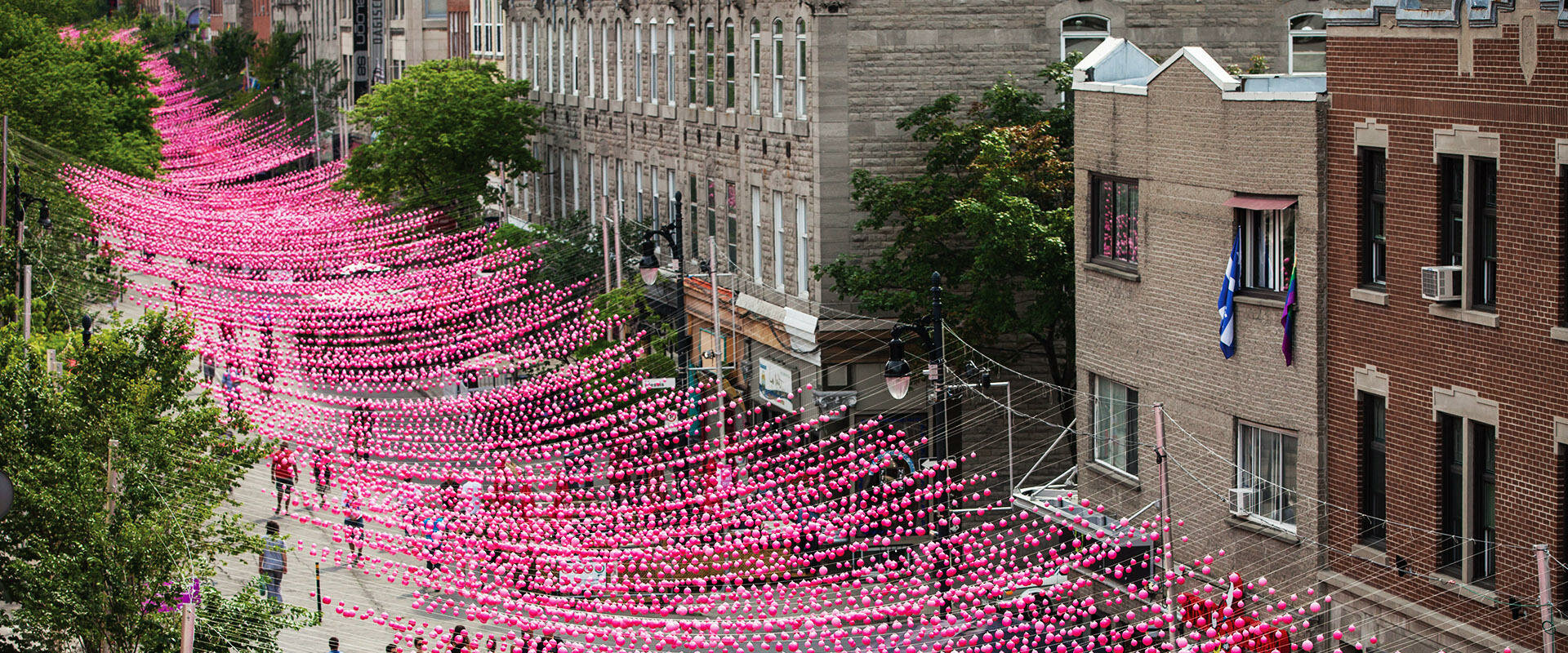 What to do?
1. Hike to the top of Mount Royal
The tree-covered hill of Mount Royal welcomes locals and visitors all year long. Depending on the season, enjoy a walk, jog, picnic or some cross-country skiing and sledding. In winter, climb your way to the top for some ice skating next to Beaver Lake Pavilion. Don't forget to stop at Kondiaronk Belvedere for breathtaking views of downtown Montreal and the St. Lawrence River. HI Montreal offers a Mount Royal walking tour on Mondays and Thursdays.
2. Sunbathe on the beach at the Village au Pied-du-Courant
Created in 2014, the Village is a reinvented public space built anew every year and open from June to September. This living lab, which includes an urban beach, promotes the development of local design, entrepreneurship and arts initiatives. Food trucks, markets, art exhibitions, music venues and yoga classes are all things you can expect to find here. It's also one of the best spots to watch La Ronde's fireworks every Wednesdays and Saturdays in July. You can bring your own food and entry is free. For anything else, only cash is accepted but there are ATMs on site.
3. Chill at Les Jardineries
A facility built for Montreal's Olympic Games in 1976, Les Jardineries reopened in 2016 on the Olympic Park's Esplanade. It is now a green oasis, including a beer garden and an actual garden with flowers and vegetables, where Montreal's cultural scene is highlighted. You can attend agriculture workshops, make sandcastles and chill in a hammock while eating wood-fired pizza. It opens from June to October, Thursday through Sunday.
4. Shop at the various markets
The island of Montreal is scattered with some 15 public markets. Two of them are Jean Talon (in the heart of Little Italy) and Atwater markets. Depending on the season, you'll find everything from flowers and fresh produce to maple taffy. They also include food courts with authentic Canadian and ethnic gourmet food. You'll find everything you need to prepare a hearty meal for you and your travel buddies.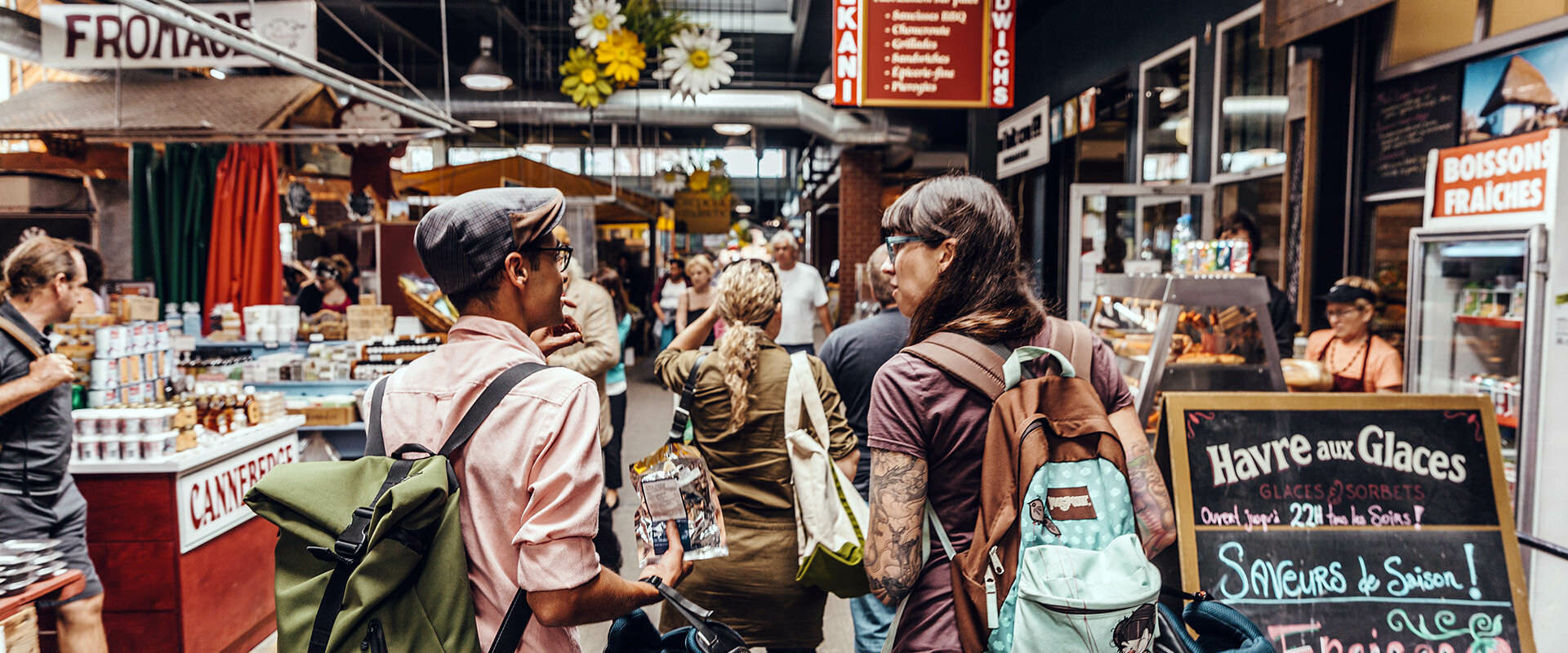 What to do when it rains?
1. Visit the Phi Centre
Art meets technology at Phi Centre with short films, music performances, interactive exhibitions and artist talks. Located in Old Montreal, a touristy area, it's an excellent way to discover Montreal's local culture and escape the crowds. Pay attention to the Centre's architecture as 75 per cent of the building's existing walls, floors and roof have been there since 1861. Find opening hours and location here.
2. Get creative at Usine C
Located in the Village, Usine C is a multidisciplinary centre for creativity. Founded in 1995, it showcases a variety of performing arts including theatre, dance, music and media arts. Find the 2019 complete programming here.
3. Learn about history at Pointe-à-Callière Museum
There's no other place like this archaeology and history complex to learn about Montreal. Permanent exhibitions take you back in time to discover the city's storied past. The museum collections include the remains of Montreal's first Catholic cemetery, the architectural remains of the Royal Insurance Building and the First Collector Sewer. Find the opening hours and rates here. Oh, and members get a 15 per cent discount on general admission.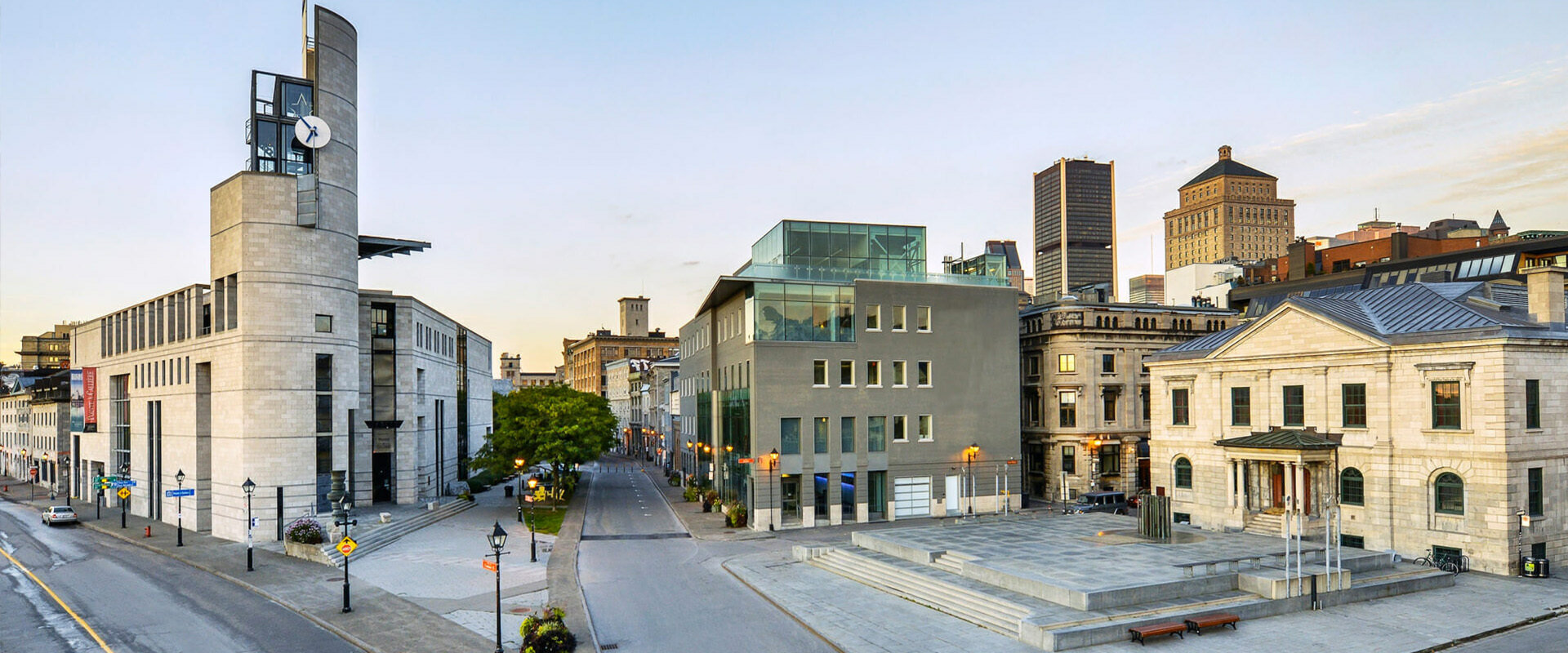 Where to eat and drink?
Poutine, bagels, smoked meat, maple syrup and BeaverTails. Hungry yet? Luckily, Montreal boasts a particularly high per capita rate of restaurants and bars. Café Parvis, close to HI Montreal, has you covered at brunch, lunch and dinner. While exploring the Mile End, you might want to make a stop at the stylish Café Pastel Rita to enjoy La Montréalaise, a breakfast dish. Also in the Mile End, get your dose of caffeine at Café Olimpico, named one of the 50 best cafés in the world. Vegans will fall in love with Bistro Tendresse in the Village. Head to Satay Brothers if your taste buds are craving a more exotic zing. Getting thirsty? If you are 18 or over, you can sip craft beer and cocktails in bars only locals know about. Montreal has its share of speakeasies around town. Look for the Cold Room, Le 4e Mur or Le Mal Nécessaire (somewhere in Chinatown). Foodies, you're welcome.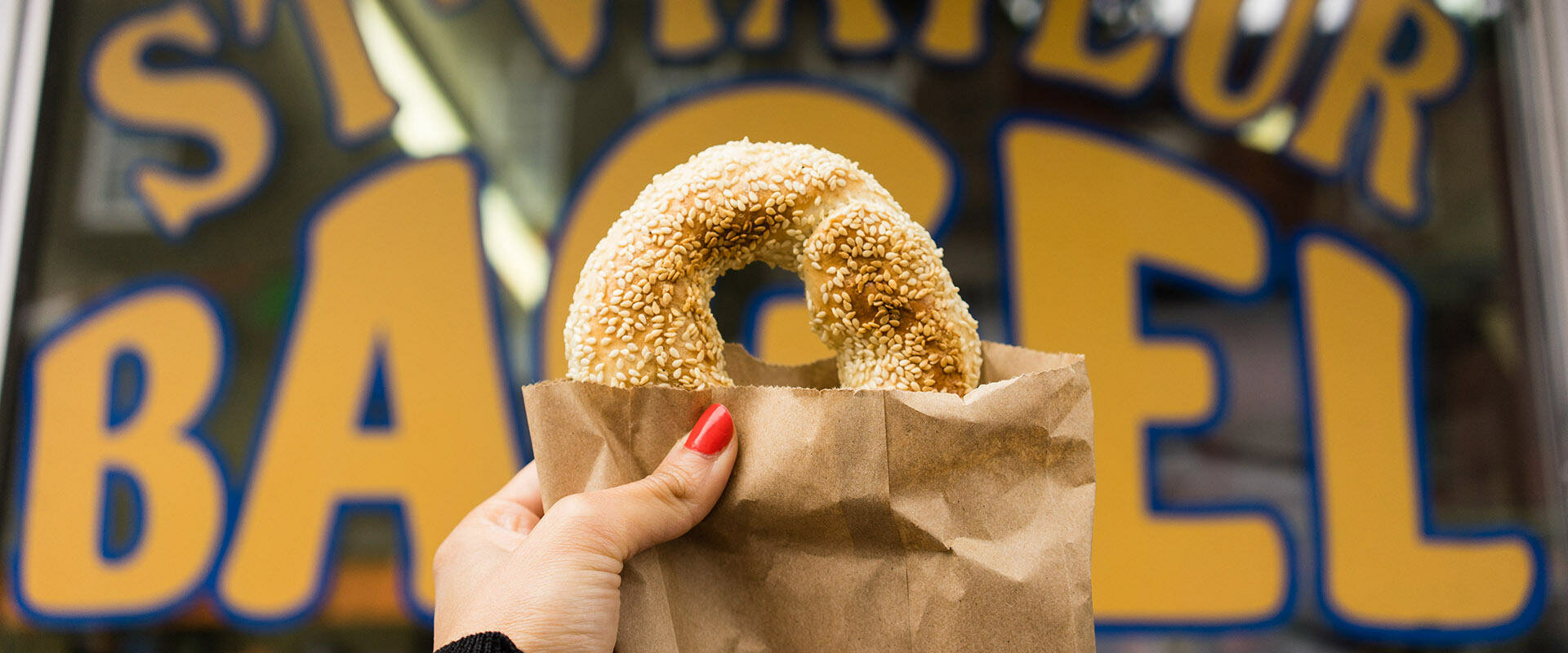 When to go?
The great thing about Montreal is there really is no bad time to visit. Sure, some travellers might warn you about cold Canadian winters and the amount of snow that falls—and stays on sidewalks. But Montreal is made for winter, and there are plenty of outdoor activities including ice skating and dancing with thousands of electronic music fans at Igloofest.
In the spring, the ice thaws for maple season, and in summer, streets overflow with free outdoor festivals. Fall is one of the best times to visit, especially if you love seeing the leaves turn colour.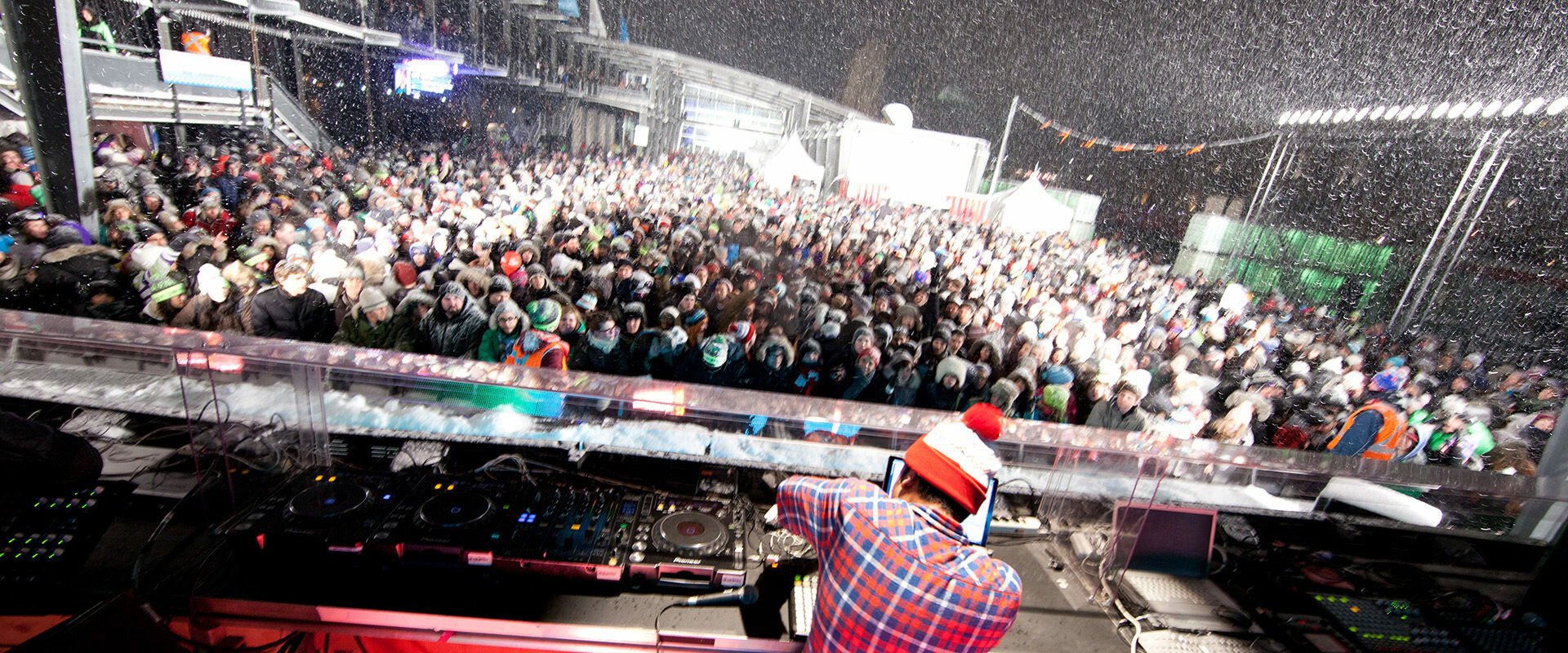 Where to stay?
Easy. HI Montreal. The hostel, strategically located downtown (Lucien-L'Allier or Guy-Concordia metro station), makes a great starting point to visit the city's different neighbourhoods. And if you ever run out of things to do, HI Montreal offers a full program of activities ranging from game nights and pub crawls to walking tours.
Members can also get discounts for ziplining, mural walking tours, rafting and more.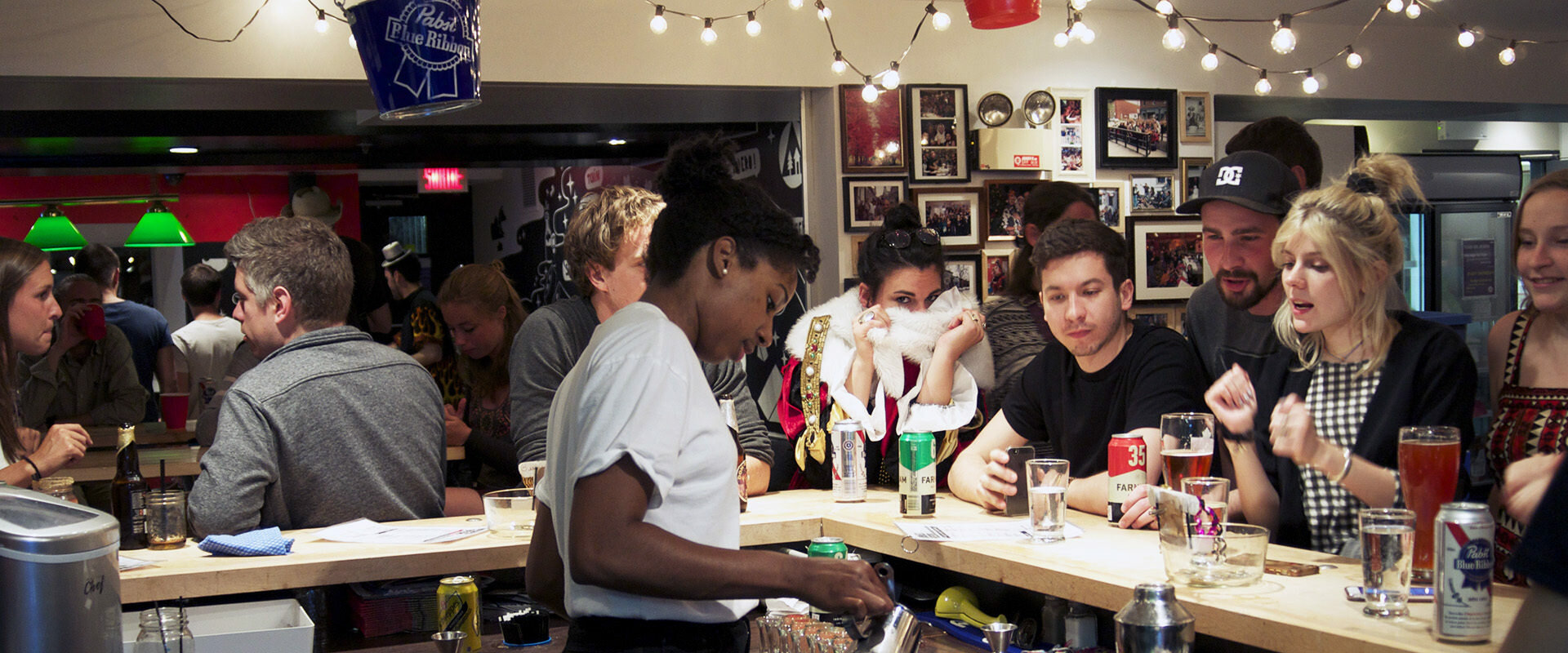 You may also like to read