10 winter activities in Charlevoix for the adventurous
Canada is a country world-famous for its winter season.
Sure, you could hibernate indoors with endless mugs of hot chocolate and movie marathons. But as adventurous winter lovers know, embracing the -20 degree temperatures and exploring in spite of the windchill can often make for the best (albeit coldest) winter memories. Quebec's Charlevoix region is kind of a playground for those who love winter sports. Think kayaking through icy rivers, snowmobiling through picturesque wintery villages, and catching trout from a heated hut. If you prefer your adventures to come with a windchill, let this be your guide to Charlevoix.
1. Downhill skiing, cross-country skiing, snowshoeing or alpine hiking at Mont Grand-Fonds ski resort
Mont Grand-Fonds is one of Charlevoix's bragging points. This is the place to go when you want that soft, powdery snow. Whether you're into cross-country skiing, downhill, adventurous winter hikes, or lounging at the pub, there's something here for you. Oh, and this place advertises that it's a location for affordable fun. Music to a backpacker's frozen ears!

Dog sledding is so not just a Canadian stereotype. The Charlevoix region is home to some great dog-sledding experiences (two examples being Bosco Adventure and Descente Malabie). Ski-joring is also an option for visitors comfortable on a pair of skis. For those looking for an even greater adventure, consider a multi-day expedition where you stay overnight in a cozy log cabin. For many visitors to the region, this is a once-in-a-lifetime experience. Think about it: how many other places can you experience vast snowy terrain, a loving pack of dogs, and an experience that will give you such a major sense of accomplishment?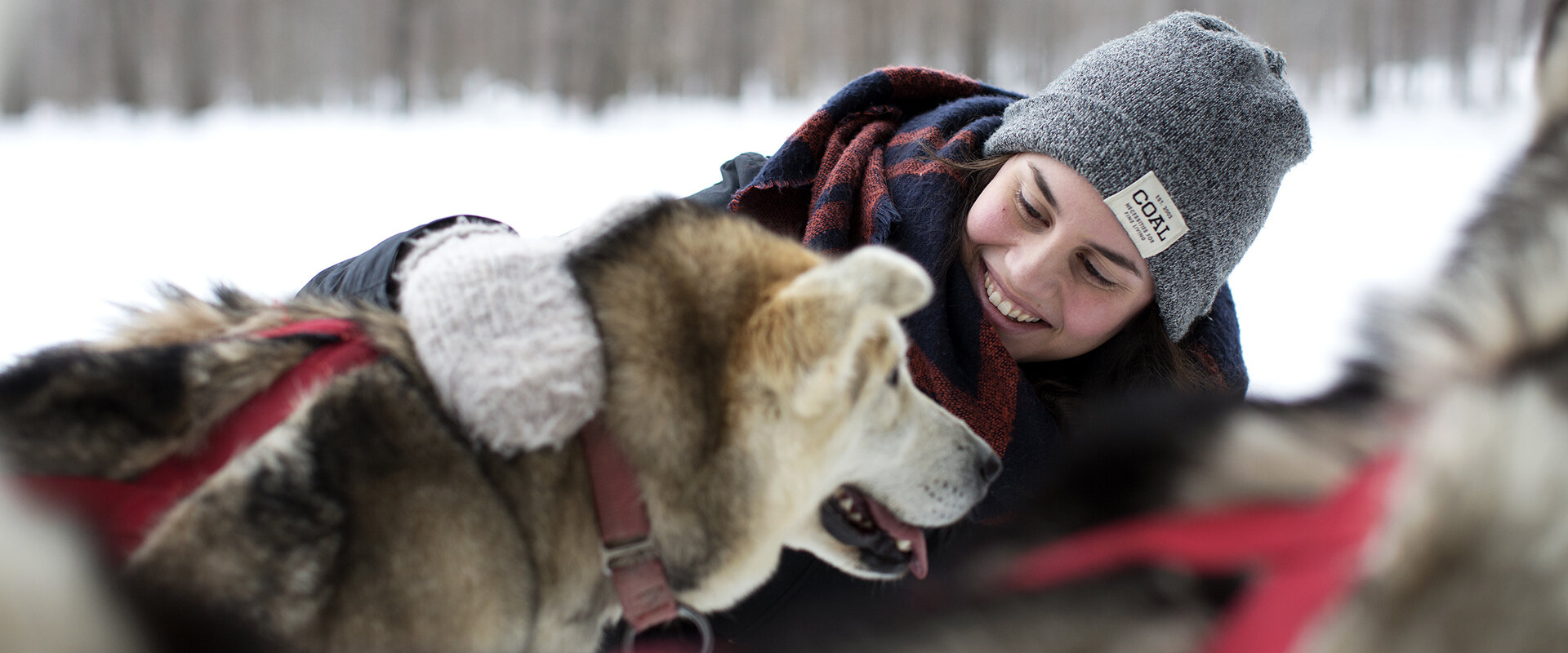 Jonathan Brisebois
3. Visit the Valley of the Ice in Charlevoix
The Hautes-Gorges-de-la-Rivière-Malbaie National Park is set in deep valleys that are hugged by towering mountains. There's plenty to do on a visit here but some of the highlights include a shuttle bus that includes one of the park's best-ever views at Pointe-aux-Inukshuk or Équerre. Outdoorsy visitors can also stop by Vallée des Glaces on the Malbaie River. Because this is a skating rink and a frozen trail, exploring here will make for an unforgettable winter adventure. There's also the option to do some ice climbing! (A quintessential Canadian activity!) If this is your scene, look out for Pomme d'Or.
4. Try snowshoeing at Mont du Lac des Cygnes in the Parc National des Grands-Jardins

One of the selling points of Grands-Jardins National Park is that you'll feel as though you're roaming in an environment that feels similar to the taiga even though you're actually just shy of 90 minutes from Quebec City. This is a place that's going to impressive the plant nerd in your crew. Expect subalpine mountain vegetation and plants unique to this region. This park is best when explored by foot so strap on those skis or snowshoes and let the day's adventures begin. Not used to the chilly (ok, freezing cold!) weather? Scout of the park's chalets for when you need a warm-up.

If you're new to Canada, ice fishing might be one of the most out-there experiences you can try. Fishing has a reputation for being a relaxing hobby dobe from the comfort of shorelines or a boat. But in Charlevoix, you get to experience first-hand why Canadians are always bragging about their winter adventures. Catching a trout from underneath an icy surface is just so much more satisfying! But don't fret: this afternoon won't require you to freeze your buns off… the cabins are totally heated.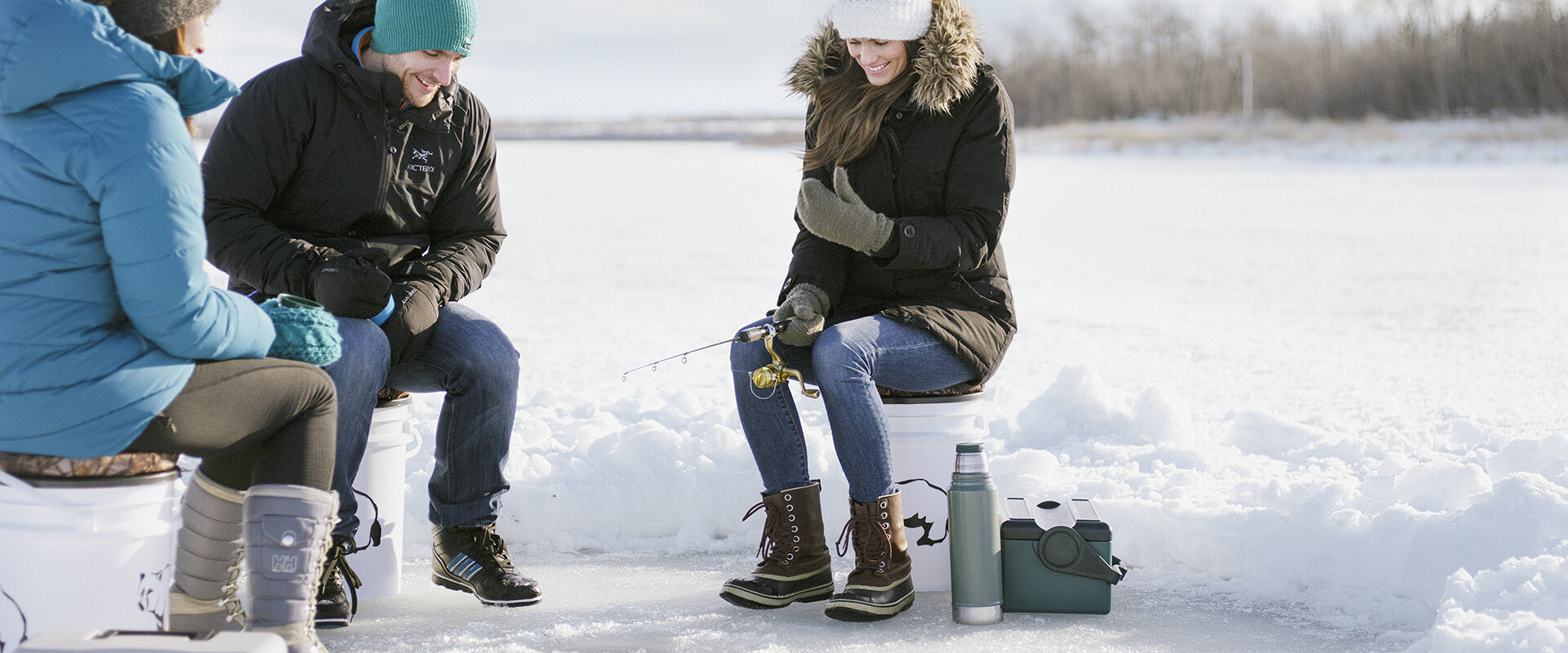 © Brand Canada / Hubert Kang
6. Be bold: Give winter sea kayaking with Katabatik a shot
If you haven't batted a snow-covered eyelash at anything on this list yet, winter sea kayaking is for you. This is probably the most unique (and most daring) way to take a tour of the St. Lawrence River. A late-winter activity, winter sea kayaking is an adventurous way to experience this part of Quebec as the ice is melting. The adventures last about four hours where you'll see frozen coastal landscapes, and cliffs covered in ice. And don't worry about other tourists crowding your view: hardly anyone else would bother to be out on the water at this time of year!

7. Cross-country skiing or snowshoeing in the Vallons des Éboulements
Here's a fun piece of trivia for the geology nerd of the travel group: Les Vallons des Éboulements is located right in the middle of the Charlevoix meteorite crater which shaped the unique mountain landscape way back when. This is a gem for cross-country skiing where travellers will discover the mountain landscape, pretty forests, icy rivers, and scenes that'll stop you in your tracks. Take a deep breath, forget about phone notifications, and appreciate being in the middle of such a stunning environment.
8. Head to Le Massif de Charlevoix for skiing, sledding or alpine hiking adventures
Le Massif de Charlevoix has 53 trails to explore so rest up and be ready to explore early in the morning. Ski through the pines by day and if you still have energy left over put that headlamp to good use and check out the night sledding option.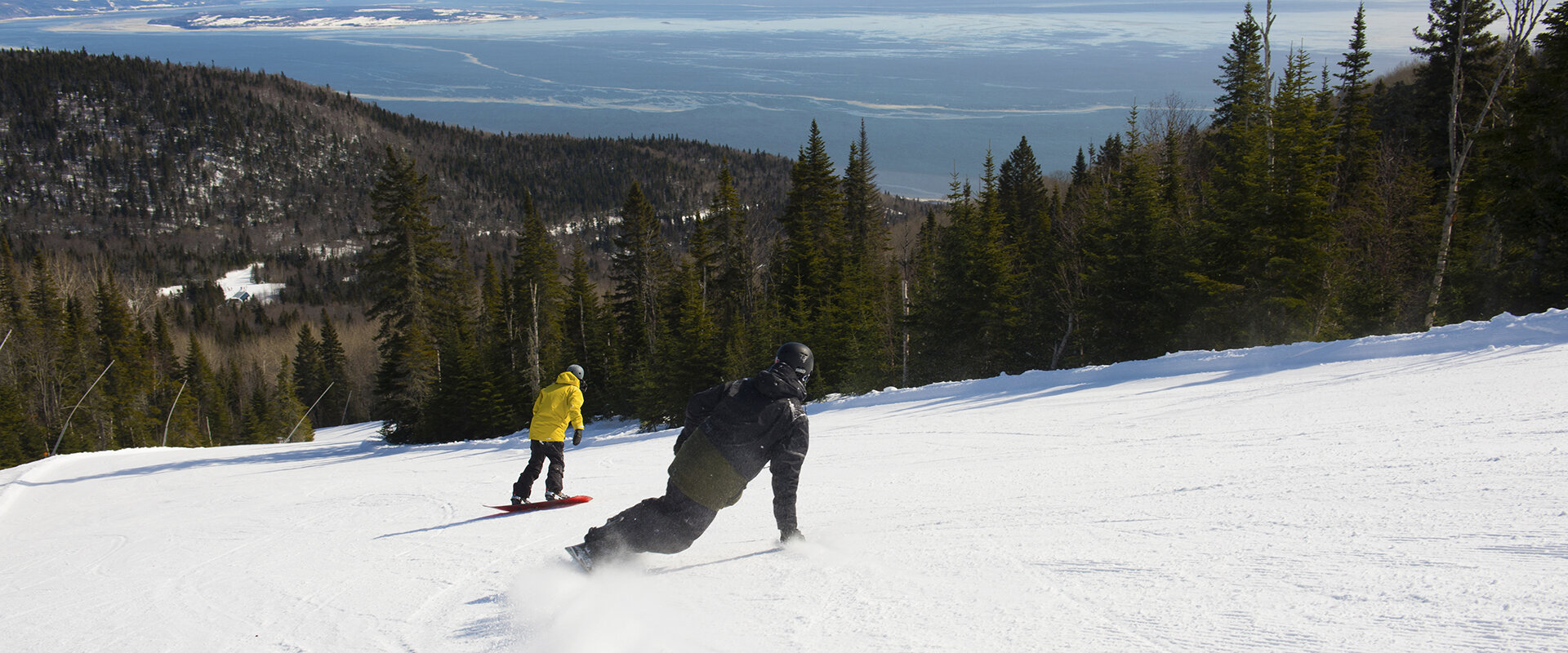 © Brand Canada / Jacques Boissinot
9. Snowmobiling everywhere in Charlevoix
If you're one of those travellers who seeks out the types of activities that spike your adrenaline, don't miss out on the many snowmobiling opportunities that exist through the Charlevoix region. After a vacation packed with skiing, snowshoeing, and winter hiking, this could be a good way to rest the legs. (Don't, however, expect a decrease in heart rate.) Tour Charlevoix at speed and keep your eyes open for views of the St. Lawrence, the region's scenic towns, magical winter wonderlands, and of course, the many mountain peaks that sit in the background. If you can park yourself for long enough to take in a sunset, do so. Winter sunsets are a killer way to appreciate an adventure-packed trip.
10. Try your luck: Visit the Casino de Charlevoix
Here, no introduction is necessary. If you decide to end the evening at the casino after a beautiful day outdoors, we wish you the best of luck!
You may also like to read