Night Auditor - Receptionnist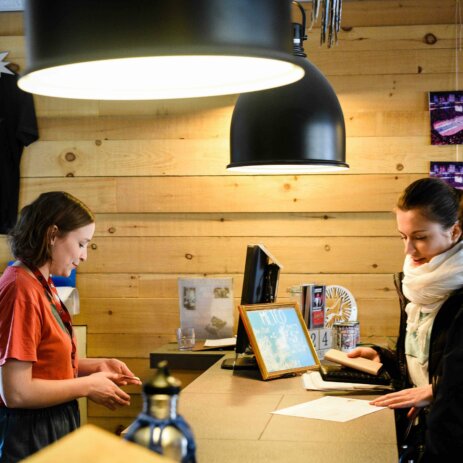 HI Montréal
Montréal, Quebec
Join our team and be part of a grand reopening. The description is in French to reflect the work environment.
Joignez-vous à nous pour le début d'une nouvelle aventure! Le titulaire de ce poste est un employé des services d'accueil dont la fonction est d'accueillir les clients à leur arrivée, de réserver les chambres, de donner des renseignements sur l'établissement et ses services, ainsi que sur les attraits touristiques de la région. L'aubergiste-réceptionniste de nuit doit, en plus du travail régulier, accomplir un travail administratif. Il doit vérifier les transactions commerciales effectuées au cours de la journée afin de balancer les comptes, tout en assurant l'accueil et la sécurité des voyageurs durant la nuit.  
Entame de nouveaux défis  
Assure la tranquillité et la sécurité des lieux
Inscris les nouveaux clients et attribue les chambres
Gère les réservations reçues par téléphone et par courriel
Renseigne les clients sur les services offerts et réponds à leurs questions
Informe les clients des règlements de l'établissement
Effectue la fermeture de la journée
Facteurs de succès  
Aptitudes pour le service à la clientèle et le travail d'équipe
Connaissance du secteur d'activité touristique et des besoins de la clientèle
Habiletés pour la communication écrite et verbale
Capacité à effectuer des transactions monétaires
Bonne connaissance de la région immédiate et des points d'intérêts touristiques
Tolérance au stress
Conditions de travail  
Emploi à temps partiel – horaire variable
13.50$/heure + prime de nuit de 3$/heure
Avantages sociaux, rabais employé
Flexibilité, ambiance chaleureuse et esprit de communauté
Près du métro Lucien l'Allier
Interested?
C'est le poste pour toi? Fais nous parvenir ton CV aujourd'hui! Tu peux aussi passer nous voir directement sur place, à l'auberge!