Front Desk Agent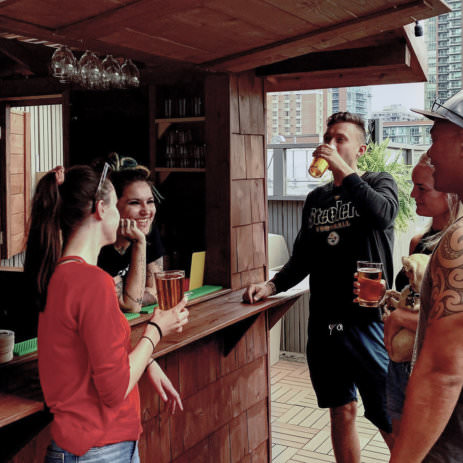 HI Toronto
Toronto, Ontario
Overview
The Front Desk Agent is responsible for the frontline operations of the hostel, verifying the accuracy of guest accounts, balancing charges and revenues, as well as assisting with all aspects of guest services. The Front Desk Agent is typically the guest's first interaction with the hostel so we need to make sure it is consistently a positive one. Each guest that walks into HI Toronto will be welcomed and acknowledged with the Hostelling International culture of positive customer service. Aided by communicating with other departments, you will also be responsible for identifying problem areas, upselling rooms and promoting hostel facilities and activities. The Front Desk Agent must have a positive and professional upbeat personality with a passion for the job and desire to deliver outstanding customer service to our guests.

Embrace new challenges
Engage each guest and provide excellent customer service
Perform accurate check-ins and check-outs of guests daily
Make accurate reservations over the phone, in person, via online reservation systems
Responsible for a cash float and inventory levels throughout the shift and ensuring all floats balance correctly at the end of the shift
Anticipate guests' needs, listen and address guests' complaints or concerns resolving the issue in a timely manner
Learn and adhere to all fire and emergency procedures
Verify revenue from all sources is accurately balanced, follow up on any discrepancies
Communicate effectively with all departments of the hostel to ensure the smooth running of daily activities
Sell alcohol following the policy
Other duties as assigned by management
We want YOU if you have
Proficiency in English (written & verbal). Second language is an asset
Aptitude for organized workplace
Ability to offer excellent service to a multicultural guest base
Ability to identify and fix problems in small details
Ability to multi-task and handle multiple work demands
Ability to accurately handle large sums of cash and payment transactions
Ability to manage conflict in an effective and safe manner
Smart serve certification (an asset)
Post-secondary education, preferably in Tourism/Hospitality
Previous experience in hostels or experience in the tourism, service or hospitality
Proven experience in cash handling and understanding of basic financial reports
Work conditions
Salary: 14$/ hour + commission (14.69$ after probation)
Group benefits and retirement savings plan*
Discounts on any HI Hostel in Canada (subject to availability)
May work on evenings, weekends and holidays
The organization of work may vary according to the tourist season
Interested?
If you think you're just the person we're looking for, then please send us your resume and cover letter today! (Please note this site uses pop-up windows)