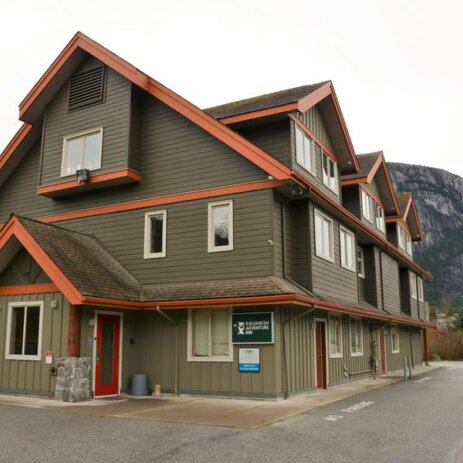 HI Squamish, Adventure Inn
Squamish, British Columbia
ASSISTANT MANAGER - HR LEAD (Master of Stoke)
Are you good at herding cats? What about doing two (or ten) things at once? Have you ever wanted to live in a mansion on the water with a zany cast of loveable characters who look to you for guidance, direction, and the fulfillment of their emotional needs? If so, WELCOME HOME!
We are the Squamish Adventure Inn and we want YOU to liven up the place. This is a Management position, but don't worry, it's not lonely at the top. You'll be working with another Assistant Manager, the Housekeeping Supervisor and your Operations Manager Overlord to help make our hostel the best of the best. 
WHAT WE NEED FROM YOU:
Manage our Crew of 4-8 part-time adventurers/feral nomads, including:

Recruitment/dismissal
Orientation and training
Weekly team dinners
Monthly staff events and team-building

Work the Hostel Supervisor shift, including:

Working Reception
Handling emergencies
Doing your part to attack the neverending mountain of laundry we produce
Regularly interacting with our AWESOME guests

Take on the Acting Overlord position when said overlord is unavailable or on vacation
Be on-call in the evenings (after your shifts) for emergencies
WHAT WE OFFER:
Full benefits package including Life Insurance, Extended Health and Dental!
Annual vacation every fall, with 4% vacation pay each pay cheque
Weekly hostel-family dinners and regular events/antics
Dangerous proximity to the best ice cream in Squamish (Narwhals)
A never-ending supply of new faces (our Crew changes every 10 weeks)
Waterfront location in one of the best outdoor playgrounds in the world
Compressed work week (yes, you will still have time to climb, kite, bike, kayak, ski, hike, mountaineer, spelunk, speed fly, slackline, you get the idea... and post all your pictures to instagram to make your friends REALLY jealous)
We provide a cell phone plan (with Data!)
FAM tours with local business and tour operators
Complimentary stays at all HI Canada Hostels
Room to Grow! At some point the Operations Manager is going to get tired and cranky and someone has to fill his shoes. 
GOTTA HAVE:
Fluent English (speaking and writing). Extra languages are a bonus
Experience (supervisory and customer service) - the more you have, the more we pay!
Criminal Background Check 
Valid Driver's licence
Basic computer skills
COMPENSATION
We pay our entire team by the hour, not salary, and there's a very good reason for this. Big businesses love Salaried jobs because it allows them to give the Management team tons of overtime and not pay an extra dollar. We compensate our team for every hour worked, every time they're called, and we don't force our team to sit at work when there's nothing to do because they have hours to punch. We want you to go adventuring.  
Want to know our pay rate? Talk to us - the initial training pay is very different from the pay you receive as you gain experience and take on responsibilities.  If we like ya, we show it in cash $$$ and we pay much higher than the industry norm.  We're always looking for a long term team!
WORK SCHEDULE
Permanent Full Time. Your schedule will generally call for 10 hours per day, but in exchange you usually receive 3 days off per week (climb, bike, kite, ski, instagram… remember?). We also try to keep a consistent work schedule but at times the realities of running a hostel may require additional hours or days with short notice.  
If this position sounds like a good fit please send your resume, phone number and the best time to contact you to [email protected]. We're looking to fill this position at the end of June. ***Final note: If you are legally able to work in Canada and are seeking a PR (permanent residency), we can guarantee full time Manager-level work for the right applicant. We cannot assist in the VISA process for international applicants beyond providing a job offer for a hired person.
Interested?
If you think you're just the person we're looking for, then please send us your resume and cover letter today! (Please note this site uses pop-up windows)