Join our Student Community
at HI Vancouver Jericho Beach
HI Vancouver Jericho offers affordable student housing for 2021 - 2022!
Live life by the beach! Situated among parkland lined with hiking and cycling trails and right next to the beach, HI Vancouver Jericho Beach is a short walk from all buses along West 4th Avenue with direct routes to the University of BC, Emily Carr University and downtown Vancouver.  
Month-to-month rental agreements available from only $465/month from September 1, 2021 to April 30, 2022.
Get your own quad within a women's, men's or mixed multi-quad dorm room. Each quad has two bunkbeds and your own workspace plus access to all of the hostel's amenities. 
Hostel amenities include:
Large, open-concept kitchen and dining room, with gas ranges, toaster ovens, microwave, fridge and dry food storage lockers.
TV room
Wifi in shared, common spaces
Coin-operated laundry
One set of bed linen provided 
Bicycle rentals available
Student Housing Options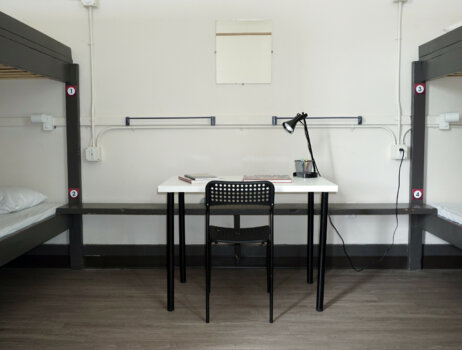 $465 per month
Each person gets their own quad space in a dorm with four to five quads. Choose from women-only, men-only or mixed-gender dorms.
Apply for Student Housing at HI Vancouver Jericho Beach
Please fill out our online application form to enjoy affordable student housing at HI Vancouver Jericho Beach between September to April.
IMPORTANT:  A $300.00 deposit is collected for successful applications. Additional details are provided on the application form.